The Green Valley News/Sahuarita Sun has been following Simran Patil since she was a student at Sahuarita High School. As a senior, she had appointments to three military academies. When she graduated at the top of her class in 2015, she was off to West Point. After the four toughest years of her life, she's a graduate and a second lieutenant. In her own words, she shares the experience and tells us what's next.
On May 25, 2019, I graduated from the United States Military Academy at West Point.
Coming from a family with no military background, I was not sure what I was really entering. The past four years have tested me physically, academically and mentally. I failed numerous times, something I was not used to.
However, West Point teaches you resilience. Everything I failed in, I ended up eventually accomplishing, which led to much greater feelings of pride and humility.
They say everyone at West Point fails in something or another. For me, it was a class called survival swimming, one of many physical courses we must take to graduate. The class involves strapping on a vest which holds two heavy water jugs and carrying a dummy rifle. While I was a decent swimmer, as soon as I was given the weight I would begin to sink. The extra weight coupled with the various obstacles we had to do under water (i.e. swimming through hoops after stepping off a six-meter tower) became my greatest physical challenge. I failed the course and had to retake it that summer. I had never failed a class in my life. I ultimately passed the second time around, but the scenario humbled me and showed me the importance of perseverance.
When cadets first enter West Point, we must go through Cadet Basic Training (CBT), a six-week introductory training led by upperclassmen. The most challenging part of CBT for me was ruck marching, which involves walking several miles with a 40- to 50-pound backpack while holding a rifle. Two summers later, I was assigned as CBT leadership for my leadership detail — a graduation requirement. I was put in charge of 10 new cadets. At this point, I had become used to rucking. However, I did not realize how much I had improved at rucking until this leadership detail, when every ruck march was relatively easy for me. My new cadets struggled and at times I had to push them up steep hills, something I had never imagined myself doing two summers back.
Academically, I learned the importance of time management. In high school I could churn an assignment out the night before it was due and still get an A. West Point was different. To earn an A, I learned I had to start assignments weeks in advance and repeatedly schedule meetings with my instructors for additional instruction (AI) — and even then, I'd sometimes not get an A. My peers at West Point were working just as hard as me, and our class rank determines our job after graduation, as well as our duty station, making for an extremely competitive environment.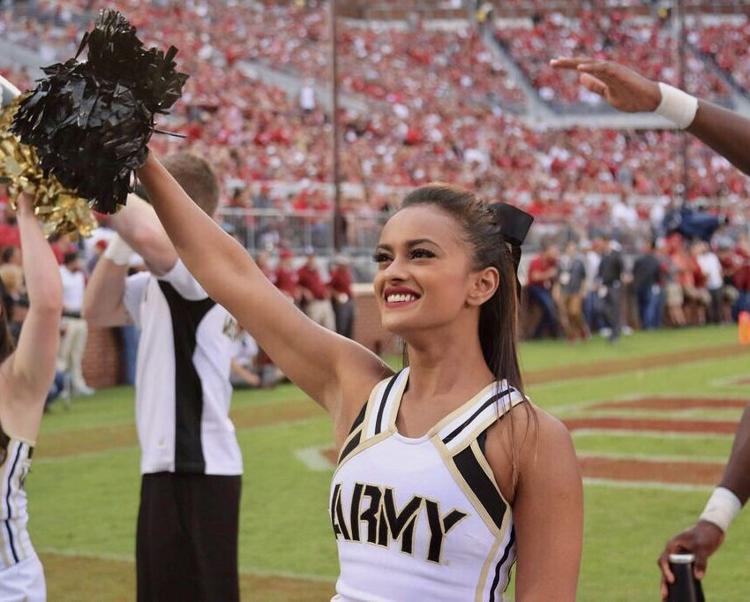 In addition to the heavy academic load, I joined the cheerleading team as a way to let loose and have fun. Little did I know it was a significant time commitment. We had practice every day for two to three hours, and almost every weekend I was cheering at a home football game or was on a flight to cheer at an away game. While my grades slipped at first, I was able to adapt by using every minute wisely, while having to sacrifice some sleep. Through cheer, I was able to attend various West Point Association of Graduates (AOG) events, where I met numerous successful graduates, many of whom are CEOs of large companies. They would often say, "West Point is the worst place to be, but the best place to be from. Hang in there."
Four years at West Point has undoubtedly transformed me. My favorite part about my experience was the incredible people I met. The best officers are sent to West Point to teach and develop us, so I've been lucky enough to receive the greatest development and guidance throughout my four years. In addition, many of my classmates have become my best friends; I'd never met such a well-rounded and driven group of young adults. So many of my classmates were admitted into prestigious universities such as Harvard and Stanford but chose West Point because of their desire to serve and lead soldiers. I'm fortunate and excited to serve beside such honorable men and women and even more excited to lead and inspire soldiers of my own as a Second Lieutenant in the United States Army.
WHAT'S NEXT? 
Simran Patil graduated with a bachelor of science degree in international relations with a track in cyber engineering. On July 7, she begins the four-month Quartermaster Basic Officer Leaders Course, which familiarizes new officers to their new jobs. Quartermaster is essentially the logistics branch of the Army. As an officer, she will be in charge of providing supply support for soldiers and units in field services, aerial delivery and material and distribution management. Her first duty station is Fort Hood, Texas, one of the largest U.S. military installations in the world, with a primary focus on heavy forces.