For students with special needs, sensory experiences can do everything from encourage learning to providing motivation, or even offering a little respite.
Wrightson Ridge School's new sensory garden  is designed with those needs in mind.
Filled with colors, art, activities, music-makers and places to rest, the new and interactive space is the result of hours of volunteer work, community collaboration and a grant from the Rotary Club of Green Valley.
The project was spearheaded by Rotary Club member Pat Pease, who has written three other grants for projects at Sahuarita Unified School District.
"The main focus of it is a sensory garden for special-education kids, but all the kids in the school have the opportunity to use it," she said. 
Pease looked at other sensory gardens — spaces for children that focus on textures, shapes, colors, sounds and mind/body awareness — to get ideas of what could work within their $4,000 budget, half of which came from the Rotary Club grant and was matched by the district.
"I went through about seven designs because we had to keep it within $4,000 and some of the materials and designs turned out to be too expensive, but we ended up with most things we wanted," she said. "We had to be really thrifty and we had a lot donated and a lot of help."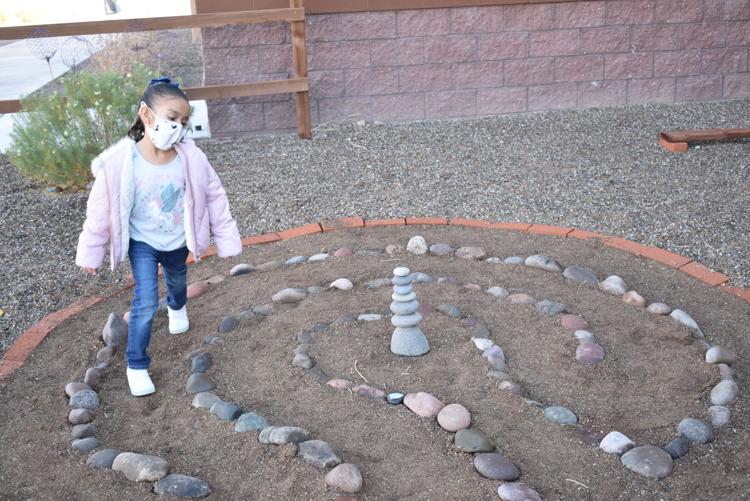 Among the features in the garden are pathways, activity bins with sand and toys that can be brought into classrooms, a music wall with different items that make sounds and a labyrinth path of rocks created by a community member.
One of the most eye-catching items is the sensory wall which includes artwork Pease created herself, activities, items with texture, magnetic tic-tac-toes and lots of color.
"A lot of things you see here came from thrift store purchases that we'd take apart and use parts or change them," she said. "I want children to be exposed to art."
On stage
In the center of the garden is a stage with a wheelchair ramp where kids can play and Pease hopes it's utilized for performances or outdoor lessons.
The school's Extended Resource teacher Shelly Ruesch oversees special-education students at Wrightson Ridge. She said the kids who have interacted with the garden find ways to play with the items in the way that works best for them.
"There's nothing about it that isn't wonderful," she said. "It fills so many different needs and there's even things we didn't think about that we're finding kids doing."
Ruesch explained that children's sensory needs range and they have been using the garden regularly since it was completed right before Thanksgiving break.
"Some of our students just need a break and if they don't have a way to ask us with communication they can give us a little break card and come to the sensory garden," she said. "They can go and choose whatever they feel like they need."
Ruesch said they also are using the garden as a reinforcer or a reward after students complete their classroom tasks.
"It meets their needs to get them ready to learn and it motivates them to learn so that they can have a break," she said. "We can use it in so many different ways and we are so grateful."
They've even done scavenger hunts using photos of items in the sensory garden and asking their students to find them.
"If they are in a meltdown you can kind of break that behavior. You can say, 'You show me this,' and as soon as they show you that you have something positive," she said.
Vice Principal Will Arias said all students, regardless of age, are showing excitement for the garden.
"It's to spark that curiosity and it doesn't matter if they're little ones or big ones on the middle school side, it still attracts them," he said. "Wrightson Ridge is a new school and this is part of building our cultures and traditions."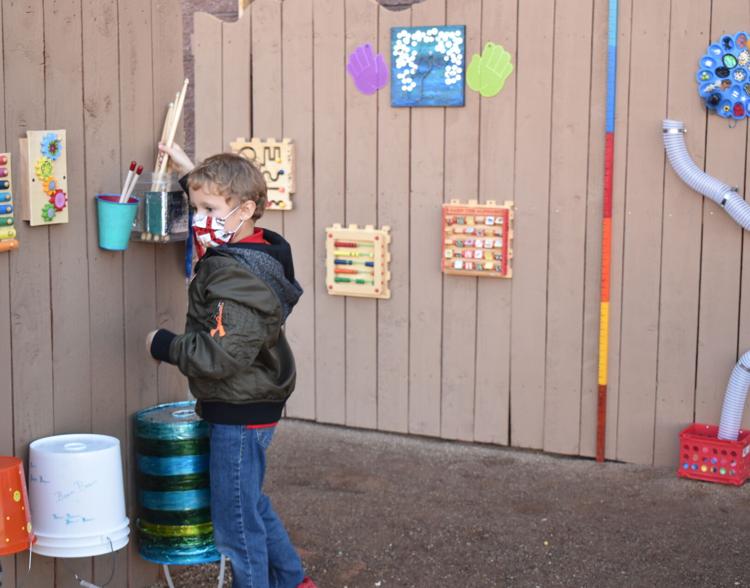 Principal Shelly Lizardi said the student resource program is new to their school, and a sensory garden was at the top of her list when Pease approached them about a grant project.
"This being a new school, it's something we saw as an opportunity to open up for students who have sensory issues but also for all students," she said. "What a welcoming feeling to a beautiful campus and the climate we are trying to build. We are a school for all."
Pease said the garden is a big community effort.
She started making prototypes for items starting back in July, seeing what she could make from thrift store finds and what she had on hand.
Husband, Michael, was in charge of construction once they actually received their grant funding in August. The two of them worked almost every day on the project. 
"She proposes I disposes," he laughed. "She's the artist and I'm the could-have-been-an-engineer who ended up teaching math instead."
Along with the pair, Rotary Club members, teachers and people from the community stepped in to help or donate items. The student council also painted a few areas in the garden.
"We've got over 1,000 hours in this between everyone who's been working," Pease said. "I was just blown away. We had people from the community volunteer to come help, teachers…"
Pease said now she and Michael will be stopping by weekly to check on how well items are holding up, fixing things here and there.
"When I write grant reports, I always point out things change as you go along and you have to be flexible and adapt to the changes," she said. "Things happen along the way and each thing might force you to go in a different direction."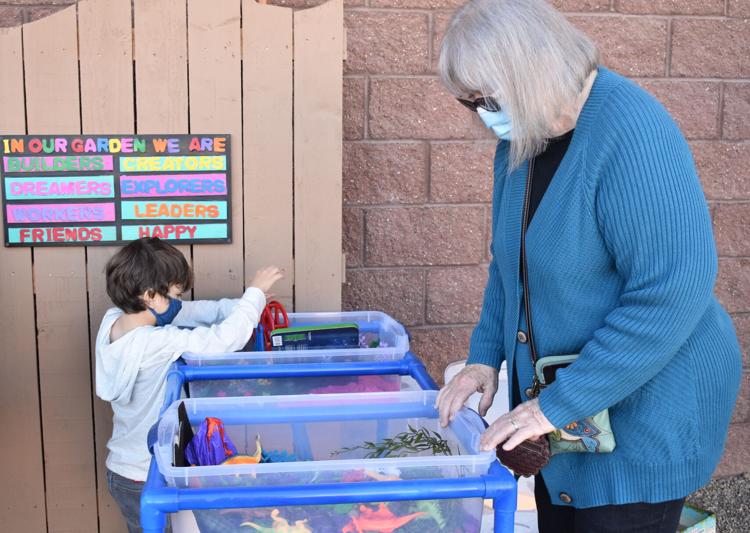 Pease will do her grant report in April and then the garden will be in the hands of the school.
She's proud of what she and the many others who helped make the space a reality were able to accomplish for the children of Wrightson Ridge.
"It feels good to have it done and it's very satisfying to see the kids," she said. "We'll see what has longevity and what doesn't. It has a whole lot of work in it and I'm thrilled with the way it turned out."