Mayberry, Aunt Bea and Barney aren't just staples of "The Andy Griffith Show," they're the names of cats awaiting their forever homes.
Along with caring for their daily needs and looking for homes, shelter volunteers and staff must christen each animal with its own name. It's as challenging as it is fun.
Kim Eisele is president of the Animal League of Green Valley, which has 50 to 60 cats and 22 dogs up for adoption. She said naming the animals is a group effort.
"The person who takes in the animal is usually the one who comes up with a name," she said. "It depends on who is literally in the lobby at the time."
Names are picked depending on whether the animal is part of a litter or an individual.
"If we have a litter of puppies or kittens, we give the litter a name — the fruit or nut litter, the Star Wars litter, the Harry Potter litter, the gemstone litter," Eisele said. "It has to be something we can come up with multiple names because a dog can have a litter of 12 puppies, so you need some kind of theme that you come up with that many."
Themes also allow staff to associate a dog or cat to the litter it came from.
Paws Patrol, a local cat rescue, also turns to themes when they name their cats and kittens. Cat coordinator Lisa Mills said choosing categories helps keep the naming process fun.
"We wing it," she said. "Most recently we did old TV shows, so we had a cat named Mayberry, like in Andy Griffith, it was really cool. We might use flower categories, celestial categories, anything that offers a broad, big choice of words."
There isn't one person assigned as a namer, all the volunteers participate in the process.
"It's challenging and that's what makes it fun," Mills said. "We get really creative."
When naming individual animals, Mills said Paws Patrol tries to find something whimsical and might even assign a traditionally male name, like Wally, to a female if it sticks.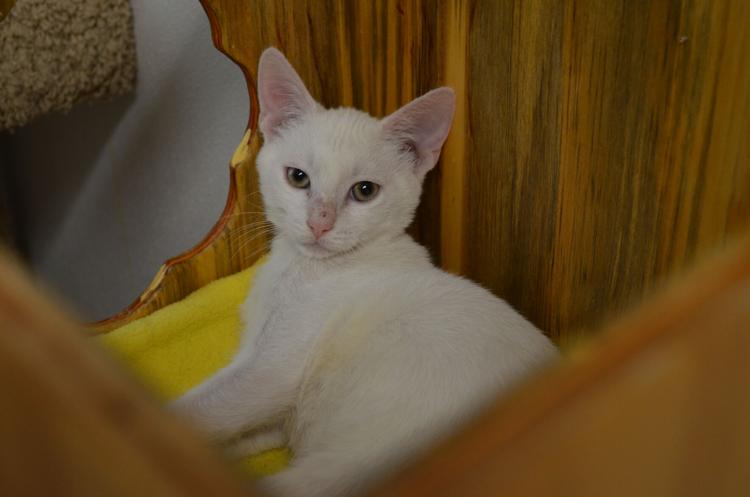 Eisele said they may go with an animal's color or a name based on where they were found.
"Sometimes it's based off the name of the person who brought it in, their first name or last," she said. "It's hard to keep coming up with names."
A number of pets coming to the Animal League already have names, which they keep in most cases. Eisele said they will only change a name if it's offensive or they may modify a name if more than one animal has it.
"We do try not to reuse names but I'm sure we've got several Jacks in our history," she said. "If we already have one named Jack we might name another that comes in with the name Jack Jr., things like that."
Once a pet is adopted it's common for the new owners to rename their pet. Since the Animal League and Paws Patrol do follow ups on each animal, they try to update the current names.
"They very often change the names so we make sure that when they call back for any reason they try to remember the cat's original name for our veterinary records," Mills said.
Be consistent
Glenn Graves owns On Point Dog Training, a Green Valley dog training business that offers customized training plans on everything from obedience to problem solving.
He opened the business three years ago when he retired from law enforcement in California where he was a dog trainer and eventually the state's canine evaluator.
He said when renaming a dog, or any form of training, "consistency is key."
"For a dog to become familiar with a name or command it needs to be repeated at least 200 times," he said. "It's just conditioning that dog to the new name and it could be a fun game. Simply saying his name, getting his attention and rewarding that, it will start to stick a lot faster."
Graves said if a dog already has a name it's helpful to choose a new name that sounds similar. Short, simple names will help a dog learn the name.
He also suggested avoiding names that sound similar to commands, like "no," "down" or "sit."
Graves never likes to use a dog's name in a negative connotation.
"If you're scolding him, don't use his name, you already have his attention," he said. "We a lot of times focus on the negative as far as pets and it needs to be balanced with as much praise as discipline."
When training a dog, commitment to the training or a new name is key.
"A lot of times we're our own worst enemies and we're conditioning behaviors into our dogs through reputation," he said. "A phrase I like to tell my clients is, 'What we accept will continue.'"
The Animal League and Paws Patrol are still closed to the public but people can book appointments to adopt pets.
Mills said they have put extra focus on their website this year to make the process for adopters easier. Their pet adoption application, contract and working cat program information are all online.
"Applying online secures their place in line if they're interested in a particular cat or kitten so it stays very fair and equal," she said. "We're trying to make it easier on the public so we're getting the cats into good forever homes."
Along with the website, Paws Patrol has new, adoptable cats at Petco every week. Appointments can be made by calling 207-4024.
Mills said they typically have 30 to 35 cats available, including those in foster homes.
Those interested in adopting from the Animal League can view available pets on their website and call 625-3170 to schedule an appointment.