There's no shortage of preconceived notions about living along the nearly 2,000-mile border between the United States and Mexico, but one Tubac group is trying to dispel stereotypes with experience.
The Border Community Alliance takes five interns per year to visit different organizations working on both sides of the border. For some of the interns, it's an eye-opening experience that puts a human face on the issues and policies they've only heard about in the media.
Andrew Finkelman went through the six-week program last summer.
"You go to this place that you see about in the news, and all you read about is violence or someone dying from crossing the border or new policies that Trump is trying to implement," he said. "And then you go there, and you're like, 'Oh wow, this is actually a place where people live.'"
Finkelman is from Portland, Oregon, and although he had visited Tucson when he was 12, he never spent any time on the border.
After arriving in Nogales, Arizona, Finkelman said the first thing that stood out to him was just how out of place the wall seemed.
"You expect it to look natural or somewhat like it's supposed to be there," he said. "Then you get there, and it's like, 'Whoa, this just looks insanely out of place, it's hideous.' There are Border Patrol people standing along the streets. It feels very weird."
The BCA provides the interns with housing in Nogales. For most of them, it's the first time they'll witness life in the borderlands and is a chance to form their own opinions based on personal experience.
Internship program
Diane Brooks, the former head of BCA's internship program, ran the project for five years. She said the program, which is promoted on their website, has been getting more popular each year. Last year, the program had 19 applicants. The most in its eight-year history.
The BCA used to have six internships, but it became too unwieldy and the group wants it to be a learning experience rather than a tour.
BCA's executive director, Jerry Haas, said they look for applicants who haven't had too many experiences like the one the internship provides. It's about getting people outside their comfort zones and introducing them to new environments, he said.
Haas said the group has found many interns are attracted to issues around immigration initially but find more going on in the borderland once they get here.
"That's what we want to help them to do is have a broad base of information, knowledge about the borderlands and border issues," he said.
Border health, trade, cross-border relations and environment are all issues that Haas said they want interns exposed to in addition to immigration.
Dar Goatley said the interns have weekly debriefings with BCA volunteers to talk about their experiences, feelings and thoughts. Goatley is the new head of the internship program.
"It is a lot for some students," she said. "If you've never been out of Toledo, Ohio, right? You see a whole other world."
Goatley said it might be very challenging for some to see the poverty as soon as you walk a few feet away into another country. 
Running the program doesn't come without challenges.
BCA and the internship rely heavily on volunteers. Goatley is a retired social worker and Haas is a retired United Methodist Church minister.
The internship runs from mid-June through July. And in Tubac and Green Valley, the summer isn't the best time for finding volunteers.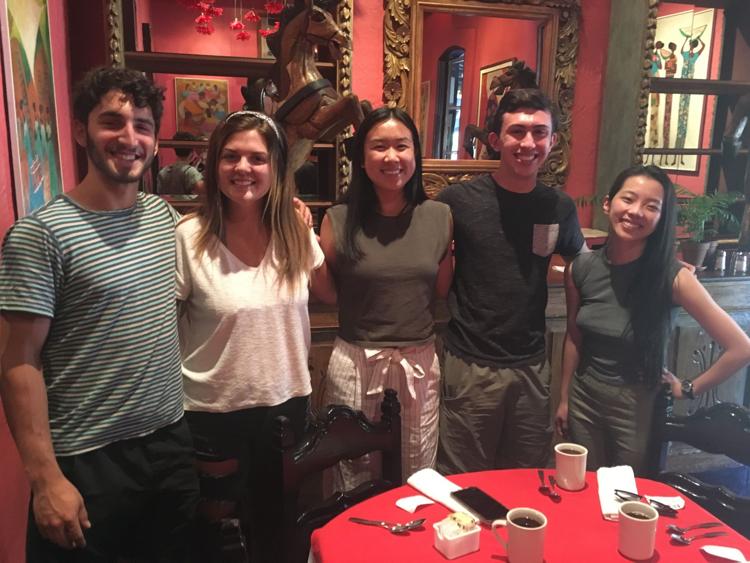 While it might be a concern, Haas said their core group of volunteers are good about sticking around or adjusting travel plans around the six-week session.
There's also the issue of keeping up with the students.
"Some of it is our volunteers might be in their 70s, a ripe old age, or the perfect age as I call it," he said. "And when you're 70 and you're trying to relate to a 20-year-old, you may or may not understand how much energy that 20-year-old has."
It also means long hours driving.
The program is non-partisan and exposes the students to different aspects of border-related organizations and agencies. One is taking the interns to Operation Streamline – a zero-tolerance immigration prosecution program — in downtown Tucson.
Some of the volunteers might find themselves having to drive from their homes in Green Valley or Tubac to pick up the students in Nogales and drive them to the federal courthouse, then return them afterward.
It might take a lot of work to keep the program going, but Haas and Goatley have their reasons for sticking with it.
Haas pointed to his own experience with a new culture, looking at the world from someone else's perspective and struggling with a language as something he wanted to share with today's students.
When Haas was 18, he spent six weeks working at a greenhouse in West Berlin.
Goatley started working with Casa Alitas shelter in Tucson after she moved from Portland to Arizona. Casa Alitas provides temporary assistance to asylum seekers traveling to family and sponsors around the nation. It is housed in an unused portion of the Pima County Juvenile Detention Center, but is overseen by Catholic Community Services of Southern Arizona.
"I saw first-hand, every single day, the severe suffering that people were going through in their home countries, (and) what they went through just to get here to some safety," she said.
Goatley said it made her realize there are a lot of people in the U.S. who don't understand what is going on.
Experiencing the borderlands
BCA's goal is to expose students to the borderlands, and people who live and work there.
Since the BCA is non-partisan, the interns will visit groups on all sides of different issues in Mexico and the U.S.
The students visit manufacturing facilities in Mexico as well as organizations that fabricate medical devices for those in need. On the U.S. side, students talk with U.S. Border Patrol and observe Operation Streamline in action.
They also visit migrant advocates and humanitarian aid providers on both sides of the border.
"We give the students a big picture view," Haas said.
Finkelman said he wasn't concerned about safety coming into the program, but he knows that some of the other interns were. However, he found that much of the concern had been influenced by parents and other family members.
"Parents and family were shocked, like, 'Oh my God, you're going to the border, are you going to be safe there?'" he said.
One of the things that stuck with Finkelman was seeing the people affected by national policies first-hand.
He said it's crucial for policymakers and people discussing these policies to see migrants and asylum seekers going through the process for themselves.
"That's hard to get out of your head," he said. "If you haven't seen or talked to someone who's trying to cross or seen what that process looks like, I think it's really hard to imagine it. It's hard to garner some sort of sympathy."