As if the coronavirus pandemic wasn't enough to deal with, American Legion Madera Post 131 in Green Valley had to put alcohol sales on hiatus after losing its liquor liability insurance in August.
Post Commander Dan Cady said losing liquor sales was a setback but nothing the Post couldn't handle.
"Luckily, my predecessors had some nice emergency funds saved," he said. "So, we're offsetting. We're probably hemorrhaging around $9,000 a month in expenses with the rent and everything. And now we're making about half or so of that back."
Members — 800 regular and another 700 or so Auxiliary and Sons of the American Legion — have also chipped in with cash donations to keep the doors open.
"We're fine," Cady said. "We're going to be alright. We can wait it out for the liquor liability insurance to come through. But it is coming out of our building fund if we wanted to build a new building in four or five years."
However, Cady said it isn't a problem for now since they still have a five-year lease at the location in the Green Valley Village.
Insurance renewal
Post 131 lost its insurance through AIX Specialty Insurance Co. on Aug. 21.
In May 2019, volunteer Post 131 bartender Tambra Hoskins traveled the wrong way on Interstate 19 and collided with a family of four at about 12:45 a.m. She had a 0.318 blood alcohol level; a 0.15 is considered extreme DUI.
Hoskins, Edith Muñoz, Mario Gradillas and Saul Gradillas died in the collision. A 14-year-old boy ejected from Muñoz's vehicle survived.
AIX paid an out-of-court settlement to the family and didn't renew Post 131's insurance.
Post 131 paid a $750 fine to the Arizona Department of Liquor after the state concluded Hoskins drank on duty during her shift, which ended several hours before the collision occurred.
Cady disagreed with AIX's decision.
"The insurance settled for the maximum of our liability policy, even though all indications were that we were five and a half hours removed from the crash time," he said. "And there was no evidence that she was drinking during her shift. And she went to two other bars after her shift."
According to the state Department of Liquor, Hoskins was seen "sipping/drinking" from a customer's mixed drink at 3:41 p.m., nine hours before the crash.
Post 131 still has a liquor license, and members are looking for a new insurance provider.
"Most of the applications I filled out requested if you had any losses within the last three years," Cady said. "We're already 18 months? That was Cinco de Mayo of 2019. So, the worst-case scenario could be another 18 months away, or the people I have working on it could come with it tomorrow."
Open kitchen
Post 131 reopened its kitchen Oct. 6 with Tuesday through Friday lunch open to the public. Auxiliary president Jan Melhorn said it had been a slow start.
"But we want to get the word out that we're open to the public for lunches," she said. "We have not hit our capacity at all. Our main problem is we are working on getting our liquor liability."
Melhorn said the lack of alcohol isn't a big deal during lunch since most people won't order liquor or beer with the meals.
"I think a lot of it is COVID," she said. "I think a lot of people just forgot that we're open because we just opened up. We're a family Post and kids are welcome."
It's not just lunch. Cady said Post 131 is also serving Monday night burgers and Friday night taco dinners, which started Sept. 3.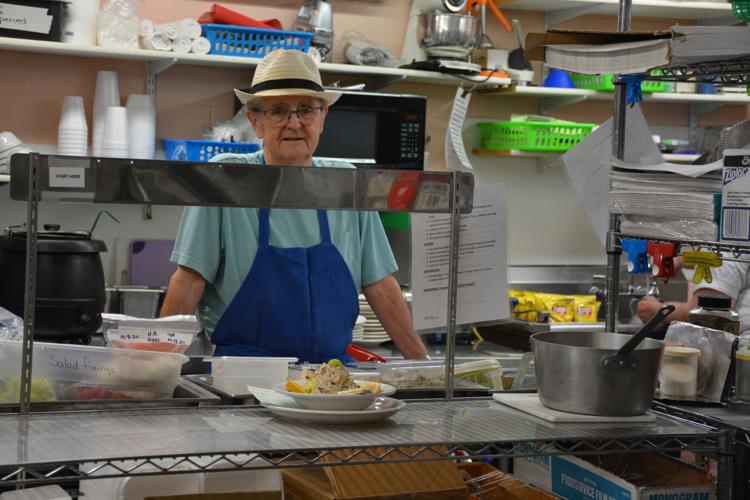 But the sooner Post 131 gets new insurance, the better: Cady said liquor sales account for about 60 percent of Post 131's revenue.
With COVID-19, Cady said there would have been a blow regardless, since fewer people are around.
"Our attendance is low, much lower than what it was last year before COVID," he said. "But so is everybody else's. Even for our food services, there's a lot of people who want to have a beer with their tacos or a mixed drink with their hamburger."
Post 131 typically served up around 120 burgers per night before the pandemic during this time of year. And that would increase to about 250 to 350 burgers per night when winter residents return to the area.
"But we had to cut back our capacity from 144 to 72 to do the 50 percent to comply with the county," Cady said. "We're certainly not a full dining room on Monday or any of the meals. We're hoping people will come back, even without the booze."
A few miles north on Duval Mine Road, Post 66 is also open and serves alcohol.
Post 66 Commander Wayne Ferriera said some members switched from Post 131 because of the alcohol loss, but nothing drastic and nothing unusual.
"I mean, we've got people transfer from ours to them, and them to us," he said. "We've seen some people go back and forth between. It depends how they feel. They might get mad at us and go to 131. They might get mad at 131 and come to us."
Ferriera also said some members would switch between the posts to be at the same location as a family member.
But he didn't see Post 131 not having liquor as increasing Post 66's traffic, which has been good some days and slow on others.
"We're all hoping they do get it," Ferriera said of Post 131's insurance. "They're our sister post, and we want to see them do well and succeed."
Now, Cady and Post 131 members are working to spread the word through advertisements around town, letting people know they've reopened their dining to the public.
"It's tough on them," Cady said of members. "I had a Legion member tonight, he and his girlfriend stop in to have a beer and order a burger. I said, 'Oh, I'm sorry. I guess you weren't aware that our liquor liability insurance isn't in effect. So, we can't sell alcohol but we can set you up with a soft drink and a hamburger.' He left. He left to go where they had a beer."
Other impacts
Losing the insurance isn't just affecting socializing over a cold beer at Post 131.
Cady said the Post had planned to do design work with an eye on constructing their own building; now, that will be affected by the drop in revenue. That's also affecting Post 131's contributions to projects and programs they've supported in the past.
"The bad part is we had to suspend all our donations to community and services," Cady said. "But we can't help fund those kinds of activities. We can't help fund Junior ROTC facilities. We can't help fund scholarships like we usually do. And we can't fund the $10,000 to $20,000 per year that we send to the Fisher House up in the VA hospital grounds. So, that hurt not being able to do that."
Suspending the charitable activities is a measure Post 131 took to help keep operations going while revenue is down.
However, Cady said it wouldn't affect them donating their time to the community.
"We're just going to tough it out," Cady said. "We really don't have much choice. We're an organization that between all of the entities and families – the Auxiliary, the Sons, the American Legion Riders and the Legion – annually, we pumped about $50,000, $60,000 a year in donations back into the community and veteran services. We don't want that to end. That's what we're here for."