The Tubac Presidio State Historic Park has a few new artifacts thanks to an assist from Mother Nature.
An Aug. 2 storm brought hail and high winds that knocked down two Chilean Mesquite trees and wriggled a Ponderosa Pine until the roots were exposed along with a bit of history. 
Carolyn Addison's home is next to the Presidio, and she said the storm brought quite the ruckus for lasting just a few minutes.
"It was a beautiful day, and then suddenly it was just instantly hailing," she said. "The hail averaged from pea-sized to quarter-sized. The trees were just whipping. I've never seen the trees whip like that before."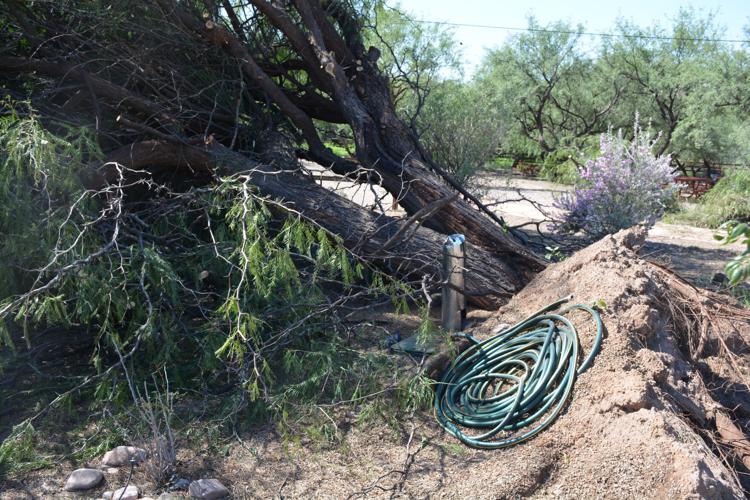 Addison didn't hear the massive mesquites come down at the Presidio with the racket coming from hail hitting her metal roof.
She didn't have any property damage and only lost a few branches. 
Park director Shannon Stone said they were lucky as well — none of the buildings at the Presidio were damaged.
"The gift shop area, that's from the 1930s, 1940s, and those window panes are so old – we've got two that are hanging on by a thread," she said. "And I was just like if it ripped out those trees, I know it's going to pull out our windows – and nothing. None of our buildings got damaged."
An irrigation system even escaped damage as the massive mesquites uprooted around it while leaving it intact. But while the irrigation system managed to stay in the ground, three small artifacts didn't. 
And that's a little blessing for Stone and her crew of volunteers.
"We didn't know it was there, and I would bet money under all of these trees there are artifacts because of how old this property is," she said. "That's why legally we're not allowed to dig holes bigger than a T-stake, so like 2 inches, in case we find something. That's why, if we dig, we have to call the state archeologist to come out here because the whole site is considered historic. "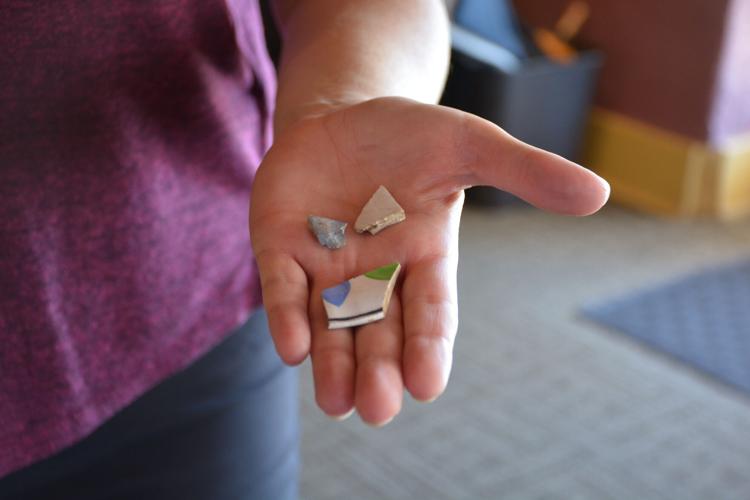 Spaniards established San Ignacio de Tubac in 1752, making it the oldest Spanish Presidio in Arizona. And the site's history goes back much further with O'odham people occupying the area as early as 1500.
On Monday, one of the Presidio's board members discovered two artifacts – pieces of majolica and polychrome – while inspecting the uprooted trees. Stone found the third item, which was a piece of a cobalt blue medicine bottleneck. All three pieces are from the 1800s.
The Presidio hopes to use donations to replace the Chilean Mesquite trees with something easier to maintain and native to the area. Just not too quickly.
"Let's get someone to sponsor these trees so we can have shade again, but we really want to take time with it so we can go over and see if there are any other artifacts," Stone said. "Who knows what else is underneath it. You can walk our property and pretty much find artifacts on the surface."
When it comes to those artifacts on the surface, Stone would prefer that visitors leave them where they found them.
However, she has a nice little collection on her office's windowsill of small artifacts that visitors have brought her.
"We always say take a look, take a photo and put it back where you found it," Stone said. "Because someday we'd really like to have another excavation here. But that doesn't always happen."
And, so far, Stone found the new ceramic sherd recovered after the storm the best fragment recovered from the grounds.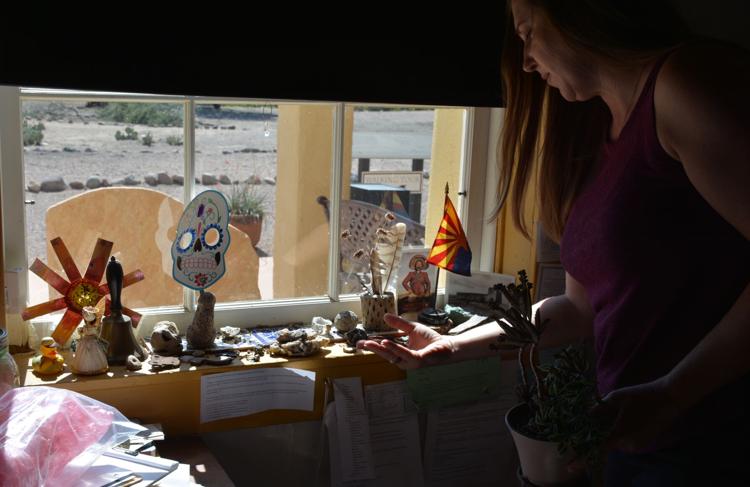 The Presidio relied on the free shade the two mesquites provided for events without spending money on artificial structures. And while most people would be upset about having winds uproot their trees, Stone sees the good in last Sunday's storm.
"It's kind of cool we get to see the artifacts, and we don't have to maintain those thorny trees anymore," she said. "And we're helping out the community. The volunteers taking the wood – some of them are artists carving animals or other sculptures, or they're ranchers. It all goes around, and it's all getting repurposed. It's not all for nothing."