Green Valley and Sahuarita residents woke up Sunday to downed trees, muddy roads and scattered debris after a storm packing wind gusts of up to 60 mph swept through the greater Tucson area Saturday night.
The National Weather Service in Tucson noted wind speeds of 45 mph with gusts hitting 60 as the storm rolled through Saturday evening.
Area rainfall, which can vary greatly depending on location, was measured at 0.52 of an inch, just shy of the record set in 1917 of 0.59, according to the Weather Service.
Since Jan. 1, the area has seen 2.29 inches of rain, well below the normal of 3.43 by this time of year.
Green Valley Fire District was called out Saturday evening to help remove downed trees near Interstate 19 and Abrego Drive. They were not called out on any rescues, a spokesman said Sunday morning.
The Pima County Sheriff's Department put out an alert Saturday night about the downed trees and muddy roads on Abrego Drive. It also reported Wilmot Road north of Sahuarita Road and south of Klafter Road was closed because of flooding and heavy mud in the road. They also said Sahuarita Road near Wilmot Road was experiencing flooding.
Rural/Metro Fire Chief Vincent Konderik said a crew rescued one driver after a vehicle stalled in knee-high water near Wilmot and Sahuarita roads. Nobody was injured.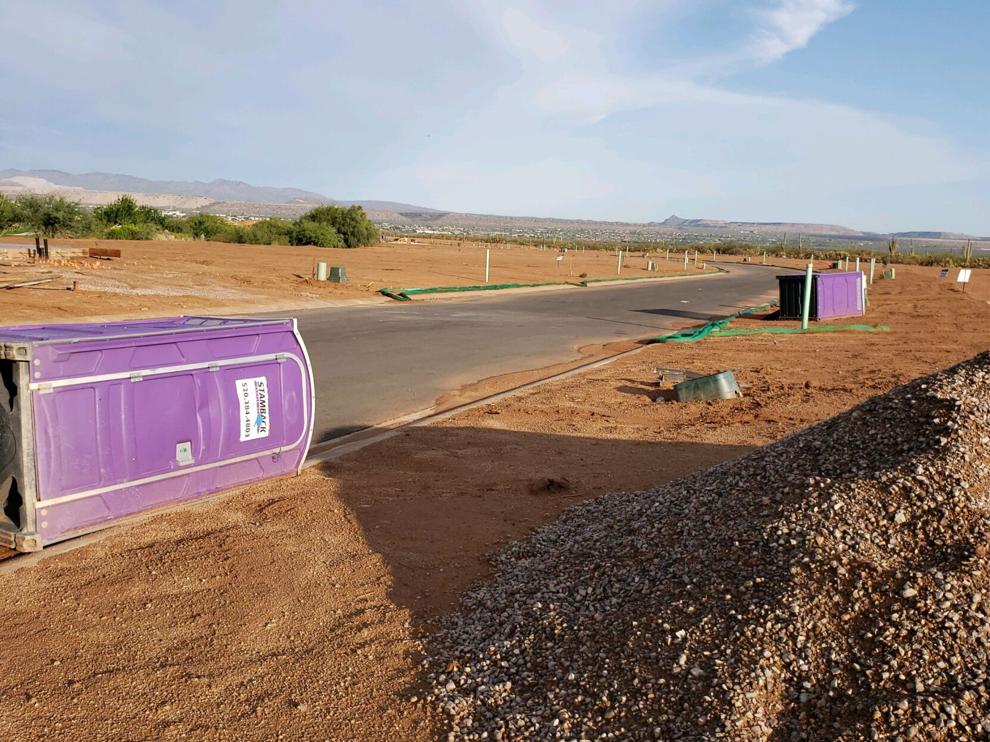 Downed trees, plywood and overturned port-a-potties were seen throughout Quail Creek, where dozens of homes are under construction. Downed trees were reported in several neighborhoods, including Villas West and The Springs at Santa Rita.
A falling pine tree took out the main water line at Villas West, prompting the water to be shut off in parts of the community. They expected Community Water to be on site Sunday and Monday to fix the break.
About half of Green Valley also lost power during the storm.