They say it's their last book, but Midge Lemay and Sue Poirier have learned one thing from exploring Arizona for the last decade: You never know what's around the corner.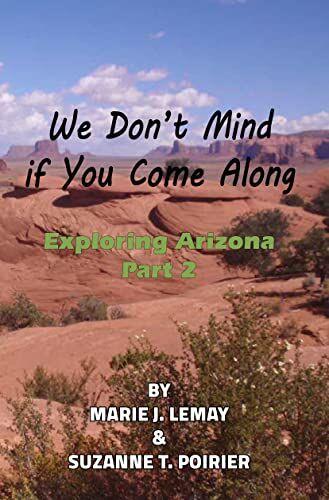 They're known as The Sisters, the go-to people in Green Valley for advice on trips across the Grand Canyon State. Now they're sharing their collective knowledge in a new, nearly 400-page guidebook that is as exhaustive as it is fun to read.
Not bad for a couple of gals from New England who swung through Arizona just over a decade ago on a short visit and decided to make it their home.
"We Don't Mind If You Come Along" is their fourth book, and the third focused just on Arizona.
Their first, "One Mile at a Time," catalogued their nearly two-year adventure driving back roads through all 50 states after selling nearly everything they owned. They've never regretted it, and found a new life in Arizona.
"It isn't about getting rich, it's getting people off the couch and out there," Midge says of the new book, which gives a county-by-county breakdown of more than 630 sites they've visited across the state.
"It's just been a fun, fun book to put together and reminded ourselves of what we experienced," she said.
Growing up
The book's depth speaks to the preparation that went into their first big trip, when they pushed off from New Hampshire in July 2009 in a burgundy Honda CRV they bought with six miles on the odometer. They named her Gypsy, and she's still kicking — pushing 270,000 miles, and Sue swears Gypsy will hit 500 before she's put out to pasture.
"We Don't Mind If You Come Along" took them about two-and-a-half years to write, and the pandemic delivered an unexpected silver lining — it slowed them down enough to finish it long before they thought they would.
The book covers events, historic sites, buildings, people and anything that caught their attention. They hit the road with a desire to explore and learn, and if they see something curious, they stop. That's the rule.
They also share their adventures in a regular column for the Green Valley News.
So how did a couple of newbies to the state go so quickly from tourist to guide?
"When you first start out, you're in awe," Midge said of their arrival in Arizona. "Then you get to a point where you're not in awe, you're in a search to validate some of things that we've experienced. And we can touch it here in Arizona, and we did."
The road wasn't always dry and straight, they freely admit.
"It was new in the beginning, and it was difficult," Midge said. "We didn't know our way around, we were up on dirt roads, we wondered, 'Should we be here?' There was a lot of newness, uncertainty."
They armed themselves by reading dozens of books on Arizona and putting together a group of adventurous friends dubbed "The Sisterhood of the Traveling Broom." Guys were welcome, too.
They'd make plans, call friends, pack the car with people and go.
"We'd fill up the car and off we go," Sue said. "The more we know, the more we wanted to know, especially about Arizona."
The book lists ghost towns, museums, even fun neighborhoods like Tucson's Winterhaven. They mention topography, give basic directions and list a lot of extras you won't find in most guide books.
They freely share how they figure out their next adventure — books, magazines, newspapers — and are big fans of the Green Valley-Sahuarita Chamber of Commerce, which is an official Arizona Visitor Center with dozens of pamphlets and day-trip ideas.
"One of the things that we try very, very, very hard in our articles, is to never say 'People need to go.' We always try to stick with, 'This is what we did. This is where we went. This is what we saw. Hope to see you there,'" Sue said.
But if they could offer one word of advice, it would be to not overlook "the little things" — a piece of roofing material in a long-forgotten village, a rusting truck on the side of the original Route 66, antique street lights and murals.
"Those things make me zing all over when I see them," Midge said, and they've seen all that and more throughout Arizona.
"One of the things we've always been very careful about is that we go somewhere with no expectations," Sue said.
They claim their book-writing days are over but the exploring will continue.
"Underneath our coffee table is probably a hundred other sites that we have researched waiting to go see," Sue said.
Midge agrees that their adopted state has a lot more to offer.
"It has been such a joy," she said. "It's a state that just keeps giving."