Last year, Sahuarita High School created its first-ever competitive marching percussion ensemble and won first place at state.
On Feb. 21, Sahuarita Indoor Percussion and their middle school equivalents are kicking off their season at home and they're hoping to fill the stands.
"These kids work really hard and I want everyone to know they're supported," said Thomas Cervenka, indoor percussion director.
So what exactly is percussion? According to Tyler Haley, one of the many who helps Cervenka in directing the students, it's the music that's made when "anything strikes something."
The kids who take part in Sahuarita Indoor Percussion and Sahuarita Indoor Percussion Cadets strike xylophones, glockenspiels, marimbas, vibraphone, cymbals and several types of drums.
"And, much like a marching band, we put on a show," Cervenka said. "We have a story we tell from start to finish and we tell it through music and visual choreography."
The high schoolers' story on Feb. 21 is called "Mother Nature" and the event is the first of four they'll compete in on the Winter Guard Arizona circuit, Cervenka said.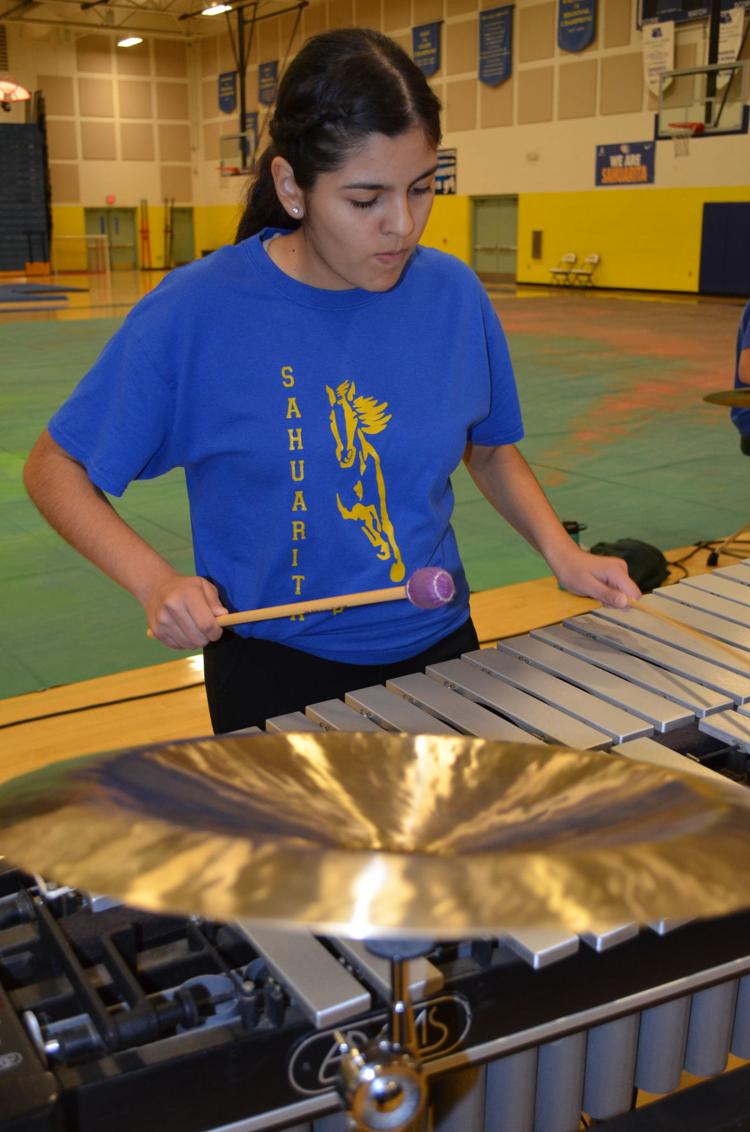 The high school ensemble, comprised of 35 students, will compete against 11 other high schools.
There will be two middle schools at the event, and while they won't be competing, they'll get valuable experience they can take with them to the high school level, Cervenka said. The Sahuarita Indoor Percussion Cadets has 17 members.
During each event, the high school ensembles score points and the ensemble with the highest points will have the honor of competing last at the state-wide competition on April 4.
It's a privilege to compete last because judges tend to remember the last ensembles more, he said.
They also compete at Winter Guard International's lone event of the year.
"'Mother Nature' tells the story of Mother Nature and how mankind treats Mother Nature," Cervenka said.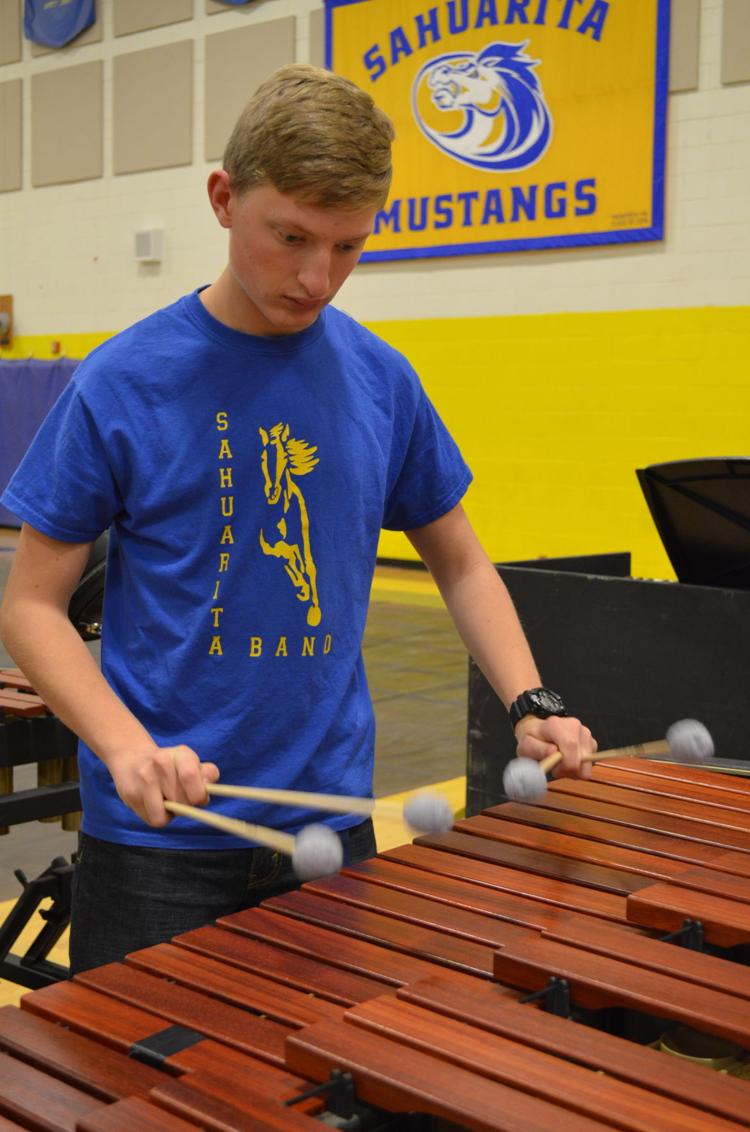 Both ensembles, the high school's and the one comprised of Sahuarita Middle School and Wrightson Ridge students, put in a lot of hours, Cervenka said.
The high schoolers rehearse two to three times a week for 3 1/2 hours at a time and sometimes 12 hours a day during the weekend or school vacations, he said. The middle school students rehearse 90 minutes twice a week.
Some of the students have never played music before, others are taking percussion, band or chorus classes.
Despite all of the hard work, they love it, Cervenka said. 
"It gives them another creative outlet. They get to be part of a team, make music and be competitive," he said.
Trinda Keele, Daniela Vasavilbaso and Phillip Castro started their musical careers at Sahuarita Middle School. 
Vasavilbaso, 16, started out playing the trumpet in the fifth grade, switched over to the xylophone and bass drum in middle school, but now plays the cymbals.
Castro, 18, has stuck with the snare drum all along.
Keele, 18, plays the vibraphone, but she and Vasavilbaso and Castro all agreed that the best part of being part of the ensemble is they've had a chance to play and improve on a lot of other percussion instruments.
"It's been a really neat experience," Castro said.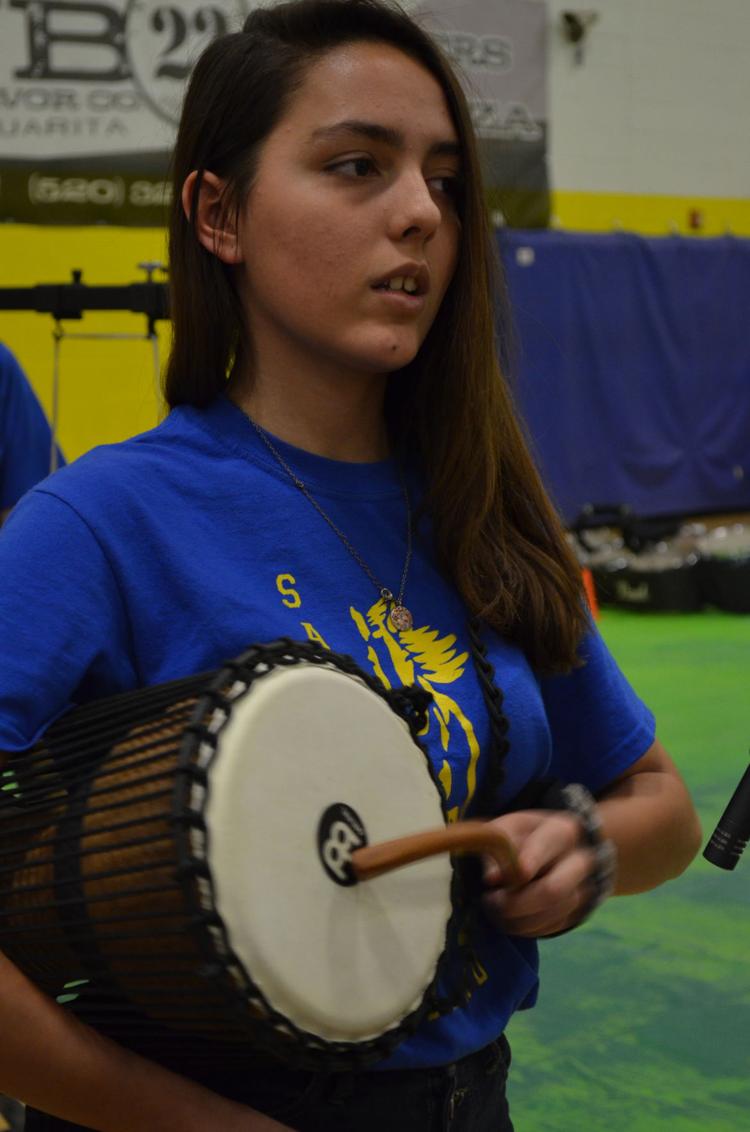 They don't mind the long hours of practice at all, they said.
"It's exhausting, but you get to build connections with everyone," Keele said.
"I think when we have those 12-13 hour days it's when we see the most improvement," Castro said.
They love the message the six-minute "Mother Nature" conveys and hope they attract a big crowd.
"It's definitely something they most likely have never seen before and it's definitely worth seeing," Castro said. 
"We put in a ton of effort and I would like people to see how well we're doing and how much this means to us," Keele said.