It all happened a little after 8 a.m.
Amy Dillemuth received a call from an unknown number on her cell phone, then her home phone, then her cell again. She paused for a moment, then picked up. It was a witness.
George "Fred" Dillemuth, her husband of 21 years, was out for a Labor Day bike ride with friends in Madera Canyon on Sept. 2, 2019, when he collided with a vehicle just south of the Santa Rita Lodge.
The caller on the other end, a motorcyclist who was behind the vehicle when it happened, immediately dialed the emergency contact he found on Fred's road ID bracelet, right beneath a quote that read something about, "enjoying the ride," Amy recalled.
"That's how I was able to find out so quickly," Amy said. "And I found they tried to administer aid there, but they couldn't get an airway."
In some ways, Amy said, Fred was fortunate.
The driver of the vehicle had medical training, there was a group of nurses hiking nearby and the owner of the lodge was on scene to get help quickly.
But the trauma to his head was severe, and despite being airlifted to Banner University Medical Center and whisked into the operating room, surgeons told Amy there was little they could do.
She finally met up with Fred in the ICU, along with some people from Donate Life Arizona.
Fred Dillemuth, a 20-year Navy veteran, active outdoorsman and father of three, died the following afternoon, but his kidneys and liver would go on to help three people. He was 52.
Three years ago – just months before the accident – Amy was driving with her middle daughter in Tucson when they were stopped in traffic for the Ride of Silence.
"I remember we sat at this intersection and just watched all the cyclists go by. They were towing the ghost bike on a platform, this beautiful white bike with beautiful wings, and once I realized what it was I was like, 'Oh, yeah. We'll wait. We stop for this,'" Amy said.
Next week, after two years of pandemic delays and virtual observances, it will be her late husband who's officially honored when the Ride of Silence returns to Green Valley. A ghost bike memorial, which sits at the entrance to the Coronado National Forest on Madera Canyon Road, was dedicated to Fred in 2020.
"I totally support it (Ride of Silence) because it's an important awareness tool," Amy said, "but I just wish there wasn't a reason for it."
About the ride
Since 2003, the Ride of Silence has brought together cyclists from around the globe to honor those who have been injured or killed while riding on public roadways.
Every third Wednesday in May, cyclists in their local communities gather to speak volumes in a silent, slow-paced procession to raise awareness of bicycle safety and encourage people to share the road.
Twenty years ago, Chris Phelan organized the first Ride of Silence in Dallas to honor the life of his friend and fellow cyclist Larry Schwartz, who was hit by the mirror of a passing school bus and killed.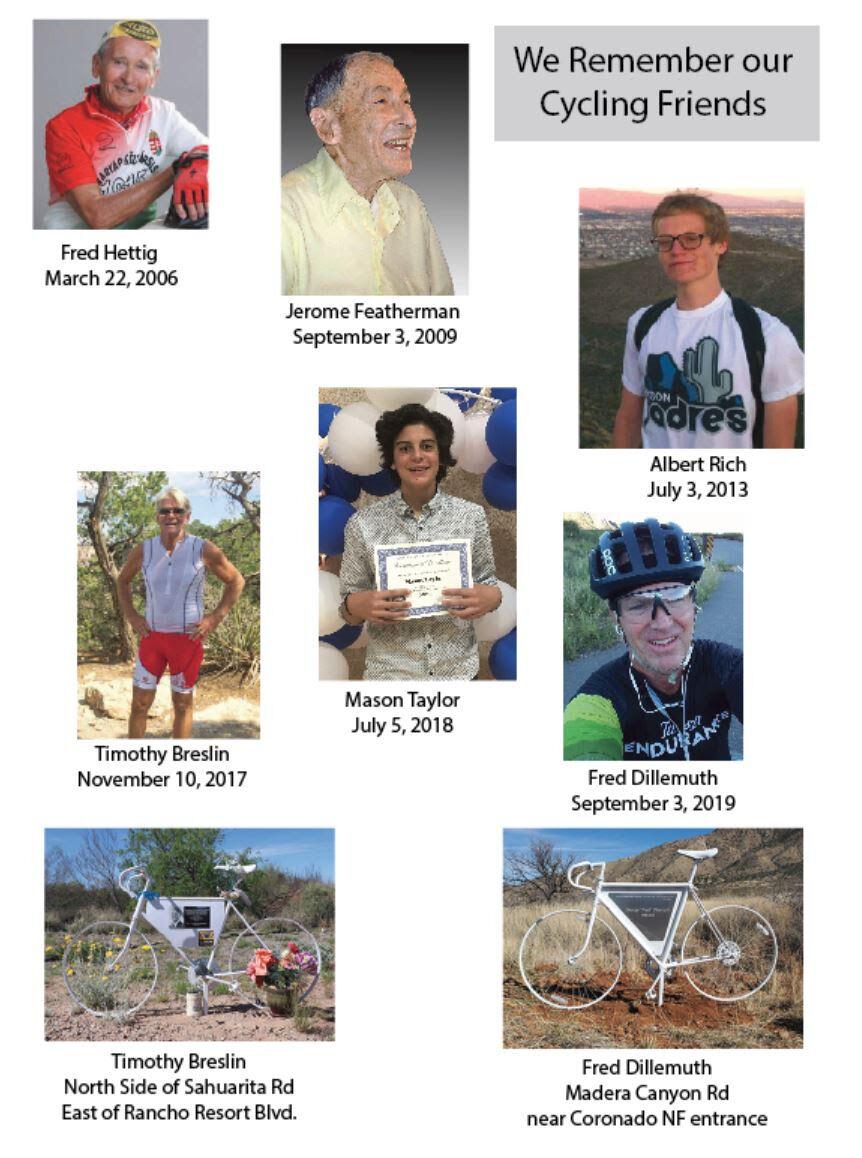 Organized in just 10 days, the first event drew more than 1,000 cyclists and continues to gain momentum each year. This year's event on May 18 will be observed in nearly 400 locations throughout the U.S. and across 50 countries internationally.
Chuck Hill, the event's coordinator and a member of the Santa Cruz Bicycle Advocate Committee, helped organize Green Valley's first Ride of Silence about 17 years ago to honor the life of Fred Hettig, who lost his life while cycling on Old Nogales Highway in 2006.
In May 2019, the last year the official ride was held before pandemic cancellations, the event saw more than 100 cyclists on the seven-mile loop from the GVR East Center to remember the life of Walden Grove High School freshman Mason Taylor.
"It's just kind of an event to remember cyclists who have been killed or injured on roads and highways and we hope that other vehicle users will notice us," Hill said.
"I believe in that mission, and that's why I continue organizing it and riding in it each year," he said.
Organizers are expecting another large turnout for this year's ride, not only because Dillemuth was well known and loved in the local cycling community, but also because Tucson will not be hosting a ride this year.
"My understanding is they have not found someone to organize it, they're not going to do it this year, so we're hoping to have many cyclists from the Tucson area come down, as well," Hill said.
More advocacy
While the Ride of Silence helps raise awareness about cyclist visibility, local advocates note it's just one of many tools they're using to create safer roadways for all.
Karen Rainford, president of the GVR Cycling Club, said one of their goals is to make basic "rules of the road" more accessible to the general public, especially new cyclists.
When it comes to the bike racing community, Rainford said riders are given technical guides ahead of each race to let them know what they can and can't do while riding, as well as how to keep themselves safe.
Rainford hopes to make that information more accessible to everyone who shares public roadways – including e-bikers, golf cart drivers and pedestrians – and that they'll learn to take it just as seriously.
"There have just been so many vehicle-bicycle collisions that are just so sad, and as bikers, we've all had many close calls. As a club, we're just trying to figure out how we can promote safety for everybody who's using roads," Rainford said.
Others point to the need for drivers to take more responsibility for their own actions behind the wheel.
According to ADOT's 2020 Motor Vehicle Crash Facts, driver behaviors like speeding, impairment, aggressive driving and distracted driving were the leading factors in more than 90% of crashes and are primary contributors to the rising number of traffic fatalities in the state.
But to Amy Dillemuth, even awareness campaigns can only go so far. Road safety can come down to the individual – whether behind the wheel of a car or on the seat of a bike – being considerate, assessing their own risks, and ultimately, living their own lives.
"I was never as comfortable or as confident (cycling) on the road – driver's aren't always considerate and they aren't always looking out for cyclists," she said.
"But for Fred, he really was just such a naturally athletic guy, and the bike was kind of just an extension of him. He handled it well, he was aware of what was around him. Of course, there's always an awareness it's a dangerous activity…but you also can't live your life under a rock, and he certainly wasn't the type of person to live like that."