Karl Wagner had a busy Friday morning shaking hands at Good Shepherd United Church of Christ. The church was the site of a resource fair for striking Asarco workers and Wagner, who lives in Los Arroyos in Sahuarita, wanted to check on the well-being of each one.
Wagner has worked at Asarco's Mission Mine in Sahuarita for 13 years.
"I'm the fifth person in my family to work at Mission," he said. "I've been around mining my whole life, but this is the first time I've personally been on strike." 
More than 1,700 employees from seven labor unions went on strike against Asarco and Grupo Mexico on Oct. 13. Picketing is underway at Asarco's locations in Hayden, Kearny, Marana and Sahuarita, and at an Asarco refinery in Amarillo, Texas.
The strike had the votes of 77 percent of workers, who said they haven't had a raise in 10 years; they want higher pay and better benefits. 
So many are on strike at the Hayden smelter and Amarillo refinery they've had to shut down operations, said Alex Terrazas, president of United Steelworkers Local 937.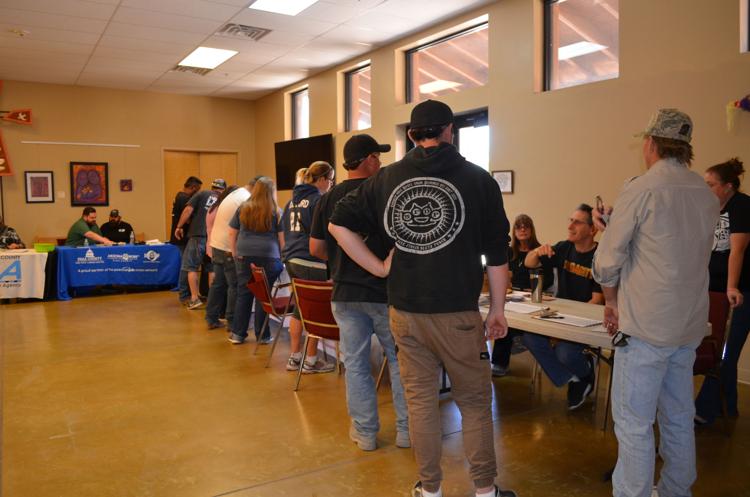 On Friday, representatives from Pima County One-Stop Career Center, El Rio Health, United Community Health Center, Valley Assistance Services and both local food banks set up at the resource fair.
The fair, organized by the Pima Area Labor Federation, AFL-CIO, was the third of the week and the busiest, said vice chair Marian Amoroso Benedetto.
Benedetto estimated more than 150 people had taken part in the earlier fairs in Tucson. Some people had driven from Hayden to seek help, she said.
She suspects the numbers seeking help will grow – Friday was the workers' last payday. She said there will be more resource fairs, with the next one likely in Marana in November. 
"It's a little scary, but my family is doing a little better than some of my brothers and sisters in the union," Wagner said. "My wife works full time and we set a little money aside."
Wagner, a member of United Steelworkers Local 937, said they've been working without a contract since last November. Suspecting a strike, he said he and his children went on to his wife's health insurance policy.
"I feel bad because I know a lot of my co-workers don't have that available to them. They're really between a rock and a hard place now," he said. "Do they stand up for themselves or cross the picket line?"
Now that the last paychecks are in the bank, Wagner said he suspects families and the community are going to start seeing the impact of the strike.
"If people don't have any money to spend, we're not going to be," helping the local economy, he said. "And, if people want to stay in mining they may have to move."
There have been no negotiations between the unions and Asarco since the strike began, so he's looking for another job knowing his wife can't support all of them for long, Wagner said.
"I'll go flip burgers if I need to so I won't cross the line," he said.
His father worked for Asarco for 15 years and he never crossed the line, Wagner said.
"I hope no one will cross the line. I hope they'll find other employment, even if it's temporary," he said.
Dan Sullivan, the community services manager for Pima County One-Stop, handed out fliers Friday notifying people about a job fair that will be held Monday at the Kino Event Center, 2805 E. Ajo Way from noon to 3 p.m. Representatives from more than a dozen public and private organizations are scheduled to attend. There are plenty of organizations hiring right now, Sullivan said.
Terrazas, the president of United Steelworkers Local 937, said well over half of the Mission Mine's 400 hourly workers are on strike. He thinks about one-third of them live in Sahuarita, Green Valley or Amado. 
"A lot of the guys you won't see on the line because they're out looking for jobs or spending time with their families," he said. "Some of them are helping out on lines elsewhere."
Of the seven unions on strike, four of them have employees at Mission Mine – United Steelworkers, Teamsters Local 104, International Brotherhood of Electrical Workers Local 570 and International Union of Operating Engineers Local 428, he said.
Eduardo Placencio, another member of United Steelworkers, said there would be far more Mission Mine workers on the line had they not already quit over the pay situation. 
"Over the past year people in the trades have gone elsewhere because of the cost of living," Placencio said. "Somebody in the trades can get paid better elsewhere, the mechanics, the electricians, welders..."
Terrazas described the strike as a "peaceful protest" and said many union members have brought their children to the line. 
Are the workers worried there have been no negotiations yet?
"We're not letting it faze us. We're doing what we need to do," Terrazas said. "Everybody's in a positive mood. Everybody's dedicated."