When Kaaren Zvonik decided to retire seven years ago and move back to the United States, she…
Step aside, Arctic tern. An even rarer bird is making an appearance at the Historic Canoa Ranch, and it's drawing a crowd.
An Arctic tern flew beyond its typical migration pattern in May and made a quick stop at Canoa Ranch. The bird tends to stick to coastal waters and rarely makes its way into Arizona.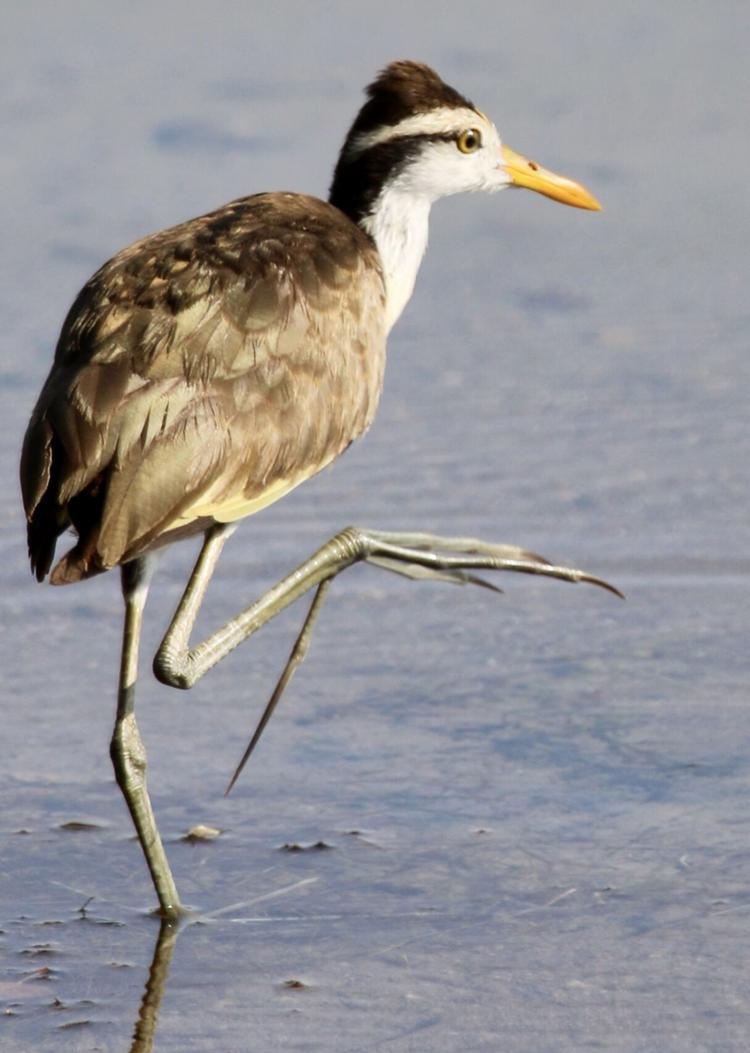 This week, another rare find in the state made its way to Canoa Ranch – a juvenile Northern jacana.
Canoa Ranch's superintendent Matt Smogor said the bird is a little more rare for the area than the Arctic tern; the influx of excited birders reinforces that.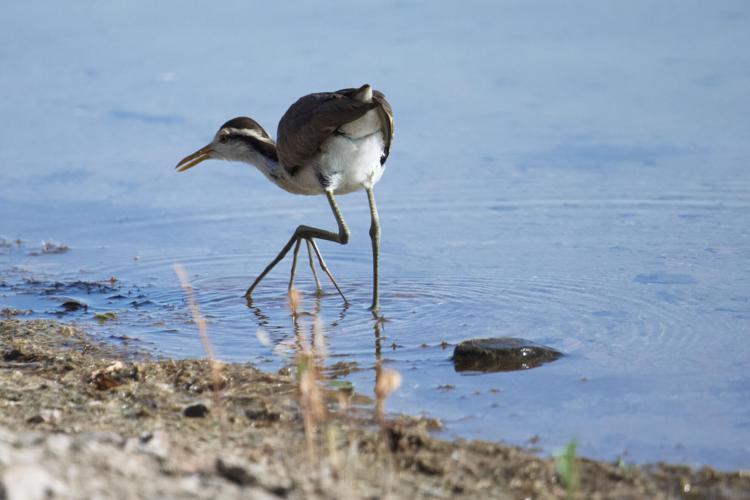 "This is a really cool bird," Smogor said. "It's normally in Mexico. Sometimes it jumps up to Texas, Jamaica, Caribbean. It's more of a tropical bird. So, it's pretty cool to see up here. Especially when the weather is cooling down."
Smogor said traffic at Canoa Ranch jumped exponentially Wednesday and Thursday as news about the sighting spread online.
"This parking lot was full all day with cars cycling in and out, we probably had a couple of hundred birders come down yesterday," he said Thursday. "And today is a good start. It looks like we have 20 or 25 birders out first thing in the morning."
Excited birders
Green Valley resident Robert Petrillo was in the Thursday morning crowd.
Petrillo moved to Green Valley three years ago from New York City and said Green Valley Recreation and birding were the two things that drew him to the area. Petrillo has been birding for about 15 years.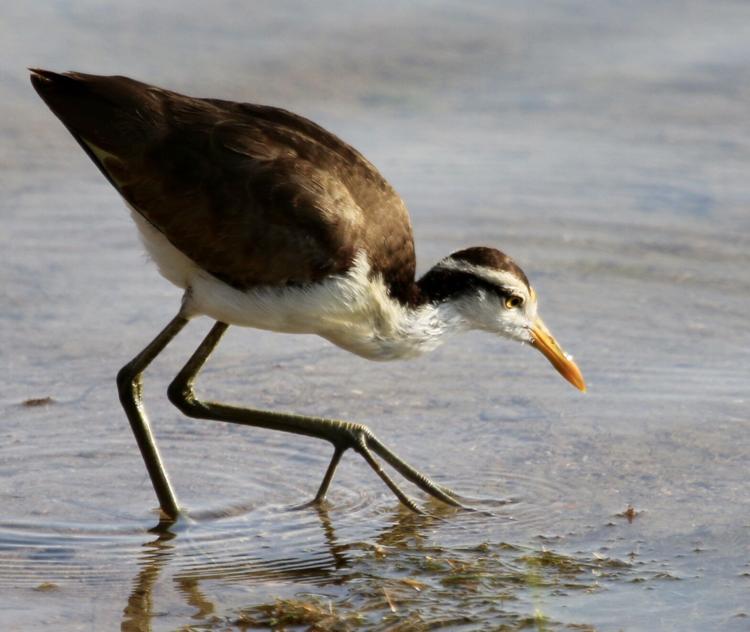 "I'm signed up on eBird alert," Petrillo said. "So whenever unusual birds come, they send an email blast out. And I came here, and here it was."
The Cornell Lab of Ornithology manages eBird, which has more than 100 million bird sightings worldwide contributed to the site every year. The public can submit photos and sightings.
Petrillo said there was some worry that he could have missed the Northern jacana since the alert went out Wednesday during his work shift. But plenty of others made their way out that day after hearing about the sighting.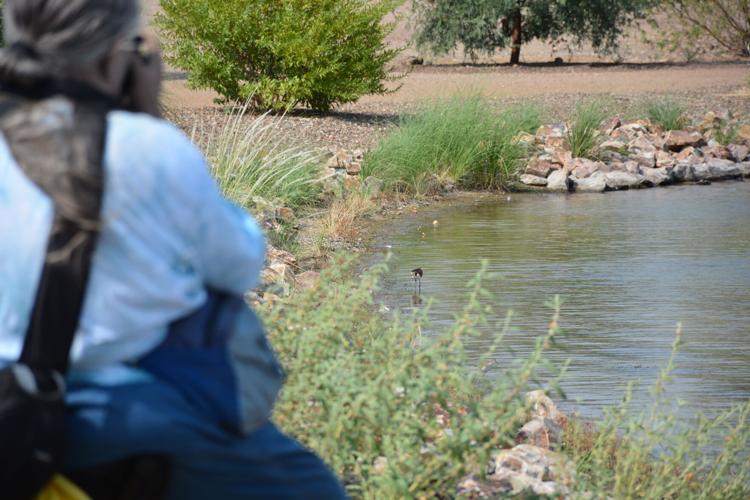 Jennie MacFarland and Richard Fray made their way to Canoa Ranch to catch a glimpse of the Northern jacana after hearing about it on Facebook.
MacFarland is from Tucson and works for the Tucson Audubon Society, and Fray lives in Rio Rico and is a professional bird guide and former TAS board member.
"It was seen in several Green Valley locations yesterday, and people were hoping it would turn up here because this is a more public access point. It's easier for people to get to," MacFarland said. "And it did. It did turn up here today, but it was seen on a private golf course yesterday."
Fray is an administrator for the Facebook page where they heard about the sighting, and soon after, he drove to Tucson to pick up MacFarland, and they made their way to Canoa Ranch, just south of Santa Cruz Valley Regional Hospital.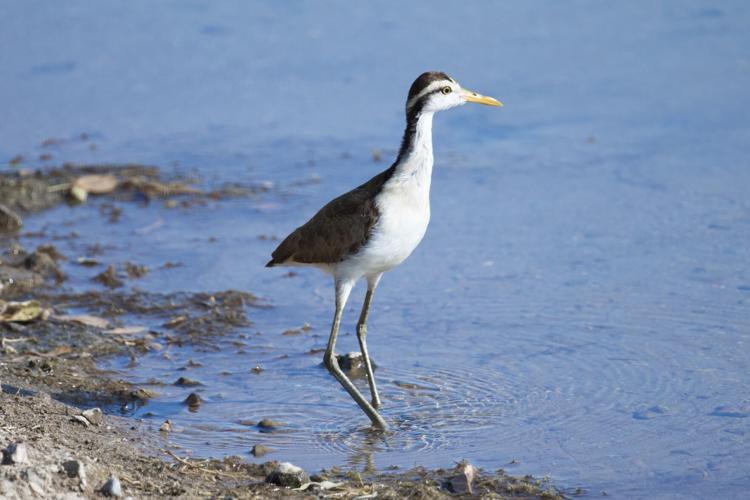 "This is sort of a statewide rarity, or nationwide, in fact," Fray said. "They're a bit more frequent in Texas, but not every year. It probably averages one in every 10 years in Arizona."
Gale Daniels moved to Green Valley in April and said Wednesday's sighting was the first time she spotted one in Arizona.
"We moved down here because we have birded this area for more than 20 years – decided that it was finally time to move here so I could find my Montezuma quail," she said. "Instead, I get a Northern jacana."
Daniels laughed about stumbling on such a significant find by accident after she decided to get out of the house and visit Canoa Ranch.
"It's like serendipitous," she said. "We just texted two people who live in town that are avid birders that there's a Northern jacana down here. It wouldn't surprise me if they jump in the car and come."
And many of the birders wouldn't mind a drive to add the Northern jacana to their checklists.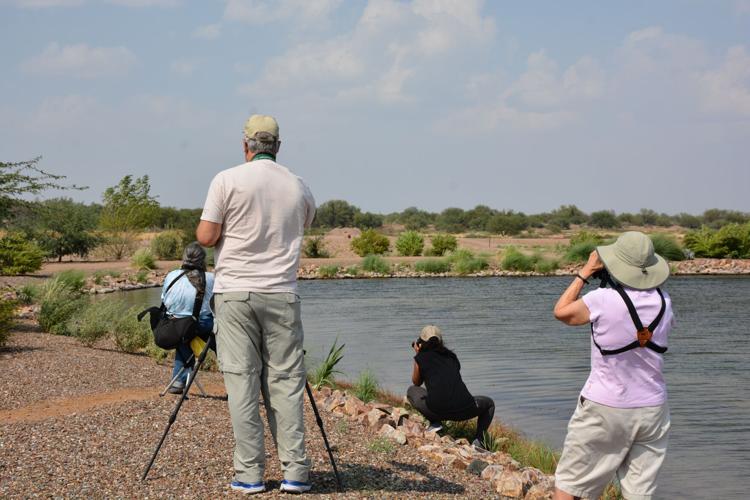 Dara Vazquez and her daughter Kira drove two hours from Gilbert to take photos after hearing about it through friends.
And she wasn't alone in making the drive.
As Vazquez and Kira sat at a table, a small group of people cheered as they walked from the parking lot. She said at least five people she recognized drove to Canoa Ranch from the East Valley in the Phoenix metro area.
Tucson resident Dave Eshbaugh has been birding for 58 years – about 20 in Arizona – and he said this was a first for him.
"It gives you an idea of how rare it is," he said. "The American Birding Association grades birds on how rare it is, and this is one of the rarer birds. Probably a class 4 bird."
Smogor said the ABA rated the Northern jacana for the area at "code 4-casual."
The rating is on a six-point scale, but code 5 and 6 are especially hard to find. According to the ABA, a code 6 is "probably or actually extinct or expatriated from the area," or all survivors are in captivity.
Increased sightings
While finding such a rare bird for this area was a surprise, the opportunities for more unique sightings aren't.
In August, Canoa Ranch birding expert Brian Nicholas told Green Valley News there were 166 species after the lake's construction in 2017. Since then, the number of species expanded to 250.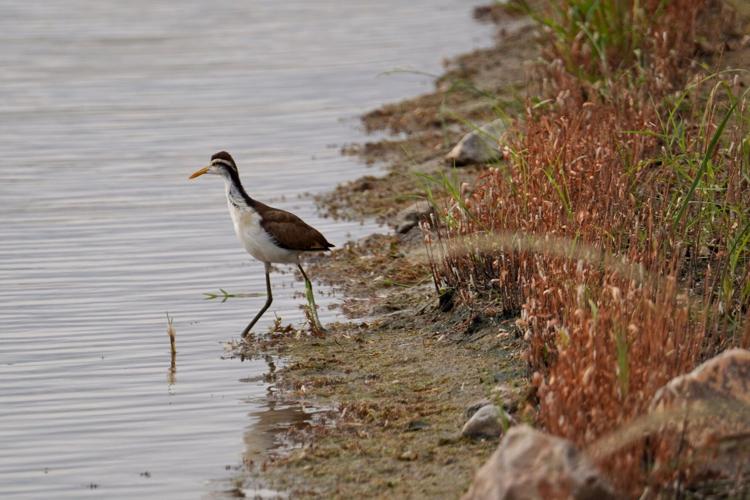 "The fifth-hottest hot spot in Pima County and we're within about two from becoming the third hottest-hot spot around," he said.
And other birders noticed the jump in new species, too.
"This place is amazing," Petrillo said. "I moved here in 2017, when they just started to build this, and the number of birds here just keeps growing each year. I'm a big fan of Madera Canyon, and there are more birds here now than at Madera Canyon."
Smogor said that's a benefit of the county's efforts to build a variety of habitats.
"I would say we're always optimistic," he said. "The nice thing here is we have diversity."
The Regional Flood Control District added a six-acre pollinator garden to the property in June. Flood Control also added a 2.5-acre cienega – a marshy wetland – north of the lake in February.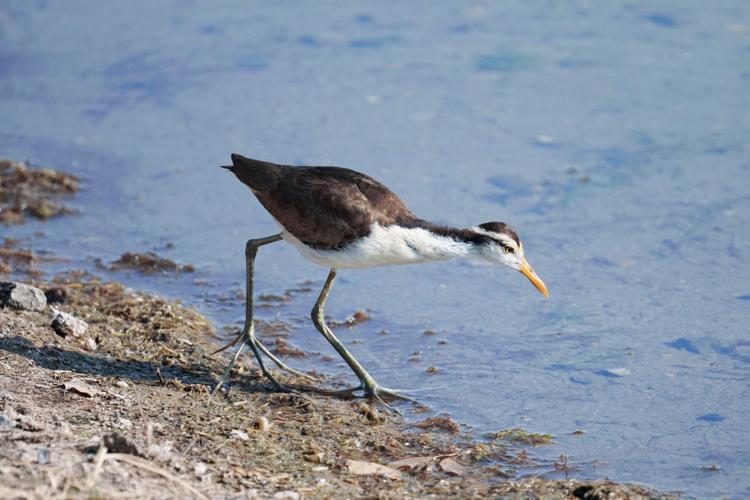 "They all kind of complement each other, and a lot of these species can kind of jump around and pick the pros and cons to what they need to survive. The diversity of the habitats that we have here in such close proximity can really help bring some rarer species possibilities."
Vazquez appreciated what Canoa Ranch brings to birding after making the drive from Gilbert.
"These restoration projects provide such relief to wildlife and plant life all around," she said.
Rare sightings
Vazquez got into birding in 2017, after quitting her job and adjusting to her pregnancy with Kira.
"I went for a walk to cool off and went to this place called Gilbert water ranch, and there was a couple that had binoculars and was looking at something in a pond," she said. "I was curious and asked what was going on."
Gilbert water ranch is the Riparian Preserve at Water Ranch on Guadalupe Road.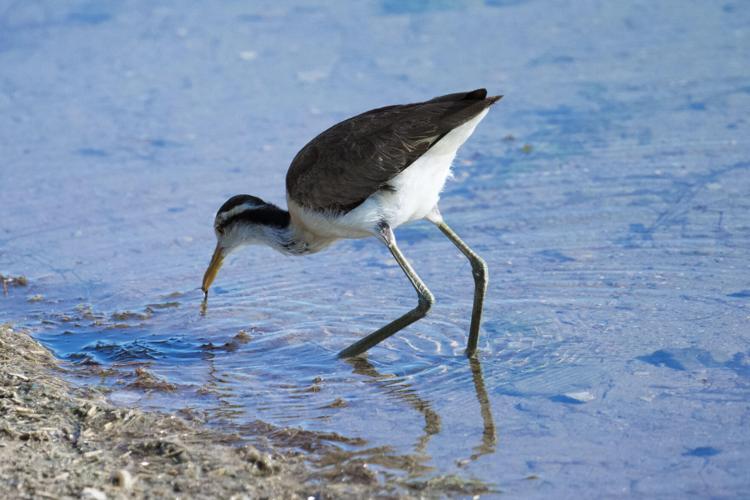 The couple told Vazquez there was a Belted kingfisher actively fishing, and then they passed her the binoculars.
"I saw this amazingly beautiful, brilliant metallic blue bird dive bomb this pond, grab a fish, go back up to this dead tree and throw its head back and gobble this giant fish down," Vazquez said. "I had never seen anything so beautiful or amazing anywhere. I grew up in cities on military bases and I was like, 'What is this, is it rare?'"
The kingfisher wasn't rare, but Vazquez was hooked all the same.
"I drove out here with my little one. Two hours and seven minutes," she said. "That's nothing for a rare bird like this."
Eshbaugh suspected more people would make the trip to see the Northern jacana if it stayed in the area for a bit.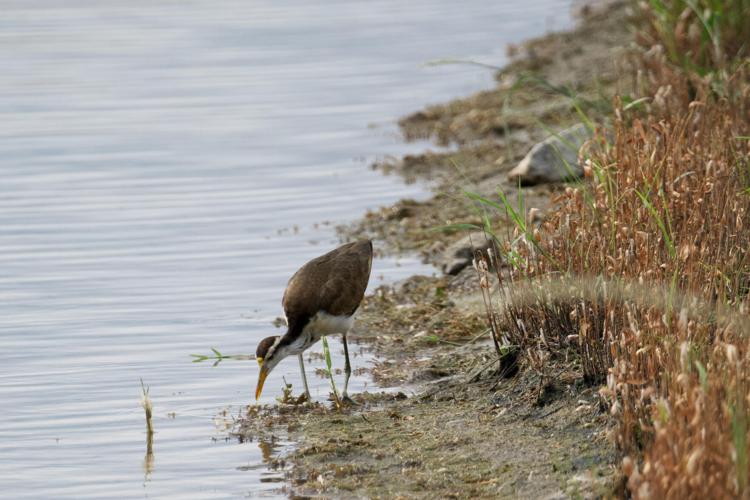 "I'm sure the Phoenix birders will be here soon," he said. "And this is the kind of bird that will bring birders from all around the country. This is a great location, particularly in a dry year like this."
Eshbaugh is no stranger to traveling for a rare sighting.
He has birded around the state and world, visiting Antarctica, Africa, Asia, the Pacific and others to spot birds.
"A lot of us keep lists of birds we've seen in the American Birding Association area or in Arizona, and this is exceptional in both of those areas," he said.
Eshbaugh has driven or flown to different places to see a bird that had been spotted somewhere. However, like some hoping to catch a glimpse of the Northern jacana, it doesn't always work out.
"Sometimes, sometimes not," he said. "That's the devil of the game."