Before 1997, Jeffrey Webster was "ambivalent" about tattoos. His brother had one and always regretted it.
When Webster, 74, served in the Coast Guard, he didn't get inked. It wouldn't happen until after he left and was a lot older.
First in a two-part series: The business of tattoos has grown more professional, safe and acceptable as the popularity of ink spreads. 
"One day at work, suddenly a great depression set over me; my head was engulfed in a black cloud," he said. "I got in my truck and started to sob. I cried all the way home and went in and sat on the sofa. Three hours later I'm still sitting there and my wife comes home and asks, 'What's the matter with you?' I said, 'I don't know, maybe I'm dying.'"
He was on the verge of 50 — "a mid-life crisis with an extra dose" — when a friend recommended a therapist.
She honed in on his pain; it started with his father, who passed away when Webster was 21. He said he never stopped to grieve him. But what triggered the depression was the death of his brother-in-law.
"He was an avid birder since he was a kid and I started going birding with him. We got pretty close and he died," he said. "One of the first exotic birds he showed me was the peregrine falcon. We were out birding and a falcon zoomed by. The peregrine was just being reintroduced and it was a thrill for him."
His therapist said he needed to go do something for himself that he didn't ask anyone permission for. He decided that would be a tattoo on his shoulder — a peregrine falcon for his brother-in-law.
"I chose it because it was just coming from the brink of extension and my therapist gave me a second chance at life," he said. "I was rising from the ashes and honoring my brother-in-law. It's just a cool bird to boot, the baddest bird in the air. I'm still proud of it and I've never regretted it once."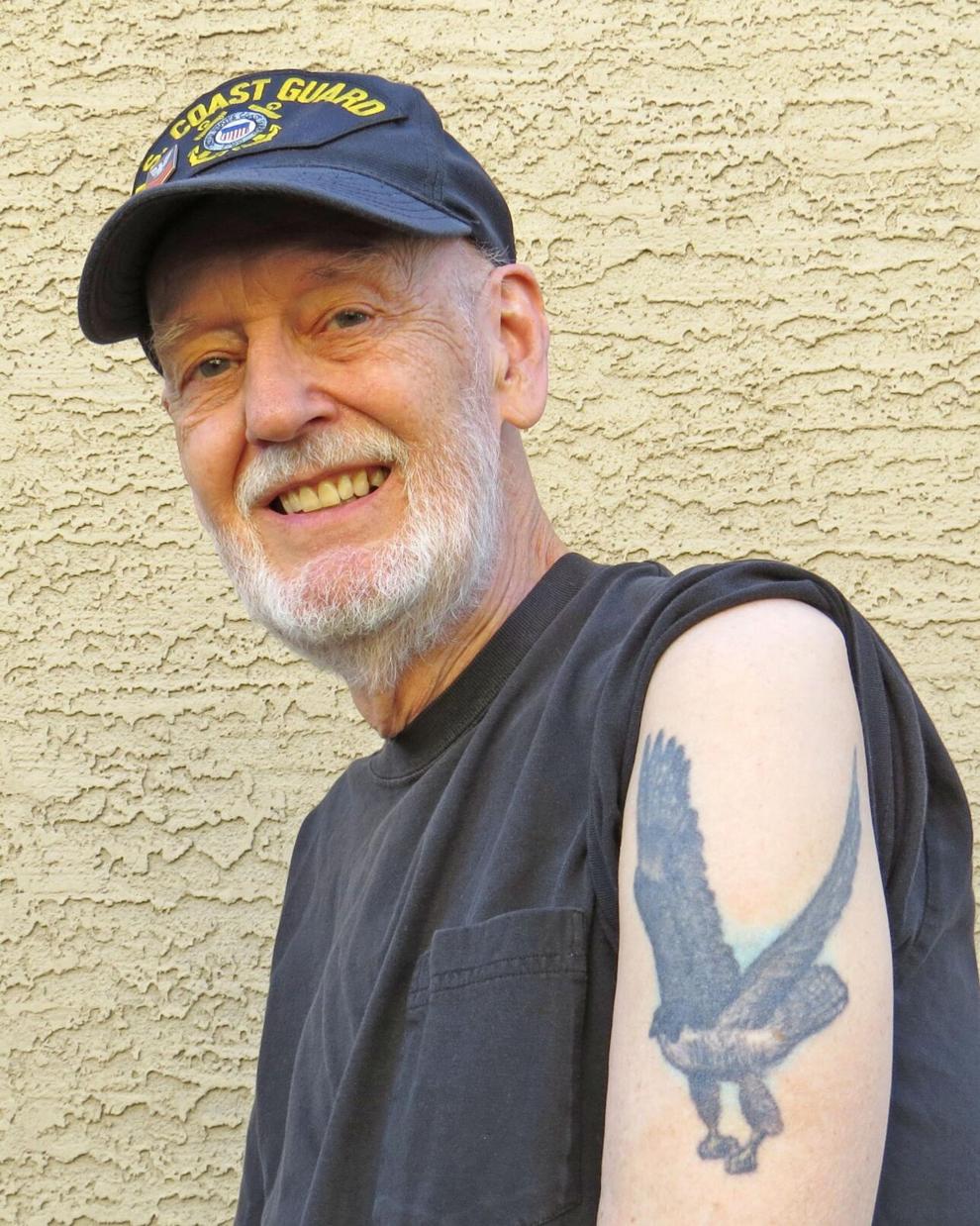 Tattoos are forever and often hold deep meaning for the person getting them and the artist who does the work. Sometimes the journey is pleasant, others have rough landings. Here are a few. 
Rick Cronin
Rick Cronin, 68, didn't see the artistry of the industry until later in life, when he met his stepson Anthony Michaels, a talented tattoo artist.
"I've been inspired by his artistry and got to understand that the industry does not have the thug atmosphere. It's not all sailors anymore," he said. "It has turned into fine art by extremely talented artists."
Michaels would go on to compete on Spike TV's Ink Master, winning season seven in 2016.
"When he came home (from the taping), the only thing he told us is he made it to the final episode," Cronin said. "He got to fly back to be there for the final episode, and we got to go and it was a wonderful time. To be there in the audience, I don't even know how to describe it. We're so proud."
Michaels went on to open a shop in Tucson called Twenty Five Twelve Collective.
Cronin got his first tattoo from his stepson for his 67th birthday. He wanted something to represent one of the three pillars of his life — patriotism, faith and family. He asked for an eagle and American flag on his right shoulder and Michaels figured out the rest.
"I told him what I had in mind and he came up with something like, 'Sure you like this?' and made a stencil," he said. "It took about five-and-a-half hours. We'd take a break every hour."
He went back last Father's Day for an image of Jesus and a crown of thorns on his left shoulder.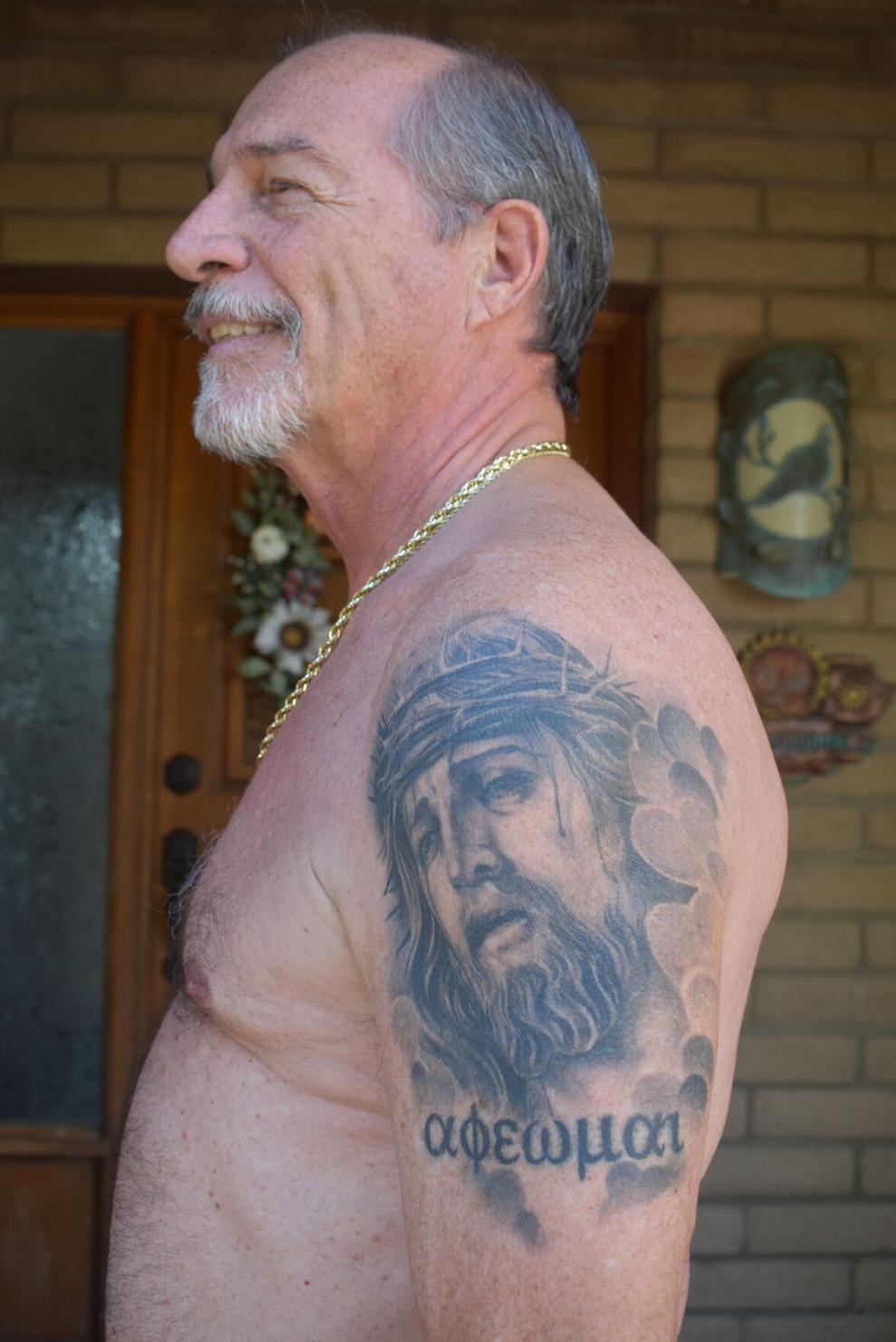 "There's a chance I might get another one down the road," he said.
Cronin said the industry has done an about-face and shaken off its sometimes shady reputation.
"If you go see my son's shop, it's all white, very antiseptic," he said. "He doesn't allow a thug atmosphere. So many people are getting tattoos now, and it's an art."
Heather Castro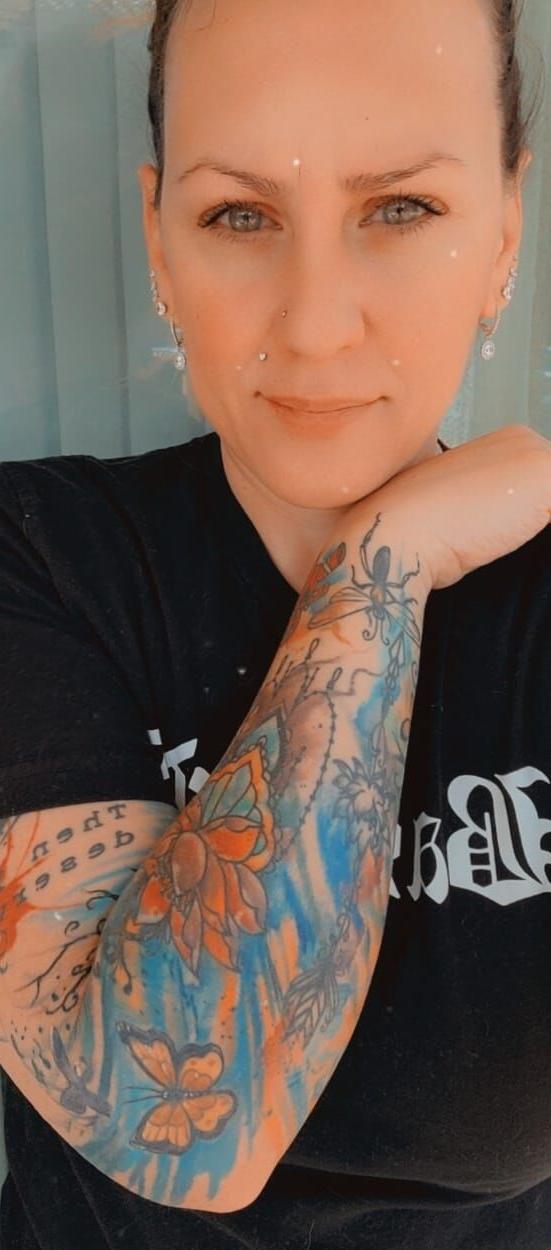 Rancho Sahuarita resident Heather Castro has eight tattoos and a full sleeve composed of many more. Her tattoos have different meanings; her favorite is her largest piece of art.
"My tattoo that means the most to me is my tree and the night sky," she said. "In the stars are my family's initials and the tree is my family's strength. It is definitely the biggest tattoo I have and has taken the longest to get done, and still isn't quite done."
Castro said her experiences in shops have been pleasant and unpleasant.
"I learned to look at multiple profiles and look at the shop's ratings," she said. "Another thing is you do get what you pay for, and if you pick someone and they have a month-plus waiting list, that is a good thing. Lastly, trust your artist."
She said some of her best tattoos were the result of letting the artist run with her idea and put their creative mark on it.
She wants more but admits that in the past she hid tattoos in the professional world.
"I became a stay-home mom about 10 years ago and that opened the door for more tattoos for me," she said. "I was a medical assistant and have seen my office managers discriminate against people with tattoos so I never got them in places where I couldn't hide them with my scrubs."
Creating history
Tattoos hold lots of stories for the artists, too.
South West Tattoo's Mike "Cowboy" Cowling said sometimes "you get people who cry and hug you. It just depends on how meaningful that tattoo is."
Jesus "ChoppinChu" Arvayou said the experience, which puts artist and client together for hours, gives him a deeper look into others' lives.
"They are very surprising with stories and I love to hear from them, they have beautiful experiences and great knowledge to pass," he said. "I've had great clients who are older and one of my favorites is a Vietnam vet. I've been able to do some really nice detail on him with dragon work and flowers that commemorate his grandkids."
Arvayou said it's not uncommon to tattoo multiple generations of a family over the years, mourn the death of a client or even experience old emotions welling up as a tattoo begins to take shape.
South West Tattoo owner Candy Moulis said the meaning of a tattoo can still hit you, even when you have experience. The tears flowed for her just a couple weeks ago when Cowling started an owl tattoo for her in honor of her mother.
"My mother died 15 years ago and I said I'd get this tattoo for her — she's an owl person," she said. "Even after 15 years, when I went into the bathroom and looked at this in the mirror it brought me to tears."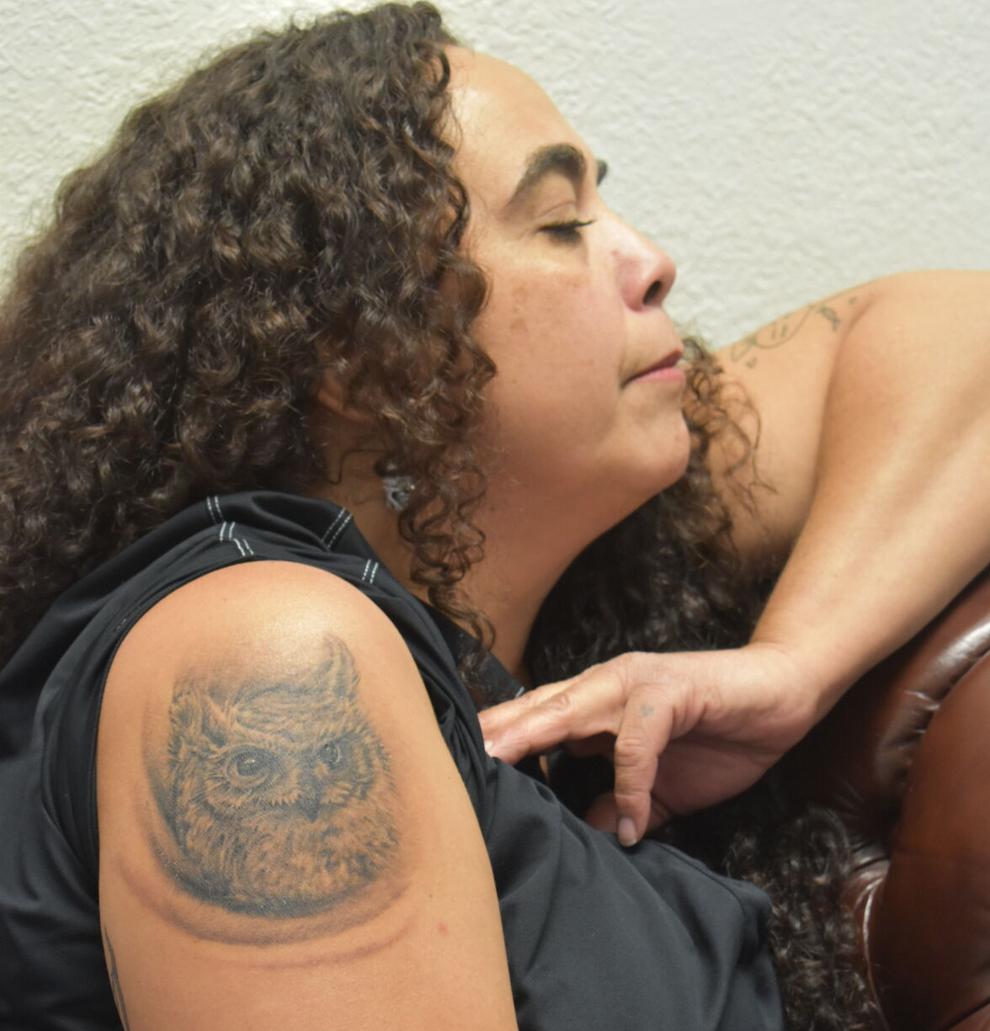 Cover-ups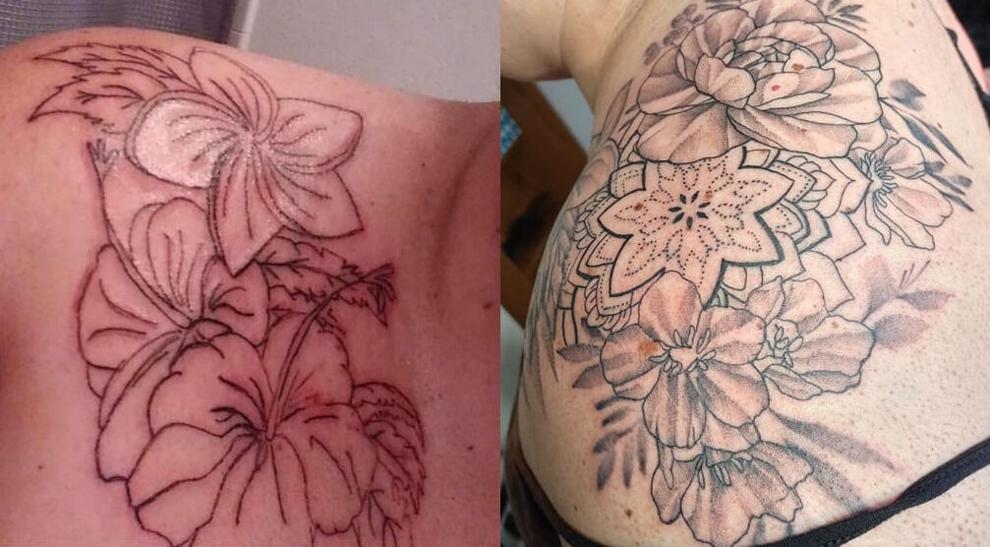 Though many people are proud of their tattoos, others go as far as getting a piece covered up, changed or removed. It could be for lots of reasons. 
According to Support Tattoos and Piercings at Work, a group that supports workers with piercings and tattoos, about 5% of people with tattoos decide to get cover-ups.
Arvayou said he has had clients come in for cover-ups that changed their lives.
"I had someone say, 'I've been wanting to take off my shirt for years but they always question this tattoo and now that I got this cover-up I can do that. I can go to the beach and feel confident again,'" he said.
He said tattoo artists sometimes work on people with tattoos, including objectionable symbols.
"We have tattooed people with Nazi symbols and they have allowed us to work around it or cover it up and from there we understand their dilemmas or what they went through," he said.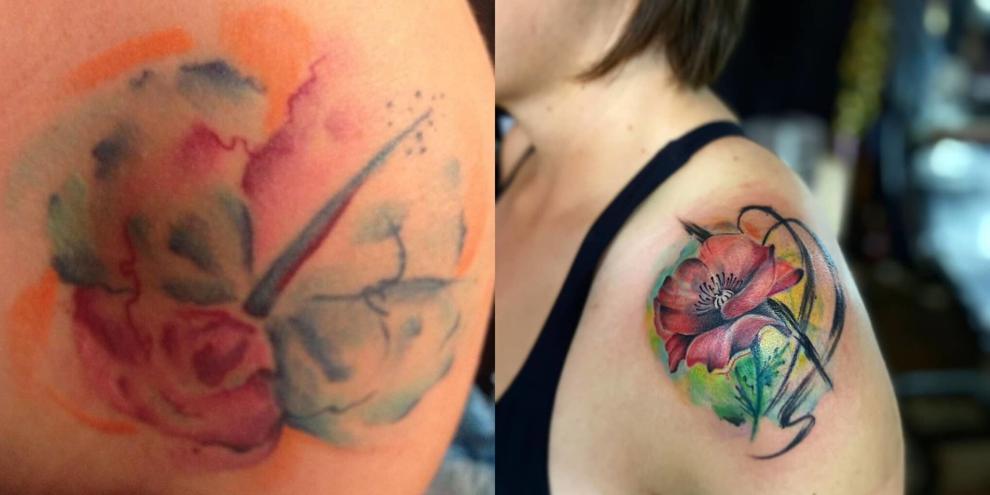 Moulis said a cover-up can occur when something changes in someone's life, or they may just one day think, "What did I do? Cover it up."
Castro loves her tattoos, but she does have a piece she covered up.
"My favorites are my kids' drawings, which is a butterfly and a girl who, long story short, I had turned into a tree years later because my daughter was embarrassed of her drawing on me. So now, sadly, she is almost gone," she said.
She kept the girl's face within the tree to honor the original art.
Does she have any she tattoo regrets?
"Unfortunately, yes," she said. "I and some friends drank a little too much when I turned 21 and I woke up with an ugly heart with bat-like wings tattooed on my stomach. I don't remember picking that one but that's what I got and still have it to this day."
There's also her first tattoo — a small butterfly on her shoulder — that she got with a friend when she was 18. But even when friendships go south, the tattoo remains.
"It's not my favorite anymore because my best friend of 25 years has a matching one and she betrayed me, so we are no longer friends and it reminds me of her."
Cover-ups can be difficult and there's a lot factoring into what can be done.
"Tattoos come in all shapes and sizes. And bad tattoos, let's face it, a lot of us have at least one," Arvayou said. "Depending on how big the cover-up is there's a lot to think about. Some tattoos can be easy and quick to take down with a little damage control to the area, others go extensive and have to go through multiple sessions."
He said there are other options for dealing with an unwanted tattoo.
"Sometimes we can't do the cover-up but we can make it look nice and add to it," he said.
Take it off
Removal requires going to a laser removal business or a doctor. It can be expensive, painful and time-consuming.
The American Society for Aesthetic Plastic Surgery estimates the average cost per session for tattoo removal at $463. And it will often take more than one session, depending on size, detail and age of a tattoo.
 Sahuarita resident Tiffany Ford is in the process of getting three removed, which could end up costing close to $900.
"It's because I was 18 and just got stupid tattoos," she said. "The quality wasn't good."
She said the person doing her removal is great but it's not an easy process.
"It's painful, feels like being popped with oil over and over again, but the sessions are extremely quick," she said.
Ford is about half-way through what she said could be 12 sessions total.
"I'm just excited for them to be gone," she said. 
Acceptance
The number of people getting inked and the number of tattoo shops are projected to keep growing.
Though people with tattoos do still report being judged occasionally for their body art, perception and acceptance has shifted in their favor.
Webster, who lives in Green Valley, said that now that he has own tattoo, he takes notice of the body art around him more.
"Now when I see one I ask about it, I admire it, because I really thought of my tattooist as an artist," he said.
For Arvayou, what's most fulfilling about the shift in acceptance of tattoos still comes back to the art.
"The beauty of it, though, is pushing the craft forward and bringing it into being more normal," he said. "As it becomes more normal, it lets people know it's OK to get tattooed."