As the American population ages, the number of people diagnosed with Alzheimer's and related dementias grows.
More than 6 million Americans are living with Alzheimer's, with 150,000 in Arizona. That number is expected to climb to at least 200,000 by 2025, according to the Alzheimer's Association, putting Arizona first in the nation for rate of growth in Alzheimer's cases.
But despite the growing number of Arizonans impacted, there is still no coordinated system to address the needs of individuals, families and caretakers dealing with Alzheimer's and related dementias. A new initiative to establish a "Dementia-Friendly" Pima County hopes to change that.
Last month, the Pima County Board of Supervisors entered into a partnership with Pima Council on Aging (PCOA) to become a certified "Dementia-Friendly Community."
The move is part of a larger push to create a more Dementia Friendly America – a national cross-sector effort launched in the U.S. in 2015, that aims to help communities better understand, embrace and support residents living with dementia and their carers.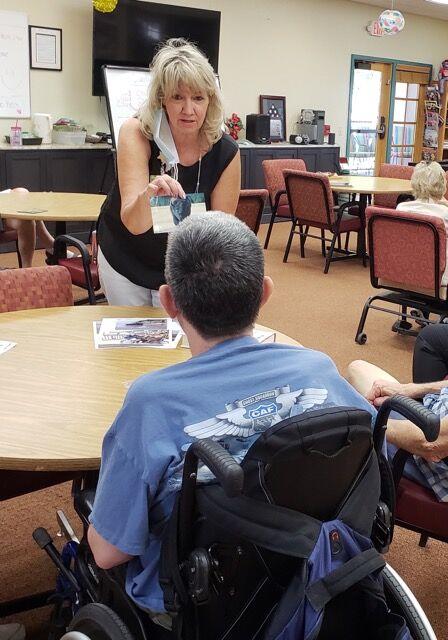 With the aid of a $1 million federal grant awarded to PCOA to strengthen dementia-specialized support services in the region, the nonprofit group plans to work in tandem with other community-based organizations and county leaders to draft a community action plan, identify opportunities and barriers, and develop new programs to support the over 20,400 Pima County residents living with dementia and their caregivers over the next two years.
While the definition of a dementia friendly community can vary based on a community's needs, there's a common emphasis on reducing the stigma around dementia and empowering people who live with the disease, explained Rebekah McGee, vice president of population health initiatives at PCOA.
"A dementia friendly community is one that fosters quality of life for people living with dementia and their care partners by decreasing stigma, increasing opportunities for meaningful social interaction, and offering support in addressing the changing needs of people living with dementia," McGee said.
"This planning process, and subsequent community plan, will work to identify what the ideal 'Dementia Friendly Pima County' looks like," she said.
Fighting the stigma
Alzheimer's disease – the most common form of dementia – is a type of brain disease that progressively and irreversibly damages nerve cells. The disease affects parts of the brain involved in memory, language and problem-solving, and eventually impedes a person's ability to perform everyday activities and basic bodily functions.
Lori Nisson, director of family and community services at the Banner Alzheimer's Institute, said the disease's slow progression can have a ripple effect.
"As they are less able to be independent, to carry out activities that used to be very pleasurable, to communicate and connect effectively, that person's world becomes smaller," she said.
"And if you're the caregiver, that really affects your world, and your world becomes really small, just as the caregiving load increases."
As a result, Nisson explained, neurodegenerative diseases tend to create a lot of isolation.
"There's a lot of stigma with brain diseases, like there is with mental illness, and often, when someone starts having memory and thinking changes, the people around them don't really know how to respond to that, so they pull away," Nisson said.
Stigma and stereotypes about Alzheimer's and related dementias can be a significant obstacle to well-being for those with dementia and their families. A diagnosis can test friendships and family relationships, and may prevent individuals from seeking medical treatment, developing a support system, and living the best quality of life possible.
In Nisson's experience, sharing accurate information with the community is key to dispelling the biggest misconceptions about Alzheimer's and related dementias. Engaging in community-wide discussions or public information sessions about dementia can help to both raise awareness and lower the power of stigma in the community.
"It's really about those key messages. Dementia is not a normal part of aging. It's caused by diseases of the brain. Dementia is not just about memory problems. It's possible to have a good quality of life with dementia, and there's more to a person than just their disease," Nisson said.
"So, when someone does encounter a neighbor that's exhibiting signs of memory loss, instead of calling your HOA or muttering under your breath or whatever it is you're complaining about, you might think, 'Oh, maybe this person just needs some help. Maybe I can be a friend to someone,'" she said.
In addition to hosting information sessions, Nisson said bringing that information into other community sectors – like dementia-friendly training for first responders, or educating employers on the impact caregiving can have on their employees – provides even more opportunities to make those affected by dementia feel safe, comforted and connected to their community.
"The bad news is we have over six million people with the disease," Nisson said.
"But the good news is that these messages really do speak to people because you're hard pressed to find people who don't have a friend, a family member, a neighbor, or a community member they know who has the disease, so it's more meaningful to them."
Memory cafes
Among the initiatives that may come out of a Dementia-Friendly Pima County are "memory cafes," or social gathering spaces for people living with memory loss and their care partners – something Nisson calls "the jewel of the Dementia-Friendly movement."
Founded in the Netherlands in 1997, these memory cafes provide an engaging break from a dementia patient's daily routine and can offer a variety of activities – from musical performances to art activities to exercises – alongside educational classes about dementia behavior for care partners, family and friends.
"It gets people together in a community space where they can just feel connected and accepted," Nisson said.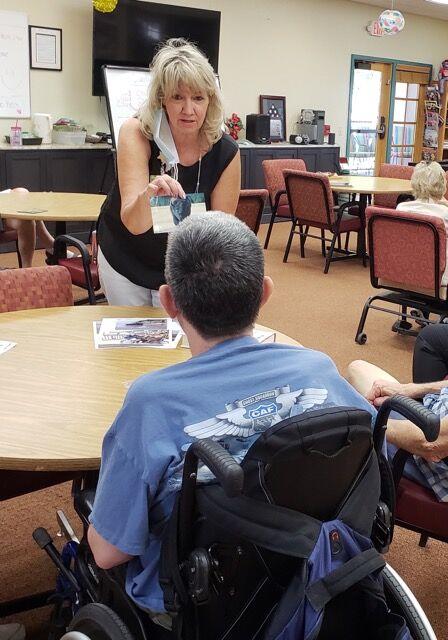 Anecdotal reports suggest these cafes do have a positive impact on the quality of life of people living with dementia and their families, with one study from Australia concluding the cafes "promoted social inclusion, prevented isolation, and improved the social and emotional well-being of attendees."
Bill McCreery, director of La Posada Community Services, said they're in the planning stages of establishing a memory cafe at the Posada Life Community Center.
The program will be separate from their existing Adult Day Services, which provides a full day of engagement and activity for dementia patients and respite for caregivers, but will provide a much-needed gathering space for both caregivers and care recipients to connect and socialize with each other, McCreery said.
"The great thing about getting people together that have something in common is they're going to talk and share valuable information and stories with each other, so there will be mutual support going on," he said.
The memory cafe would also be a valuable touchpoint for anyone in the community interested in learning more about dementia care and the existing support resources in the area, McCreery explained.
"I think the most difficult thing we lack here is the ability for people to tap into a direct line of understanding, so establishing some points of contact, like this memory cafe, where people can come and get connected with information and people in-the-know will really help them realize all the support mechanisms out there," McCreery said.