Say so long to checkered retro décor, fading cheerleader pom-poms and likenesses of era-icons Elvis, Marilyn and Louie, and howdy to smoky meats slathered with mouth-watering sauces in a setting 100 years prior.
After today, Greg and Amy's Twist & Shout 50's Diner in Sahuarita will be closed for several weeks while it converts to a Western fort-themed scenario and rebrands itself as Longhorn Outpost & Barbeque Company.
Gone will be the memorabilia that has graced the diner's interior since it opened 13 years ago – jukebox, musical instruments, classic mid-century TV console, film reels, vintage Coca-Cola items and still-lifes of more greats — Patsy Cline, James Dean, Sinatra.
Farewell, 1950s, hello 1850s. Longhorn's taking us back to some historical roots. Along a street called Calle Arroyo Sur, maybe it was destined to be.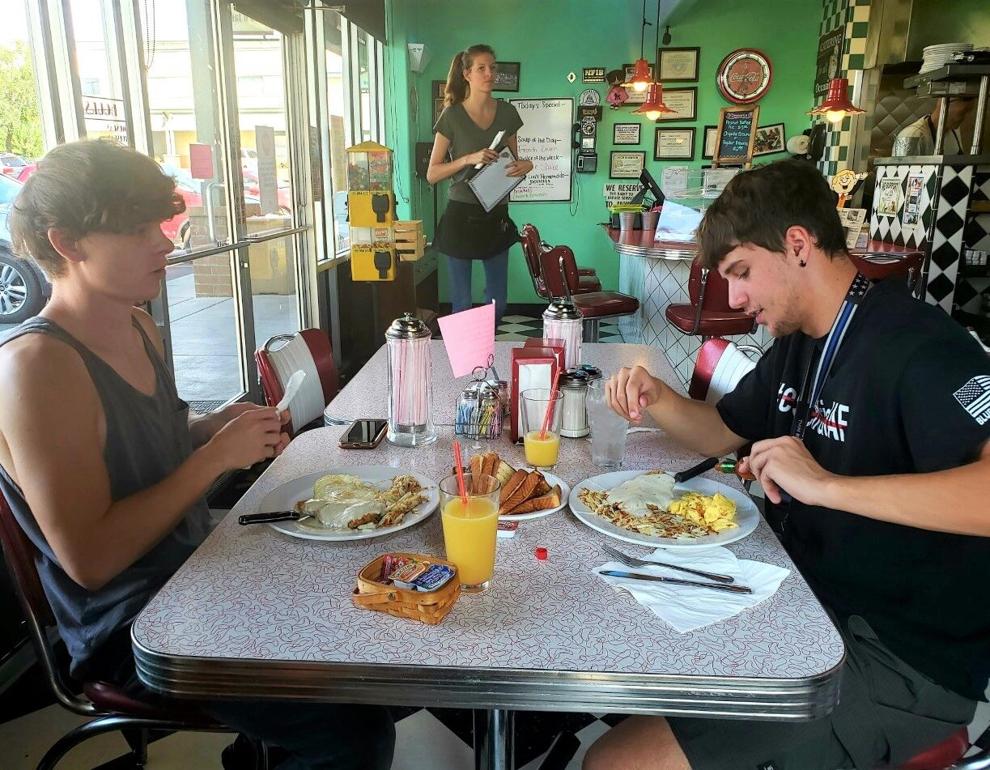 While some of Twist & Shout's most enduring staples will remain — onion rings, its special fries, chips and popular all-American breakfasts – new will be offerings heavy on barbecue and carry-out. Pork, beef, chicken, ribs, brisket and tri-tip offerings will range from ketchup to sweat-inducing. The menu also lists burgers and salads.
There'll be a big bar and TVs indoors and on the fenced patio; table bases will be reused, and new booths and benches added.
"We're trading milkshakes for martinis, Margaritas and Manhattans," said Greg Hansen, who with wife, Amy, also owns Green Valley's 19th Hole Bar & Grill, and Longhorn Grill & Saloon in Amado, a former event venue they recast as a sit-down restaurant in 2019. And beer will be back.
Also "new" will be seasoned 12-inch wall planking reminiscent of old West saloons, which once served as shelving at an old retail warehouse in Nogales and offered gratis by the owner. They'll be customized with local cattle brands – homage to the many ranchers who've frequented the Hansens' eateries.
The couple also operates a barbecue wagon they hope to set up outside the old Twist & Shout during the redesign.
Why the change?
Prompting the rebranding efforts? The rising number of drive-throughs now surrounding Twist & Shout following several years of steady development near Interstate 19 and Duval Mine Road, Hansen said.
"We just couldn't continue to compete. It was time to reinvent."
There wasn't a barbecue place here, and the Hansens were encouraged by success with their food-truck business. Another challenge involved keeping all their restaurants staffed over the last several months, Hansen said.
"We had a difficult time finding people to work in all three and the food truck, and couldn't get labor for the food truck during COVID," he said.
Business is looking up now that health officials have allowed eating establishments to reopen, and plans are to retain the seating capacity of 80, roughly half indoors and half out.
Hansen's focus now is how long the redesign will take, being that it's dependent on the availability of labor and materials. He guesstimates four to eight weeks.
Where to begin rebranding from eras separated by a century of shifting culture and modern conveniences?
"This is coming out of a vision in my head for the space," Hansen said. "We have workers and contractors that are good customers who'll help with it.
"We've been discussing this since we reopened from the pandemic (and) watched business and market share."
Signage will be part of it, in keeping with the barbecue wagon's, along with "fun outfits" for staff, he said.
He anticipates recouping his investment in the remake soon. Still, he's a bit nostalgic.
"A loss in that location will be milkshakes," he said.
But he's banking on barbecue as a winning formula and that patrons will warmly embrace swapping out the age of saddle shoes and bobby sox for timeless Western casual.