When Teresa Hill first set foot on the Walden Grove High School campus more than 10 years ago, it was still incomplete.
Flash forward to now and the school has a robust offering of extracurricular activities, a culture of respect and thousands of graduates out in the world.
Hill is the only principal the school has ever known, but that's about to change.
After 11 years with the Sahuarita Unified School District and 29 as a teacher, Hill is moving on to become deputy director of the Arizona Educational Foundation.
For Hill, what's been most important over the years are the connections, making memories with students and staff, and building a school where everyone knows they can be themselves.
And Hill will always be a part of the school she helped to create.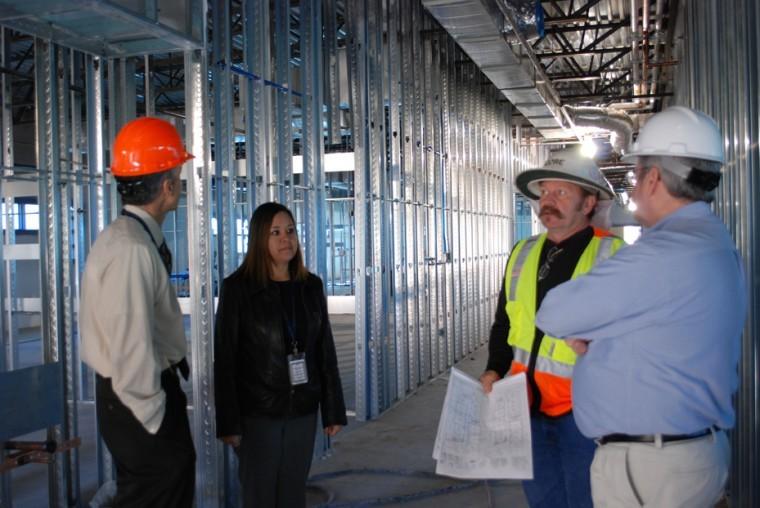 Building Walden Grove
Hill got her start in education at Flowing Wells High School in 1993, starting as a math teacher before going on to build their dance program. She became the CTE Director which led her to meet the CTE director at Sahuarita High School.
When she learned about the new high school being built in Sahuarita, she threw her name in the hat.
When she was selected as the new principal of the yet to be completed school,  the timing allowed her say in some design aspects but not others.
"It was exciting and challenging too because I came in January 2011, so the design was already done and big foundational ideas were already taken care of," she said. "There were certain things I didn't get to have a say in because it was already what it was, but I was still part of the process that allowed me to be involved in a lot of other ways."
She remembers the original plan to fill the courtyard in the center with mesquite trees and gravel, and she convinced the district to opt for shade trees, fake grass and walls for the kids to sit on.
"I wanted it to be a place where kids hung out and felt comfortable and so I was given the opportunity to change that," she said. "It was also exciting having new staff and trying to figure out how we all worked together."
What was most important to Hill was the ability to create an ideals system for students and staff to adhere to.
"The one thing I'm most proud of is the culture and climate we've created," she said. "From the beginning we were able to decide what was important to us and what mattered, and truly what mattered to us were relationships and creating a place where everybody belongs."
Hill said it's her greatest achievement, one she accomplished only through teamwork.
Superintendent Manny Valenzuela said Hill has impacted the very foundation of the school, and was responsible for some big decisions about campus.
"A part of her legacy worth noting is the tremendous resourcefulness she demonstrated as a leader and problem-solver to find solutions when challenges arise," he said. "Another example of that legacy is the idea that we're going to teach in a great way, in a place focused on the well being of all students and we will be as resourceful as we can."
Valenzuela specifically remembers when Hill decided to start a dance program, finding a way to transform a classroom into a suitable studio. That program has grown to have national acclaim under her leadership and that of instructor Kristi Lopez that has included a run on "America's Got Talent" and millions of YouTube views.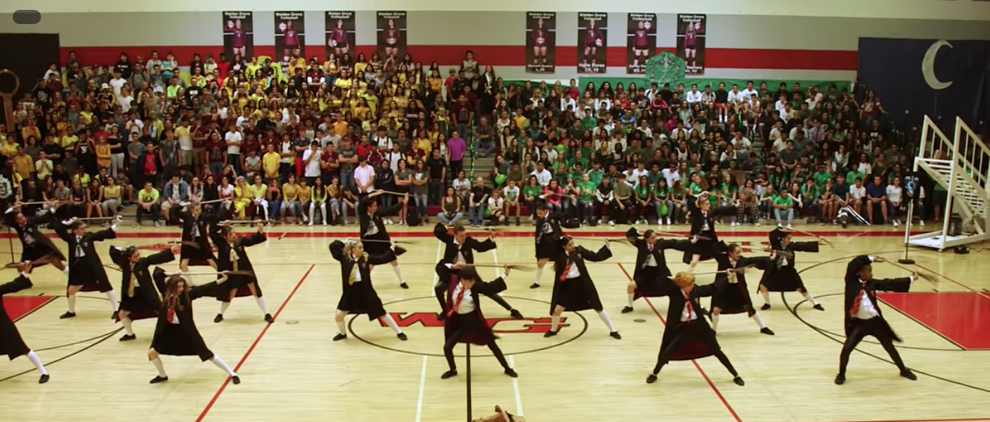 Hill also collaborated with the district and community to build athletic fields on-site, when the original plan was to share with Sahuarita High School.
Vision of school spirit
Walden Grove graduate Nikolas Marquez (2014) knows just what it's like to work alongside Hill. He was the first student body president at the school and has stayed in touch with Hill since graduation — the school's first graduating class.
"Being part of the first class to graduate from the school and getting to set the culture, she was always driving that home for us," he said. "I always felt I could meet with her."
He remembers their first assembly his junior year where the student council worked closely with Hill.
"We had these crazy elaborate decorations and I remember the first one we spent hours on," he said. "We turned the whole gym into a circus tent and it took so long. We'd stay sometimes until 10 or 12 at night, and everyone was so into it."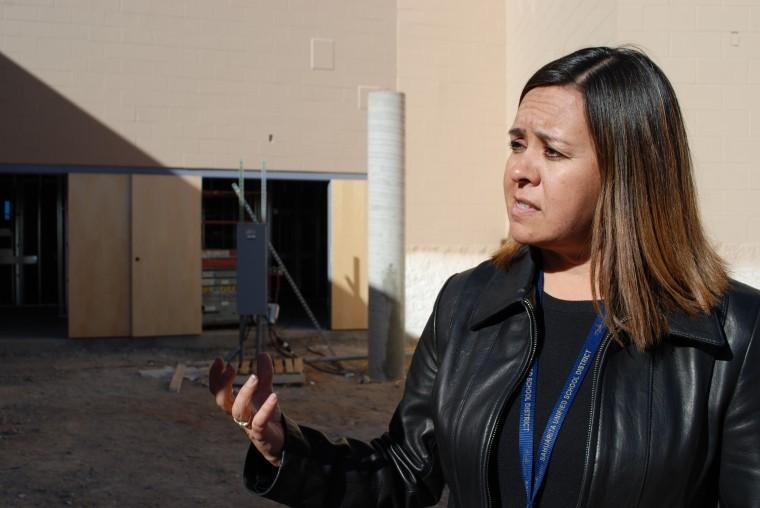 Marquez met Hill in 2011, when he was a freshman at Sahuarita High School and Hill invited him and other students to be a part of a panel to help find a vice principal. Walden Grove would launch that fall with only sophomores.
"It was a really cool experience, having students be involved in the search; it was awesome to be a part of that," he said. "Coming into my sophomore year, she made it clear that she wanted the school to be about spirit. She had a vision and I wanted that too."
Hill's mentorship and the leadership opportunities Marquez had at WGHS influenced where he is today — a fellowship in Washington, D.C., where he is an Engineering Officer at the Naval Science Laboratory.
Marquez said after he graduated they reconnected over Facebook and are trying to start a Walden Grove alumni group.
He said the high school has become known for its school spirit, in big part due to Hill.
"I would say thank you for everything she's done for the community and for everyone at Walden Grove," he said. "She has really had an impact on me and my classmates."
We get along
Hill knew when she came to Walden Grove that she wanted the space to be accepting. She didn't expect all students to like each other but she always expected students to respect each other.
For her, all signs point to that being achieved.
"I'm very proud of the fact that when we have our students of the month luncheons I always ask what's one thing you like about Walden," she said. "Time after time, year after year, kids say we all get along and this is a place where I can be myself and be comfortable."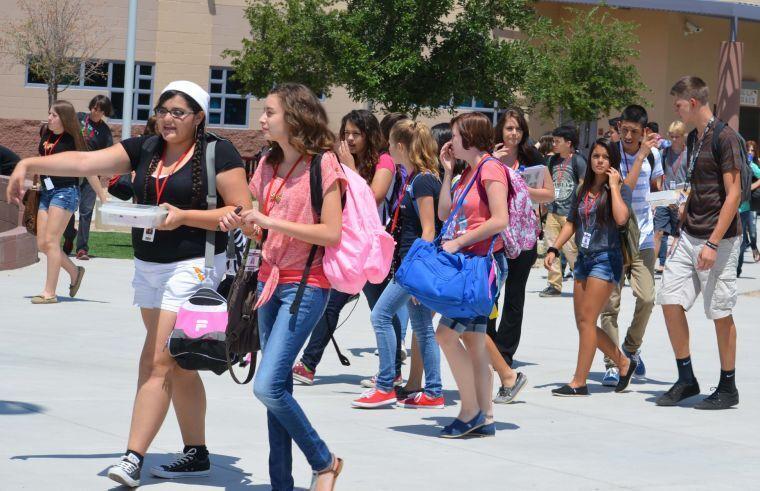 Sophomore Cecilia Mayer, 15, said Hill's support has made a big impact in her life.
"I like the way she puts everyone before herself; she makes sure everyone else is taken care of first," she said. "She's just a pleasant person to be around and she's always laughing, smiling, making kids laugh."
Mayer's family are friends of Hill, so she has enjoyed a close relationship with the principal. She said though she will stay in touch, she's going to miss her "daily talk" in the hallway with Hill.
"I just want to say thank you for always supporting and loving me and making sure that I was always OK," she said.
Hill strove to bring the same spirit of teamwork and respect to her staff as well.
"I always tell my teachers and my coaches we do things the right way and when you do things the right way success will come, but we don't cut corners," she said. "Continuing to have those values is really important and I feel confident Walden will be able to do that."
Valenzuela said part of Hill's legacy is her focus on quality teachers, like recent Arizona Teacher of the Year finalist Ashton Gildea, and the well-being of students.
"Another piece that defines Teresa's legacy is her passion and belief school should be a place for everyone, everyone should be a fit," he said. "One of the things that is part of school norms for staff is she asks everybody to sponsor some kind of club, some kind of interest, to provide as many opportunities for kids to connect. They have like 50 clubs at the school now and it speaks to that commitment."
I'll miss everything
For Hill, the list of Walden Grove's achievements is never-ending.
"I've been really blessed to see a lot of success in the last 11 years," she said. "We made national news, went viral, we have so many state championships, both individuals and teams, and we've seen so much success and I want to see that continue in the right way."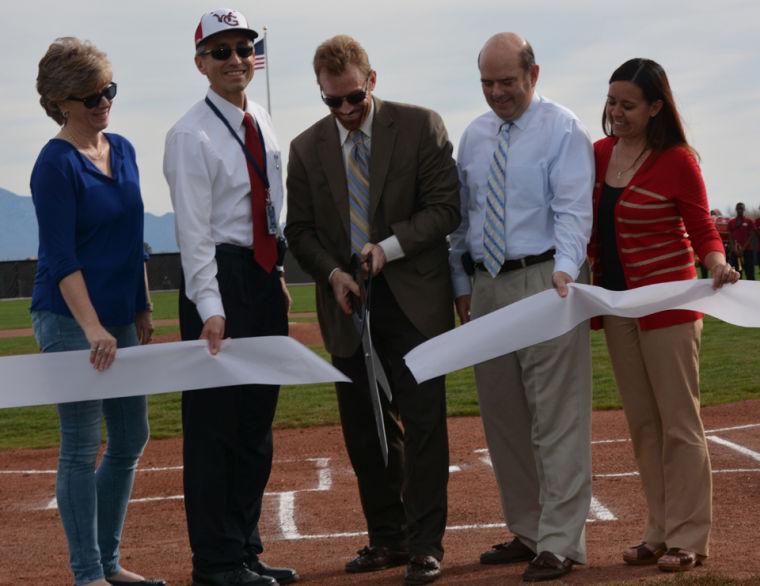 Hill also had big accomplishments of her own, like winning Arizona National Association of Secondary School Principals' Principal of the Year in May.
Hill said Walden Grove has taught her the power of teamwork and the importance of enjoying the work.
"Sometimes you work so fast and furious that you forget to stop and just enjoy the ride. It's taught me how to do that, to sit back and enjoy and appreciate all we're doing yet never standing still either," she said. "I always say if we're not pushing forward we're moving backwards."
"It taught me how to continually challenge myself and my staff to do that because it's easy to get complacent and that's not OK."
Hill's last day is Jan. 10, and Kristen Miller will take over as interim principal.
Hill will continue to advocate for education in the state as deputy director of the AEF, where she will be in charge of the Principles' Leadership Academy, the A+ Schools of Excellence Program and the Arizona Spelling Bee.
"It's exciting to get the opportunity to celebrate schools and support parents, educators, students, staff and admins in that sense," she said. "The reality is AEF is such a powerhouse foundation but I feel that they are even more needed these days than others just with the pandemic. It's been rough on educators and they need to know they are appreciated and celebrated."
She will remain in Tucson and plans to attend WGHS graduations and events, but as far as what she will miss most about the school, it's everything.
"I can't pick one thing, but I'm going to miss the students by far and I'm going to miss the relationships with them," she said. "I'm going to miss my staff and my admin team."
Hill said in particular she will miss laughing and connecting on a deeper level with the students. She feels teens get a bad rap and she's seen the amazing things they do firsthand.
"Working with young adults is such a joy because they're young adults, they get you. You can tell them a joke and they laugh," she said. "It's very different from working with K-8, their humor is different… Sometimes it can come with attitude but that's not a bad thing. They are just trying to figure out who they are."
Hill wants the core values of WGHS to live on and said no matter where she is, Walden Grove will be with her.
"I'm going to keep some of my Red Wolf gear because, like I tell anyone who leaves, once a Red Wolf, always a Red Wolf, And I'll always be a Red Wolf," she said. "I'll never forget what an amazing experience this has been."
"Thank you, thank you to the community, thank you to everyone who trusted me to do what I do. It's been a really great ride."