A perfect storm of conditions has made grass seed the latest commodity that's hard to come by, and it's affecting Green Valley golf courses and Sahuarita parks. Not to mention the rest of the nation.
A combination of weather conditions in seed-producing states, grass seed farmers switching to new crops, labor shortages, trucking issues and increased use of outdoor recreation areas during the pandemic has limited the supply and in some cases doubled the price.
Golf courses
Mike Cochran is general manager for Canoa Ranch and Torres Blancas golf courses in Green Valley. He said their budget for overseeding at both courses last year was $65,000. This year's bill will reach upwards of $140,000.
"It is a tremendously impacting issue as far as budget," he said. "In one year it increased that significantly and there were multiple issues associated with this."
Cochran's seed suppliers said shifts in the industry and poor weather are major contributors to the shortage.
"Most seed is grown and harvested in Oregon or southern Washington, but during the past year multiple companies have said, 'I've had enough with the seed business and can make better money with my land growing another product,'" he said. "Those companies have decided not to produce. There are also companies who've said, 'I want to get larger,' so some companies merged and some companies want out of this totally."
Oregon growers produce the majority of the country's annual and perennial grasses that golf courses use.
While weather patterns are typically predictable, the state started facing more extreme weather in 2020 with wildfires in the summer followed by an ice storm in February and then extreme drought and heat.
"With all that combined, we don't know what the future is going to be," Cochran said. "One thing our seed providers said is 50 or so golf courses in Arizona won't have grass seed."
Cochran said they typically use a three-seed blend for their courses but there was no guarantee any seed would be available this year.
"This year we had the opportunity very early on to make a decision to try and go for a blend, but they might not have had a blend available," he said. "We opted for a single variety this year. We were fortunate and our overseeding came out perfectly and we are set up good for winter."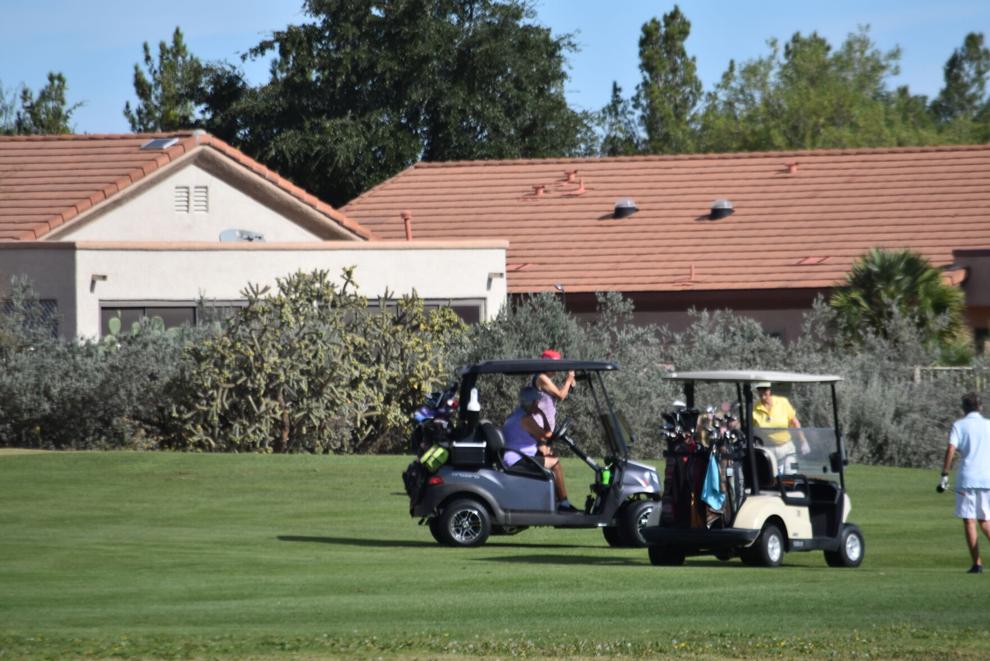 Golf impacts
The San Ignacio Golf Course also saw a large increase in seed costs.
Director of Golf Ronnie Black said from 2019 to 2020, the cost rose 25%, and from last year to now it has doubled.
He said they received enough seed but the cost was "exorbitant" and will lead to price increases.
Cochran said their courses also will increase rates for members and the public to cover the higher costs of grass seed.
They will also likely increase food and beverage prices.
Cochran said courses across that state that can't get seeds will likely see a hit to earnings.
"It's market-driven and customers want to see green grass," he said. "I would guarantee they will lose revenue if they don't paint (the course) or go without any kind of appearance change."
Disguised blessings
Kai Umeda is the Area Extension Agent of Turfgrass Science at the University of Arizona's Maricopa County Cooperative Extension.
He conducts turf-grass research and works with golf superintendents and professional sports facilities.
He said it's been a "really bad-news situation" for winter grass seed used for overseeding.
"I've heard of golf courses not being able to get seed at all and so they are going to be in a world of hurt with respect to not having overseeded courses," he said. "A lot of private clubs and resorts will do OK and get their seed, but the price has gone up to almost $2 a pound compared to $1 or less three or four years ago."
Umeda said what's happening with grass seed today began a few years ago and is an accumulation of different situations.
A couple years ago, seed producers in Oregon started reducing their grass seed acreage and switching to more profitable crops. Then, the bad weather further reduced the seed yield.
The pandemic added additional complications.
"All these things came together this year where the pandemic messed with the harvest and they couldn't get people to harvest," he said. "There weren't people to clean the seeds once harvested, there was a lack of workers so everything got behind. So what little seed was available, they couldn't process it and it's been a hard time shipping with no trucks available and no truck drivers to haul."
Umeda said there are alternatives to overseeding, such as painting the turf or letting the winter Bermuda grass naturally grow and not be in competition with ryegrass overseeding.
Umeda said there might be a "blessing in disguise" in reducing water usage as CAP allocations of water from the Colorado River is being reduced in Arizona.
"The amount of water they use to germinate grass and get it going again in summer and late spring to transition back to Bermuda grass — it's a lot of water being used in those periods," he said. "With a shortage of ryegrass and less planting in an area, that could be a blessing in disguise. It could help in alleviating some of that water shortage concern."
Town of Sahuarita
The Town of Sahuarita has also felt the grass seed price increase.
Parks, Recreation and Community Services Interim Director Laura Hester said typically they use a perennial ryegrass, but it was unavailable and they had to opt for a less hardy biennial.
"It's actually gone up a ton," she said of the costs. "What we've seen normally for all of our parks is $16,000, but this year it's $26,000."
Hester said it hasn't had a huge impact since they were able to secure the biennial seeds, and, like other commodities, its availability differs year by year.
"A shortage pushes prices high and hopefully next season as people slowly go back to work and as things change, the shipping details will change," she said. "Hopefully it helps, but it could be a year or two. Like anything else, an interruption can take a couple years."
She pointed to several reasons for the increase in price, including pandemic-related factors involving multiple supply chains like trucking and transportation delays.
"Well, some of it is like any production with the pandemic — not having workers, drought conditions and there hasn't been a good yield," she said. "There has also been a huge demand in outdoor recreation during the pandemic and any place that was open got torn up with the amount of use."
AAA Landscape
AAA Landscape, which is based in Tucson and maintains Rancho Sahuarita, Madera Highlands and Quail Creek, along with smaller properties throughout Green Valley and Tubac, also experienced a price hike.
Tucson Branch Manager Jeff Hatfield said a year ago they paid $1.03 per pound for seed and this year they paid $1.70.
"With the drought in Oregon and the Northwest, they estimate a 50% reduction in seed yields," he said. "In turn, major seed distributors who supply us bought up a lot of the backstock that typically contractors, golf courses and HOAs have available."
Hatfield said they sent letters to clients to inform them of options, including painting turf or turf reductions.
"If they wanted to overseed with rye, we needed to hear back by a certain date," he said. "So we're getting what we needed, but it's not the highest quality. Normally we get something with high germination and a low weed yield. It's not bottom of the barrel, either."
He said there are some benefits in reducing overseeding and letting Bermuda grass grow. When an area is overseeded year after year, it competes with Bermuda.
"It's good to leave Bermuda in areas where it's not overseeded so the Bermuda has a chance to get strong," he said. "It's actually kind of a good thing because you save money on seed, fertilizer and water."
With the water shortage, Hatfield said this might be the beginning of a trend.
"Looking at the future and water requirements, this might be the new norm," he said. "Bermuda might be less and less overseeded due to water issues and you might see communities move away from overseeding."
Umeda said he's hearing the grass seed market will be tough for another year or two.
"It depends on what Mother Nature does during the growing season and what growers do," he said. "We're hoping they will increase grass seed acreage again too, but it's unknown what they will decide."