Tudor ApMadoc turns 100 next month, but he's not having any trouble getting on the tennis court three times a week. He also has no plans to give up the game he loves.
ApMadoc followed the game much of his life but he didn't start playing competitively until a few years before he retired from pharmaceutical sales in Clarkston, Michigan, at the age of 70. Born in Evanston, Illinois, ApMadoc moved to Clarkston after serving in the U.S. Army Air Corps during World War II.
In 1985, he started playing organized tennis competitively with a partner who pushed him.
"I went out to the (Huntsman) World Senior Games with a partner from Green Valley in the '80s; we won the doubles," ApMadoc said. "Neither one of us did well in the singles."
He went through a couple of partners who both had to leave the game over medical issues. In the '90s, ApMadoc took to competing on his own and having partners as needed during doubles competition, but none were permanent as before.
Now facing 100 years old on Dec. 21, ApMadoc said he plans to keep getting on the courts for as long as he can.
"I sure as hell don't want to sit at home and be a couch potato," he said.
Competitive
United States Tennis Association awards cover the bookshelves at his home in Green Valley, but he senses a bit of a slowing as he nears the century mark.
"My game has gone down," he said. "Each five years it goes down, and now I haven't got the strength, and I'm not playing nearly as well as I did. I hope I'm playing good enough that I don't spoil the other guys' tennis."
John Biller — he's 60 — said that's not an issue.
 Biller said the two pulled off a 6-2 win during a friendly doubles match at Desert Hills Center early this month.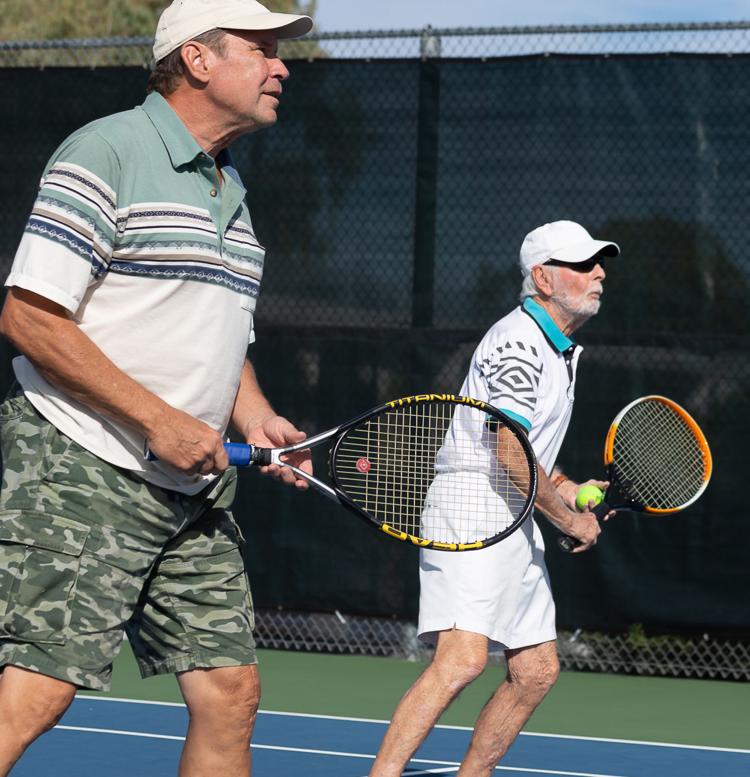 "Today I had the honor of being his partner, and we won against two really good players," Biller said. "And he hit so many."
Biller said while ApMadoc may not have been running around during the match, he didn't need to move much. ApMadoc didn't make any mistakes, and he would hit the ball in just the right spots to where they couldn't get to it, Biller said.
Before retiring, ApMadoc played golf as a hobby, but he said he is better with a tennis racket than he ever was with a club.
"I was always competitive in anything I did in sports," ApMadoc said.
Being social
But it's not all about winning for ApMadoc. Being with other players is what keeps him returning to the courts.
He even met his late wife, Vivian, on the courts in Michigan.
"I always look forward to the senior games every year and playing in the singles on that," he said. "(And) the co-ed mixers, there's something to do there every day; organized and unorganized."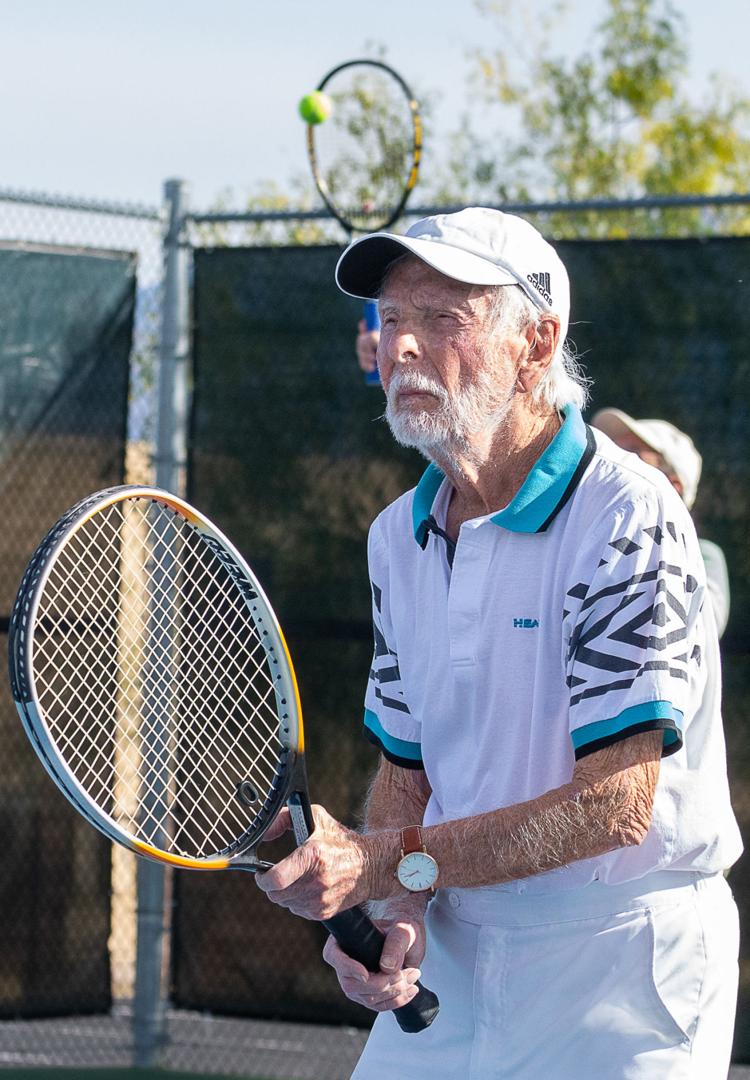 However, ApMadoc has aged out of senior games competitions as well as the United States Tennis Association.
"USTA, there's nobody in the 100s, let alone very few in the 90s," he said. "(The) 90s is as far as they go; 90-plus the call it. And the senior games go by age group in five-year increments."
Without other players in his age group, ApMadoc said the senior games are out for him.
But there is still plenty for him to do in the sport, especially at Green Valley Recreation.
ApMadoc has been playing tennis at GVR since becoming a member in the 1980s. Still a member of the GVR Tennis Club, ApMadoc said there are plenty of activities members can take advantage of if they play in Green Valley.
ApMadoc has played on a lot of courts around the country. One of his fondest memories was playing the grass courts at Longwood Cricket Club in Newton, Massachusetts, outside Boston.
However, it doesn't outshine playing local games with fellow GVR members, he said.
"You develop friendships, and that's a little nicer deal," ApMadoc said. "You develop a comradeship with all these people."