Carl Nelson had trouble sleeping Wednesday night. He's been a teacher for over 14 years, but nothing quite compared to the return to in-person classes at Walden Grove High School on Thursday, the first day back for the first group of middle and high school students since March.
"I felt all the jitters the night before and couldn't sleep; I was so excited," he said. "I also coach football so I have been able to see some of them but to see my actual students in class was amazing. I'm so thankful to be back in-person and didn't realize how much I'd miss it."
Nelson teaches students from 9th to 12th grade in AP U.S. Government and Politics, U.S. History and World History. He also teaches new teacher induction classes each year and said they have been preparing for the new hybrid model and COVID-19 safety policies.
"We have half the amount of desks for distancing, we're cleaning after every class, wiping desks and chairs. For all the COVID procedures we're doing our due diligence," he said. "Preparing to speak with a mask on for a whole hour at a time, that's something new, so we've been practicing and doing a lot of curriculum planning."
Though the school and classrooms looked a little different, students and teachers both were smiling under their masks.
The road back
Nelson's students were among 385 students who returned to Walden Grove Thursday. Bringing middle and high students back to in-person classes was the next step on Sahuarita Unified School District's road back plan to reopening schools.
Students were split into cohort groups, as SUSD did last month during the reintroduction of K-5 students, in a continuation of their hybrid model which has half of a school's students on campus and the other half at home online.
Nelson said his department has worked together to make as uniform policies and procedures as possible for the implementation of remote and in-person learning.
"We tried to show more grace for students, because you never know if a student's internet could go out, if they have to watch a brother or sister," he said. "We have tried to be as patient and understanding as possible. These are strange times and none of us who went to college to become teachers were trained for something like this."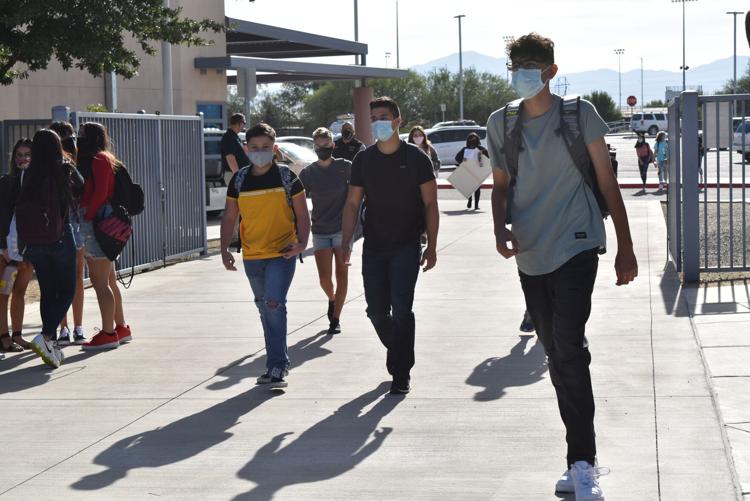 Nelson's student teacher, J.J. Borja, who is working with SUSD through the University of Arizona, said Thursday was a new experience, though he was well prepared through remote learning.
"I've never been in a classroom before since we were doing online learning," he said. "It was good to get to know them (students), talk with them, because we've just been emailing for months. To get to hear their voices and hear them talk about their interests, it's quite refreshing."
Alongside Nelson, he's focusing on helping the students learn the new procedures and become acclimated to in-person instruction.
"We're giving them a lot of space and room to transition," he said. "I'm focusing on making sure students are comfortable, because this is a huge transition."
He said his college program has put a lot of priority on being online-learning ready.
"It's been interesting, we've had a strong focus on online and offline work," he said. "In many ways I felt really prepared for remote learning because the first expectation of me was to master Google Classroom and online applications."
Another teacher, Emily Bertelsen, said she has picked up a lot of new technology devices and skills since SUSD has initially closed down.
She's been a teacher at Walden Grove eight years and is  teaching Honors Biology, AP Biology and Bioscience.
"It's been a learning curve with a lot of new technology and equipment. I have a sound system, video cameras for the computer, multiple microphones, video editing," she said of remote teaching. "Having to learn these new skills has been challenging with the media production and management but I'm more organized now than I've ever been before."
Thursday was the first time some of her students, a mix of sophomores, juniors and seniors, has met Bertelsen in person.
"It was a lot of fun and I was very excited to have them back, it was nice for them," she said. "They were kind of awkward and hesitant at first, whispering instead of talking. It took a while for them to warm up, but that's to be expected."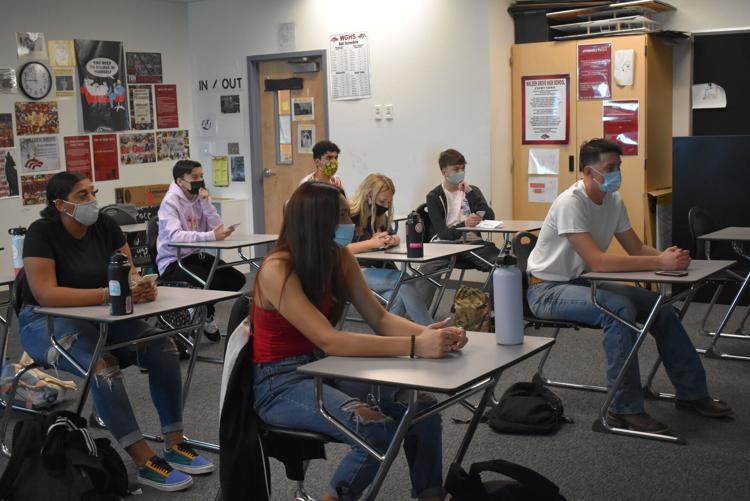 While it took some time for her students to warm up, Bertelsen said they were happy to be back.
"I've been impressed with kids respecting and following the rules and it's just exciting to be back," she said. "In transitioning, I'm trying to keep it as simple as possible and provide continuity."
She's utilizing the online segment of classes for notes and content, while in-person classes are lab and activity based. Students in both cohorts are receiving the same kind of instruction throughout the process.
So far, so good
SUSD Superintendent Manny Valenzuela said the first day back for older students went smoothly, with students, staff and parents following health and safety protocols.
"I would say in my movement around campus I saw a generally upbeat and welcome feeling," he said. "I think people are glad to be back in this new phase of the return to school that somewhat looks more normal. Granted, it's not fully normal and not without a significant number of adaptations, but this step forward reflects the smiles behind the masks."
The new protocols for high school and middle school students are similar to the younger students. Distancing is practiced and reinforced through signage and instruction; masks are required; and hand sanitizing and extra cleaning are occurring throughout the day and night.
Valenzuela said there are some major structural differences between students in elementary and those in higher grade levels.
"The differences are that for the older students it's simply structured more around content-specific instruction and students have six to seven teachers in one day," he said. "They are present in at least six or seven classes and the lunch period is a little different in its set up."
He said a big part of why the district opted to start the hybrid with elementary students was to observe mitigation and health measures in the more controlled environment of K-5 classes.
"I continue to see secondary level extensions and instruction adapted effectively and functioning in the hybrid context," he said. "We're adapting instructional delivery but still maintaining our calendar and primary learning objectives."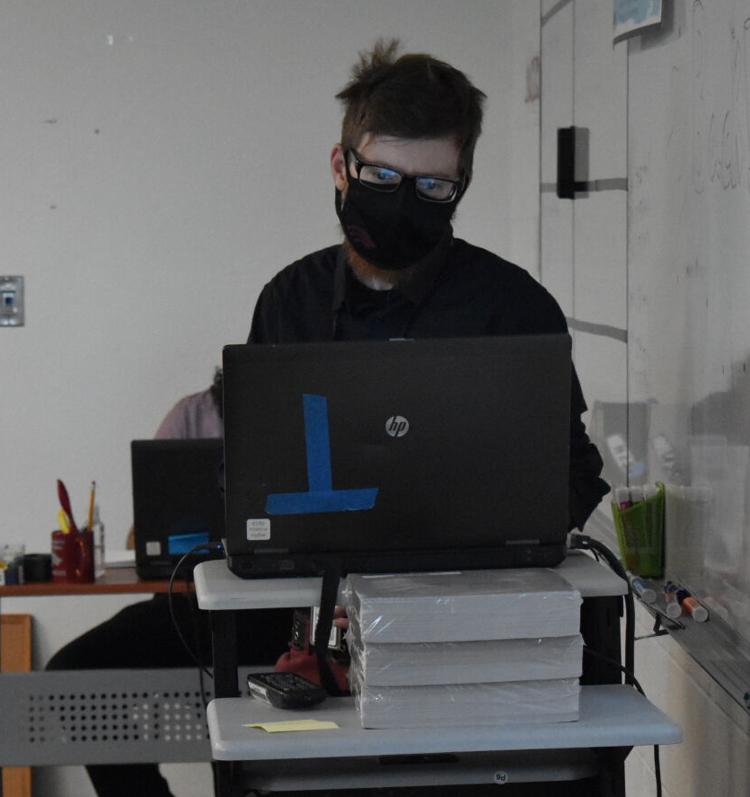 For Borja, there is a great opportunity for teachers and students both to learn from the pandemic.
"I think the moment we're living in is unique and there is a lot to be learned," he said. "I hope students will take away that we are all in this together. It's a community effort and eventually at the end of the year, say this pandemic continues to rage on, students are wearing masks to protect others, not just because it is expected. That they take this as an internal inspiration."
Nelson was pleased with the district's approach to reopening schools in the safest way possible.
"I really feel as a teacher in the district that the district administration and school board are doing an awesome job and providing as much training as possible to adjust to this 21st century, COVID world," he said. "My biggest hope is they continue to use science to make the best decisions for our students and staff. I know they will."
Bertelsen said though her students have had challenges through the process, they are moving forward to grow from the experience.
"They're learning to balance and manage their own schedules and timelines to get things done, and they've grown in their communication abilities," she said.
"We'll continue to refine and operate generally in the hybrid mode, understanding and ready for abrupt changes if necessary on rather short notice," he said. "The only thing that is certain is nothing is certain. We have a long-term sustainable direction and are well positioned to move forward."
Students in each cohort group spend two days on campus, two at home and Wednesdays all SUSD students are digital to allow for a deeper cleaning of the campus. Cohort B of high school and middle students started in-person classes Thursday and Friday, and Cohort A will attend in-person on Monday and Tuesday.
For more information on the district's road back plan, visit susd30.us.