Three years ago, Kalynne Jensen was in a bad place. Thanks to a serious brain condition, she was exhausted, worried and facing surgery. But she had four things going for her — her husband and three children.
Determined to make happy memories for them during a rough time, Jensen came up with a plan.
In October 2016, she decided to co-opt a friend's Halloween idea. She decided to marshal her energy once a day throughout the month to hide life-size plastic skeletons around her house for her children to find. One day, the skeletons would be reading books, the next brushing their teeth, eating fruit or making off with snacks in the pantry.
"I just wanted to give them something to laugh and giggle about," Jensen said.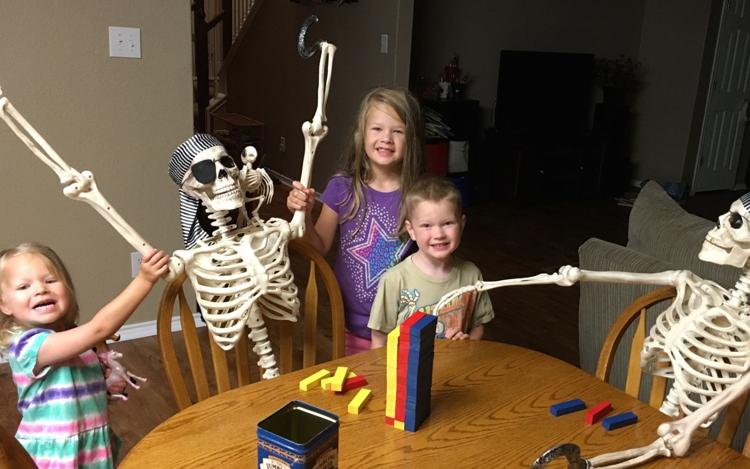 It's been nearly three years since surgery took care of the Chiari malformations in her brain and two years since she moved to Rancho Sahuarita, but Jensen is carrying on the tradition for her husband, Ian, and children Reagan, 10, Lincoln, 8 and Makynlee, 6.
In October 2017, the skeletons moved outside for poolside fun, swings and games. In 2018, they met, dated, married and had a baby — all within a month. They were also given a name, the Skellys. (The baby's name is Nelly.)
Now this year, the Skellys have their own Facebook page: Skelly Skeletons and followers are asked to guess every day which movie they are acting out. 
As of Tuesday, the Skellys had 147 followers and they have acted out "Beauty and the Beast," "Aladdin," "Inside Out," "Snow White" and "E.T."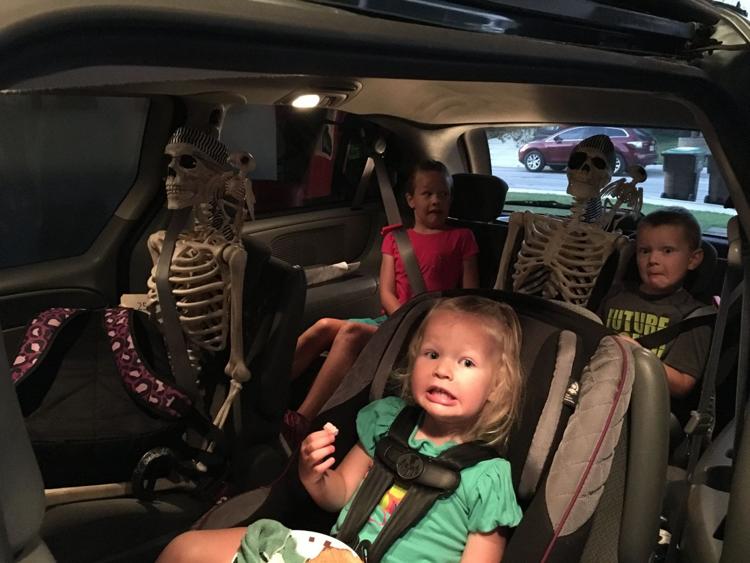 Jensen, who now has four adult skeletons, a baby skeleton and countless animal skeletons, uses everyday items around her house to stage the scenes along with items borrowed from friends and neighbors. Oh, and she confesses to picking up an item or two at thrift stores.
Her first two skeletons, who came dressed as pirates, are now held together with zip ties and tape. Dressing them every day has been a little tough on them, she said with a laugh. Her neighbor loaned her a bicycle stand for Elliott and E.T.'s famous ride; her husband has also built stands for her on occasion.
Although she started out staging the skeletons with her children in mind, Jensen said her husband teases her as to who gets the most enjoyment out of it.
 Jensen still laughs when she thinks about Mrs. Skelly laying on a yoga mat with a balloon under her hospital gown giving birth, so her husband might be right.
She never knows what the next day's scene will look like or how long it will take to set up, she said.
"I don't plan until the morning. It depends on how much time I have and what props I have," Jensen said. "It could take anywhere from five minutes to an hour depending on how elaborate they are."
The highlight of her day is when she pulls up in the driveway after picking her kids up from Great Expectations Academy. She loves to watch the expressions on their faces.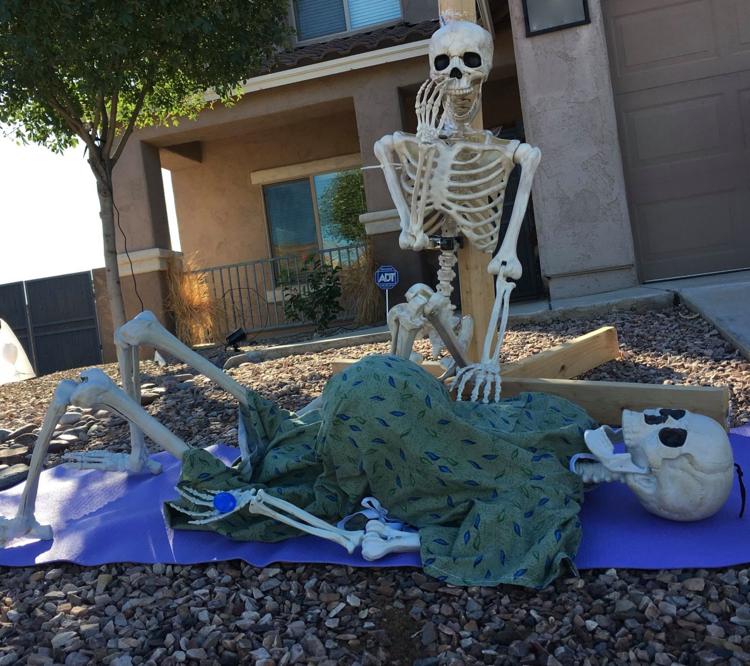 They've been pretty good about guessing what movies she's staged, but on Friday she was pretty certain they wouldn't get E.T., which came out in 1982.
"They're too young to get it, but all of the parents will love it," Jensen predicted.
A lot of kids live on her street and she also enjoys watching them get off the school bus and checking out her yard on their way home.
Some neighbors have urged her to stage the skeletons through Christmas but she's been able to resist so far.
She does admit, however, that a skeletal Mrs. Claus and Baby Claus did make an appearance last Christmas. (She doesn't have a Santa Claus outfit.)
"Halloween always has lots of scary and traumatic houses; my house is always the one that makes kids giggle and laugh," she said.