The amphitheater in Madera Canyon, just past the Santa Rita Lodge, has long been in need of a facelift. And, thanks to a number of volunteers, an ambitious boy scout and the U.S. Forest Service, the area is about to have a brand new future.
On Feb. 19, the Friends of Madera Canyon, the nonprofit which supports the canyon, and the Forest Service brought together a small group of partners to dedicate new benches as well as a new projector screen, complete with hand-crafted signs.
The space will allow them to provide educational presentations, youth programming and informational sessions for the public in the future.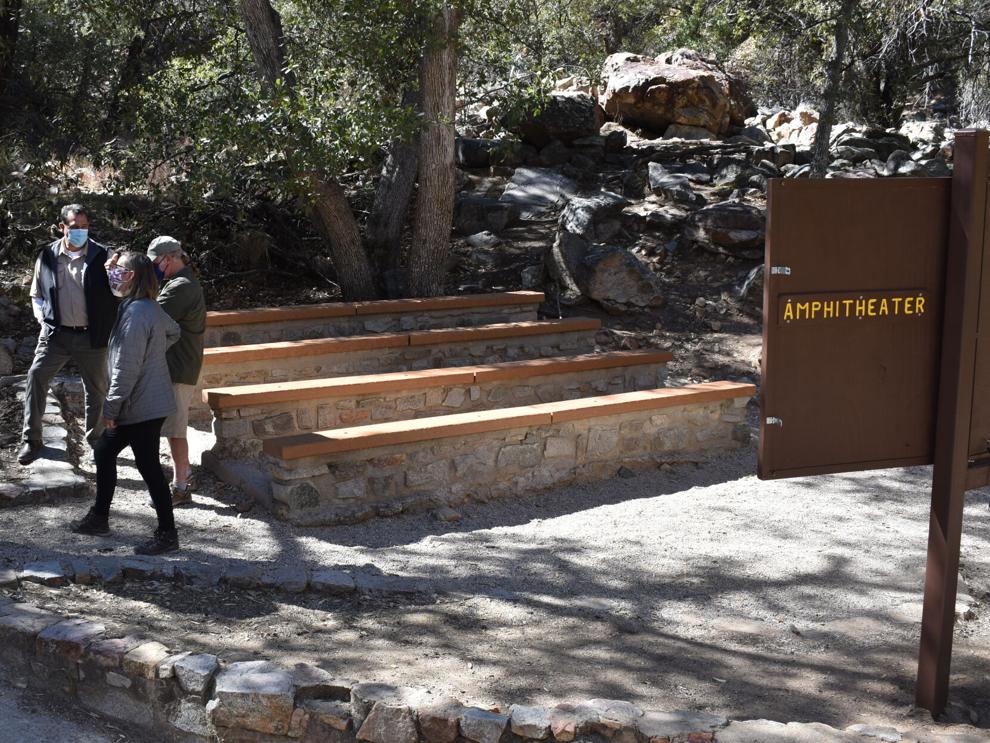 Friends of Madera Canyon President Rusty Lombardo said the project has been a long time coming.
"It's a totally amazing project," he said. "We're really proud of Madera Canyon but can't do it by ourselves so it's so great to have partnerships with the Green Valley Hiking Club, the Boy Scouts, the Forest Service... it's great to see it come together especially during COVID."
In 2019, the Friends paid for and installed a bridge leading to the amphitheater. A few months ago they replaced the benches and asked the Forest Service to help them clean the area. It was then they realized there was still electricity in the location – and possibilities.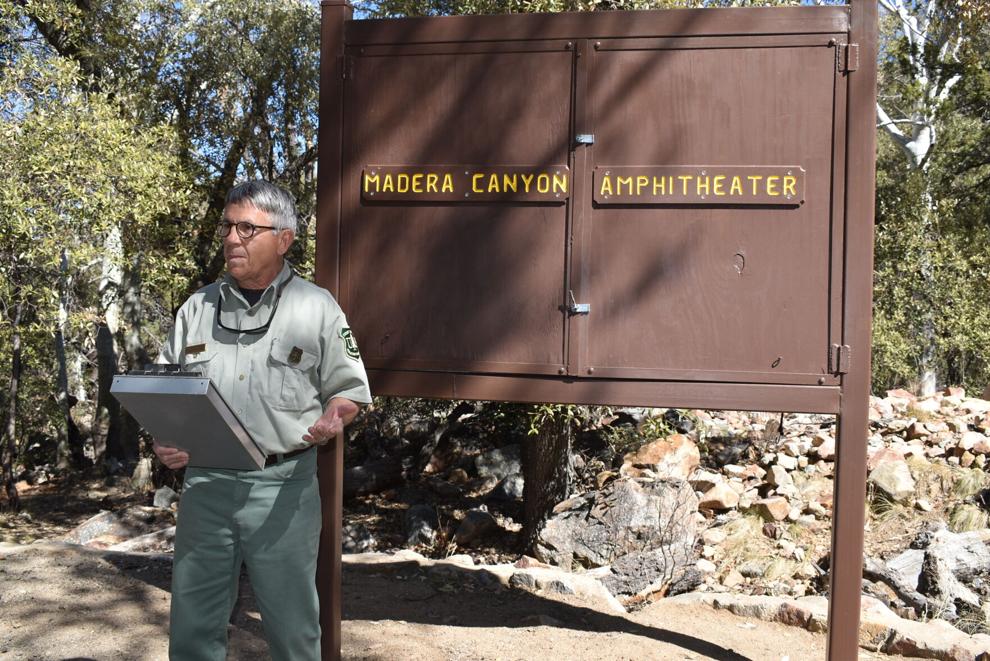 John Titre, recreation program manager of the Nogales Ranger District, said in his presentation that they found electricity connected to a single light bulb was still working, after 20 years or so.
So, no rewiring work would be necessary.
When 18-year-old Mario Sandoval of Troop 508 was looking for his Eagle Scout project he contacted Titre and soon got involved with the amphitheater.
"He mentioned this and I said that sounds like a good idea, a good project," Sandoval said. "I got troop members to help out and I came to scout it out and it looked good so we went with it."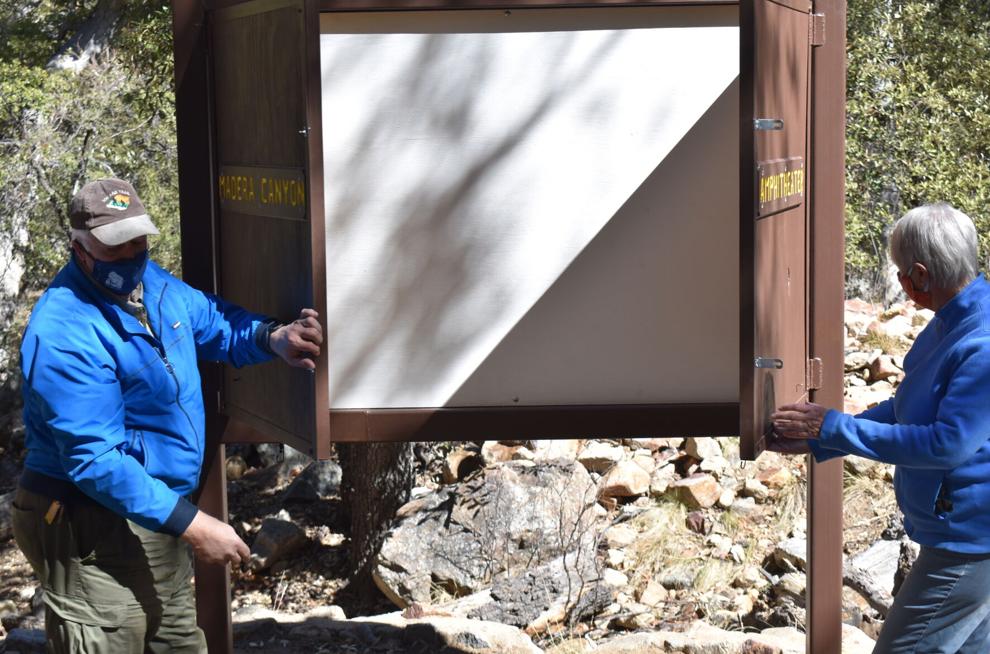 Sandoval and his troop installed and painted a projector screen at the amphitheater, a project that involved a lot of hard work.
"It took us two to three weeks and we carried this metal pole, which wasn't easy - it took five or six of us - and also these benches were installed and we took around 20 wheelbarrows of gravel," he said. "People can use it for the years to come and with the projector screen it's going to look really nice."
Scoutmaster David Alvarez said he was proud to be a part of this and Sandoval's successful Eagle Scout project is a major accomplishment. Only a small percentage of scouts actually earn the title.
"It is a project that is totally lead by the Eagle Scout," he said. "The rank of Eagle Scout is not something they may realize right now but when they start interviewing, that's one, and then in 20 or 30 years it's something that will be in their memory and go with them in the rest of their lives."
Sandoval is a founder of Troop 508, which started seven years ago.
"Being a founder and having eagled is a big accomplishment," Alvarez said. "There will be seven scouts that will have eagled out of this troop that was only founded seven years ago."
For some added color, Friends volunteers Bruce and Penny France helped to create wooden signs on the doors covering the projector screen.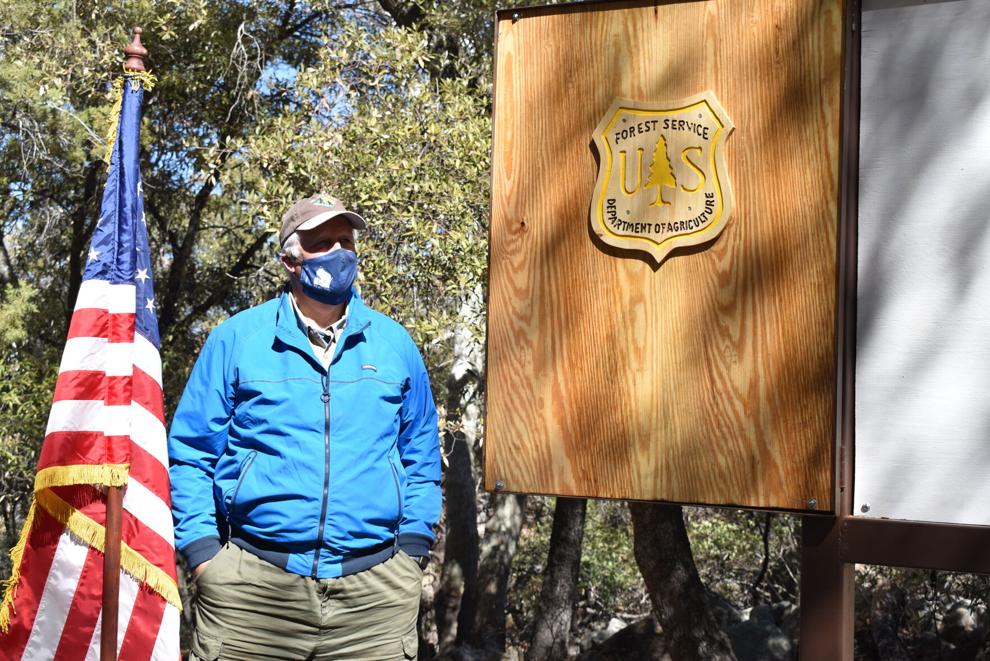 Bruce France volunteers with the Forest Service and does carpentry work for them.
"John (Titre) wanted to do something to show the partnership involved in the canyon and asked me to come on with signs that show that partnership," he said. "I feel fortunate to help make this happen. Both of us love Madera Canyon and to be able to work with Mario on something like this is quite special."
It took several weeks to create the wooden Forest Service and Friends logos, which his wife helped to paint.
"He had it all laid out and designed it. I'm just a technician here," Penny France said. "We're volunteers. It's nice to have volunteer experiences and we rely on volunteers so much."
Lombardo said when things return to normal, they will bring fourth-graders in their virtual learning program to the site, as well as events for the public.
"We're looking forward to doing that, partnering with the Forest service who have incredible docents here who are so knowledgeable," he said. "To be able to share that and pass it down not only to the youth but adults and all visitors to the canyon, it's part of our mission."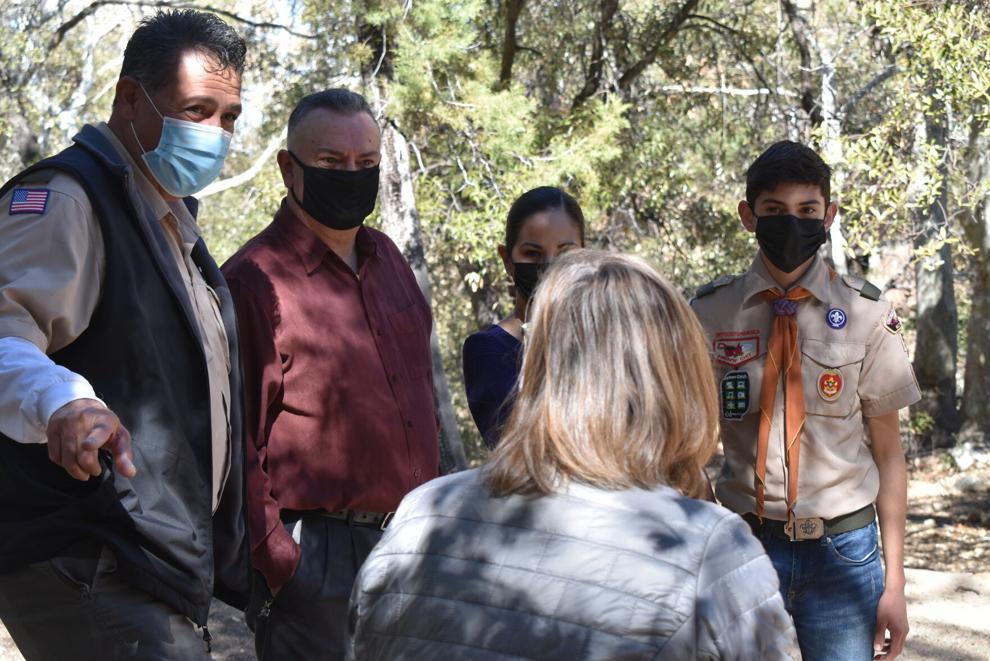 Though it will likely be months before the programs begin, the site is already being celebrated by those who poured their time and labor into it.
Sandoval's parents were proud to see their son's project through all steps of the journey, including his father Mario.
"We feel proud of him and he did a hard job to achieve the goal," Mario said. "Sometimes he limited doing other things to be here and complete this project. And I think it's a good project to benefit society, to enjoy the weekends and have a good place here in Madera Canyon."
Sandoval said he's proud of his work.
"It's a really good feeling honestly," Sandoval said. "I feel accomplished and like how it turned out. I would say, people who are trying to do Eagle projects, it's not as hard as it sounds. Just contact people and go for it. You'll get it done."