Many students are experiencing learning loss and disruption during the COVID-19 pandemic, and local educators are trying to identify ways to solve the problem.
Sahuarita Unified School District and Continental Elementary School District are focusing on tutoring, virtual meetings and personalized student plans to try and help students get caught up.
No school grade
Gov. Doug Ducey has put a pause on A-F letter grades for schools to provide some flexibility due to the COVID-19 pandemic. While students will still receive their report cards with a letter grade, the schools themselves will not get the state's accountability grade.
A school's grade has an impact on focus areas for improvement and indicates to the community how a school is performing at the state level.
For schools that received a low grade during the last grading period, which hasn't happened since the 2018-2019 school year, their current grade may not reflect where they are actually at.
It's the case with Sopori Elementary School in the Sahuarita Unified School District which received a 'D' the last state grading period.
SUSD Assistant Superintendent Brett Bonner said Sopori has unique challenges being a small school, and significant work has been put in to improve that mark since they received a 'D'. 
"They didn't do the assessment last year and it's going into postponement this year, so we're stuck in the past with what was assessed at that time," he said. "We understand, but it can be hard to see the committed efforts of staff and students at Sopori. They know they are not 'D' rated and we're working hard to get out of that state level grade."
State school grades are based on a variety of factors including state assessment tests (AzMERIT), student performance growth, attendance, special education includance, graduation rates at the high school level and more.
"We strive for all our schools to be 'A' rated schools and we believe in the district's practices, curriculum development, leadership, teachers and students," he said. "The AzMERIT test is one indicator for a given time period and it's not always the perfect snapshot."
Student growth, measured by comparing a student's performance to the previous year, makes up 50 percent of the total points at the K-8 level, with proficiency, determined by tests including AzMERIT, making up the next largest chunk of 25 percent.
Bonner said that because the class sizes at Sopori are small, how one student performs on state assessment tests carries a much bigger weight.
"Sopori is under 'needs school improvement' and we have been working with the state department to develop goals and measures and interventions to help performance levels," he said. "The disadvantage for Sopori is our number count is lower there than most schools. Regardless, Sopori is committed to doing its best effort to move out of 'needs school improvement.'"
Bonner said they have been taking specific steps at Sopori to improve, including after-school tutoring, the adoption of the Beyond Textbooks curriculum and targeted intervention for those students struggling most.
They have also been working at the rest of their schools to help make up for the learning loss that prompted Ducey to pause school grades this year and last.
Making the difference
To try and recoup the education losses, SUSD has already begun to implement new techniques and continue existing ones to try to bring students back to where they need to be.
Bonner said they have introduced a "reteach and enrich" time.
"In the K-12 setting, we've designated time every day for reteach opportunities for students who are struggling," he said. "We know it's happening at all grade levels and to help close some of those academic losses we are utilizing a window of time each day."
For example, at Sahuarita High School, the Mustang Power Hour is a 30-minute tutoring session for students who have a 'D' or 'F.' The time comes out of the one hour lunch period and continues until the student's grade comes up.
The hybrid model has made this inconsistent so far, but Bonner said they are hoping for a more traditional semester next school year and to bring the power hour back every day.
Outreach and tutoring have been occurring virtually and in-person throughout the semester.
They are also offering summer school, both in-person and virtually, all focused on academic achievement loss and enrichment. They have even set aside funding for scholarships to help students who need to attend.
SUSD has also worked to bridge their technology divide through purchasing devices and computer tools with Elementary and Secondary School Emergency Relief (ESSER) funds and the Connect Our Students Program, which helps provide internet connection.
"We feel we've really worked on addressing that and have provided a lot more flexibility," he said.
They have also put a lot of focus on information sessions, and virtual opportunities for families to learn about coming to SUSD, moving up into higher grade levels and recruitment.
"We want parents to know how to enroll and help them make connections with their school, principal and teachers," he said. "If you left a school for another option or homeschool, how do you come back, because we want you back and this is what it looks like to return."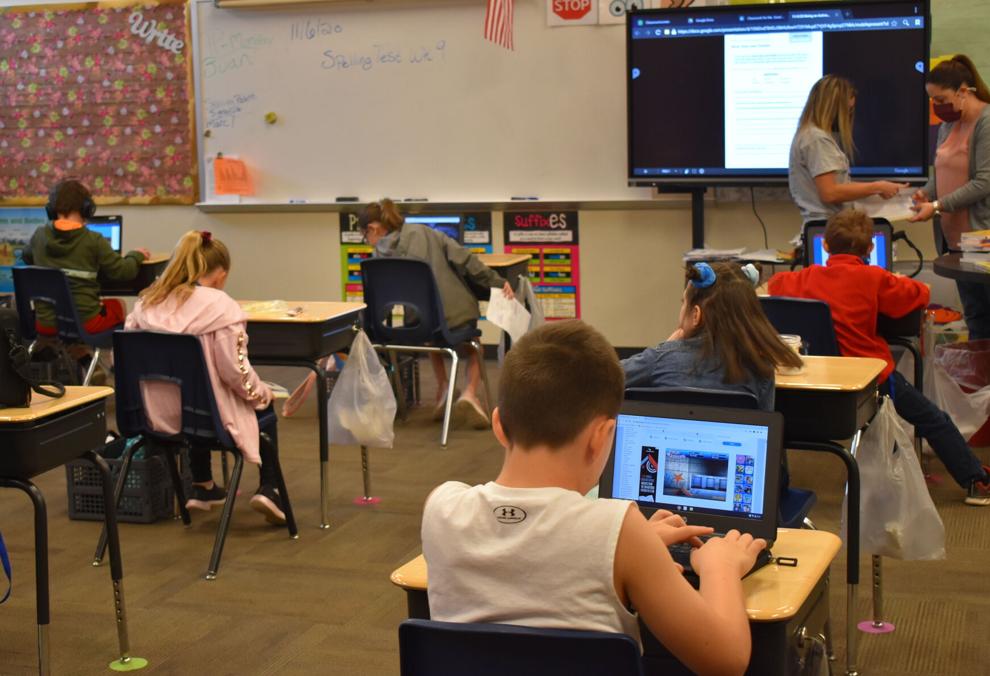 Continental
Continental Elementary School District's one school has a 'B' letter grade from 2018-2019. 
CESD is in a unique situation this year, as one of the few schools in Pima County open five days a week. 
Superintendent Roxana Rico said they have been lucky in that sense, and learning loss has not been as prevalent for their students. 
"The pressure will be on as we'll have to outperform our neighbors who have been hybrid because, if you've gone hybrid, you're technically getting less of the yearly curriculum," she said. "We've looked at our data and we're looking good. We're closing the gap for those kids who are struggling to help them make growth and progress."
Rico said they have a new assessment test for their students called the NWEA MAP assessment which tests reading and math. 
"We've had extensive professional development, spending four hours on early release Wednesdays reading reports and analyzing them to know which standards to teach," she said.  "Kids have kept up with the MAP assessment and what we're seeing is our kids are doing pretty well. I can't say there's been a huge learning loss for us."
Along with that, each student has a "data binder" including information on how students are performing to create goals and learning plans. 
CESD is also planning to have summer school in June and may possibly implement Saturday school for students who are still struggling. 
"The fact we've been able to stay open is attributed to the diligence of our staff, students, parents and community support," she said.  "We feel very lucky, because the fear factor is real and the benefit is I'm at one school and  I can make all those personal connections. When you're in a larger district it's just not possible to be at every school and have the same level of conversations that needs to happen. "
Moving forward
Students will be taking the state's AzMERIT test this spring, which is typically a big portion of the school grades. This year, it will be used to assess on a state-wide level where students need improvement and the greatest area of learning loss.
Bonner said they will use that data to continue improving Sopori's grade, and student success at all their schools. 
"We look forward to the next window for state testing so we can show more growth and improvement," he said. "Specific to Sopori, we want to improve that school letter grade and hope to move out of 'needs improvement.'"
None of SUSD's other schools have 'D' or 'F' grades from the last state grading. 
SUSD was just notified they will be receiving $1.5 million in a second wave of ESSER funds which will be used to keep their budget neutral and focus on academic programming, staffing, intervention support, technology infrastructure and health and safety.
Bonner said the biggest loss they have identified so far is the K-12 academic experience.
"When we're delivering learning remotely it impacts the whole social/emotional factors and so the greatest areas we're going to focus on are providing support systems for students' social/mental health and well-being," he said. "Under remote or hybrid, things take longer to get done, so it impacts the timing and pacing of school."
He said their school benchmark testing will help them identify where individual students are struggling and areas for improvement.
CESD will receive $200,000 in ESSER funds, and Rico said they are still finalizing what the money will be used for. 
She is planning to use those funds to order additional portable air filters for each classroom, as well as a reading fluency section of the MAPs assessment, which can help meet a new dyslexia mandate from the state. The reading section would count as a pre-screener for dyslexia in students.