For the cheerleaders at Sahuarita High School, this season was unlike any other.
COVID-19 forced them to practice differently — sometimes via Zoom. The number of people at practice was limited and for much of their practice times they were not allowed to touch each other or perform stunts.
Though there was a lot of uncertainty it would happen, the team was able to head to Phoenix to the AIA's Game Day Division State Championship last month.
Not only did the team get to compete, they won first place — the first time a Sahuarita Unified School District cheer team has won an AIA state competition.
Taking home the trophy for Division 3 on Dec. 12 was the culmination of a lot of work and spirit, not to mention flexibility and patience.
Coach Danielle Elmore said the pandemic meant the qualifiers and state competition were held the same day.
"It was an extremely long day — physically, emotionally, mentally demanding for sure," she said. "They have never done anything like that before but they really wanted to make sure everybody got the opportunity to compete so it was pretty neat how they were able to get it together."
The qualifiers included dance, their fight song and crowd-leading, which looked different in a pandemic Game Day.
"It was definitely odd because when COVID hit there were no spectators allowed so crowd-leading was to Coach Marie (Williams)," she said. "It was harder this year then you think it would be for the crowd-leading but of course the fight song is obviously the bread and butter for cheerleading at Sahuarita so it was really nice to be able to bring that tradition into it."
Assistant Coach Marie Williams said noticeably different in the competition was the chance to socialize with other schools; teams were "bubbled" into individual classrooms that they left only to practice or compete.
"Normally we intermingle with other teams and that didn't happen this year, and you're used to having all that loud energy like you would in a normal high school pep assembly," she said. "It was like complete silence unless it was myself and the other two coaches who were screaming our heads off with the alternates. It was an experience and it definitely made it feel a lot better when we won it."
Getting to the AIA state championship takes polished routines and a lot of energy.
"That's why it was such a sweet victory for us, it was the hardest routine that they have ever done for Game Day from the choreography all the way to the stunt team," she said. "We had not stunted for two weeks before that moment because our school went into phase one practice because of COVID."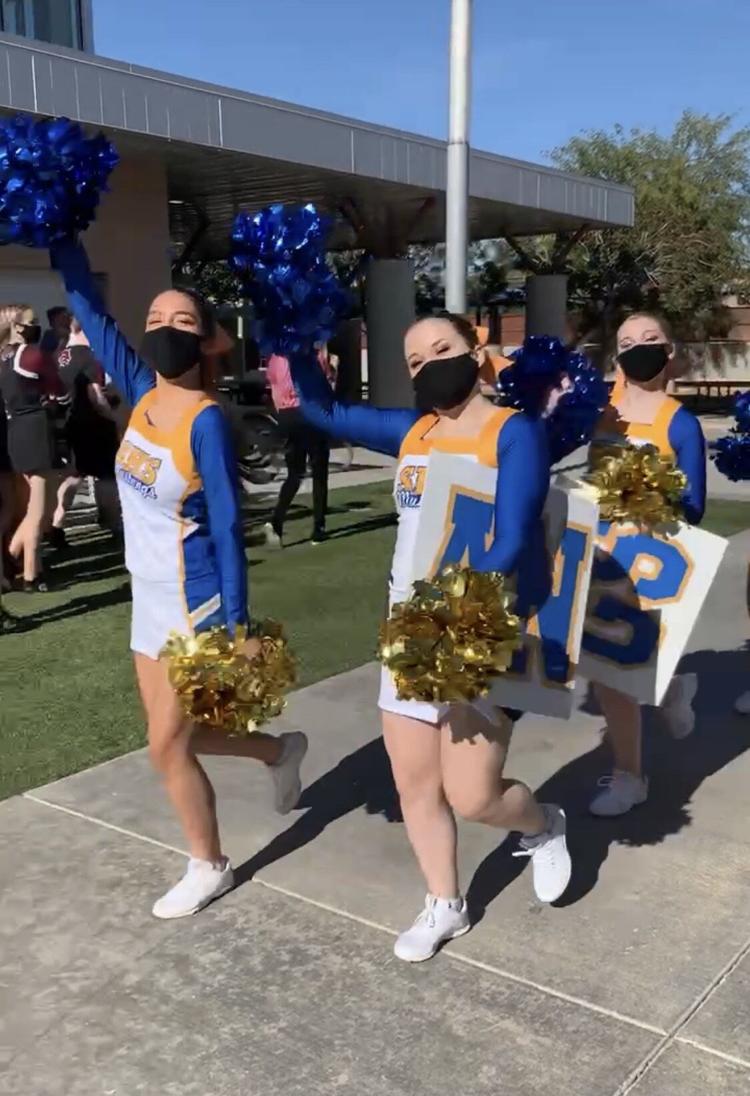 Head Captain Chase Kinsman said the team was extra motivated to do well this year.
"The drive to win was so much more than it was even last year, like it was just, you could feel it more that we all wanted it for different reasons," he said. "There were those of us on the team who were state runners-up and seniors, where COVID has affected the whole school year and we want this to go out for senior year, then juniors who want it just as bad but also for seniors because they all feel for us."
The senior, who became captain in 2020, remembered the feeling of being on the mat and drawing attention from other squads.
"We see all the teams are looking at us and by the second time we do the cheer, they started doing it with us, they were getting involved and you could tell it all radiated," he said. "Behind us was a team we were competing against and you could tell that they were watching like, 'Oh, that's going to be the team to watch.' That was really crazy knowing that and feeling all the different energies around you."
Despite the positive momentum, after the qualifiers the team was feeling the stress of not receiving any mini-division awards.
Elmore said she and Williams feel like mothers to the squad and awaiting the word on whether they would move on was tough.
"We did so good. We were like, how did we not get something," she said. "We see everything that the judges don't see. We see the sweat, the tears, we see all our hearts. Marie and I were like, we can't give up."
SHS had to jump right into the state competition when they advanced, performing third. Awaiting the final results was one of the biggest nail-biters of the day, as the AIA limited the announcement of awards to only head coaches. The team watched the proceedings from a television in their classroom.
Kinsman said when Elmore called them down the team started running, not fully understanding what had happened.
"I remember running out and there was a lady holding the door for us and I said, 'We're running but I don't know where we are running to,'" he said. "I was third in line and one of the other girls, I remember her screaming and Coach Danielle is holding the trophy. We were running up and falling to the ground. It was so dramatic and I wouldn't change it for anything."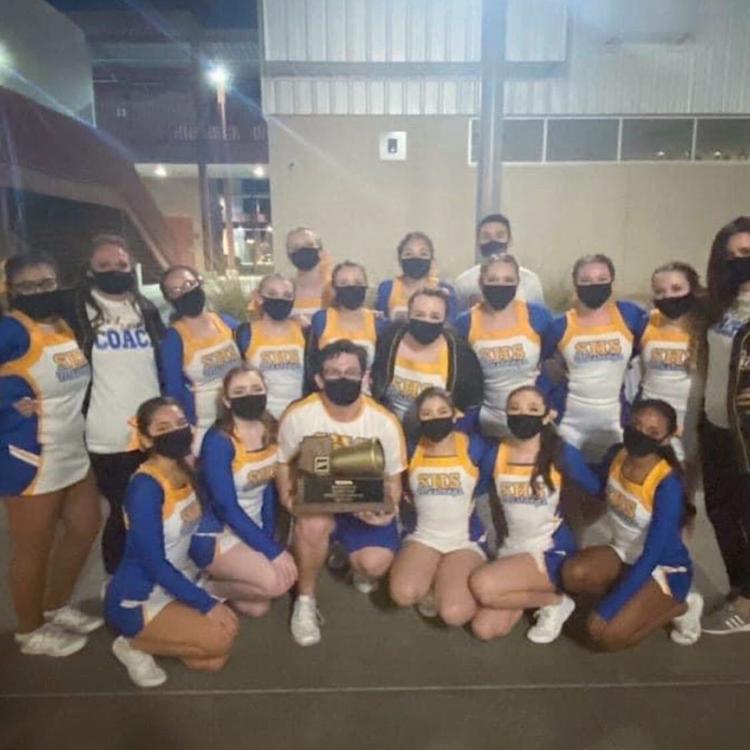 Williams said she still gets choked up thinking about the win.
"I looked at Danielle and was like, 'You're kidding me,' and we all started crying — we're talking ugly, ugly cry," she said. "Just to look at the people who have been on the team, it was like we could do this and it was so great to see."
Long time coming
SHS' win comes after a season that required a lot of adjustments and Elmore said COVID-19 hit them hard.
They had to use extra caution and used Zoom for meetings often. They even had an unofficial quarantine after Thanksgiving to ensure everyone's health and safety. She said the team works like a family unit. 
"You truly see they care and maybe they're not crazy invested for themselves but they're willing to do the work for others and it's what is so special about the team," she said. "'I want to do good for my team' was a huge drive for us and I feel like a lot of the younger ones, they feel bad about the senior year and wanted to do this for them."
Elmore said they had a lot of support from the district and Athletic Director Chip Stratton.
Elmore said there's still a fair share of uncertainty moving forward. She hopes the team can compete in a competition at the end of the month. If not, they're planning a virtual pep assembly.
This year they pushed to their full potential.
"Everything Danielle and I knew they had in them, they got to really know that themselves in that moment," Williams said. "It was amazing. It was a great journey. You feel like you're stuck in a rut for awhile and then finally have this burst of relief."