Bill Foraker, 69, directed thousands of airplanes for airshows throughout his lifetime. So when he decided to volunteer with the University of Arizona's COVID-19 vaccination clinic back in March, directing traffic felt like an obvious choice.
"I figured it required the least amount of training, and I just thought, 'How hard can cars be?'" Foraker said.
Like other volunteers, Foraker received his second vaccine dose after working a few shifts, making his decision to keep volunteering even easier.
"It was such a great opportunity they offered us, and it felt like an easy way for me to help participate and provide that same opportunity for other people," he said.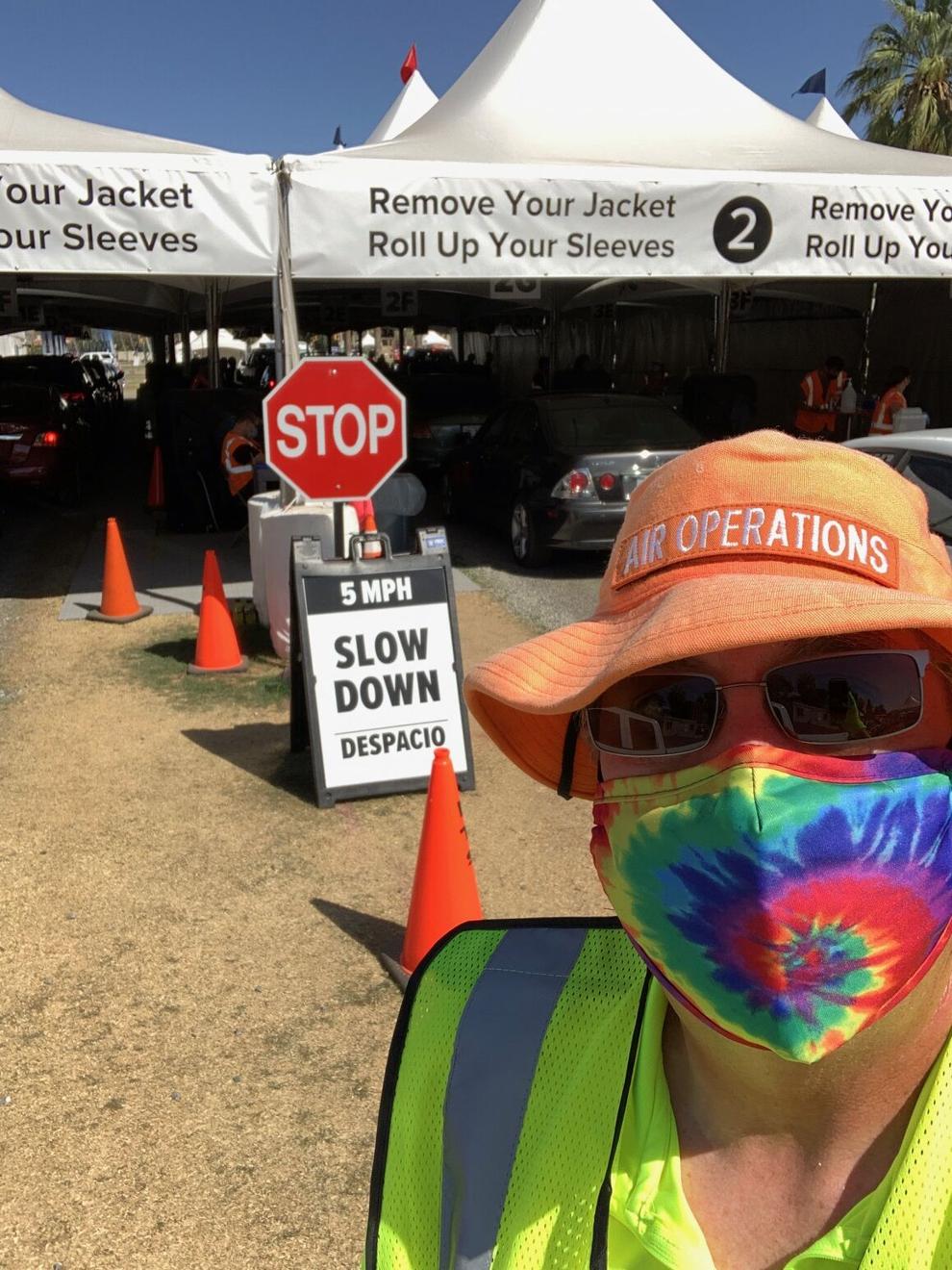 Foraker is one of about 5,000 individuals who have volunteered at the UA vaccine POD (point of distribution) site since it opened in late January. Both medical and non-medical volunteers at the site perform crucial roles that keep the sites running smoothly – from greeting and registering patients, to administering the vaccines, to monitoring people in the observation areas who received shots.
But as the supply of vaccine doses, and those eligible to receive them, ramps up across the state, so has the need for volunteers to keep these clinics operating efficiently.
To date, the UA POD has delivered close to 135,000 doses of the COVID-19 vaccine to Pima County residents. Currently, the site averages about 4,000 shots on any given day, and approached 4,400 vaccines administered on Friday, said Chris Kopach, Assistant Vice President of Facilities Management.
And while the volume of these mass vaccination sites is impressive, so is the number of people working together to make it happen. The UA POD requires approximately 250-300 volunteers and staff each day to run efficiently. That averages to about 80 staff and volunteers for each five-hour shift, with three shifts per day, seven days per week.
Jenna Elmer, Director of Human Resources for the university's Facilities Management, works to coordinate volunteers for the clinic and said the enthusiasm for these volunteer shifts was almost overwhelming in the beginning.
"We actually had to ask people to only sign-up for one or two shifts and were encouraging people to let others get the opportunity," she said.
Many volunteers, like Foraker, were incentivized to volunteer early on by getting a vaccine in exchange for their time. While Pima County requires all volunteers to work 36 hours to get that vaccine, some volunteers can get doses as soon as their first shift, depending on availability.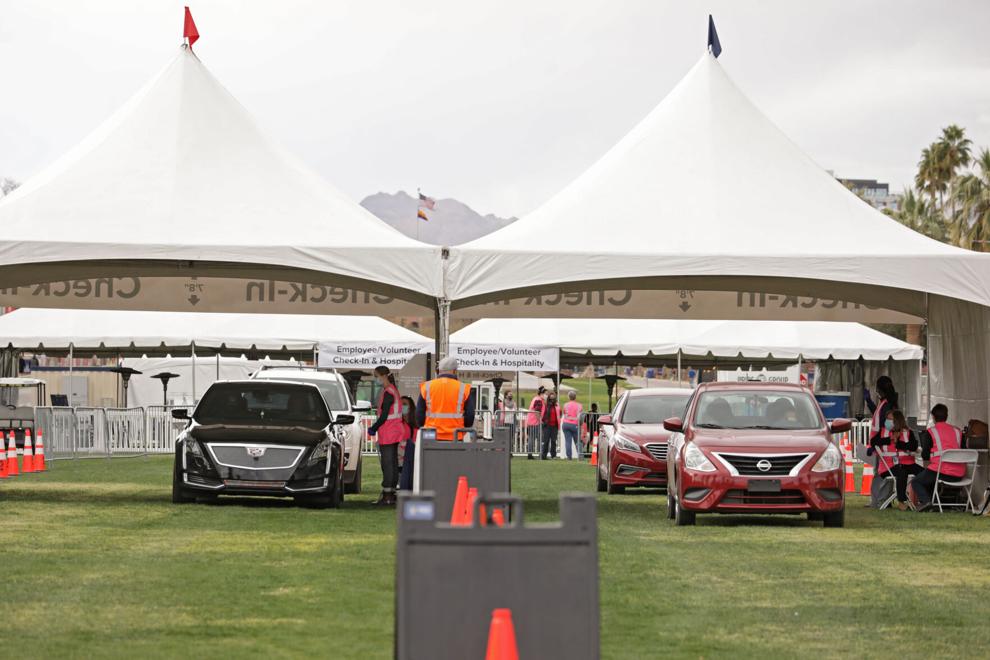 But since the announcement of the lowered eligibility guidelines, which now allow Arizona residents 16 years and older to register for a COVID-19 vaccine, Elmer said volunteer activity has dipped.
"We've started to see some attrition, so we're sending reminder emails more regularly and more frequently, asking for volunteers. But we are starting to see regular vacant spots on the schedule," Elmer said.
Of the nearly 200 volunteer positions available every day, Elmer estimates that anywhere from 30 to 50 slots go unfilled.
In part because of this decline in volunteer registration, the UA POD began staffing some of the empty slots with temporary workers last week. While this does fill in the gaps, Elmer explained that having more staff working at the site will make it easier to train new volunteers.
"We do have a high turnover of volunteers, and most of our positions require knowledge of the state's (vaccine registration) system, so there's definitely a small learning curve," she said.
"It's key to have enough people who aren't brand new every day, especially because we're starting to do over 4,000 shots a day, and to be able to run efficiently, we will need some trained personnel out there on the POD."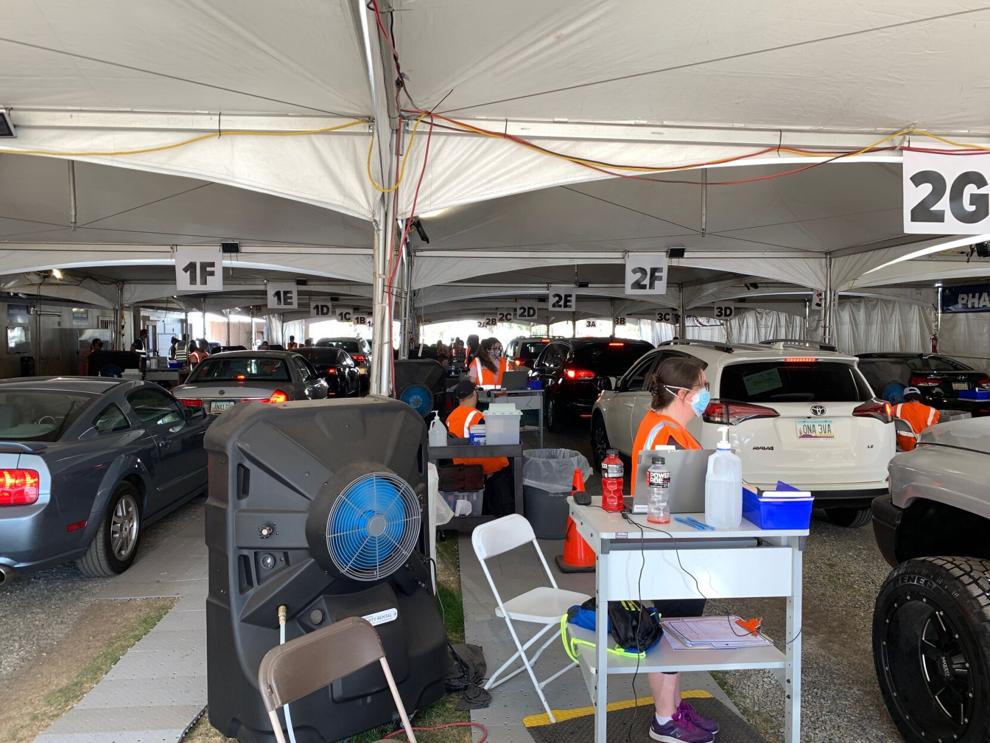 Although they've been able to tap staffing agencies for additional help, Kopach emphasized that there are still critical areas that can always use more volunteers.
"Whether it's medical, or whether it's not. Our parking and transportation, you know, can always use a good 20 people," he said. "It takes a lot of folks to run this POD, and there's a lot of moving pieces."
When she's not coordinating the logistics of the site, Elmer said she gets inspiration from the stories of the volunteers themselves and why they choose to give their time. All are unique, she said, and a lot of them bring her to tears.
One volunteer lost her father to COVID just days before the university's clinic opened. Helping others get vaccinated, Elmer recalled, was her way of honoring him. Another group of college students volunteered because they wanted to safely see their grandparents again.
"For me, it's about being part of something this big, at a time when we all felt helpless against everything," she said. "Being able to step in and feel like we were making a difference was so rewarding."
Though Foraker first signed up to volunteer for a chance to get his vaccine and give back to his community, his time directing traffic ultimately gave him more.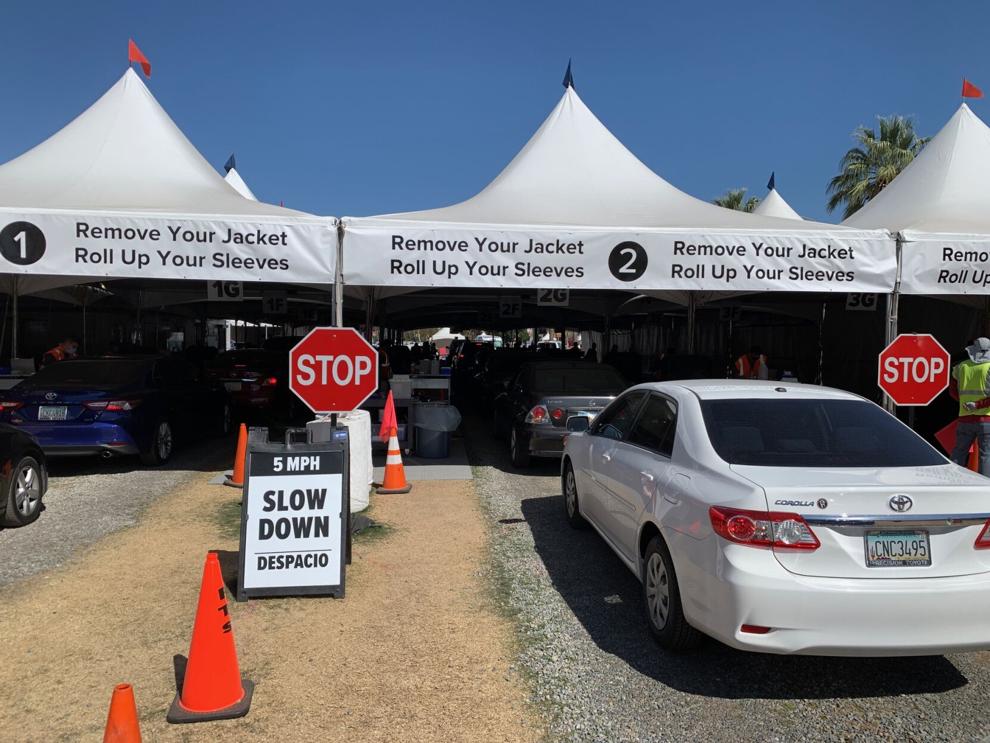 "It's actually amazing the positive energy and the patience people have when they know they're getting a vaccine, and they know we're all volunteers, so it's just been a real positive experience from that perspective," Foraker said. "And though your feet start talking to you around the fifth hour, you know, I still think it's a good thing to do because there's lots of people who can't, so I'm trying to do it because I can."