For Bill Stasior, learning he was positive for COVID-19 happened out of unexpected circumstances.
He was watching television with his wife, who has short-term memory due to a brain injury, and her caregiver. When he appeared to fall asleep and couldn't wake up, the caregiver called for help.
"An emergency tech came in and even though I was groggy they took me to the hospital," he said. "I tested positive for COVID-19 and while I was in the hospital our caregivers stayed with my wife 24/7 but she couldn't do it. The caregiver took my wife in, the hospital admitted her and she tested positive. The caregiver tested positive, too. That's how we found out."
As they both recovered in the hospital, the pair who've been together for over 60 years were separated and unable to visit one another. Discharge was going to be even more difficult.
Stasior's wife needs supervision and assistance, and with them all still positive, he knew they were in a challenging situation.
"We were in a quandary because we couldn't send her home. She's COVID positive and she's difficult," he said. "The hospital told us about this new place set up to treat elderly people with problems until the virus clears their system, Harmony House."
A few phone calls later and his wife was transported to a nine-bedroom house on Tucson's far east side with mountain views and around-the-clock care for people over 65 who are positive for COVID-19. It made all the difference.
"I felt in our case it was a solution we needed that just came along at the right time," he said. "We've known each other 62 years, been married 60, and it's a wonderful thing we could go here and not have to experience anything traumatic."
Harmony House is the state's first exclusively COVID-19 assisted living home offering free short-term stays while people recover from the virus.
The pilot program started in September thanks to funding from the Pima County Health Department and is designed to care for COVID-19-positive older adults in a one-on-one, home-like environment.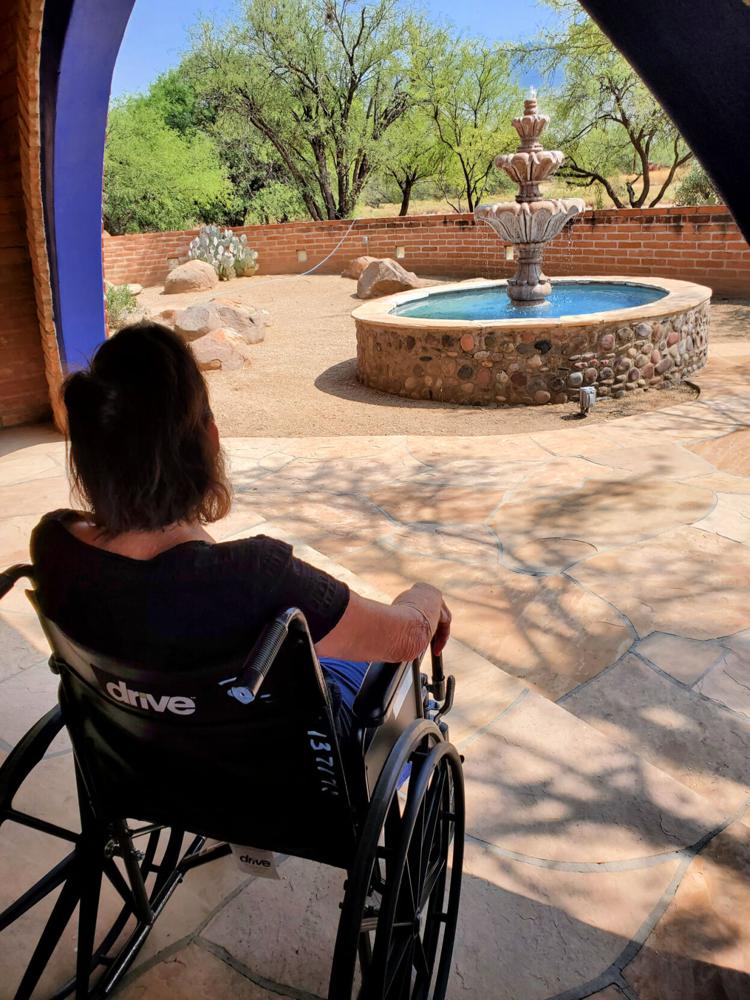 Founder and CEO Brianna Henderson said the idea for Harmony House was born out of seeing the impacts of COVID-19 herself at her hospice care business, Harmony Hospice.
"When the pandemic started we started to see sad cases, specifically folks sent to the hospital who tested positive for COVID, had nowhere to go and could not be discharged," she said. "People were passing away isolated in hospitals. Nobody (assisted living homes) was willing at that time to take anyone who was COVID-positive even if they didn't need to be in the hospital."
One of their own patients had to be moved from his assisted living home to the hospital where he died alone on a COVID ward.
Henderson approached the county, which agreed to fund a pilot program until the end of the year.
Harmony House is what Henderson calls "regular assisted living supped up for COVID."
They utilize a specialized filtration system, have plenty of PPE, 24/7 staffing and opportunities for socially distanced time for patients and their families.
"The majority of rooms have a patio and, depending on a person's signs and symptoms, we've had family members roll the hospital bed to the door for a patio visit," she said. "We just had a gentleman who was actively dying and we were able to get family members in with the appropriate precautions to stay safe and see him."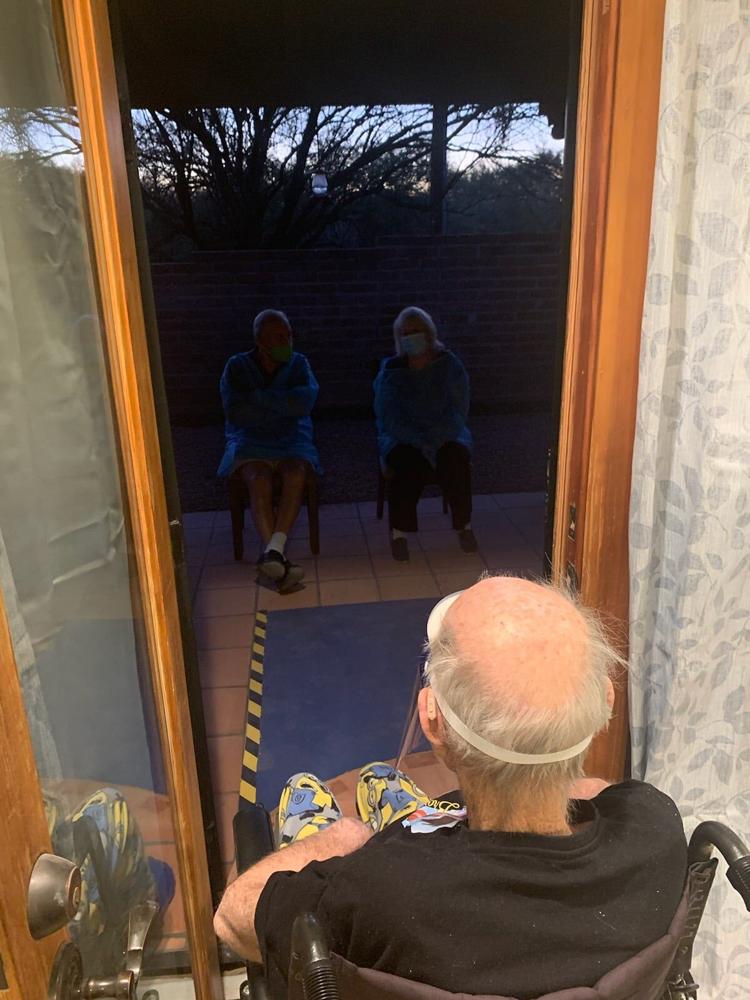 Stasior's wife was their first patient and he said the experience, from the facility itself to the care, had a profound impact on them.
"What was so extraordinary is how kind the caregivers were; what a risk to themselves they're taking on with this care," he said. "I was able to visit my wife as frequently as I wanted and I didn't have to do anything but visit her and experience the fact this place existed, and it was an enormous help."
Henderson said they have 10 caregivers, including two overnight staff, so patients get receive one-on-one attention. 
Due to the nature of work, Henderson said Harmony House offers a higher rate of pay than most caregivers are used to. Along with the pay, they offer health insurance and a 401k matching plan. 
"The caregivers we have are really just dedicated to the story of older adults in hospitals," she said. "One of my caregivers says, 'That could be my grandfather.'"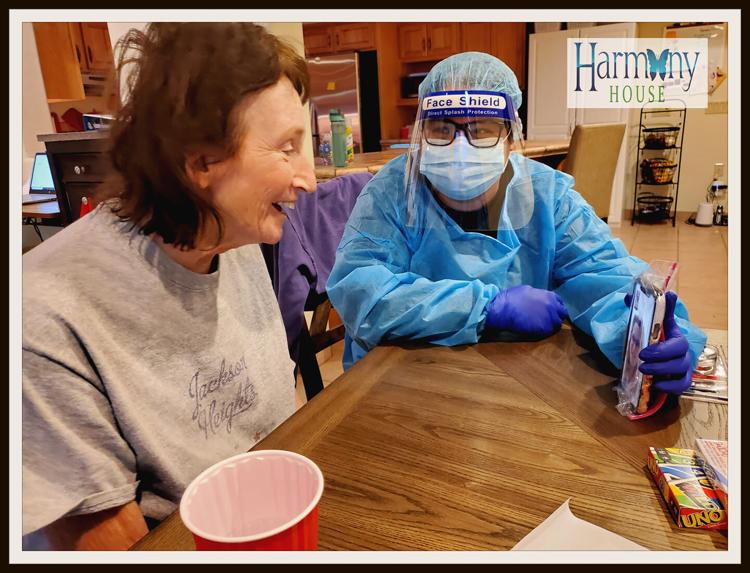 Harmony House can have up to nine people at a time and currently have three. Henderson said over the course of the program they have had 12 residents.
She said getting the word out has been challenging but they are hopeful to bring more people in.
"With a spike in cases it's heartbreaking to think of grandma or a loved one isolated in the hospital," she said. 
While the program is free, the county's funding ends Jan. 1, and Henderson is seeking community support so they may remain open longer.
They currently have a GoFundMe page, a meal train program and are accepting donations and gift cards.
She said they are also collecting data from the pilot they hope will help lead to more facilities of its kind. 
"We could potentially launch another COVID-positive home in Green Valley or rural areas in Arizona," she said. "I'd love to show how successful this model has been and bridge out to other areas."
Stasior said he is forever grateful to Harmony House for the care they gave his wife and the kindness they were treated with.
After about three weeks, he and his wife tested negative and she was able to move to a senior living facility specializing in memory care.
"The atmosphere was extremely pleasant and the people were extraordinarily kind," he said. "What was so wonderful about this is in Harmony Home there existed a place for my wife to be safe and we could all recover, and they asked for nothing."