While the public and policymakers turn the coronavirus pandemic into a political battle ground, medical workers at Santa Cruz Valley Regional Hospital are focused on serving the community and taking care of patients.
Without a pulmonologist, the hospital hasn't seen the influx of COVID-19 patients requiring higher-level care that many hospitals around the state have. But that hasn't minimized the impacts COVID-19 has had on medical workers.
County health director and SCVRH CEO talk about COVID situation as state grapples with pandemic. #NABUR
CEO Kelly Adams said the hospital was looking for a pulmonologist before the COVID-19 outbreak. However, he said finding pulmonologists is a nationwide issue affecting everyone and not unique to Green Valley.
Without a pulmonologist on staff, the hospital sends acute-case COVID-19 patients to other hospitals after stabilizing them. But there hasn't been a shortage of mild to moderate COVID-19 cases and the challenges those bring. 
Dr. Bonpietro
Dr. Frank Bonpietro will have two years with SCVRH in August. The Long Island native finished his residency six years ago and spent much of his career in the Bronx.
"I trained in one of the most high-stress environments, and we've seen a lot of tropical medicine, all types of exotic diseases, but this is definitely a different beast," he said.
Arizona reported its first positive case Jan. 22. COVID-19 numbers began increasing in mid-March.
"More recently, I'd say there's definitely been an uptick in the Pima County area, just anecdotally from my experience, the shifts I take in the emergency room," Bonpietro said. "I probably see half a dozen cases every day. They're not typically your sickest patients. It's usually people with mild symptoms – your fever, cough, maybe some GI symptoms."
He said while there might be six to 10 people in a shift who could have COVID-19, there's probably around a 25 percent positive rate after testing.
"But it's kind of strange where we'll have several days throughout the week where we have those numbers," Bonpietro said. "And then there'll be certain days just thrown in there where we don't see any cases or anybody with any respiratory illness or COVID-like symptoms. It's either a COVID day or it's not. So, it waxes and wanes as the weeks go by."
There were three COVID-19 positive patients at SCVRH on Friday.
Teresa Chavez, RT
Teresa Chavez is the lead respiratory therapist at SCVRH and has been with the hospital since it was under construction. The then-Green Valley Hospital opened in May 2015.
Part of her job includes intubating patients, inserting a flexible tube into a trachea to maintain an open airway. The process presents one of the most likely opportunities for COVID-19 to spread from patients to healthcare workers.
"A lot of the times, we try to minimize the amount of people in the room," she said. "A lot of those are just me, a doc and a nurse. That's it."
Chavez said once the tube is in place and the airway sealed, the patient is far safer to be around. She spends much of her day ensuring her equipment is ready and placed where it might be needed most.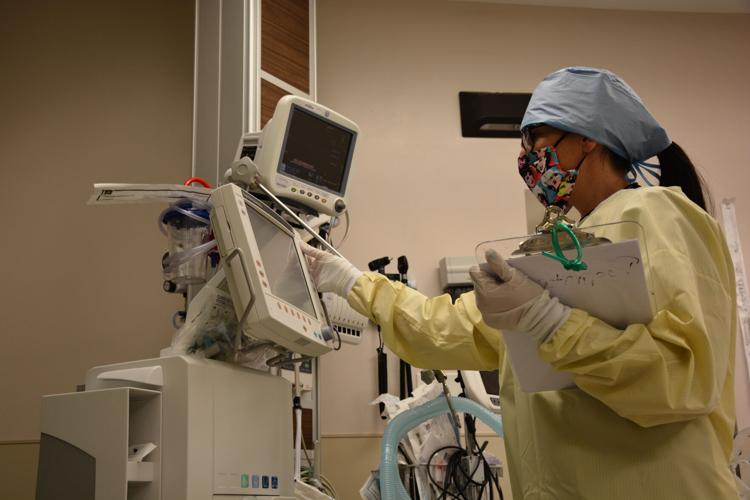 "Every day when you clock in, it's like OK, who's here, who's going to be my sickest, who do I need to make sure I have the GlideScope near their room," she said.
It's tough to narrow down how often they have to do intubations given the continually changing nature of patient needs and admissions.
"We are a rural community so we don't get the numbers that Banner's getting," Chavez said. 
Amber Flores, RN
Amber Flores has been a registered nurse for 15 years and started with SCVRH while it was under construction. Flores previously worked at St. Mary's in Tucson.
Flores found the Green Valley community's involvement and support of the hospital and the close-knit relations among the smaller staff at SCVRH a pleasant change from Tucson. Part of her job is to check on employees to ensure they are doing alright with the added stress COVID-19 has placed on medical workers.
"Just really talking to employees, making sure they're doing OK, feeling OK with everything that's going on, and that they just have all the support they need to feel comfortable and do their jobs," Flores said.
She also ensures everyone follows safety guidelines on cleanliness and PPE in the hospital. And the detail-oriented duties to ensure everyone is properly using PPE and washing hands can be hard to shake outside the hospital.
"I live in Sahuarita, and I see a lot of people now in Fry's wearing their face masks, which I'm happy about," she said.
However, there are times she has to remind herself she isn't at work and fights off the urge to point out when someone doesn't have their mask on correctly in public.
"Some people are uncomfortable with (masks), and some people have medical issues so I can't judge, I don't know their stories," Flores said. "But, yeah, I definitely have to fight the urge to say, 'That's not working. You're still breathing through there.'"
Hardest changes
COVID-19 has had impacts beyond just those patients infected with the virus.
Recently, the hospital only made visitor exceptions for special needs or dementia patients. Now, the hospital allows one visitor for patients near death, provided they have PPE and prior approval.
"We actually did just change that about a week ago," Flores said. "Because it is a hard time when someone's obviously at the end of life, and they can't have a loved one there."
Before the policy change, Chavez said the staff stepped up to make sure patients didn't die alone.
"We'll all PPE-up and go in there," she said. "Because we don't want that to be a thing that you do alone or you're scared. We want to be able to tell your family, 'Hey, the whole ICU gowned-up and went in there, and it was peaceful.' You act like it's your family, and it really changes your whole mindset."
Chavez said COVID-19 has also increased her concern for fellow employees and patients.
"It's like a roller coaster," she said. "One day, I put on my positive pants, and I'm going to make everybody smile, and I'm not going to let a single bad mood get to me. The next day, I cried the whole time I drove to work because I'm scared for everybody today."
She said the experience has made her appreciate everyone more, and she understands just showing up to work can be a big deal, given it's hard to do some days.
"I find myself really concerned with my peers," Chavez said. "My night shifter, did she have a bad night? What did she see? Is she OK? Are her kids OK? It used to just be a job, you punched in, you did your job, and you went home. Now, you're kind of like, 'Everybody good? You guys ready for today?'"
Personal safety
Bonpietro said that he is conscious that he has more exposure to potential COVID-19 infection working in the ER, but doesn't have heightened fears about contracting the virus.
"I think if you do all those necessary steps to prevent transmission, then that should alleviate any anxiety you might have about bringing it home to your family," he said.
Chavez treats her outside life as though she is infected for general safety.
However, she said it's mostly about ensuring she wears a mask in public, avoids gatherings and pays attention to proper handwashing.
"But that's as far as it goes," she said. "I honestly feel that we have more control over here. Everybody's got masks on. It's not an if. When I walk into the Circle K, not everybody has a mask on – 'That man just coughed on me.' We have more control here than I do out there."
Flores also finds the hospital is safer than some people might think at first glance, given the safety protocols and PPE requirements.
Adams said the hospital is at about 35 to 40 percent of its pre-COVID-19 elective surgeries.
One of the hospital's surgeons told Adams that he has patients ready but they are holding off on surgeries until COVID-19 passes.
Flores said she doesn't want people to put off treatments and surgeries because they are afraid of catching COVID-19.
"I know at the beginning of this a lot of people were scared to come into the hospital and therefore they were just like, 'I'm not going to address my health issues,'" she said. "We just want them to know, don't do that. If you're feeling ill, if you're having chest pain, if you're having any symptoms, you need to be seen. We're here for that, and that's why we're here for this community."
Wearing masks
Bonpietro said the best thing people can do is err on the side of caution and take personal measures to avoid catching COVID-19.
However, public attitudes on what those personal measures should be and how governments should implement them have varied throughout the pandemic.
"I feel like the reason we have that attitude sort of in this country traipses into the political wars, which I'd like to stay away from," Bonpietro said. "I'm purely apolitical when it comes to science and medicine. So, I'll leave that to the political pundits. But I kind of feel like a big part of the blame on this is the politics. Especially being in an election year, people are playing politics with patients' lives. And that's probably not the best thing to do at this time."
Bonpietro's most significant concerns during the pandemic come from what he sees out in public and not inside the ER. And that concern is improper mask use when he sees noses left uncovered.
"I'd advise them to check with the CDC's website for proper use of wearing PPE," Bonpietro said. "If they're going to attempt to do that, it should be emphasized that they wear it in the proper way to prevent transmission of any illness."
Flores said she wants people to listen to science and protect themselves and others by wearing a face mask covering their nose and mouth.
"It's me wearing a mask to protect you, you wearing a mask protects me," she said. "I know there's a lot going on with companies now making them mandatory. I think that's a great idea."
Chavez said everyone has different views right now but she maintains her view that everyone needs to remain cautious.
"I have friends that are like, 'I'm not going to wear a mask,'" she said. "That's fine. I'm not going to fight anyone over it, but I'm going to keep doing what I think is right and stay home as much as I can."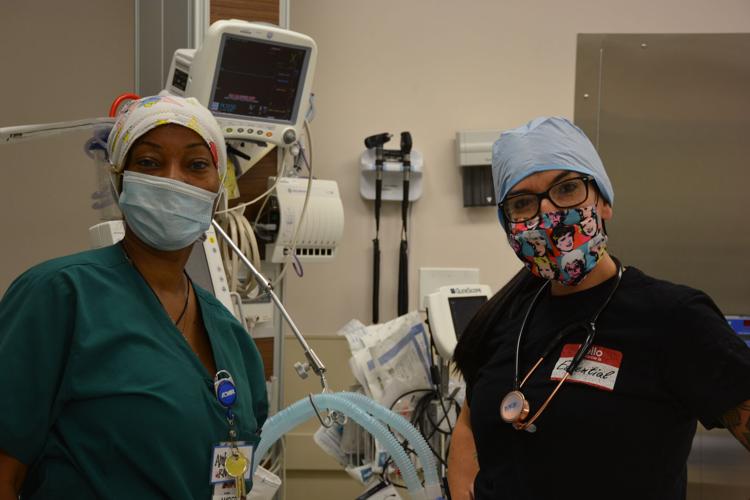 Chavez said it's hard not arguing with friends when they refuse to wear a mask. However, she understands there's no shortage of frustration as the outbreak impacts incomes.
She also said it's harder for people to understand the medical impact of the virus since the public doesn't see what medical workers see.
"A lot of the time, I try to remember that it's a desperate time," Chavez said. "People are hungry for information, so they're taking whatever is out there, and you have to consider your source in those times. This is definitely not something that should be overlooked or something that we should take lightly."