It's no surprise that space in GVR facilities is becoming tighter as club membership grows and new ones form. The question isn't whether more room is needed but how best GVR could make it happen.
Stewart Tagg, Planning and Evaluation Committee member and former Woodworkers of Green Valley Recreation president, said his club is adding 30 members per month and 60 total during the summer season. He said he has also noticed more members staying in Green Valley year-round.
GVR director and P&E member Donna Coon said finding space for clubs is challenging. 
The most recent indoor GVR facility is the Canoa Ranch Center, which opened in late 2009. GVR has seven major centers, six satellite sites and the recently opened Pickleball Center.
At Thursday's P&E meeting, finding space for clubs with growing membership took up the majority of the two-hour session. One suggestion was building a facility to accommodate all of GVR's artisan clubs.
Building a new facility isn't the only option the organization has when considering how to meet current and future needs.
Board president Charlie Sieck said it's an issue that draws passionate opinions on all sides.
"Everyone agrees that we're out of space and we need more space, no argument," he said. "Here's the struggle, people like to talk about having a large — for the artisans — building, a new facility for them, and this would certainly go over this $1.25 million threshold. So, we'd have to take it to a vote of the membership."
Sieck said getting approval for such a venture wouldn't be possible with about 50 percent of members belonging to clubs, especially if a new facility was dedicated to a smaller portion of the 64 GVR clubs.
The $1.25 million threshold is a rule that states members would have to vote to approve a large-ticket expenditure exceeding 10 percent of the organization's annual revenue rather than the Board of Directors having unilateral control.
"The quandary then becomes how do you put something together that the whole membership could get behind if that's your strategy," Sieck said. "The other strategy is, figure out how to proceed into the future a million dollars at a time."
Another drawback to building a new facility is finding available land, he said.
Coon said finding land and acquiring it at a reasonable cost is difficult in Green Valley. They learned that when looking for a pickleball site. However, she said GVR needs to make hard decisions as dedicated space for clubs becomes more scarce.
"We are getting to the point where I think we have to seriously look at either some major expansion to our existing buildings, where we run into some problems with parking and are they suitable, or building a new building," Coon said.
Although losing parking space could be an issue, Coon said that expanding an existing building would be the most cost-effective option.
Incremental expansion of current facilities to meet demands in smaller steps is the option Sieck said he preferred.
Sieck pointed to costs associated with constructing a new facility, which would include architectural fees, as well as maintenance and support staff, all of which he said would result in significant member dues increases on a short-term scale.
Refitting and expanding existing facilities at $1 million per year would affect dues on a more manageable, long-term scale, he said.
Coon pointed to the West Center as a potential site for expansion with its large parking lot.
Unless the 10 percent threshold rule were changed, she said it would be hard for GVR to take on a single, large-scale project.
However, there is still the possibility that GVR could repurpose a purchased building or construct a new facility capable of incremental expansion as funding became available, she said.
Making space
Without expanding facilities, GVR's options now are to make do with what it has. P&E agreed on Thursday to recommend the board approve moving the Clay Club into the Fiesta Room at Santa Rita Springs.
They also considered looking into fitting one of the large Santa Rita Springs meeting rooms with a retractable wall to create two rooms for reservations. The committee ended up tabling that idea for later consideration.
GVR's recreation services director, Kris Zubicki, said searching inward for space rather than building more facilities or expansion poses a whole other set of problems.
Giving the Clay Club dedicated space – an area where they can work and store their stuff permanently – solves their need, but might shift the shortage to other areas.
Zubicki said displacing the Fiesta Room users would impact people in other rooms who will have their reservations affected by the influx.
"It's kind of like Tetris or a puzzle piece," she said. "You can't just move them because there are existing reservations. We're already struggling now trying to find rooms to put people in. GVR, we're kind of out of space."
In 2019, there were 229 reservations in the Fiesta Room with 3,895 people in attendance.
Meeting rooms are another consideration. Usage data for the Fiesta Room showed it was most active during the middle of the day while getting little use in the morning and evenings.
Other facilities might see more use, such as Las Campanas, which tends to have a steady stream of reservations in its seven rooms, Zubicki said.
It isn't just the reservation time that counts for usage.
Staff needs time to take down tables and seats for one reservation and set up for the next. Zubicki said staff needs an hour before and after a reservation to have rooms ready for members and guests.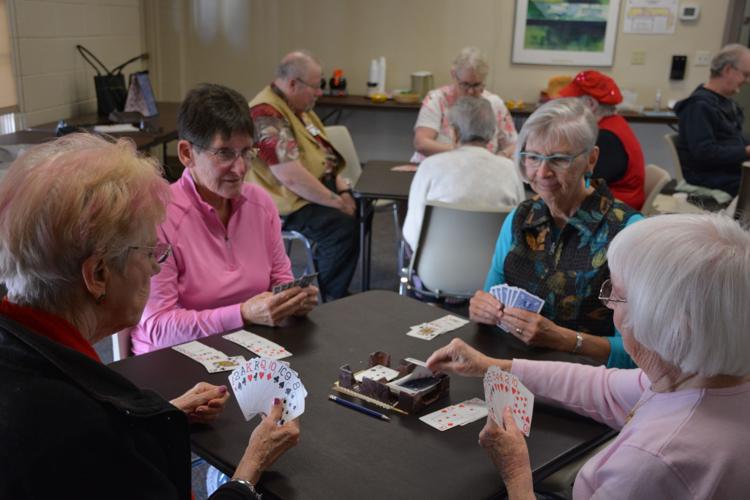 Meeting rooms aren't just for non-club meetings, either. Some of the reservations go to clubs, such as poker and other card games, which need an indoor meeting space to play. Part of the problem is members will develop routines when it comes to reserving rooms.
Zubicki said it could get crowded during the winter and while scheduling might be tight during a morning block, an afternoon will sit wide open.
"We can always find a room, but not exactly when they're looking for," she said.
Coon said that providing some clubs, such as artisans, with dedicated space can be seen as increasing floor space.
With a permanently reserved area club members could use throughout the week, it effectively increases space by spreading the usage rather than consolidating it to booked times, she said.
Sieck said GVR needs to take a closer look at data on meeting room usage to utilize the spaces within the organization better. However, with members looking to reserve rooms during individual blocks, Coon said people also need to be more flexible with reservation times.
The space issue within GVR isn't something that looks like it will be tackled overnight. With different options and views on how to address the problem, how, when or if to expand floor space at GVR might become a prominent issue for future boards and committees.
The P&E Committee recommended that the next committee and elected Board of Directors to make exploring alternatives to meeting arts and crafts clubs needs a high priority for the three- to five-year plan.