It started as a plan to help vulnerable seniors and restaurants get through the coronavirus pandemic. Then it morphed into so much more as a group of anonymous donors kept homebound residents fed and connected.
Three couples came up with the idea three months ago at a backyard get-together. The conversation had turned to the impacts that COVID-19 precautions created for restaurants trying to stay afloat and for homebound residents closed off from the community. Then they made a plan.
The friends came up with $6,000 to $7,000 and decided they would buy take-out meals to give restaurants much-needed business and deliver them to homebound residents every Friday. For the residents it's free and the restaurants cut the donors deals on the bulk orders — and love the business. 
The group also received a few hundred dollars from others along the way but covered most of the costs out of their own pockets.
That's worked well for 11 weeks. But as COVID-19 grinds along, the group is concerned that funds for the hot meals these residents enjoy so much might not outlast the pandemic. At $500 to $700 per week, the group is quickly running out of money.
A helping hand
Staying anonymous, finding homebound residents and delivering fresh meals around town isn't easy without a little help.
They found that in Posada Life Community Center director Ellen March and four others, which took the plan from an idea among friends to happy seniors who look forward to Fridays.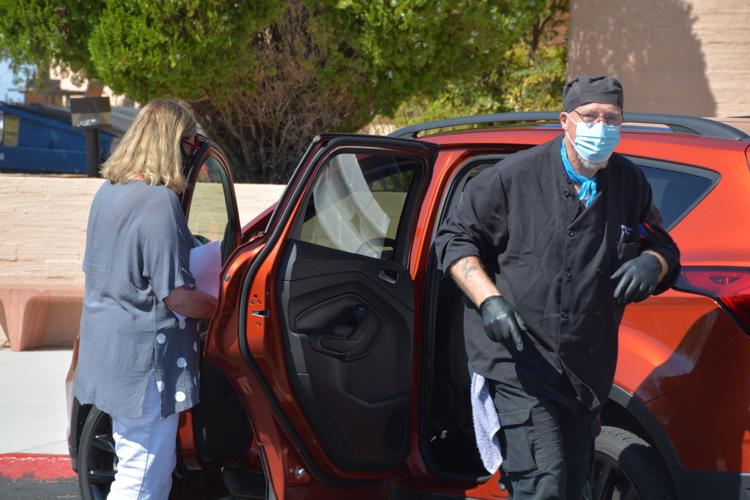 March said the number of recipients changes week to week based on whether they could receive the food or if new people are added to the list — there were three additions this week.
March and the others deliver about 50 hot meals, split into five routes.
Posada Life already has a senior lunch program where older adults can have lunch and socialize. But that program changed shape when COVID-19 nixed events designed to promote socialization.
Although socialization isn't what it used to be, March and the others are still trying to keep their meal recipients informed and entertained as much as possible.
The Posada Life staff provide updated COVID-19 information printouts, SAV Scam Squad updates, crossword books and jokes with the meals.
For 20 weeks, Posada Life shifted to providing pre-made frozen meals to senior lunch participants on Mondays and Wednesdays.
And when the anonymous group wanted to find people to buy meals for, March was ready.
"We had this built-in customer base, so to speak, of people who would normally come to us for lunch who were now getting the frozen meals," she said.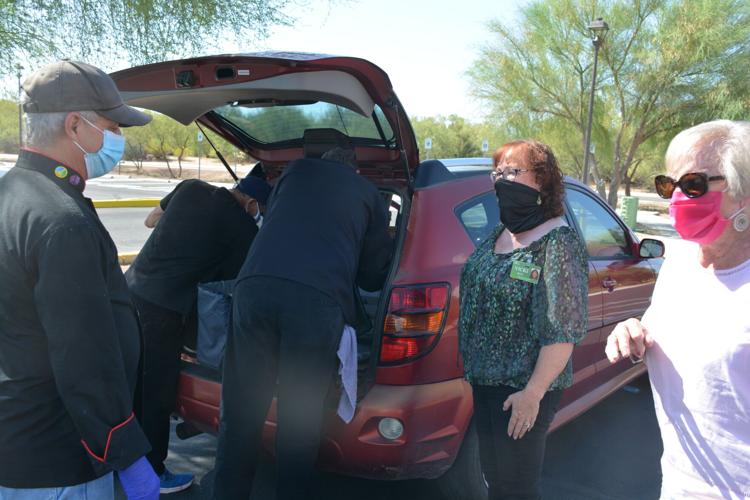 Posada Life's clients on Monday and Wednesday split into halves – those who can pick up frozen meals on Monday and Wednesday and homebound residents. And that's where March found the homebound people the anonymous group wanted to provide with a hot meal.
There aren't any income qualifications, and recipients are found throughout the Green Valley community. The only requirement is recipients must be at least 60. 
Making a difference
The impact the anonymous donors are having isn't lost on March.
One of her regulars is a 102-year-old woman who made sure she was ready for last week's meat loaf dinner from Grill on the Green.
"When I got there on Friday afternoon, I called her about a block away," March said. "She said, 'Oh, I'm so glad because I've been waiting. I didn't even take my nap. I wanted to make sure I didn't miss you.'"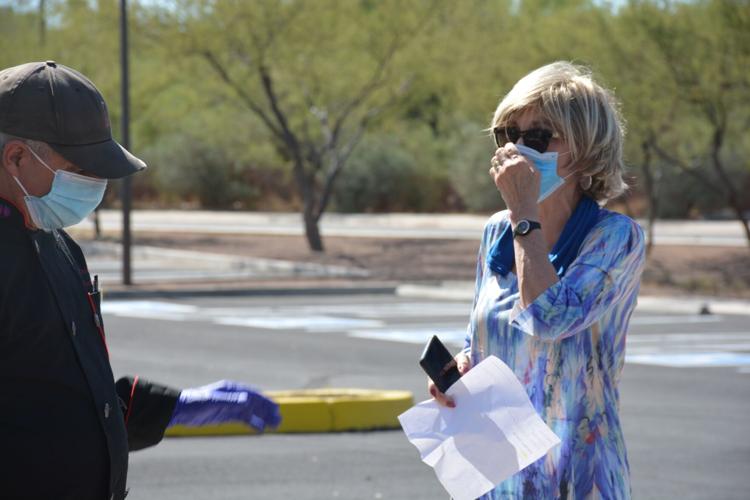 Posada Life's Regina Ford is also delivering food around Green Valley.
"They really do appreciate it," she said. "I have one recipient who I would say she's in her late-80s and no longer drives. She waits with the gate open, and I think she's probably sitting by the door when I get there."
Although they wear masks, Ford said they don't go inside or spend too much time with the recipients for safety reasons.
"They're hungry, seriously, for the socialization too," Ford said. "I think that's probably the most rewarding thing about doing this."
Mark Nasholm, 66, has lived in Green Valley for seven years and found getting groceries and making meals could be challenging.
"It's a great service because I'm legally blind, and shopping is always an effort for me, and I'm not one of the better chefs," he said. "So, this is just a bonus. I always split it in two and have it for two different meals in the evening. And it's been wonderful."
Mary Jankowski, 89, is another Green Valley resident who wants to let the anonymous group know that she's thankful for the meals and the bonus of a quick hello during deliveries.
"Isn't that something," she said. "It is such a treat, and I am just so thankful for them. It's such a treat for me, and I'm sure it is for the others, too."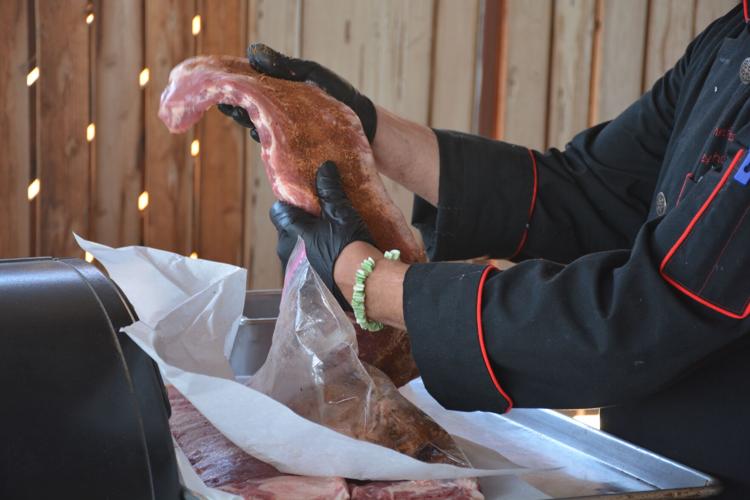 On Wednesday, Wally Karnas turned 90 and said his Friday delivery would be the perfect birthday treat.
"Let me tell you, it is really something to have a meal that melts in your mouth," he said.
Karnas has been staying at home for safety, but the Friday meals provide the treat of experiencing restaurant food while staying safe. It also helps him feel connected to the community and keeps his spirits up.
"It sure has," he said. "It's making us feel a heck of a lot better."
Helping businesses
It isn't just the recipients getting a helping hand.
The large orders are also bringing needed business to local restaurants trying to weather the pandemic's economic impact on the dine-in crowd.
Angel Escobedo, manager of Coach's All American Bar & Grill, said they made the anonymous donors a deal for 43 bratwurst sandwich meals with chili and potato salad for one of the Friday deliveries.
"We were more than happy to support the community and let people know that we were here for them and open," he said. "Especially during this time."
He said the large order kept them busy and helped them while letting them help others.
"That made the day right there because we've been pretty slow," Escobedo said. "It was a good day for us."
Two of the anonymous group's members said they jazzed up the bratwurst with little American flags to make them extra special.
The Grill on the Green's food and beverage manager Lynn Greenes also found the anonymous donors' plan a worthy cause that helped out the restaurant.
"We've been doing take-out since this happened in the late spring," she said. "And every little bit helps in any business, no matter who you are."
Greenes said it's nice to see the anonymous donors step up to help the community out, especially since they aren't trying to get any credit or recognition.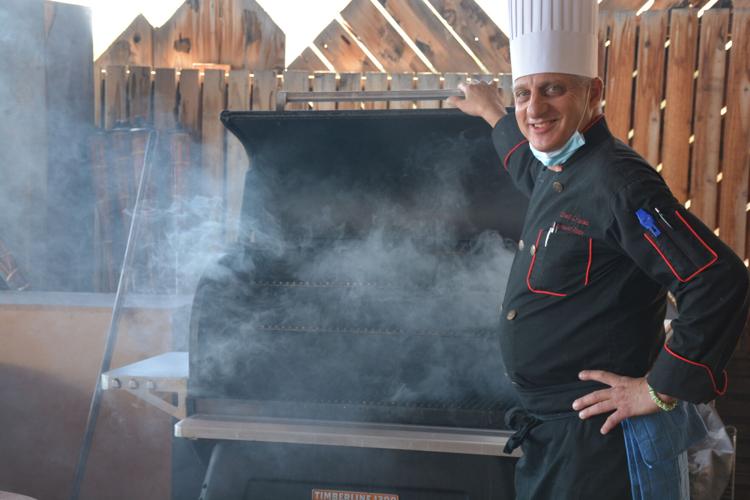 "There's a lot of people who do," she said. "That's what's important. That's what our community needs. That's is what this world needs."
The donors have spread the business out among different restaurants in the area.
Dominick's, Arizona Family Restaurant, 19th Hole Bar & Grille, Marti's Bistro, Los Agaves and Maria's have all participated.
This week, residents received meals from Chef Charles Deeby at The Greyhound Room Restaurant at the De Anza RV Resort in Amado.
Cherrywood and applewood smoke billowed out on the restaurant's patio Friday morning as Deeby applied a rub to baby back ribs. In the background, Kim Bowman gets supplies moved and ready for Deeby.
The two men will soon be packing up 50 meals, which will make their way to Green Valley residents, a job Deeby said wouldn't be possible without Bowman.
Deeby is spending the morning putting together Friday's meal – ribs, roasted chicken, garlic mashed potatoes, vegetables and a brownie.
Friday's meals were something he and co-owners Bob and Amy Solfisburg thought would show their appreciation for Green Valley, who have been a great customer base in the past.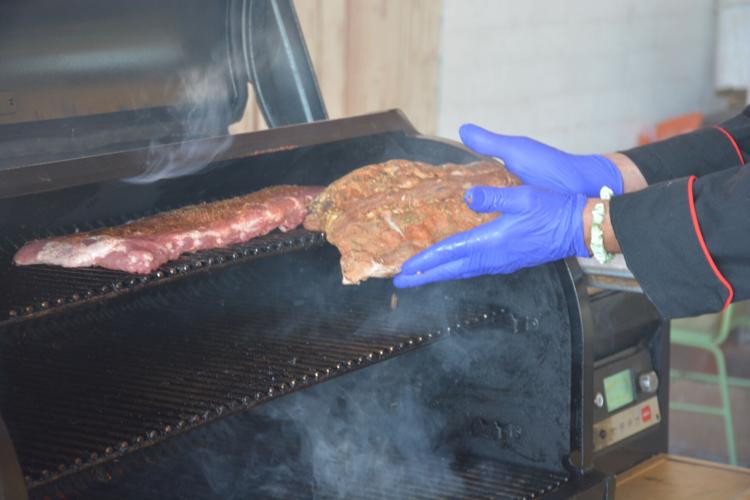 Deeby said he and the Solfisburgs are working on putting together a curbside system to reopen to the public. In the meantime, The Greyhound Room is closed to the public, and Deeby has only been open to De Anza residents on a take-out basis.
But serving meals in-house at De Anza hasn't left Deeby forgetting the Green Valley community.
Deeby still wants to get a good meal to people who stay home because of COVID-19 safety precautions.
"That's our job as restaurants — to feed people," he said. "They don't have the opportunity to come out any longer. So, let's take the source and the food right to them. Hopefully, others will join in."
Keep it going
The donors have received some smaller donations from those who have heard about their efforts, but not enough to keep the hot meals coming much longer.
"We know we can handle it for the next couple of weeks," one said. "We really would like to continue as long as we can, but we're running out our own money on that. It's a limited number, and it's already been quite expensive."
The group arranged for Posada Life to take donations to keep the hot meals coming while maintaining their anonymity.
Why work so hard to keep the identity behind their good deeds secret?
Because doing the act of kindness is all the reward they want.
"When you do something good, it depends on what you're doing it for," one said. "Some people do it for publicity and some people just want to feel good. We want to feel good. We don't need people to know who we are."
One of the best things they've had in return was thank you cards and letters that March brought them from the meal recipients and caretakers.
"You get letters like that from these people – that's plenty for us," they said.
Jankowski counts herself among those grateful for their efforts behind the scenes as well.
"God bless them for being so nice and helpful," she said. "They're helpful to the restaurants. And they're helpful to us who don't really want to go out yet because you think it's going to be over, and then suddenly it bounces right back."