A male alpine goat that had been terrorizing hikers in the Mt. Wrightson Wilderness Area over the past week was killed over the weekend by an officer from the U.S. Forest Service; his docile female partner was taken to a rescue facility.
Dorilis Camacho Torres, acting public affairs officer for the Coronado National Forest, said sightings of two goats near Baldy Saddle have been reported "for a few years." Last weekend, a family reported "one of the goats was acting strangely and charging at them," prompting a Forest Service officer to hike to their location where he put down the male after he determined it couldn't be apprehended and removed safely. The officer escorted the female down the mountain.
The family wasn't the first to encounter the charging buck; multiple hikers reported interacting with him over the past week including an Oro Valley hiking group that encountered him Saturday and a former mountain climbing and hiking guide, Terry DeWald, who documented his encounter with the buck last Wednesday.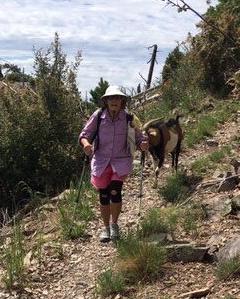 On Thursday, the Southern Arizona Rescue Association posted an alert to hikers on its Facebook page warning of an aggressive goat on Mt. Wrightson with images taken by Dr. Nicola Baker, their medical director.
Mark Hart, public information officer for the Arizona Game and Fish Department, said they were notified by the Santa Cruz County Sheriff's Department on July 22, that they were responding to a 911 call about an aggressive ram "that turned out to be a billy goat," and that the Arizona Department of Agriculture had been notified. He said the initial report indicated a bighorn sheep was the culprit but, "We quickly realized we had something else."
Game and Fish was already in the area last Wednesday responding to reports of bear sightings.
Hart said the matter was referred to the Santa Cruz County Animal Control office. Santa Cruz County Sheriff's did not respond to a request for more information.
Encounters
Terry DeWald, 73, a former UA baseball player, serves on the board of directors for The Friends of Sabino Canyon, has guided groups through the Swiss Alps and played for the Durham Bulls in 1968. He said his encounter with the goat was "tougher than any cross-fit routine ever created."
He recounted it in a blog post and interview.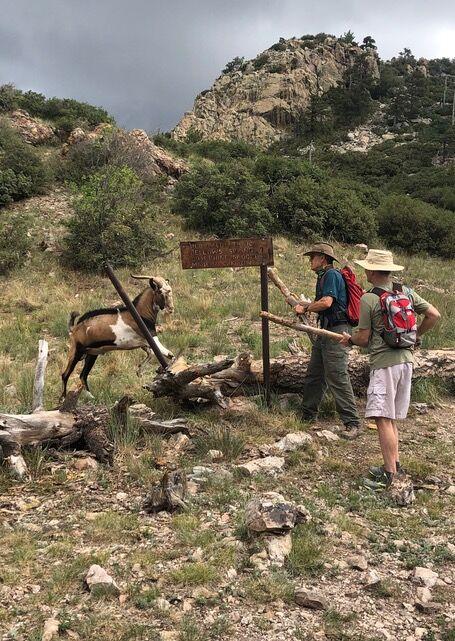 DeWald said he was hiking alone on Old Baldy Trail on July 22, when he saw a hiker coming down the trail with the goats behind her. He pulled out his phone to take a photo because he had heard of people hiking with llamas and thought it was interesting to see someone with goats.
But as she approached he realized she was "freaking out" and she told him she could not shake the buck from trailing and butting her.
The goats had turned the woman around before she reached the trail's summit and where DeWald ran into her was a little less than a mile from it. So, he stepped in to help the hiker. He told her to continue down the trail and he would block the goats.
"The billy goat immediately took an affinity toward me," DeWald said. "Maybe he thought I was a threat to his mate."
"It was a definite testosterone, self pride, let's keep you away from my wife type deal, I think for all of us [who encountered the buck]."
DeWald attempted to continue on the trail toward the summit and the buck charged him.
"What scared me is he'd go up on his back legs, like, have you've ever seen a nature film where the bighorn sheep go up on their back legs and then just mash each other? That's what he was doing," he said.
"A couple times when he got close to me, I don't know why but I grabbed his horns with both hands and with my legs locked...he just shoved me around like I wasn't even there," DeWald said.
"I figured if I got off the trail he might stay on it and go back to where he came from," DeWald wrote in the blog post. "Instead he came right down the trail at me lickety-split. Luckily, there was another couple coming up in back of me."
DeWald said the young couple, Alberto and Dr. Baker, had two dogs and he and Alberto tried to fend off the goat with rocks and hiking poles, to no avail. They gave up on trying to reach the summit and retreated to Baldy Saddle to see if giving the goats some space would work.
"As fast as you would run, he'd be right on you," DeWald said.
A family he passed earlier on the trail arrived at the saddle and the father, Andrew, found a "sturdy pole" that he and DeWald used to keep the still-charging buck at bay. The rest of the family escaped down the trail.
"A couple of times when he charged me I hit him square between his eyes as hard as I could," DeWald wrote. "He did not even flinch."
Alberto grew concerned for his dogs and decided to get them off the mountain but Baker, an emergency room doctor, stayed on the saddle in case something happened to DeWald and Andrew and was trying to report the goats so they wouldn't harm other hikers, DeWald said.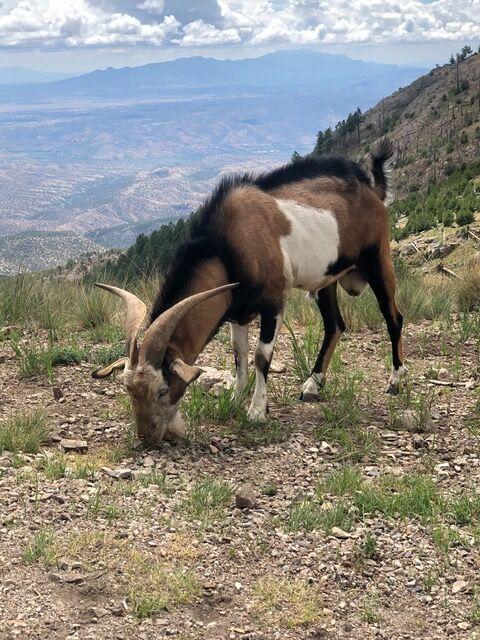 He said the buck eventually started to take breaks, "pulling up every beautiful blade of grass in that saddle." Rain was imminent and the group decided they'd try and get down the trail. Baker stayed back, still trying to get through to report the goats and give their location.
As DeWald and Andrew retreated down the mountain the goats followed and the buck persisted. He and Andrew took turns holding off the buck.
"I thought that once we hit the spring...that he'd stop and drink the water, he didn't want any part of the water, he wanted us," DeWald said. "And she was so docile she just kept following the whole time down till we just, luckily, after about an hour going down in the rain, it was getting slushy, and [Andrew] fell and got decked a couple of times...this guy came up and he said...I've got some pepper spray."
It took multiple blasts of pepper spray to affect the goat.
"But the fourth and fifth from about three feet from his eyes did put the brakes on. And during that media timeout he took, we booked it straight down as fast as we could," DeWald wrote.
He said he waited at the end of the trail for Baker, attempting to reach her by phone. She eventually emerged and told him she hadn't seen the goats on the trail.
"I'm glad nobody else is going to get hurt," DeWald said. "I have empathy for any animal that has to be put down, but that guy could've hurt a family, some kids, some pets...at least a part of my conscience feels better that nobody else is going to have that to worry about."
The goats
Lesia George, who raises alpine goats in Sonoita, thinks the buck was an alpine or a nubian cross and the doe is a nubian. She said by the look of the doe's udder she had kidded, meaning she had given birth at some point.
George noticed in an image of the doe that she had a tether around her neck and suspects someone may have turned the goats loose.
"I live with them daily and they are incredible, intelligent creatures," she said.
Alpine goats are "very close to their natural ancestors and readapt to the wild very well," and that the buck was likely protecting the doe.
George said the goats weren't hers because she disbuds all of the goats she raises and the way she raises them creates such a strong bond between goat and human that one would not willingly leave its human's side.
Donna Watt, who raises nubian goats in Sonoita said it was hard to tell from the picture whether the doe "was in milk or not" and said it is possible but it was also possible if she had been in milk she is now "dried up."