Ruth Tamminga and Karen Knoll have known each other for more than 60 years but it wasn't until coronavirus boredom struck that they discovered their connection went back even further.
With nothing to do, Knoll said she decided to go through boxes of family photos dating to the early 1900s that her brother had given her 18 months earlier. 
"I shoved them in the guest bedroom and I didn't get to them," she said. "Well, now that everybody is 24-7 in their four walls and you're looking for stuff to do, I pulled these things out and thought I might as well go through them."
At the bottom, she found an old Central YMCA Schools graduating class program.
Knoll's father, Edwin Armstrong, graduated from night classes at the Chicago YMCA in 1932. And as she looked at the program with 41 evening-class names on it, she discovered Tamminga's father, Glenn Strand.
"I knew Father went to night school but I never paid attention as to where he had gone," Tamminga said.
The two men never realized they'd been in the same class even as their daughters became friends later in life. And neither did Tamminga and Knoll.
After finding Tamminga's father on the list of graduates, Knoll took a photo on her phone of a Central Evening Star front-page article with a class picture.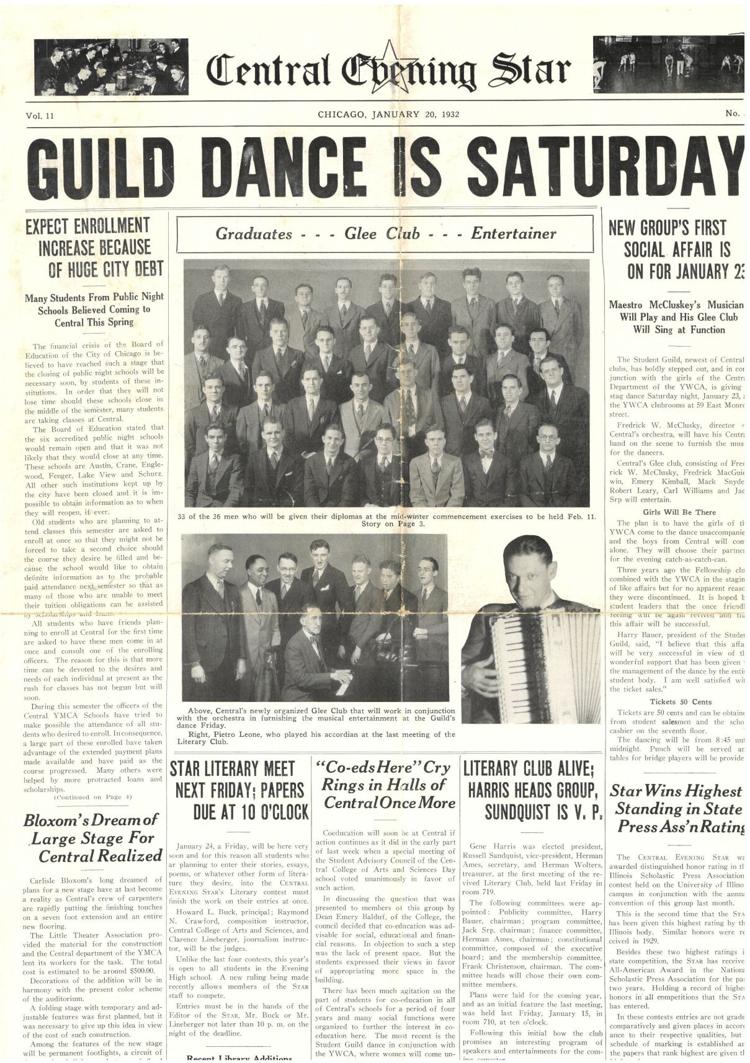 "I sent it to her and said, 'I'm thinking he's right above my father in the picture, let me know if I'm right,'" Knoll said. "And she came back and said, 'No.' Then a couple of minutes later she came back and said, 'He's in the next row down, over x-number of people.'"
Tamminga, 79, had spotted her dad on the crease of the photo two spots from Armstrong.
The two laughed at how they found this out so much later in life, and only after boredom led to sifting through a box of photos.
Lifelong connection
Before they discovered that connection, the two Green Valley friends had traced their shared history back to Berwyn, Illinois, a Chicago suburb where they were in the first class to graduate from Morton West High School. That was 1959.
"Three years before that, we were at Morton East High School," Knoll said. "So there were a whole bunch of other kids I hung out with that lived in Cicero," another suburb.
The two didn't spend time together in high school but ended up becoming friends after graduation.
Tamminga remembered nights the two spent at Freddy's, a bar frequented by professional hockey players with the Blackhawks. Knoll says that was when the drinking age was 18.
"And that was so frustrating because for two years we drank," Tamminga said. "And then we get to 20, and they change it to 21. Needless to say, that didn't stop us."
Tamminga went off to Southern Illinois University, and the two remained friends.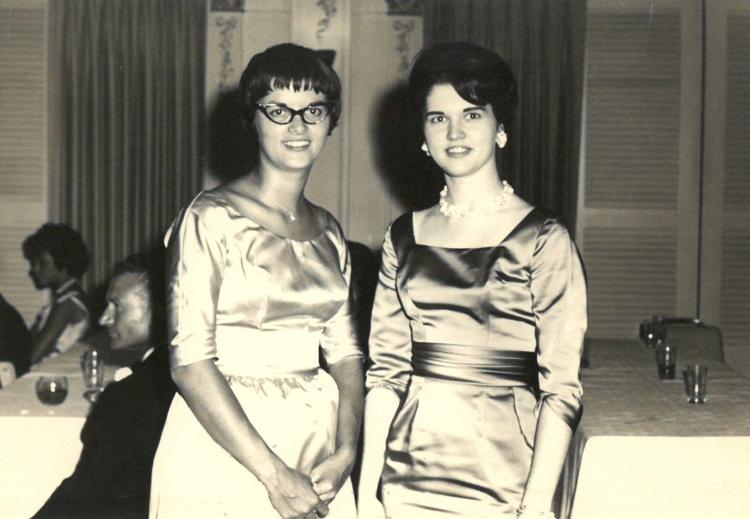 In 1965, Tamminga was Knoll's maid of honor. A year later, Tamminga married and wore Knoll's wedding dress. Tamminga's sister wore the bridesmaid dress from Knoll's wedding.
"So we were close friends at that point," said Knoll, who is 78. "But then she and her new husband moved to the southern suburbs and my husband and I stayed in Berwyn, and eventually moved to the far western suburbs."
They drifted apart as they raised their families, but they didn't fall out of touch entirely. Knoll said they would exchange occasional Christmas cards over the years.
However, as life led them in different directions, more changes brought them back together.
Around 1993, Knoll got divorced and decided to reach out to her old friend, who'd remarried and owned a plant nursery in Illinois. The two met for lunch and caught up.
"I think we started getting to know each other better in 1995," Knoll said. "I moved into a house and I needed some plants. So I went and visited Ruth."
As the years went by, they spent more time together and eventually made their way to Green Valley.
In 2005, Tamminga and her husband, George, were renting a house in Green Valley. Knoll and her husband, John, came to visit.
Two years later, Tamminga and her husband decided to stay and bought a home. In 2011, Knoll and John bought a home in Country Club Vistas I.
Reconnecting
The two said it's nice having reconnected after all the years apart. Tamminga is a full-time resident now and Knoll splits her time between traveling and South Dakota.
Knoll said Green Valley is their winter home, and the two friends spend holidays together.
"We get together and talk on the phone, and we know each other's families," Knoll said.
And now the two have discovered another connection they shared that could have gone unnoticed.
It's not just the connection between the two they nearly missed out on, but also their fathers' personal histories.
"Mother had mentioned that Father had gone to night school," Tamminga said. "But he passed away so young that there's a lot of missing pieces. He was 54 when he died."
Tamminga found a few more pieces now thanks to a box sitting in the guest room of a friend she reconnected with after more than 25 years.
"And at the time, when you're a kid, you don't ask your folks the important questions that you're sorry you didn't ask until you get older," she said. "If they could only be back here for a while, and you can ask all those questions that you have now."