Competing messages from Pima County and the Town of Sahuarita have businesses wondering whether they should require masks in town limits. 
The Board of Supervisors on Friday approved, 3-2, mandating face coverings in public, and maintains that its resolution includes incorporated cities and towns. But the Town of Sahuarita disagreed, and said it wouldn't follow the county's mandate within town limits, instead sticking to CDC and state guidelines.
On Monday, the Town Council declined to discuss face masks amid COVID-19 when council member Simon Davis put forward an emergency motion on the topic. Davis said the issue was a "500-pound gorilla in the room," and discussion was necessary since the council wouldn't be meeting until August. The motion died when it didn't receive a second to open discussions.
Despite Sahuarita's assertion, the county plans to enforce the mask policy within town limits if they receive reports of non-compliance. The county's enforcement focuses on education but said it could recommend suspending permits and licenses of businesses repeatedly in non-compliance. Any punitive action would go before the county supervisors for action.
Store policy
In Sahuarita, the mixed message between the county and the council has raised questions and led to inconsistent policies.
Circle K on Nogales Highway isn't requiring face masks. The Speedway gas station on Sahuarita Road does. 
Sprouts has a sign posted at the entrance requiring face masks per the county's mandate. A spokesman for Sprouts confirmed the location is following guidelines set by Pima County.
On Nogales Highway, Big 5 Sporting Goods requires employees and customers to wear masks. Store manager Emilio Quihuis said the location required employees to wear masks since they reopened about a month ago. but the requirement for customers started Friday with the county's resolution.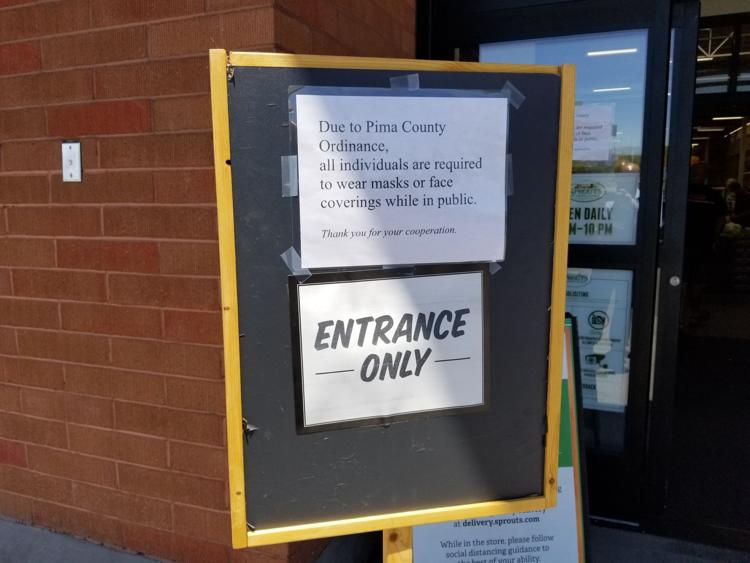 Quihuis said the requirement came down from the corporate office.
He said the requirement had been mostly well-received, though a couple of customers weren't happy.
"Some have been very rude," Quihuis said. "It's not us turning them away, it's us saying if you have a mask, can you put it on, please."
In the same plaza, Goodwill's Calen Carr said it was much the same with customers following the guidelines.
"Most people have been super good about it," he said. "People will see the sign and if they don't have one, they'll go back to their car and get one. It's been pretty easy."
Goodwill started requiring customers to wear face masks about a month ago. Carr said the county's decision Friday didn't affect them because they were already following those guidelines when they reopened in May. And he said following the guidelines hadn't affected business.
Customers' needs
Two plazas west on Nogales Highway, JoAnn Fabrics store manager Chris Melton said they started requiring customers to wear face masks on Sunday.
He said the company left the decision up to individual stores based on what the customer base wanted. All JoAnn stores require face masks for employees.
"Here, I decided face masks in the store because the age range here is higher," Melton said. He said his decision didn't factor the disconnect between the town and county.
"It was just getting so confusing, and our customer base has been complaining a lot about people not having masks," he said.
Melton said it would be easier if the town and the county had a unified stance. However, he's had positive feedback on requiring face masks in the store.
"They like it," he said. "They feel comfortable, they feel like they can shop safe and many of them have said they wish more of the retailers were doing it."
Not all businesses are the same.
Undisputed South owner Matt Blank said the county's face covering resolution doesn't make sense for his fitness business.
The mandate does have exemptions, including people engaged in exercise when alone, part of a group living in the same household, or a group of 10 or fewer.
During the board's emergency meeting Friday, County Administrator Chuck Huckelberry said the county couldn't craft exemptions that fit every scenario. The resolution allows for case-by-case exemptions at the discretion of the county's chief medical officer and director of the Health Department.
Blank attended the board's Friday meeting to tell the supervisors that all gyms didn't fall under the same umbrella and wanted language exempting organized strenuous activity.
"The sport that we do, it's impossible to do social distancing," he said. "We're still following the temperature guidelines, checking everyone in and making sure everybody's not sick. But we're doing Jiu-Jitsu, we're doing kickboxing, we're doing boxing."
As is, the county requirement would require masks during exercise in groups of more than 10 people. Blank said that gives them a bit of freedom.
"Well, I'm considering my business the same group, so we're just monitoring and doing our social distancing as far as that aspect," he said.
Blank said he has no problem wearing a mask in public and stores where it's required, but it's different when within the training center's walls.
"At the end of the day, I try not to be super political about it," he said. "Me going down there the other day wasn't a political (statement) like I don't want to wear masks," he said. "I don't want to wear a mask or make my kids wear a mask when they train."
Blank said the mask requirements aren't clear enough overall, and it's not just the disconnect between what the county and town are saying.
"Pima County came out with their release, and it's just not clear, and then Sahuarita says, 'Hey, we're not going to play ball,'" he said. "I'm just kind of following what Pima County is saying, you know. At the end of the day, they said there's no criminal action they can take. So, we're still kind of just doing what we need to do."