The Town of Sahuarita and Pima County are staying vigilant about what people flush as toilet paper shortages might lead to other paper products clogging up the system.
The county and the town haven't reported any significant incidents or seen an increase in wipes and other unrecommended products entering the wastewater systems. However, a vandalism incident in Tucson has the county spreading awareness to only flush toilet paper, used water and waste.
Caroline Vargas is a public information officer with the Pima County Regional Wastewater Reclamation Department. She said the vandalism incident happened Friday in a wash near River Road and Craycroft Road and caused a sewage overflow.
"Vandalism could sometimes be people will pull up the manholes and throw rocks and other things down there," Vargas said. "We did notice visibility of wipes when stuff was pulled out. We did notice there could be a potential to have high incidence of wipes, paper towels and other things because people are running low on toilet paper."
Vargas said the county can't estimate how much the overflow will cost the county at this point since they are still cleaning and removing contaminated soil in the area.
However, she said overflows and damage to pump stations can cost taxpayers $5,000 to $35,000 or more.
"Sometimes, a really bad one could run up to $50,000, it just depends on the severity of the matter," Vargas said.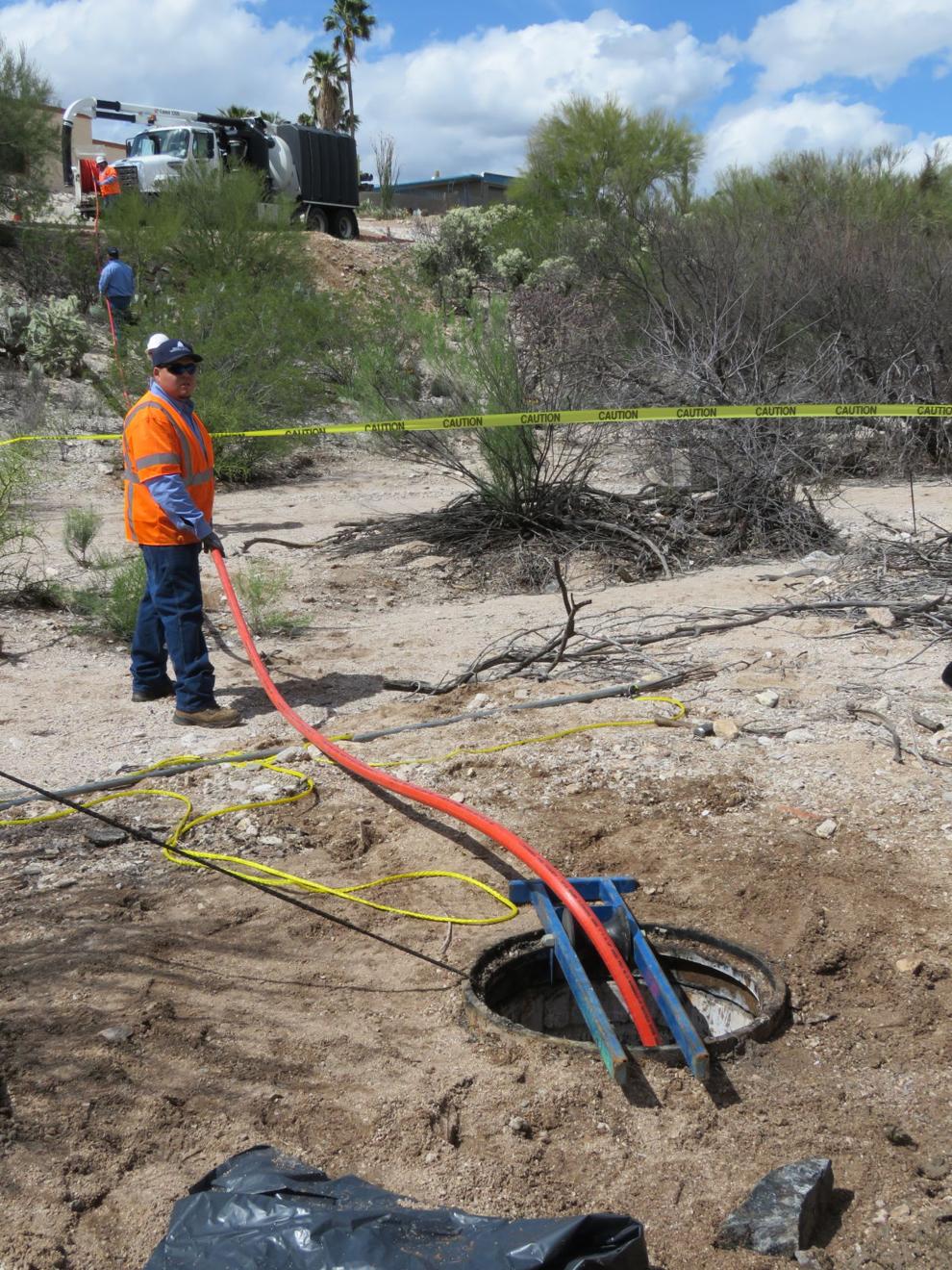 She said the county averages 28 to 30 overflows per year in the 3,500 miles of sewer system lines. She said that average is low compared to the national average of 159 overflows per year for a city the size of Tucson.
Heidi Lasham is the assistant town engineer for Sahuarita. She said they hadn't seen an increase in wipes in the system but they want to raise awareness that anything that isn't human waste or toilet paper should go in the trash and not the sewer.
"I don't doubt that when people get in a bind they're probably not going to think and start flushing," Lasham said.
Vargas said there is no way to determine if the wipes and other items found in the wash incident were from the toilet paper shortage but their presence shows how they could lead to overflows.
Lasham said while some wipes say they are flushable on the package, it doesn't mean they biodegrade in the system like toilet paper.
"Even though it says 'flushable,' you're supposed to throw them in the trash," she said. "(Toilet paper) breaks up more because it's thinner and different. In the water that it's traveling in, it just starts to break down on the way to the plant, whereas the wipes stay whole."
Vargas said some people think even a facial tissue is OK to flush, but they won't break up like toilet paper would.
In Sahuarita, Lasham said they go to schools and to raise awareness on what to flush and what not to flush.
"The last time I did that, I took flushable wipes and asked the kids if they thought they could put these in the toilet or not, and it was about a 50-50," she said. "They were thinking about it because it says the word 'flushable.'"
Since there haven't been any incidents of overflows, odor complaints or increases in wipes and paper towels, Lasham said it's hopefully a sign that residents care about what they are flushing.
Although schools remain closed, Lasham said she hopes  awareness programs in schools as recently as a month ago are having a positive effect on kids and parents.
"If the kids are in the house and they see anything," she said. "I know my kids are not shy at telling me what I'm doing wrong."