Rick McCallum walks through Z Mansion in downtown Tucson preparing for another day serving the homeless, people he says often go unnoticed or simply avoided.
McCallum, who lives in Sahuarita, and about 20 volunteers spend Sunday mornings cooking and distributing meals and attending to medical matters among homeless people. It was a slower Sunday, with about 50 visitors lined up throughout the alley and in the parking lot behind the Mansion, a popular wedding venue. Some days can bring more than 200.
Volunteers placed cones to help keep social distancing and asked people to put more space between them if they weren't normally traveling together. There's no requirements to get assistance at the Mansion and only one rule they observe — no shouting.
As long as visitors don't shout, McCallum said they help everyone without judgment. To McCallum, it means they help people regardless of drug or alcohol issues. It's about ensuring the people who come seeking help get help and have someone to talk with.
Z Mansion owners Tom and Emmeline Hill started serving the homeless from the location about 18 years ago. McCallum has been with them for about eight years. 
The Mansion's website reports that, thanks to the brides and grooms at the venue, they have provided more than 250,000 meals to the hungry, often with extra food from receptions. McCallum said being homeless isn't a requirement to needing assistance.
He said he originally started helping the homeless about 10 years ago at the request of Brother David Buer at the Poverello House in Tucson. One of the things McCallum reflected on after that experience is the lack of advocacy and voice the homeless have and the obstacles they face in improving their situation.
The Mansion is also a Methodist church, but McCallum said they don't lead with that and many of the volunteers and homeless come from different faith backgrounds, if any. He said they open their doors to anyone and don't turn anyone away.
The Mansion is one of the area's premier wedding venues but it also doubles as a place where those in need can get basic medical attention, food and clothing. And the Mansion does this with no financial donations, McCallum said.
Instead, the effort relies on getting the necessary items and supplies to feed and clothe visitors, and of course, the most valuable resource available — volunteers' time.
Before coronavirus, the Mansion opened its courtyard to homeless people in the area on Sundays and served 200 to 300 fresh-cooked meals, with music playing in the background. The volunteers also provided dog and cat food and clothing.
"All of this is done by people bringing food and dropping it off, donation of things," McCallum said. "Once you take the money out of the equation, and once you take the denominational religion out of the question, it becomes really easy to help people."
The Mansion stopped hosting weddings when the coronavirus shutdown began and remains closed to the public. Although the courtyard meals came to an end with the shutdown, the volunteers continue to serve the homeless with meals made to go. 
Building trust
In addition to feeding the homeless, volunteers provide first aid and advise those with more severe conditions to go to the hospital.
"In normal times, this would be our clinic," McCallum said as he walked through a room filled with supplies. "We'd have this set up with tables. It's a first-aid clinic. We could do whatever the highest level a practitioner is."
McCallum is a certified community health specialist, which helps provide expertise in identifying illnesses common among the homeless, he said. There are also medical students, EMTs, doctors, nurses and professionals who join the efforts to identify ailments or provide treatment when possible.
But a crucial part of getting people to listen to their advice is building trust.
Vance Christopher, a fourth-year medical student at the University of Arizona, has been volunteering at Z Mansion for about five years. He said it's been eye-opening.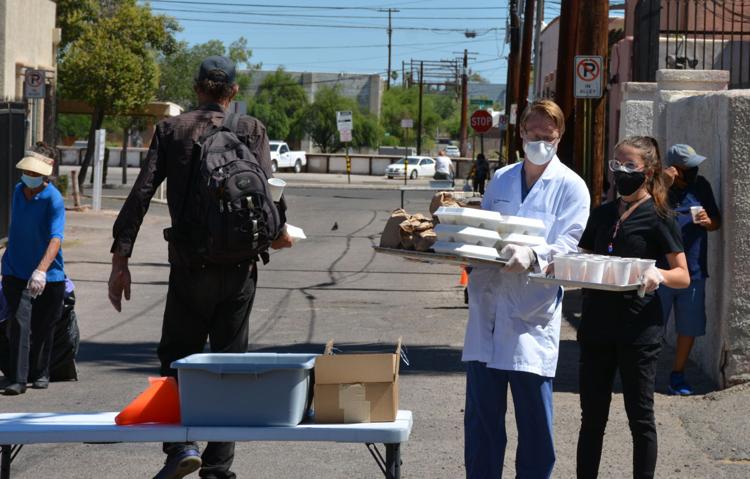 "It shows you not only all the people who are out here but the disparities that are out here also, the health disparities," he said. "We see different things out here than we do in the hospitals and clinics."
Hepatitis C, a curable disease, is common. But Christopher said treatment is expensive and takes about six weeks.
"We've had some people who had been treated for Hep C and had been cured, but it's still not like if you were housed," he said. "If you were housed, it would be a lot easier to get that treatment."
There are also more instances of trauma injuries, fight wounds and infections.
On Sunday morning, one man waits in line for a meal in the alley behind the Mansion. As McCallum walks by, the man shows him his arm. He has an abscess, which McCallum said could have life-threatening consequences.
Despite the severity of the infection, the man remains upbeat. Hill convinces the man to get treatment at a hospital, and takes him after the meal.   
Building the necessary trust to convince people they are trying to help them isn't as easy, given many of the visitors' atypical circumstances.
"We deal with a lot of people who are seriously mentally ill here and a lot of people who are in a really, really bad place in their lives," McCallum said. "Homelessness is something that is very different than most people think it is."
One of the rules is never to shout at the visitors, even when they might be shouting at them, he said.
McCallum said it took some adjustment when he began, especially with his background in the Army, but he stuck with it and hasn't had any issues. It's a matter of having patience, he said.
Barriers, roadblocks
McCallum has learned it's a difficult task to climb out of homelessness since he began volunteer work.
Bureaucratic roadblocks and mental illnesses hinder people from getting their lives back together. McCallum said homeless people, often victimized, often lose their identification or have it stolen. It's an endless maze of bureaucracy to get the required documents needed when looking for work.
"So, how do people get homeless? Well, the one that everyone talks about is drugs," McCallum said.
However, McCallum said it's not always so simple as the old trope of someone going from recreational drugs to harder substances like heroin or meth.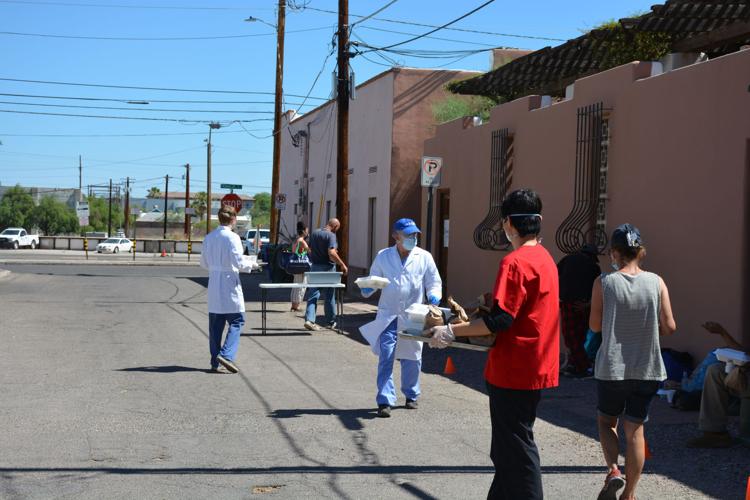 Some of the people with addictions McCallum sees Sunday morning have college degrees, others are older people who get hooked through pain medication. 
McCallum said a typical story is people who develop addictions after being prescribed strong medications like Oxycontin and then looking for illegal alternatives once the prescription ends.
"So, gee, you're hooked on opiates, what's the cheapest opiate you can get? — heroin," he said. "It's really, really cheap. It's cheaper than pot. So, people get hooked on heroin, and they stay on heroin, and pretty soon, their life falls apart."
Moving ahead
Right now, the Mansion has about 20 people sheltered in tents on the property. However, at the end of the month, it plans to reopen for weddings.
McCallum said the volunteers have been working with the City of Tucson to get property where they could continue to provide a place for people to shelter in tents. So far, no response.
"Let's face it, who wants a homeless camp in their neighborhood," he said. "Nobody does, and that's been the biggest problem."
McCallum said Tucson was out in front during the COVID-19 shutdowns and credits Mayor Regina Romero for how the city responded to the outbreak.
"She saved a lot of lives doing it, in my opinion," he said. But McCallum said COVID-19 isn't over and the homeless still need a safe space to shelter.
In the meantime, the volunteers are continuing to provide meals three days per week and will continue to feed people even after the venue reopens for weddings.
"We try to make sure that they have everything they need to survive," McCallum said. "And that they know that there's a place that they can go and talk about stuff that nobody else wants to talk about."