Arizona will slowly begin opening more businesses on Monday, but the Green Valley/Sahuarita Chamber of Commerce says that's not fast enough.
The chamber board on Tuesday passed a resolution calling for the state Legislature to bypass the governor and declare the COVID-19 emergency over.
"The board is concerned about the health of some of our businesses and the continued shutdown," said Randy Graf, CEO and president of the chamber.
"It's been 45 days," he said. "What's going to change in the next two weeks that's going to dramatically impact how businesses can open safely?" He also said there is concern the date could continue to be pushed out.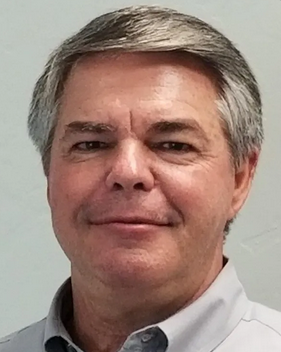 Graf said the board met Tuesday and made the decision to call for the Legislature to get involved through a Concurrent Resoluation; he said Ducey's announcement a day later about reopening didn't change anything.
"He referenced a number of large corporations and big-business folks that he's talked with and they seem to have the advantage right now, and small businesses are struggling," Graf said. "If the PPP (federal Paycheck Protection Program) had worked the way it was originally touted, there might be a little more room for waiting and compromise on this. But the vast majority of our members are frustrated at their attempts to get in line for the PPP. They haven't received the funding to maintain… payrolls and keep people from signing up for unemployment. It hasn't worked, unfortunately."
Ducey issued a Declaration of Emergency on March 11 that Graf, a former state legislator, said can be ended by the Legislature.
The chamber's resolution, signed by Graf and board chair Bill Bracco, who also is a Sahuarita Town Council member, noted that "initial modeling that led to the state of emergency way overstated the devastating threat and impacts of the virus," and that "COVID-19 cases in Arizona equals 0.00095 of the population and deaths equal 0.00004 of the population."
It added that "the myopic response to a virus has failed to take into consideration the social, economic and physical health of all the citizens of Arizona."
Not likely
State Sen. Andrea Dalessandro, D-Sahuarita, said the chamber's resolution is unlikely to lead to action at the Legislature.
Legislators were to return to Phoenix on May 1, but were told this week not to because restrictions were being extended.
Dalessandro said she is concerned about Green Valley's vulnerable population.
"Any message that says to our seniors that, we're open, it's safe to go out — I know they're not saying that, but there's an implication there" — isn't the direction she's comfortable going, she said.
"We wish the chamber would work with us to put pressure on the governor to use more of the federal money for small businesses," she added. "The big businesses will survive, but we have to consider the impact on our 'Main Street.'"
Looking ahead
Ducey said Wednesday in an hourlong press conference that the state will open slowly.
•On May 4, there will be a partial, voluntary re-opening of retail businesses that are not considered essential. They can operate through drive-up, curbside service or by appointment.
•On May 8, those businesses can fully open while establishing COVID-19 best practices that include social distancing. Businesses in enclosed areas such as shopping malls must continue to use curbside or delivery because people tend to congregate there.
•The stay-at-home order is extended through May 15.
•Ducey said he hopes that by May 12 dine-in at restaurants will resume and will include "best practices" regarding how food is prepared and delivered to the customer. He said he is working with the industry to iron out details.
•Establishments that are primarily bars are not under consideration for reopening at this point.
Ducey said reports that some small businesses plan to reopen Friday regardless of the emergency order are unfortunate, and they're in the minority.
"It's 15 more days," he said. "I'm asking for some patience."
"We have avoided what has happened in so many parts of our globe and our country," he added. "Our physical distancing is working, your cooperation is working. I'm confident that we can say that we've seen the spread has been slow, and these have been hard-fought gains. We've earned where we are today and we are not going to undo this."
Ducey said fines and jail time are potential realities for those who don't follow the orders, as is revoking liquor licenses.
The numbers
Ducey said the numbers of sick and dead, while down in the state, don't yet indicate a trend, which prevents a stronger push to re-open. The data lags about a week.
According to numbers shared Wednesday, Arizona has enough regular and ICU hospital beds and ventilators to meet an increase in demand. Since April 11, seven to 10 percent of hospital beds in the state have been occupied by COVID-19 patients; 18 to 20 percent of ICU beds have been occupied by virus patients.
"We have capacity today in our hospital system if necessary," he said.
About half the ventilators in use since April 11 are used by COVID-19 patients. Overall, about 75 percent of ventilators in the state are not being used.
"We're going to balance public health with the idea of returning stronger economically," he said. "The objective is that we do return stronger."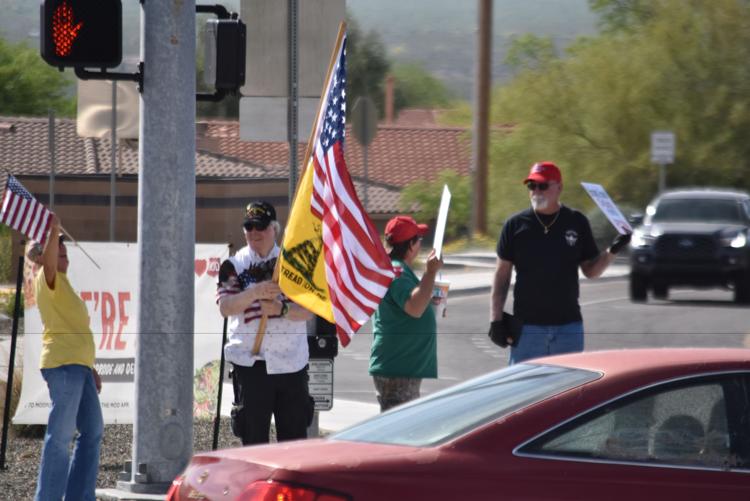 Another rally
Thursday saw another rally at Abrego Drive and Nogales Highway calling for a quick reopening of businesses. About 30 people took up spots on three corners and saw mostly support for passing vehicles.
A similar rally was held April 21 at the same corner, organized by the Legislative District 2 GOP. Thursday's rally had no sponsor, according to several people there. Word was spread by social media.
Graf said the chamber, which has been closed to the public for 30 days, has heard from several businesses that might not make it.
He said he's disappointed in Ducey's decision.
"I want the business community back open again," he said. "The numbers do not justify the heavy economic impacts on the business community."