For Green Valley resident Joyce Lepak, fostering animals is not something she does out of pure enjoyment but out of purpose.
"The purpose being is all these creatures are entitled to a good life," she said. "For all pets, home is a better environment than a shelter, so that's why I take the little creatures that need extra help."
Lepak has been a volunteer with the Animal League of Green Valley for about nine years, and two years ago, she began fostering.
Her own dog Ella is from the Animal League and is the perfect partner for homing dogs temporarily, as Ella likes everyone.
"The little dog I have is very accepting of all dogs, which is important for a foster," she said. "If you have a dog at home, whoever you bring in, they need to get along, or it's not going to be a good situation."
Lepak is currently providing fostering for Cody, a two-year-old Fox Terrier recovering from an injury.
"I've only had him two weeks," she said. "It's going to be at his pace, not mine. As he gets more confident about his situation and recovers with his wounds, we'll start working on 'let's find a really great home for this little guy.'"
Needed care
Lepak and other fosters at local shelters like the Animal League or Paws Patrol serve an important purpose in the world of animal rescue.
Fosters help shelters provide a quiet environment for animals to heal, work on behavioral traits, and keep their occupancy down.
Animal League President Kim Eisele said there are several benefits to having their animals in foster homes.
"There's different benefits for different reasons. One is medical. So, dogs recouping from various medical issues like surgery," Eisele said. "There's behavioral reasons. I got a couple dogs in foster who need some work on their house manners. There's various things a foster may work on."
Along with that, some dogs in shelters may just need a new environment for a while.
"We need fosters for dogs that just need a break from the shelter," she said. "They can get cabin fever and need a change of scenery. It's good for their psychology."
Eisele said the main reason she's seen people taking on the responsibility of fostering is just out of big, warm hearts.
"They want to help the animals, and they recognize it is always better for an animal to be in a home rather than a shelter," she said. "Some people just want companionship but don't want an animal of their own. Some people have animals already and still like to foster and bring other animals in because they have a big heart and the space."
For Lepack, she feels honored to be involved with Animal League and provide a healing space for dogs like Cody.
"Animal League is an excellent resource for dogs and cats but sometimes… like Cody, he was frightened when he came in. He was injured, and the Animal League has a high level of activity all the time with all the animals and all the people," she said. "When animals are injured or sick, they need a safe haven where it's peaceful and quiet and they get one-on-one care until they heal."
The Animal League provides people with all the essential supplies when they decide to foster an animal. Eisele said they set up their fosters with food, bowls, beds and medications if needed. The foster supplies their time and their home.
The Animal League's foster coordinator does regular check-ins with their fosters to ensure everything is going smoothly.
Eisele said fostering is needed on a daily basis and they are always looking for additional volunteers to take an animal.
The Animal League currently has eight dogs in foster homes, as well as some cats.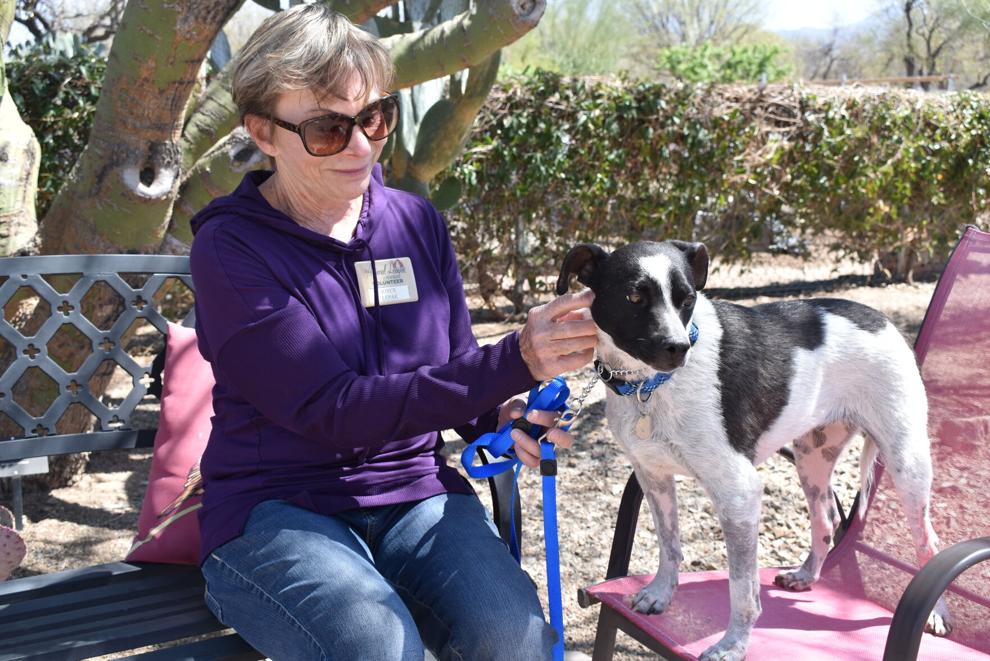 Paws Patrol
Val Chiong is the foster coordinator at Paws Patrol and has been a volunteer with the organization since moving to the area about a year ago.
She's fostered kittens and cats herself before jumping into the role of coordinator.
"At this stage of my life, fostering seemed like a good fit for us," she said. "We wanted to travel, but we were missing kittens, so it seemed like a good opportunity. During COVID, I had a group of kittens and kept one - Fauci, our little COVID kitty, and he even has gray hair."
As coordinator, Chiong is on the phone a lot. She's responsible for handling foster applications, organizing animal and human meetups and making sure the foster situation is a good fit for everyone.
"If everybody seems like they will work, we set them up as a foster volunteer," she said. "We provide training, all of the supplies, and the foster is responsible for bringing them in for medical treatment. Some require serious medical care, which requires a special foster."
Chiong said the benefit of fostering for Paws Patrol is the space it frees in their office. For the cats, it provides necessary socialization.
"It's an ongoing need and the cats we receive are primarily trapped in the wild," she said. "Some are workable if you socialize them young enough, and that's a true need. Some community cats you can turn around in foster and it can take weeks, months, as long as it takes to get adopted."
The Animal League will vett any cats that go to fosters, and if found to be not sociable, they are spayed or neutered and returned to a colony or placed on a farm or ranch as working cats – another program through Paws Patrol.
The Animal League tries to involve fosters in the adoption process because no one knows the animals' behavior as well as them.
"Some fosters agree to have people come to the home or meet in the office," she said. "They get to know the cats best, so they are the best ambassador who can explain everything."
Eisele said fostering is an integral part of the Animal League and a rewarding experience.
"Anyone who has the time and love, fostering is wonderful," she said. "It's helping animals in so many ways, getting them out of the shelter. We always need more."
Eisele said people often become foster failures, a term of endearment given to those who adopt their foster dogs. She has even been a foster failure herself.
"My philosophy is volunteers always have the first right of refusal, fosters always have that option," she said. "It happens all the time."
Chiong said fostering is a great way for people who need flexibility or can't own an animal to enjoy the love of a pet.
"If you're missing that furry friend in your life, this is a great opportunity to spend time with a cat and get them on their way to being adopted," she said. "It's especially nice for snowbirds who come and go. They can have a pet while they're here and it provides some flexibility. The flexibility is really great for people who are retired."
Lepak is focused on getting Cody ready to find his forever home. She's fostered about five dogs in total and hasn't ever seen them move into their new lives. She gives them the healing and attention they need and then puts her faith in the Animal League to ensure they find a loving home.
"It's all about compassion, love and hope," she said. "I trust the Animal League will do the best for Cody when he's ready. I trust they will find him a good home. When he leaves my house, I will always remember this little dog. Where he goes, that's the hope part. He's going to be happy and healthy and lead a very good little dog life."