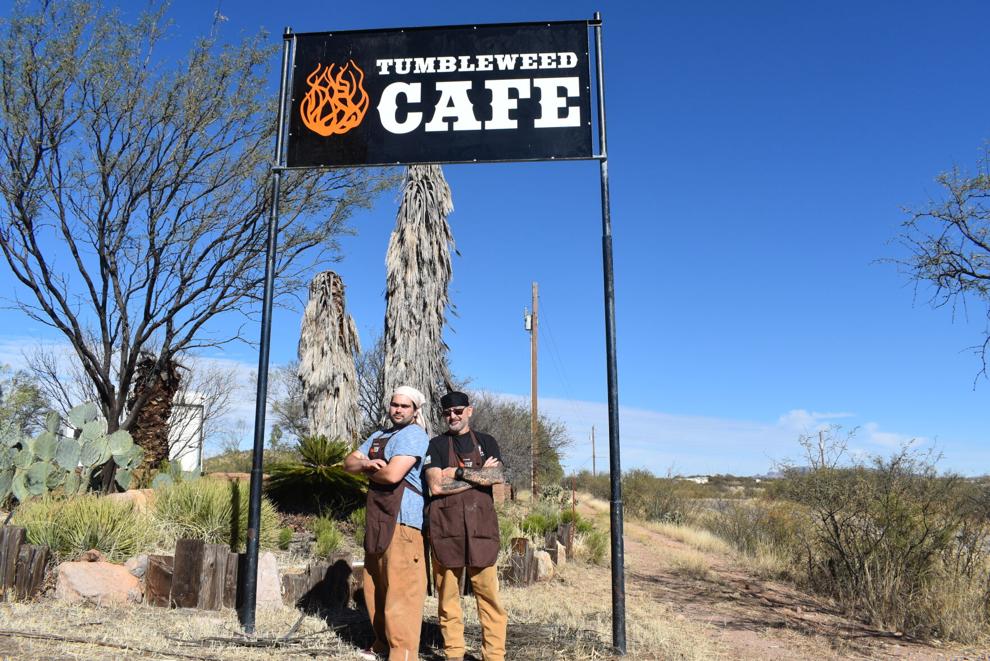 Since 1994, residents of Arivaca liked to start their mornings with a cup of coffee and a picturesque view from the Gadsden Coffee Company.
The local landmark sat just outside the main part of the community and served as a hub for music jam sessions, a stopping point on the commute or just the spot to chat with friends.
When founder Tom Shook passed away in 2010, the Gadsden moved its roasting operation to another location and became Caffe Aribac, which closed in 2019.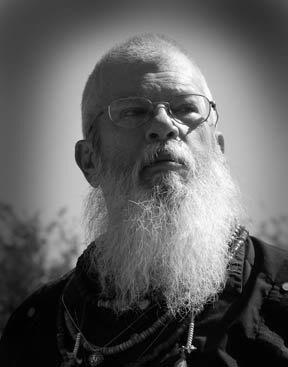 The building sat empty, still visited by cyclists on weekend rides eating packed lunches on the patio and passersby with dreams of reviving it. Then it happened. 
The smell of fresh coffee was in the air in December and the sign out front changed — Tumbleweed Cafe.
The old haunt with a new look wants to bring back the community vibe, serving elevated comfort food with fresh ingredients and cups of Gadsden coffee.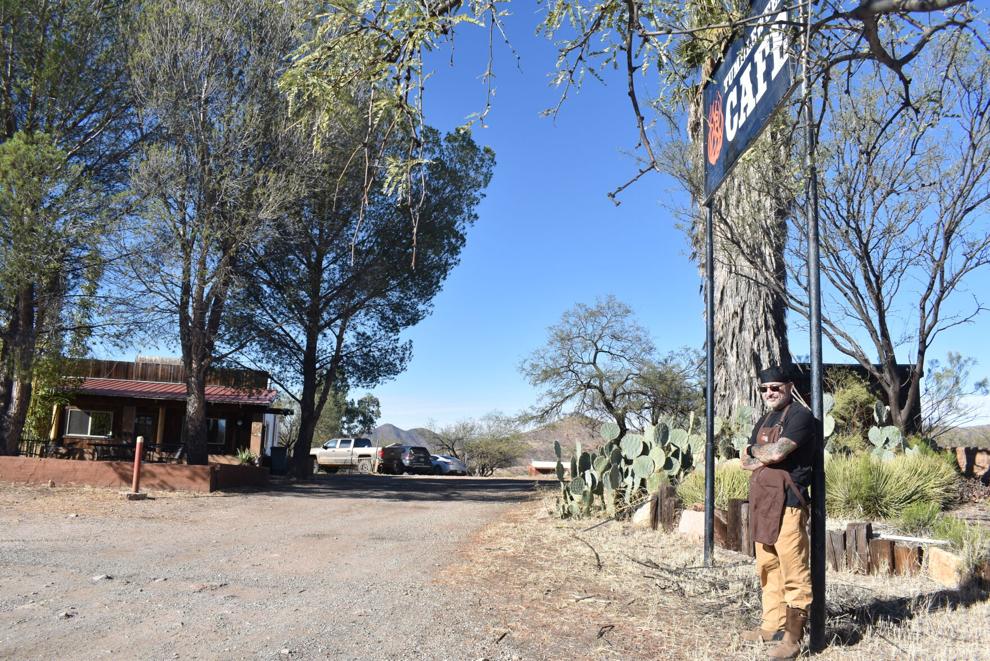 Bad shape
Owner Lorenzo Murillo has lived in Arivaca five years now, enjoying plenty of distance from the city. He said he's always noticed the building.
"I used to drive by all the time and say what a great location, that would be a great place for pizza and wings and burgers, a great patio, a great spot," he said. "Then when the property went up for sale, I looked into it but I couldn't afford to buy it."
The property was seven acres with two houses, the old cafe and a shack. Murillo said the rest was kind of fate.
"Someone bought the property and hired my friend to do the construction, and he said to the owner, 'I know someone who would probably want to open the restaurant,'" he said. "It just fell in my lap. It was like the restaurant is available and this guy said he will lease it to you if you're interested and I said I'll talk to him."
"One thing led to another and here we are. I think it was meant to be."
Murillo, who owned a scuba diving business, always wanted to open a restaurant and was tired of the daily commute to Tucson.
"I want to be away from the city so I was racking my brain thinking what can I do to make a living out here and then it just kind of all came together," he said. "I am a firm believer that everything happens for a reason and you know when one door closes another one opens."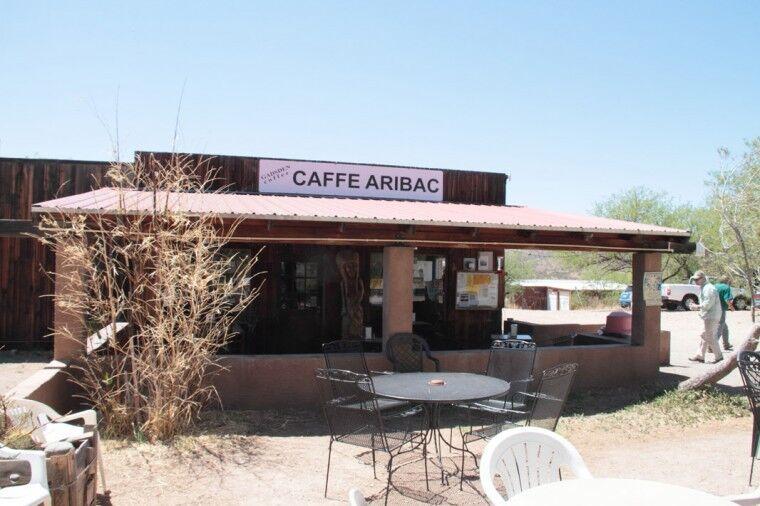 About six months ago, Murillo took his first look inside the building and found it in "really, really bad shape."
He paid Pima County to send out an inspector, got his list of what he needed to complete and convinced his friend to do the construction work.
"We started the process slowly, working lots of overtime hours and just dumping all my money into materials, and my friend obviously helped me out a lot," he said. "He did a lot of the construction just because he likes me and I promised to feed him really well."
"We kind of bartered. 'You work. I'll feed you later when I'm open, all the free coffee you'll ever want.' Him being a good friend, he did it all."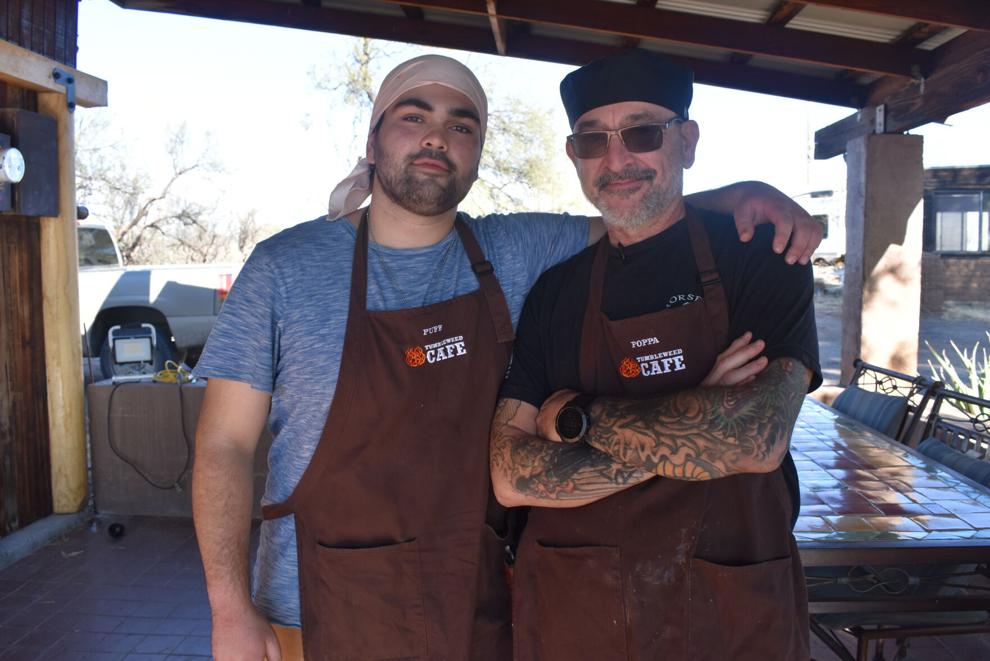 Father and son
Murillo's son Santino, 18, takes after his father in the kitchen. Much like Lorenzo, who started cooking with his mom back home in Spain at age 5, Santino also started in the kitchen young.
Santino is Lorenzo's right hand in the cafe, helping in all aspects like food prep and barista — which wasn't the plan. Lorenzo had hired a barista but she bailed right before the soft opening, tossing Santino into the role.
"He was forced into the position but he loves it now and he's always been into coffee," Lorenzo said. "He has that kind of chemistry brain and consistency of things and he's done a lot of research on coffee. The original plan was to be back in the kitchen together but I lost him to the coffee machine."
Santino, who moved to Arivaca about six months ago from Silver Strand, Calif., said he took to the barista job quickly.
"I've always been cooking food and the barista thing just kind of fell into my lap," he said. "I've always liked coffee and the idea of making drinks. Coffee, I never realized how cool making coffee is with the frother. It's really technical and cool."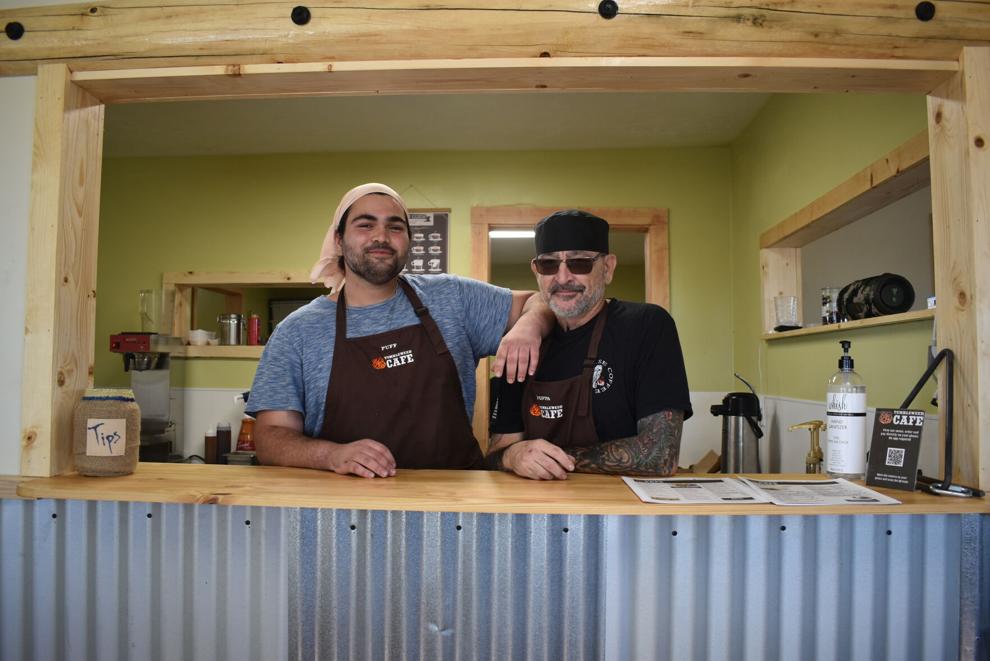 Santino said it's also been a dream of his to open a restaurant with his dad, and he can't wait to see the business grow.
"When it comes down to it, it would be cool to just have this place stacked all the time, and to expand and have multiple Tumbleweeds, that's the dream," he said. "I want people to come here and like our food and to be just out the door stacked, busy."
The name was Santino's idea.
"I just thought of it one day," he said. "We were looking at cool things to decorate the cafe with one day and we saw these tumbleweed lanterns. I was like, 'Dude, what about Tumbleweed Cafe?'"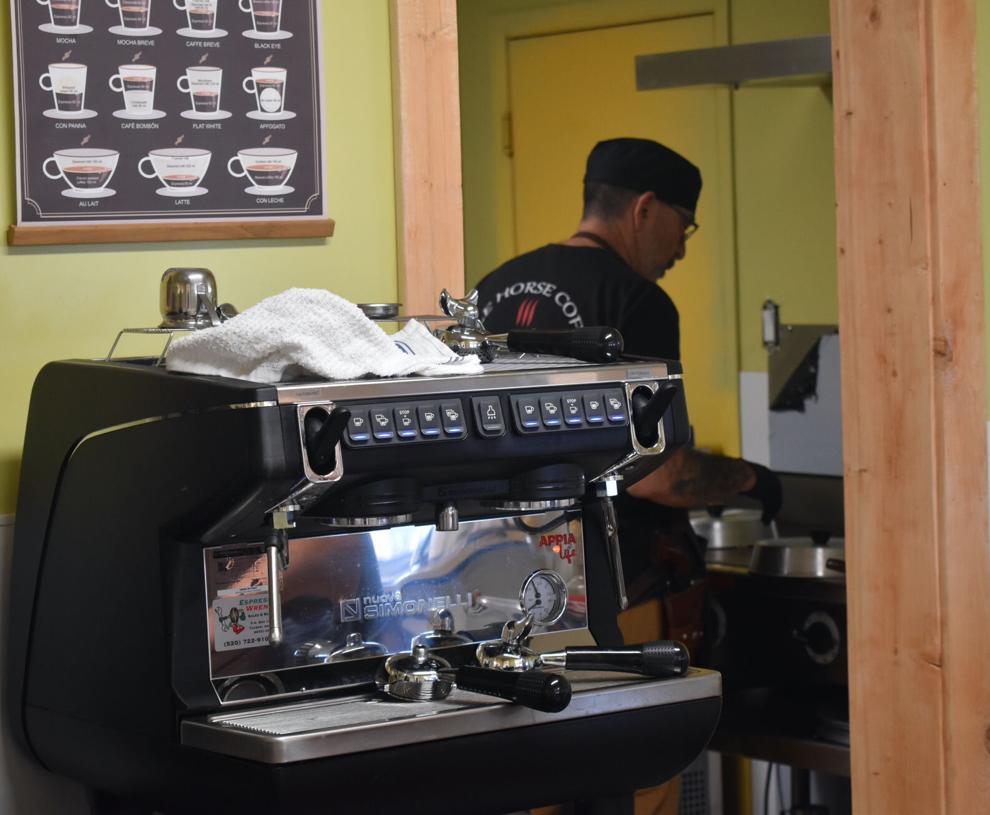 Comfort food
Lorenzo has tried food from all over the world and said he can cook you anything, from a classic French onion soup to the best filet mignon you've ever had.
For Tumbleweed, he wanted to offer comfort food, elevated.
"To me, good food is good, home-cooked food and my heart is in comfort food," he said. "I like good, fresh food and using really good ingredients and I handpick everything that I make. And as much I can make from scratch, I do."
The menu has burros (not burritos, they are way bigger than your typical fare), pulled pork from scratch, hot dogs with Nathan's and buns from Tucson made to Lorenzo's specifications, biscuits and gravy and, of course, Gadsden's coffee or espresso from Old Bisbee Roasters.
All the salsas, pico de gallos and sauces are made in house.
Lorenzo is hoping to keep his menu rotating, eventually planning to work with local vendors on seasonal items. He's already spoken to the community garden about using some of its local produce.
He will eventually bring on burgers when he's completely happy with them and would love to offer monthly fine dining nights in the future where they serve special meals to a limited number of the tables for the evening.
They have a pizza oven for pies in the future, and he's hoping to get a license to allow guests to bring their own beer. He even plans to put up a horse hitching post outside on request from one of the local riders.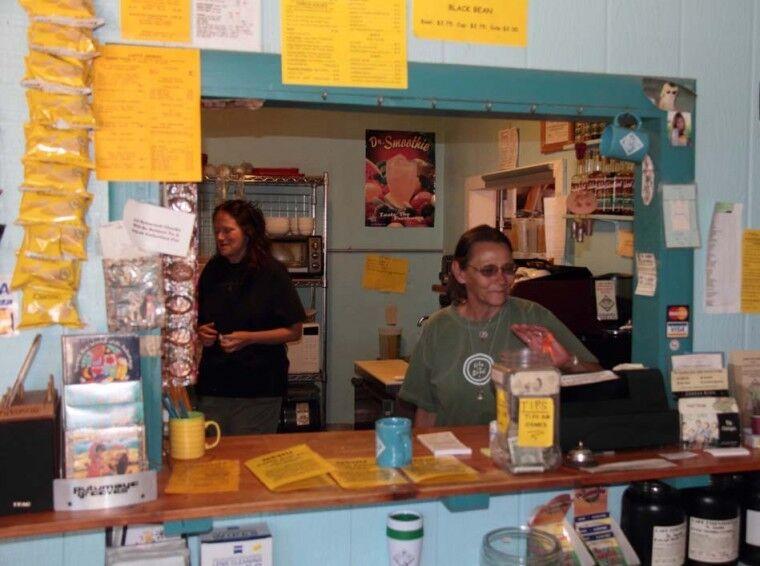 Like old times
Most of all, Lorenzo said he wants to see the place revived as a hub of socializing in Arivaca.
"I think this place is viewed a lot as a center point of this town where people gather for good coffee, and now there's good coffee and good food," he said. "To have this place reborn and still continue to have it as a place where locals and tourists can come and eat, have good fun and hang out and talk."
Since their soft opening Dec. 10, Lorenzo has heard a lot of stories from locals about what the cafe used to represent.
"What I get is a lot of people reminiscing about Friday nights when they used to have music nights," he said. "People from town would just bring their instruments and have a little jam session, hang out and drink coffee."
"This place has a lot of history. I met one of the guys who helped build that adobe wall you see there and he was like, 'I helped them build that wall.'"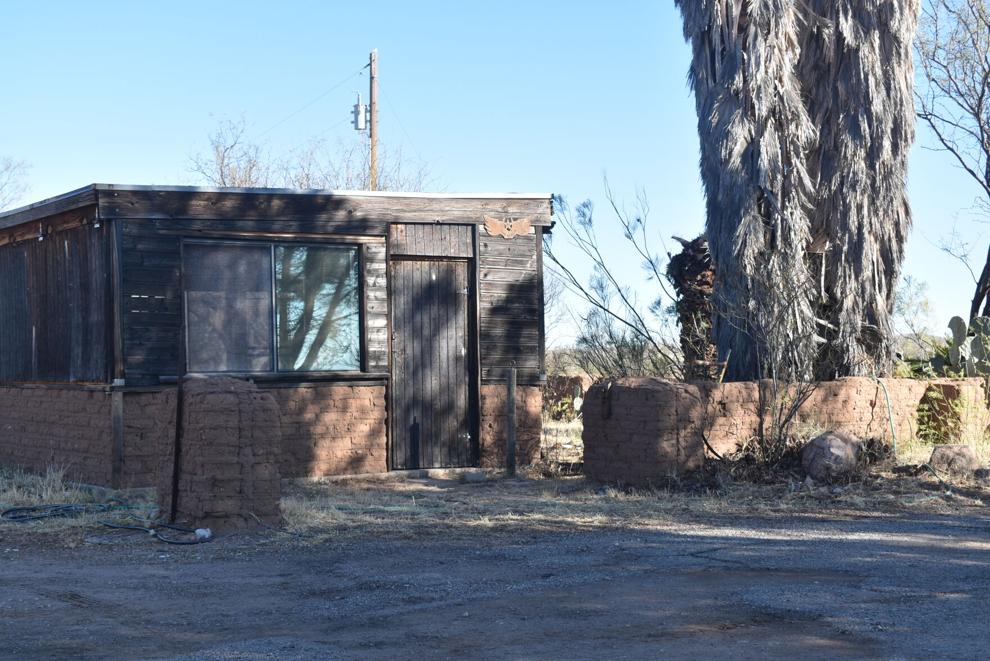 Someone told him the little shack, which Lorenzo hopes to turn into a barbecue and meat smoking room, was used for AA meetings in the past.
"Most people see this place as a place they could go and gather and hang out," he said. "We get a lot of bikers — weekend bikers who have been coming here for years — and they were like, 'We miss the coffee. We used to stop by here all the time on our way back.'"
Steven Rendon owns La Siesta Campgrounds in Arivaca and said he used to often bring clients and guests to the Gadsden Coffee Co.
"Gadsden was our hangout and a meeting place for our friends, a place to listen to live music and a great stop for motorcycle groups, cyclists and tourists just coming up for the day to visit our little village of Arivaca," he said.
He's been there three times already since they opened.
"The first time I took our staff to Tumbleweed Cafe on their first day of their soft opening, it was amazing, many friends and neighbors there, and the food was excellent," he said. "The second time, we had a caravan of side-by-sides and Jeeps, and we all meet at Tumbleweed for breakfast and coffee before going out exploring and then meeting at Hilltop Bar in Sasabe to volunteer in helping Arivaca Helping Hearts stuff Christmas Stocking with candies for the kids on the other side of the border."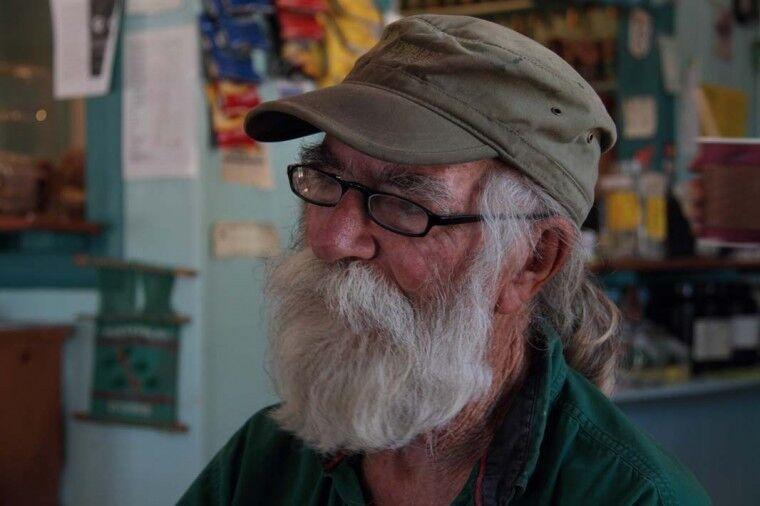 Rendon said the community was in need of a new cafe, and it's a great pull for visitors to his business.
"Here at La Siesta Campgrounds our guests are here for a quick getaway from the cities and to go exploring around Arivaca and Southern Arizona, and Tumbleweed Cafe is a great way to start their day with coffee and breakfast," he said. "Tumbleweed Cafe will help bring in more tourist dollars into our community."
Lorenzo wanted to keep as much original to the building as possible. The tiles inside remained and the facade is all original wood. They repurposed some of the wood from the original fencing to help fill in missing pieces.
Corrugated steel lining the pickup window comes from the part of the building where they used to roast the coffee beans. 
He's even going to recover some history.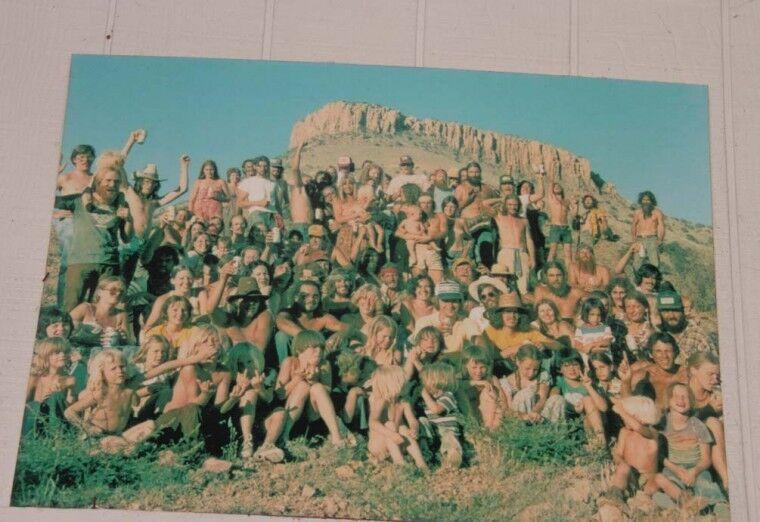 "We are trying to get a picture right now that everyone has been asking us about," he said. "The owner, the guy who brought the property, took it and I just asked him if we could have it back and it's a picture of all the hippies in town and a lot of them are still here and they are like, 'Hey, where's the picture?'"
"I'm trying to get it. I'd love to put it up because it's part of the history of this place."
Next
So far, the response from customers has been good.
"We had a couple customers who ordered a pulled pork sandwich and came back five minutes later and said, 'Oh my God, that was so good I have to have another one,'" he said. "You can't please everybody, but I have had no complaints."
They are open for limited hours, and have taken the holidays off until New Year's Eve. 
"Being local, and dedicating myself to this 100 percent, not driving to Tucson anymore, I'd love to be open as many hours as possible," he said. "I'd love to be open six days a week but we have to weigh the cost of operating versus the amount of people who come in."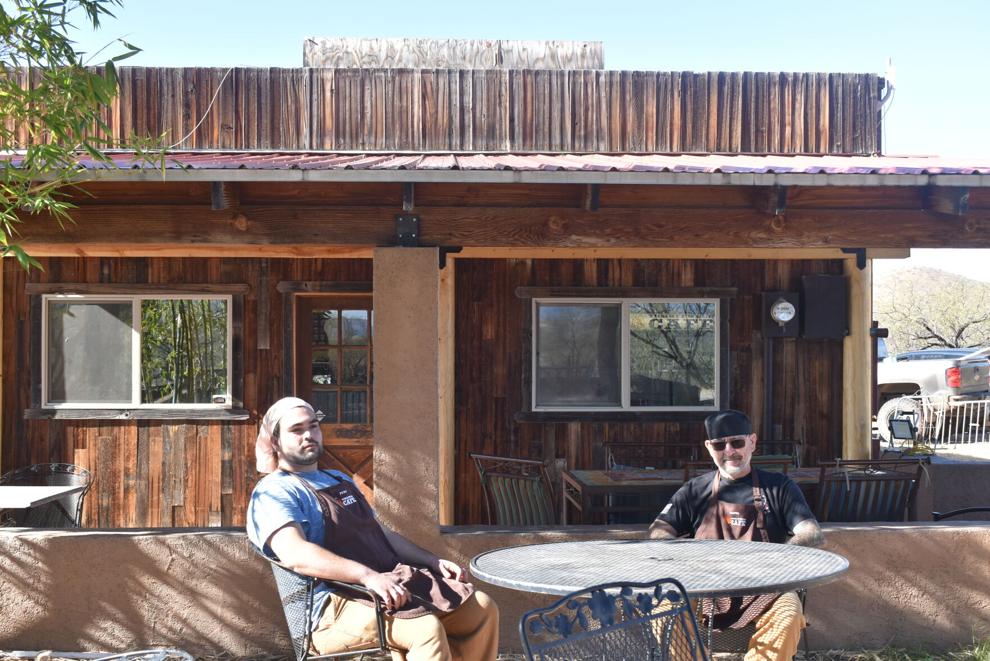 For Lorenzo and his son, they just hope to feed people good food with a family feel.
"We want to welcome everybody, whether you are on horseback, dirt bike, motorcycle, foot, just passing through town, staying here," Lorenzo said. "I see it as an extension of my kitchen at home. I love feeding people, that's what I do."
"To me, the food is not about making it easy and turning a profit, it's about feeding you like I would feed you if you came over to my house for a meal."