After more than three decades serving southeastern Arizona, the Arivaca Animal Clinic – the lone remaining animal hospital in the community – is losing its veterinarian.
The clinic's founder, Dr. Lyle Robinson, made the difficult decision to retire from the practice in 2020 after facing health issues. Robinson's granddaughter and the clinic's associate veterinarian, Dr. Lauren Lyssy, has helped keep the clinic running in his absence, but will be moving to Texas in November. Her last day at the clinic is Oct. 16.
The family behind the practice, however, refuses to close their doors without a fight.
"It may take a little breather, a little temporary closing, but as soon as we find a vet, we're going to throw open the doors," said Lindle Hamilton, who helped found and manages the practice. "I just tell my clients to keep checking with me."
The back story
The mixed-rural clinic, which serves a menagerie of animals big and small, was founded by Dr. Lyle Robinson and his family in 2014, but their service in the community far predates that.
A licensed veterinarian for more than 50 years, Robinson moved from Gallup, New Mexico, to Tres Bellotas Ranch just south of Arivaca with his wife and four children in the summer of 1976.
While he intended to take a break from the veterinary business and enjoy the ranch life, word quickly got out about his expertise. By 2005, Robinson had volunteered to serve as a veterinarian for the Tohono O'odham Nation, The Animal League of Green Valley and the residents of Arivaca – sometimes out of the bed of his truck.
"He never said no to anyone, and that's part of his problem," said Lorie Honnas, one of Robinson's daughters.
"He never said, 'Sorry, it's 5 o'clock. Sorry, it's the weekend. Sorry, I'm at church.' He'd say, 'You come to church and you meet me and we'll work on your animal right after I get out.' It's his love, it's his hobby and it's been a wonderful family affair. Just serving this community has been tremendous."
The Arivaca Animal Clinic formally opened its doors in March 2014, after outgrowing the church parking lot and Robinson's truck bed, and began welcoming clients and their pets who drove in from Green Valley, Tucson, Vail, Nogales and Phoenix.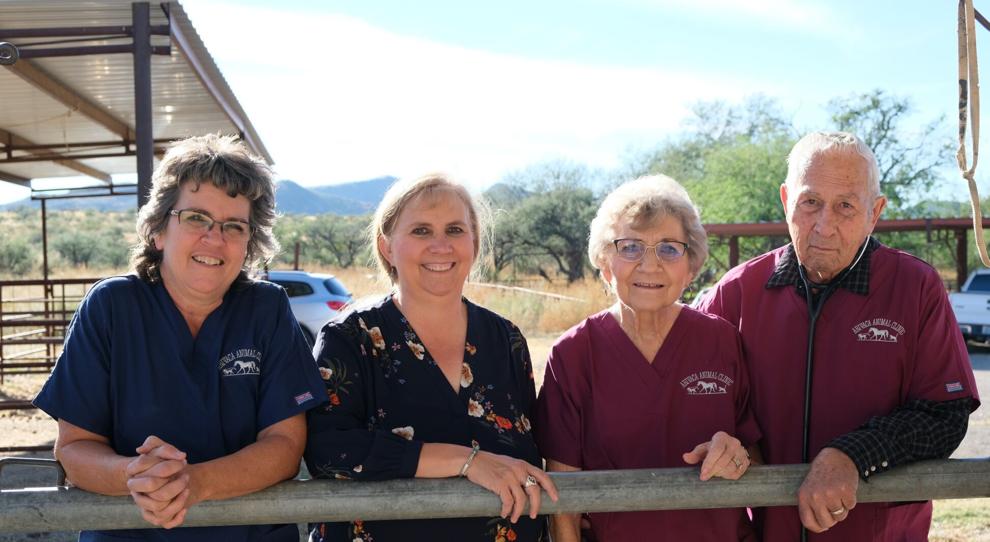 But serving and supporting the residents of Arivaca has always remained a central part of the practice.
"The people in Arivaca have been very respectful and appreciative. Our clients are like family to us," Hamilton said.
"Every year, they do a dog-and-pony-show fundraiser to help purchase an X-ray machine or to help fund people that couldn't pay all their bills, all in honor of helping the veterinarian here. It was very thoughtful of them, and it was their way of saying thank you," she said.
A new chapter
Several of Robinson's children and grandchildren have followed in his footsteps – becoming veterinary technicians and attending veterinary school. After receiving her DVM in 2018, Dr. Lauren Lyssy moved back to Arivaca to work in the clinic with her grandfather.
"I grew up on the ranch my grandparents own, and I've been helping him since I could hold a flashlight. And ever since I can remember, it's always what I've wanted to do," Lyssy said.
"I really enjoyed coming back, and I love being here."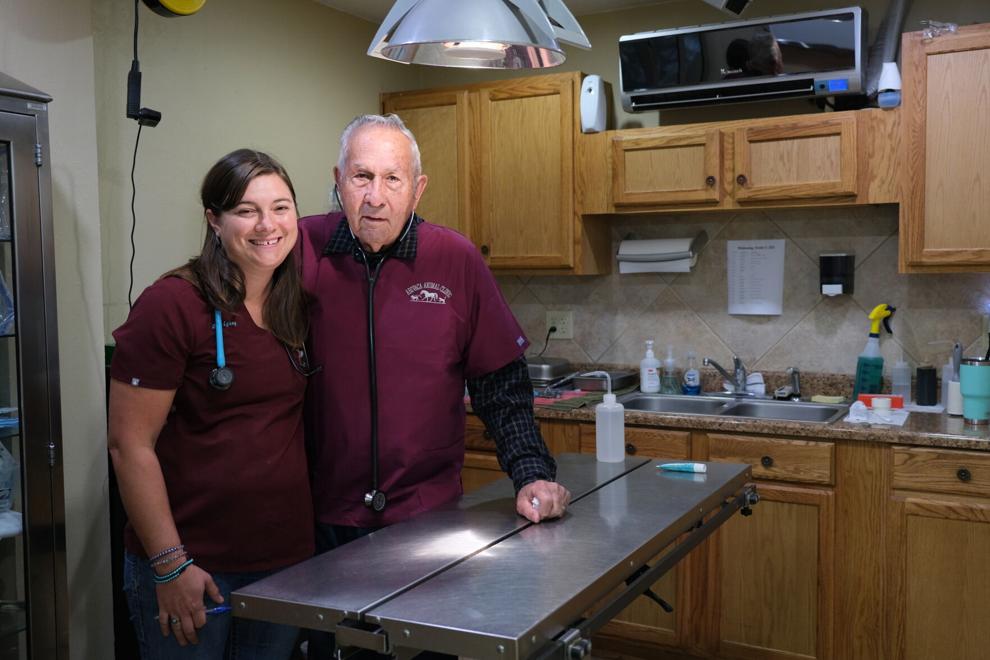 For about three years, Lyssy has served alongside her grandfather as a veterinarian at the clinic, but recent events have forced her, and the clinic, to move in a different direction.
Together with her husband, Dr. Cliff Honnas, Lorie Honnas purchased the clinic to help keep it going, and is now in charge of finding another vet. But the search is not without its challenges.
"Hiring a veterinarian is extremely difficult right now," she said. "They have to have a love to come to a rural practice, and they have to love the area, and they have to be willing to work with low-income families that are not going to be able to charge what they charge in the cities."
Lyssy, who will continue to practice in Texas, said she's met her own challenges with finding a new position that will allow her to continue doing what she loves – working with a variety of animals beyond cats and dogs.
"Most places are switching to being just small-animal, and I understand it because we have a ranch – it's not economical for a large-animal clinic to be able to pay a veterinarian and make money. It's becoming more of a dying breed because a veterinarian can't make a living doing it," she said.
Preparing current clients at the Arivaca Animal Clinic for the transition, Hamilton said, has also been difficult.
"We've suggested some veterinary practices they could see, and for the heart and thyroid patients, we're trying to give them an extra couple of months of their meds to tide them over, but I've told them they need to be prepared for Plan B, you know, you still need to take care of FiFi," she said.
For many of their clients, the expenses associated with caring for their pets can be a huge obstacle, Hamilton said. Some end up driving long distances to find a practice they can afford, or even risk giving up their own medications to care for their animals.
"With rural vets few and far between, it can be a really sad situation," Hamilton said.
Filling the gap
According to the U.S. Bureau of Labor Statistics, employment for veterinarians is expected to grow 17 percent over the next decade – more than double the average for all occupations – and with the overall industry experiencing an aging population, and more retirements taking place than new hires, schools are struggling to keep up with the demand.
"On one hand, it's a great time for the veterinary profession because more of society is really valuing animals and really valuing veterinarian's roles," said Dr. Julie Funk, dean of the University of Arizona College of Veterinary Medicine.
"But right now, it's just going to be a challenge to meet those needs because they are growing so much more quickly than our ability to produce new graduates. I think this shortage situation is likely a long-term issue, and probably one we'll be facing for the next five to 10 years going forward, unfortunately," she said.
As the first public veterinary school in Arizona, the UA's College of Veterinary Medicine is working to address the shortage of veterinarians on many fronts, including prioritizing recruiting students who are from, or interested in practicing in, rural areas.
The program accepted its first class of students in fall 2020, and is on track to graduate about 110 students annually beginning August 2023, Funk said.
"We know about 20 percent of our students are interested in food animal or rural practice, and I think many of them come from rural areas, so they have grown up on ranches or farms and they want to return to those communities and help serve," she said.
Another obstacle for recruiting rural practitioners is student debt. According to a study by the American Veterinary Medical Association, the average educational debt for 2016 veterinary school graduates was $144,000 to $168,000, and over 20 percent had at least $200,000 in debt.
The college hopes to relieve some of that burden through the Marley Foundation, the school's scholarship program, which provides financial support to students who choose to practice in rural areas during their pre-clinical and clinical years.
"Anything we can do to have an impact on that debt makes it more feasible to work in that rural area because typically the salaries are less," Funk said.
'Still a need'
Though the market has been competitive, the Arivaca Animal Clinic has not given up hope.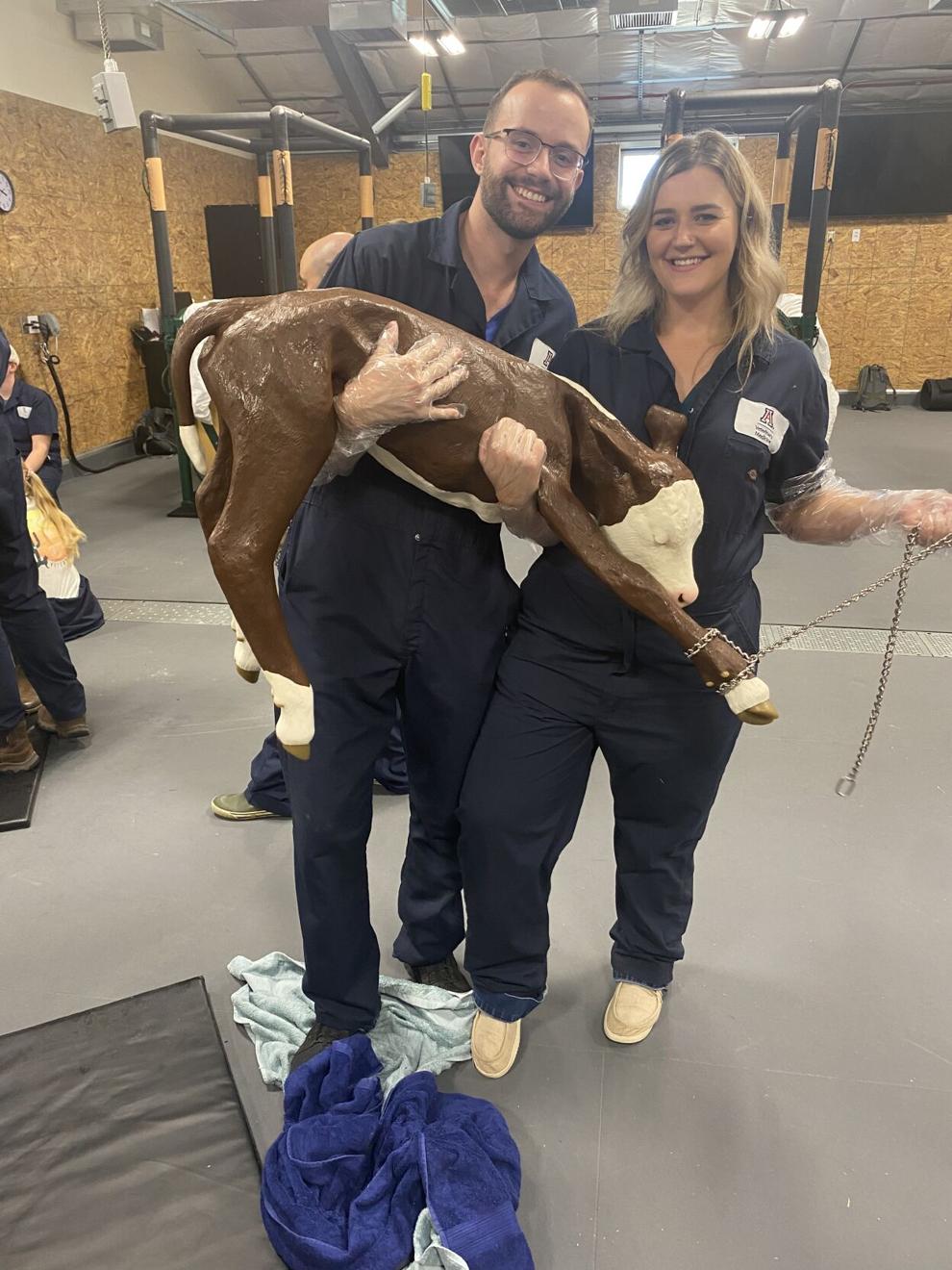 The clinic employs two veterinary technicians who grew up in the area and are completing their second year at the University of Arizona's veterinary program. When they graduate, the staff is hopeful they'll continue to serve the community when they can.
As for the search for a new veterinarian, Honnas said it's showing some promise.
"We believe we're going to find somebody, and we've got two on the line right now that are very interested, and know about what rural life has to offer," she said.
"It's like the field of dreams – build it and they will come. Well, we've got the building, we've got the clients and we certainly know there's still a need here."