The pandemic brought fewer volunteers, more requests for services and a lot of uncertainty, but local food banks have learned to adapt and might even keep some of the new procedures after all this is over.
When Gov. Doug Ducey announced the state's first shutdown in mid-March as COVID-19 infections rose, food banks remained open. But concerns for volunteers' health grew with many of them in the at-risk age group and working in close quarters.
Community Food Bank of Southern Arizona Executive Officer Michael McDonald said the organization asked volunteers to stop coming in around that time.
The food banks in Green Valley and Amado are part of the Community Food Bank. Green Valley and Amado Resource Centers Manager Debby Acuña said they have six staff members between the two locations.
The Sahuarita Food Bank and Community Resource Center's Executive Director Carlos Valles said they also asked many of their volunteers to stop coming. They are an affiliate of Community Food Banks but not under its direction.
Sahuarita relies more heavily on volunteers; the food bank has three part-time employees, and Valles is the only full-time employee. He said they kept a core group of 30 to 35 volunteers who could do much of the heavy lifting.
Increased demand
While available hands dwindled, the demand for assistance increased. McDonald said Community Food Bank saw need double.
Annual operating costs are typically $18 million, but from March to August, the Community Food Banks operating costs jumped to $20 million. McDonald said the operating costs were $9 million for the same period in 2019.
"Cumulatively, March through August, all the locations, including Green Valley and Amado, that's about 36 million pounds worth of food," he said. "And that compares to the same timeframe last year, which would have been 23 million pounds of food. So, that's about a 52 percent increase."
McDonald said the U.S. Department of Agriculture helped the Community Food Bank get the extra food – at least 60 percent of what it distributed. 
"In March when it hit we were pretty much panicking, probably like everyone, because we only had the food that we had at that point," he said. "But the USDA came through and our food donors came through so that 52 percent increase had been based upon community need."
Increases in the Community Food Bank's operating costs included about $500,000 in grants and equipment upgrades, such as refrigerators, to meet demand.
Valles said Sahuarita Food Bank saw an increase as well.
Sahuarita's operating costs from March to September increased to $185,991, a 26 percent jump over the same period in 2019.
Acuña said there were 7,837 visits – 24,012 individuals – across programs from March through September at the Green Valley Food Bank, including a 25 percent overall increase in new enrollees.
She said the Amado Food Bank had 4,019 visits – 10,966 individuals – for the same period, with a 19 percent increase in new enrollees.
Valles said the Sahuarita Food Bank continues to see new faces, including some business professionals.
"I spoke with a lady, and she calls me and says, 'I've never used the food bank, I never thought I'd use the food bank,'" he said. "This was back in April, and I was real shocked, but she was just struggling. We've had a surge of people that have never used the food bank. It was pretty telling."
Adapting services
Acuña said the Amado and Green Valley food banks had to adapt to meet increased demand while having fewer personnel on hand and COVID-19 safety guidelines to follow.
"Previously, at both locations we were a full-client choice food pantry, which means we displayed all the food we had available on our shelves, and our customers walked through the room and chose things that would be best for their family," she said. " We had to go to pre-loading carts so we could do a no-contact distribution."
Acuña was surprised at the positive feedback the two food banks received about switching to pre-loaded carts.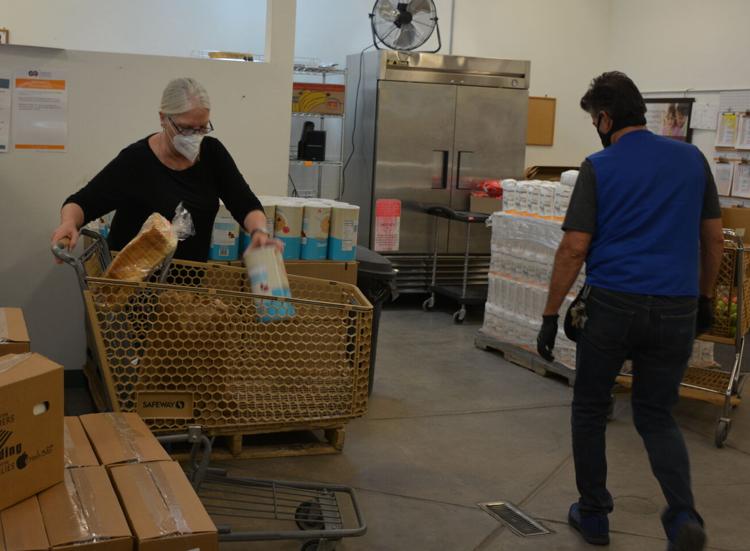 "It's incredibly quick, a lot of people appreciated that," she said. "The heat was a challenge having people outside trying to get themselves checked in and get their food, but we've been able to work through that pretty well. Initially, we saw a significant surge in clientele. And then, over time, we had the CARES Act, and the numbers went back to something a little more normal."
Acuña said the initial surge was in April and May, but the CARES Act allowed recipients to purchase more groceries. She said CARES leveled the surge to about a 25 percent increase in visitors for the last few months.
Valles said he was also relieved visitors to the Sahuarita Food Bank liked the switch from a client-choice model to pre-packed.
Sahuarita Food Bank served about 21 clients per hour pre-COVID-19, but they increased to about 44 using the drive-thru model. The food bank uses an intercom system with the model as well, which Valles compared to those at a fast-food drive-thru.
"That's something that we're going to explore in the future," Valles said. "Especially for people who need to come get their food quickly. Maybe they're working, they have kids they have to pick up from school or other things they have to do."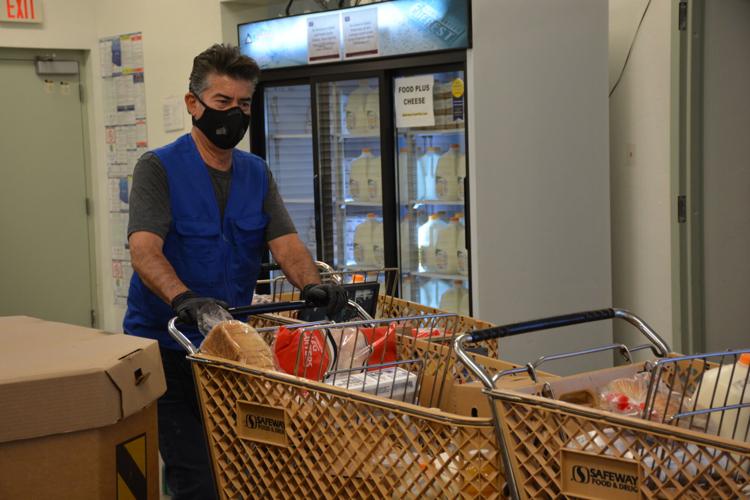 Acuña also wants to explore a pre-packed alternative for visitors after the pandemic as well.
She said Green Valley visitors would see wait times as long as an hour pre-pandemic. They've reduced wait times to about three or four minutes, including registration.
Increasing efficiency isn't limited to visitor wait times.
McDonald said one adaptation he wants to keep using after the pandemic ends is how food rescues work — going to local grocery stores or markets to get items retailers overstocked or are that are approaching expiration dates.
McDonald said stock shortages hit stores before the food banks, with customers buying everything on the shelves.
"We had enough supply to supply our locations and our agency partners, and more food was coming from the USDA," he said. "But we heard a lot of our agency food partners, like Sahuarita, say, 'Look, our cupboard is pretty bare.'"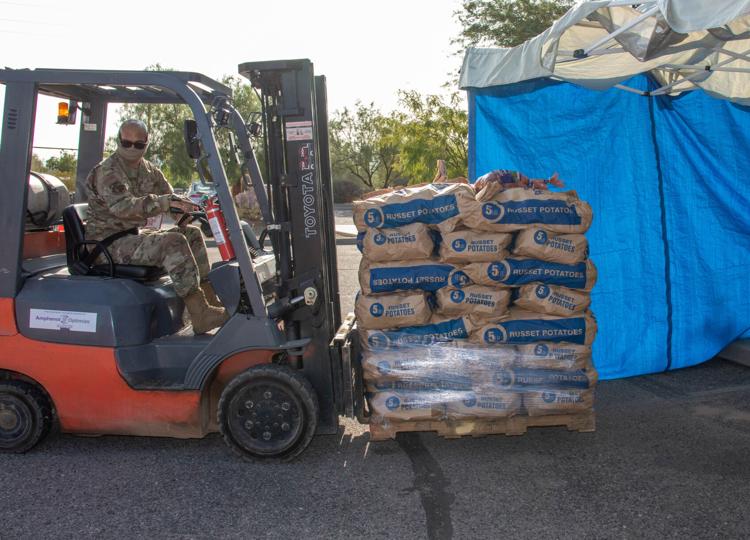 In response, the Community Food Bank arranged for agency partners to do food rescue from stores directly.
"So Sahuarita, for example, was able to pick up more food, more frequently, at more locations," McDonald said. "So we just gave permission to all of our agencies to pick up as much food from all these locations. At first, it was pretty slim pickings, but they were grateful they were getting it directly and faster without having to wait for us to get it to them."
Valles said he wants to see the new model continue after the pandemic ends as well.
Sahuarita Food Bank already had Sprouts for food rescues but added Fry's, Walmart and both Safeway locations after Community Food Bank's shift in policy.
"The stores have been great," Valles said. "The local grocery stores have been great to us."
Volunteers, personnel
McDonald said the Community Food Bank is slowly bringing back volunteers.
"We have a core of 10 volunteer leaders at our largest food distribution facility, and we're probably only seeing about 20 percent of our normal volunteers right now," McDonald said. "We were seeing zero, but we're at 20 percent now, which is good. But we're a long way from being fully-staffed by volunteers."
He said it might be a while before returning to pre-pandemic levels since the work involves outdoor activities that could be harder on older volunteers.
The Community Food Bank also uses the National Guard to bolster its numbers in Tucson, Nogales and other locations.
The Amado and Green Valley food banks don't have any National Guard at their locations.
"Tucson is a very large location for food distribution," Acuña said. "We were able to pull through without them. In the last month or so, we started inviting back a few volunteers."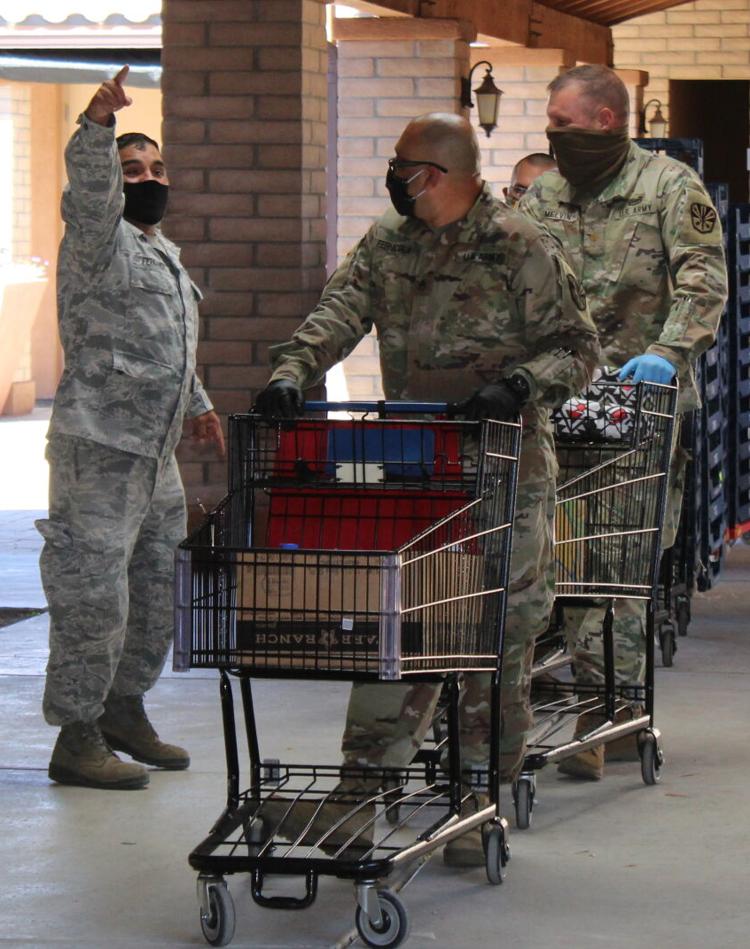 However, the Sahuarita Food Bank does have the National Guard assisting in food distribution. And Valles said the soldiers assigned to them have become family to the organization.
Sahuarita received the soldiers in April, and they logged 3,880 hours from between then and September.
"They've been great," Valles said. "The small group of volunteers that we have raved about them. Their leadership has come down to see what they've done, and the talk is that Sahuarita is the place to be to help out."
He said the smaller operation at Sahuarita had made for a tight-knit connection. Valles said the National Guard expects to stay with the food bank until Dec. 17, but said that could always shorten or extend as the pandemic continues.
He said many regular volunteers still don't want to return until a vaccine is available or the pandemic ends.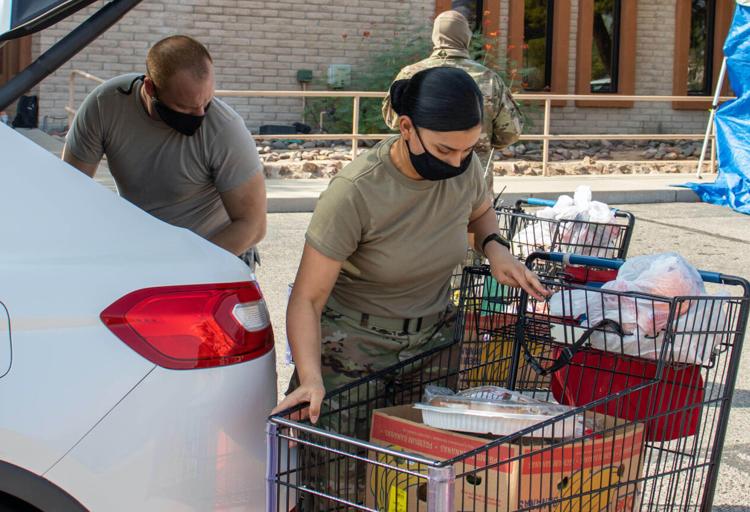 However, he said those who want to come back would start helping them transition out some of the core volunteers who need rest.
Acuña said they had about 300 volunteers between Green Valley and Amado before the pandemic.
"This particular method of pre-loading the carts and sending them out doesn't require as many people," she said. "So, over time, as we hope to get back to something more normal for us, we'll be bringing people back as we can use the additional help."
Community connection
Acuña said her volunteers had been calling her to come back since they had to send them home.
"It's breaking our hearts," she said. "They're eager to get back. These are people who are so committed to what we do and to being part of helping the community that it's been incredibly difficult. We miss them all, obviously. And we want to bring them back as soon as possible, but we do have to be cognizant of the fact that we don't want to expose anyone unnecessarily."
However, Acuña said Community Food Bank had given them to the green light to start taking food donations from the public again.
Valles said it had been a collaborative effort among volunteers and soldiers at Sahuarita Food Bank to meet the community's needs.
"From their experience doing logistics, they were able to see what we could do," he said. "And we all put our minds together and made improvements on minor things to get to where we're at today."
McDonald said interacting with families during the pandemic had touched him throughout this whole experience.
"Many folks said, 'I've never used the food bank before, but I'm glad you guys are here,'" he said. "So many folks got furloughed, laid off, reduced hours or just struggling to make ends meet. When you see everyone come driving up and talk to those folks and waving, you just see it all at once. It's like the whole village just turns out."