For those in wheelchairs or with limited mobility, a new pedestrian bridge over a rock swale at Sahuarita Lake Park provides a much-needed access point.
While the Town of Sahuarita has been well within the requirements for ADA accessibility at its parks, the bridge is just one example of the ways they are trying to go above and beyond in their public spaces.
Parks, Recreation and Community Services Director Nanette Smejkal said ensuring parks are accessible and inclusive isn't a trend, it's "the imperative."
"Thankfully, people get enlightened over the years and it isn't enough to say we're meeting federal regulations," she said. "When talking about parks and rec, we want people to have fun. We want them to form lasting memories in our parks, and leisure should be a great thing. It isn't about the minimums, it's about delighting people and play equipment can do that actually."
Sahuarita is joining communities across the country in revamping and retrofitting public spaces to better serve people with mobility struggles, disabilities, emotional needs or cognitive learning disabilities.
Sahuarita
For Sahuarita parks, inclusive design will be included in everything they do, and there are some big projects on the horizon.
Smejkal said the town has been going this direction the last three years with upgrades to equipment when they need to be replaced, as well as the bridge project and several additions to Anamax Park.
"This bridge is one of those projects because we didn't have a route from the south part of the park and that's why we said we have really got to do this universal design," she said. "Examples of that are at Anamax Park where we did the net climber. That's a perfect example of a new piece of play equipment that was installed with a fully accessible, safety surface as well as concrete pathways to it."
Other accessible replacements have included making sure seating is wheelchair accessible.
Some of the most visible examples of inclusive parks are yet to come.
Smejkal said one of the community's visions is a playground that's totally inclusive, and Anamax Park has been selected for it.
They will be taking the existing playground, which Smejkal said is technically meeting accessibility standards, and retrofitting it with modular equipment and surfacing.
"The whole design is in the realm of inclusive experiences, so not only children of various abilities but the whole experience," she said. "It would be physical, it would be sensory, emotional, we'll try to capture all these things, and it will have features, frankly, adults might even enjoy, too."
Smejkal said inclusivity isn't limited to children, they want to provide needs in the parks for adults, too.
"A lot of modulars, they say ages 2 to 5 or 6 to 12, but with inclusive design it's like, you want to go down the slide, go down the slide," she said. "We don't care what age you are. It gets built differently."
The inclusive park project is a couple years down the road, though Smejkal said things could speed up if grants become available.
There is $680,000 set aside in the five-year plan for the inclusive park project, set to begin in 2023.
Even sooner, Anamax will get a splash pad with full accessibility. The town has $1,660,000 set aside for splash pads at multiple parks, starting with Anamax. The initial sewer extension project for the Anamax splash pad will begin this year.
Smejkal said the Sahuarita Square Catalyst project will also have an inclusive design.
"There are recreational amenities envisioned for that and they will all be completely modern, the right way to do it," she said. "Right now the concept has a splash pad, play equipment, and I'm all over that. I was ready yesterday. So, those are the kinds of projects that are within reach that everyone desires."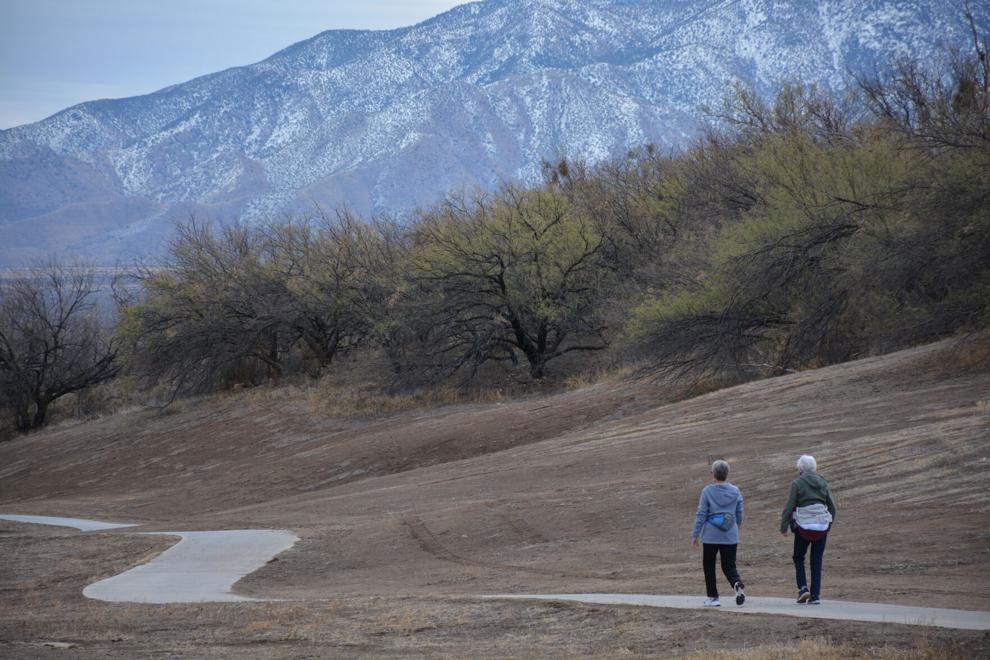 Green Valley
In Green Valley, there are three parks, all in the Canoa Hills system including Canoa Preserve Park, Historic Canoa Ranch and the Canoa Hills Trails Park.
The Trails Park is the former Canoa Hills golf course which was donated to the county in 2018 to be used for an open trails park.
At the time, a Park Advisory Committee was formed to determine the needs and desires of the community for that space.
Green Valley Council President Debbie Kenyon said the park was a big desire for the community.
"They gathered a lot of info from the neighborhood as to the need for a park at the abandoned golf course," she said. "They overwhelmingly said in 2018 they would love another park."
The park already had some accessibility built in with its paths from the days of being a golf course and the county added an ADA friendly parking lot.
"What has happened over the years, is when it was abandoned a lot of the walking paths came out of HOAs, so homeowners used those paths to access the abandoned property to walk," she said. "Those paths became definitive entrances and now there are specific access points, which are delineated."
Kenyon said the Historic Canoa Ranch Park is "relatively flat" and ADA accessible. She said that since it is a gentle trail with minimal sloping, it's been good for people with lower mobility.
Pima County manages the Canoa Preserve Park and Kenyon said it has been a good partnership.
"Pima county is doing pretty well by us," she said. "We're very fortunate to have these resources with the parks, three very different ones."
The Park Advisory Committee disbanded after serving its purpose, and Kenyon said GVC has formed a Parks Committee that will focus on the Canoa system of parks starting soon.
Pima County
Pima County Parks Division Manager Ron Odell said they manage about 30 parks, including Green Valley.
Though most of their parks are smaller, he said accessibility is always considered in projects or capital improvements.
"Our parks and recreation department wants to serve all and we recognize a portion of the population will be best served through new or replacement features in parks," he said. "With each new project or improvement, ADA is always factored in."
Odell said some of the things they do to ensure accessibility include using wood chips in their fall zone areas, widening park entrances and using wheelchair accessible tables.
Their standard picnic tables are accessible and over the last three years, Odell said they installed over 60 wheelchair-friendly tables to replace older ones.
He said they are in a deferred maintenance mode and don't have any big projects like the Town of Sahuarita's inclusive playground planned.
What's next?
Smejkal said she would love to replace more of Sahuarita's park equipment that's reaching the end of its life span, replacing it with more accessible or inclusive equipment.
As someone who has worked in the Parks and Recreation field, she's happy to see more focus on play-based equipment.
"Things change, trends change and the net climber (Anamax Park) is much more trendy than what's been popular even 10-15 years ago," she said. "Modular things are great but don't have a lot of play valve. We're getting back to the 'get your body in there, climb around on those ropes, hang by your knees,' all that fun stuff. I'm glad to see that trend, because it's a little more challenging and kids or adults can use the stuff in more creative ways, perhaps."
The town will continue to make accessibility to parks a commitment and Smejkal said in the next year or two they will be revising their parks master plan, which was developed in 2008.
"It's time to refresh that and I don't think we have to completely recreate the wheel but we absolutely need to revisit with the community to find out, 'Are your needs met? What else would you like to see and how would you like to help us prioritize that,'" she said. "We're committed."