Sahuarita residents John and Jennifer Whetstone took the coronavirus pandemic seriously, so when he tested positive, it came as a surprise. But more shocking was the severity and 105 days he spent in the hospital recovering.
"He tested positive, it was a Sunday, Dec. 6, and he started getting sick that Thursday before," Jennifer said. "We weren't the type to freak out because we would sit there and say, 'Not everything is COVID. It's flu season.'"
But she said they both had their flu shots. And as John became more ill, they decided it was time to get a rapid test at the urgent care – John was positive, Jennifer was negative.
"I work in health care, and so does our 22-year-old son, who also lives at home – he works in health care," she said. "So, I pulled him home and said you have to go and get tested too. He was also negative."
The couple avoided gatherings and unnecessary trips out of the home. John, 52, who retired from the U.S. Air Force in 2010 after 24 years of service, spent even less time outside of their home. Jennifer, 50, said they never did trace where John came into contact with the virus. But soon, the couple would have more pressing matters to contend with as John's health worsened.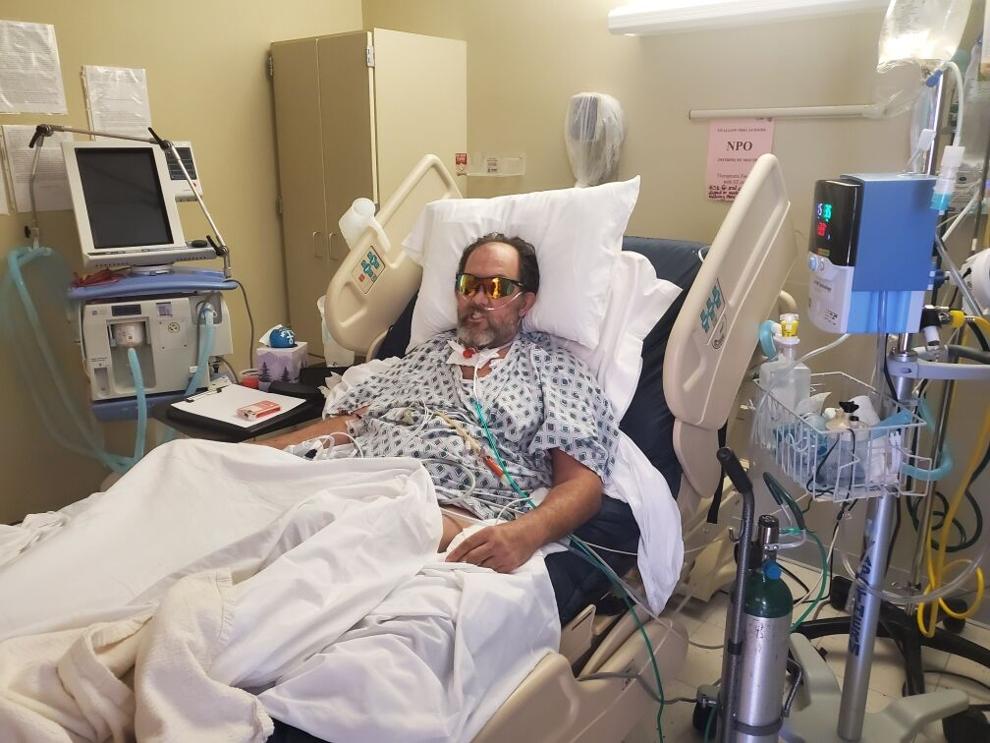 On Dec. 7, Jennifer began calling John's doctors at the Southern Arizona VA Health Care System in Tucson. The doctors said John would need to go to the emergency room if his symptoms continued to get worse. Jennifer said John had asthma and high blood pressure, but otherwise, he didn't have any major pre-existing conditions.
But the next day, Jennifer took John to the ER at the Tucson VA Medical Center.
"By Tuesday morning, he was getting shortness of breath. He was trying inhalers, and that wasn't working," she said. "At that time, with the limitations on who could go in, I literally had to drop him off at the door. And into the ER he went."
And that would set off a long journey for John as he spent more than three months trying to recover, and Jennifer had to stand by watching through Zoom.
Darkest days
The Veterans Affairs Hospital admitted John the night of his ER visit. The next night he was on oxygen. The night after that, he was in acute respiratory distress.
"He was in the ICU and placed on a ventilator that day," Jennifer said.
John ended up spending 80 days on the ventilator.
"They also ended up putting him onto a trach because he was on the ventilator for so long. We wanted to try and get the ventilator out of his mouth," Jennifer said. "But during that time that he was at the VA Hospital, from the 10th to January 15th, he was in a medically induced coma, and he was being paralyzed."
She said John would begin coughing and exacerbate his condition without the measures.
John spent a little more than two months at the VA, nearly a month at Cornerstone Specialty Hospital and almost half a month at Encompass Inpatient Rehabilitation Hospital.
And Jennifer was stuck watching John's recovery from the sidelines as COVID-19 restrictions made visitation off-limits for the bulk of the ordeal. Visitation wasn't an option for Jennifer and John until early March while he was at Cornerstone.
"I Zoomed with him twice a day while he was in the hospital," Jennifer said. "You know, I think the hardest part was when you say your wedding vows. June will be our 25th wedding anniversary, and in your wedding vows, you say in sickness and in health. But in sickness, you can't be there."
Jennifer said seeing John at his worst was difficult, especially when she couldn't hold his hand or reassure him.
But she noted medical workers at all three facilities helped them both get through it.
"The staff was amazing because they cried with me," Jennifer said. "They would hear me Zooming, and he's in a medically induced coma, and all I do is just talk to him, and I would journal every day and tell him about everything that was happening. And, you know, always preparing for the worst because you have those dread and gloom conversations about do I want to change the order to 'do not resuscitate.'"
Finding strength
Jennifer said she relied on her faith, and John was in for a "miracle."
"I had gotten a call on January 3rd that he probably wouldn't make it into the morning," she said. "We've got three children. We have three grandchildren. And I call it, 'while he was sleeping,' I had to tell my kids that dad might not make it. And that's when our middle daughter told us she was pregnant with her second child."
That's when Jennifer told John it wasn't his time to go.
John said he doesn't remember much during his time at the VA Hospital, which he spent in an induced coma. But he does remember much of his time at Cornerstone and Encompass. And he knows what kept him going.
"We're expecting another grandkid, so it's really family that kept me going," John said.
John found it difficult only seeing Jennifer through Zoom. But eventually, that would change.
"Once I started getting visitation from Jen, I think I progressed better than when I didn't have that visitation because she kind of pushed me a little bit," John said. "It's really sad that a lot of people ended up dying without even being able to see their family. It's just really sad."
That wasn't lost on Jennifer either. There were times when scheduled Zoom calls with John were postponed while other families said goodbye to loved ones online.
"I thought about, numerous times, how many veterans were there that didn't have family support, or maybe they were older, or maybe they lived away," she said.
Community support
There was also plenty of support in the Sahuarita community, which Jennifer and John found helpful for carrying on during the darkest moments.
The two moved to Rancho Sahuarita in 2002. John's last duty station was Davis-Monthan Air Force Base in Tucson.
Jennifer said neighbors and residents stepped up with home-cooked meals to help her out with one less worry while John remained in the hospital.
Jennifer also remembered one uplifting moment when she returned home from the store to find chalk art in her driveway.
Faith-based youth group Sahuarita Young Life stepped in, hoping to lift Jennifer's spirit. The group's director, Dawn Bunnow, said they heard about John's COVID-19 fight through a mutual friend.
"Just to bless them and bless my friend who couldn't be here, I thought it would be a good thing for the kids and leaders to go do," Bunnow said.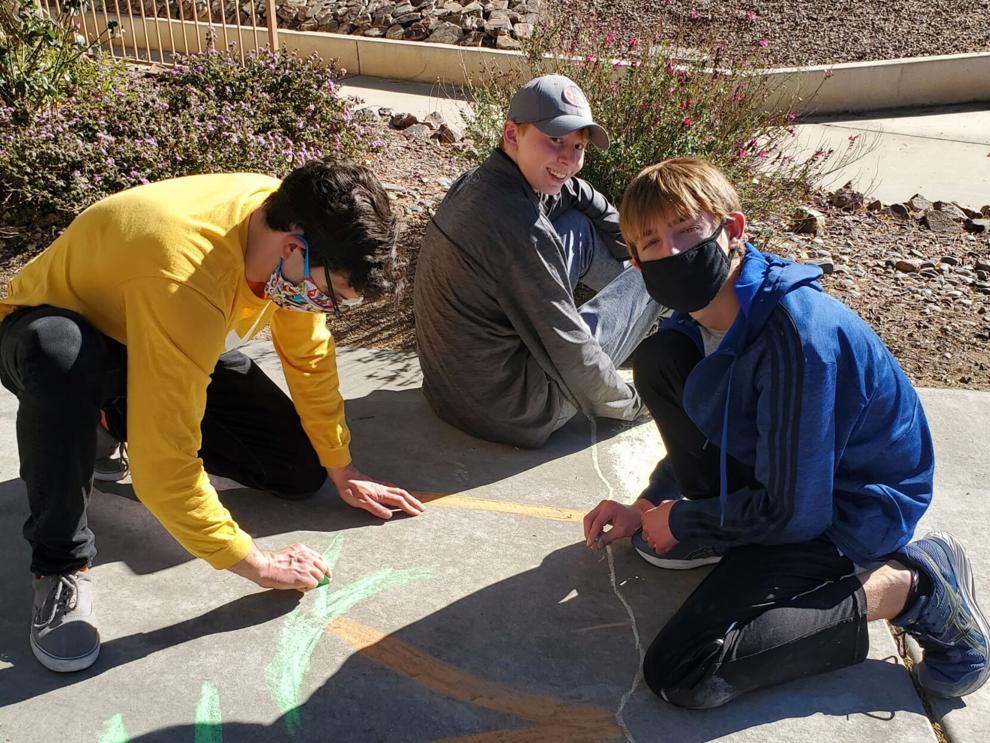 She said the kids and leaders left encouraging statements, Bible verses, and anything they could think would give John and Jennifer hope and knowledge the community was praying for them.
"It was a whole group of them, and I didn't even know they were coming out," Jennifer said. "I came home and there was all this chalk art. We didn't even know the kids or anything."
John said the outpouring of support is one reason they chose to make Sahuarita their home all those years ago. And he said knowing the community was there for his family helped him concentrate on recovering.
Jennifer said the staff at all three facilities also stepped up to help them get through John's fight. She was especially grateful for the care he received at the VA Hospital, which she said often gets a bad rap.
Long road
Encompass released John from the hospital on March 22, and Jennifer said a late Christmas was waiting for him. She never removed the decorations, waiting for the day he would make his way back home.
John wasn't able to do much during the late Christmas celebration, and he spends most of his time taking it easy and watching TV. But he finds it's nice being able to go outdoors again.
"For three months, the only time I saw the outside was transferring from hospital to hospital," he said. "So, you know, a little rough."
But he still has a long road ahead of him after the extended fight with COVID-19.
"Everything he has now is the damage from COVID," Jennifer said. "And in his situation, he was diagnosed with COVID pneumonia, and then he got two ventilator-associated pneumonias, a UTI, a collapsed lung and we found a brain bleed while we were there."
John will also need oxygen for about a year.
"I've pretty much had to learn how to walk, learn how to eat. Pretty much everything you take for granted in life, I had to learn how to do again because for three months I laid in bed."
But John said they came away with a new perspective.
"It really taught us an appreciation for life and patience and the need to really slow down and just not be in a rush to do anything. Because I can't," he said.