A $17 million project completed in October will help secure the future of Sahuarita and Green Valley, but chances are you'll never lay eyes on it.
Farmers Investment Co. (FICO) and Freeport-McMoRan's Sierrita operation in Green Valley partnered to build 12 miles of pipeline to deliver Central Arizona Project water to local pecan orchards.
The benefit for the community: Less groundwater pumping by two of the area's largest water users, allowing for the restoration of the local aquifer.
The pipeline will initially deliver 10,000 acre-feet of CAP water to FICO's Groundwater Savings Facility, which was permitted by the state in 2001 and can hold more than double that.
For now, the pipeline will serve the northern part of the orchards with the goal of eventually serving the entire 4,500-acres and 130,000 pecan trees.
FICO also has begun a years-long project to convert from irrigation to sprinklers, which will bring a water savings of 10 to 15 percent.
The pipeline project was more than a decade in the making with planning, permitting and development.
Sandy Fabritz, director of water strategy for Freeport, called it "a historic achievement of bringing renewable water supplies to the region."
The pipeline and the Colorado River water it will bring will reduce groundwater pumping and restore local aquifer balance, according to FICO and Freeport.
Dick Walden, whose family has farmed the area since 1948, said the two companies share "a long-term view of the need to sustain the aquifer in the Green Valley area."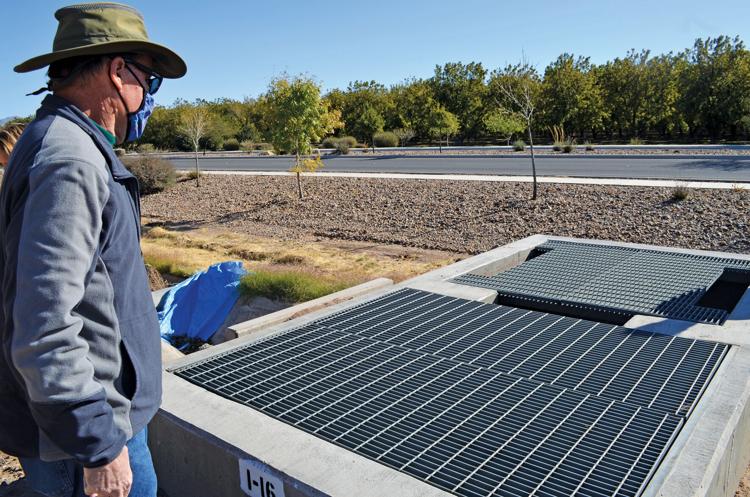 He said using renewable CAP water means "more water will remain in the aquifer for all water users in the region including future generations."
Long route
Actual construction of the mostly underground water line began in 2015.
It begins at the CAP terminus on Pima Mine Road west of Interstate 19. It heads east, under the interstate and past Desert Diamond Casino. It is attached under the new Santa Cruz River bridge, crosses to the south of Pima Mine Road and goes under railroad tracks and another road then enters the orchards to a large filter system.
The pipe then splits, with one line going straight south along Nogales Highway and another crossing Nogales Highway, under more railroad tracks then south. That piece splits again so there are three pipelines all terminating at weir structures just north of Sahuarita Road.
The privately funded project cost $17.1 million, with Freeport paying $11.2 million and FICO picking up the rest.
Freeport will store up to 10,000 acre-feet of water at the FICO Groundwater Savings Facility, offsetting a portion of its water use.
The system was completed in September and underwent successful testing in October, with 900 acre-feet of water coursing through the lines.
FICO Project Manager Tim Campbell said the next phase will involve extending infrastructure to the south end of the Sahuarita farm, opening more storage capacity.