Games played Jan. 31 to Feb. 5, 2020
Mother nature revealed her diversity in the desert with gorgeous weather on Friday, chill and high winds on Monday, and sub-freezing temperatures on Wednesday. The feisty seniors of BAJA donned their cleats for double-headers on Friday and Monday but freezing temps on Feb. 5 forced the cancellation of all Allison and Catino League games.
Jan. 31: Jeff LeFave's Edward Jones Investors lassoed Longhorn Grill and Saloon twice, 23-22 and 15-11. LeFave's Don Newman, Tom Phelps and Jerry Brotz contributed their usual power at the plate. But LeFave manager Bob Udell led by example, contributing two singles, three doubles, a triple, six RBIs, pinch ran, played three infield positions, and pitched two innings in relief.
Afternoon: Powerhouse Quail Creek Country Club and Scott Chancellor Realty Executives split their breezy afternoon contests. Quail Creek won the first 17-14. The margin of victory was the laser-like connection between shortstop Rich Malinowski and catcher Bob Kaiser, nailing three Realtors at home plate. Scott Chancellor Realtors responded with their season's best effort, crushing the Birds 19-7 in game two. Chancellor pitcher Bob Clayton mastered the wind, supported by great team offense and defense. Greg Rawlings kept the Quail contained with several great catches in the sunny, breezy outfield. Andy Lynch drove in the clinching runs.
Feb. 3: Quail Creek Country hog-tied Longhorn Grill and Saloon, taking both games, 16-4 and 11-6. Quail's Mike Gempel was strong at the plate going 3-for-4. His perfection was denied when his deep shot to left center was corralled by Longhorn's Harley Thompson. Wendy Constantine at second base anchored Quail's formidable infield while going 4-for-5 at bat.
Afternoon: The Jeff LeFave Edward Jones Investment team came to play, stopping the hobbled Scott Chancellor Realty Executives twice. LeFave crushed the sleep-limping Realtors 21-9 in game one. The Executives awoke to make the second game more competitive, but the Investors were just too strong, winning 24-21. LeFave's Dave Lee, Ed Karnes, Tom Phelps, Joey Waldschmitt and Bob Udell were merciless at the plate. The coup de gras was Don Newman's out of the park blast. The ball has not yet been found. Jim Reedy and Kurt Jorgenson's bats kept the Realtors in game two.
Feb. 3: Insurance Center of Green Valley played 3½ Happy Barbers in two epic nail biters with home teams each coming from behind to win their games in the bottom of the 7th inning. The underwriters took game one 18-15 with Dave Feagan and Gary Peelman each going yard, Steve Aiken and Frank Trusiano hitting .875, and John Beers going 5-for-5 playing injured. The buzz-cutters won game two 17-16 behind top hitters Steve Heath and Norm Friedman, both 6-for-7 on the day, and newly acquired pitcher Tony Perry going 5-for-7 with a double and 3-run homer.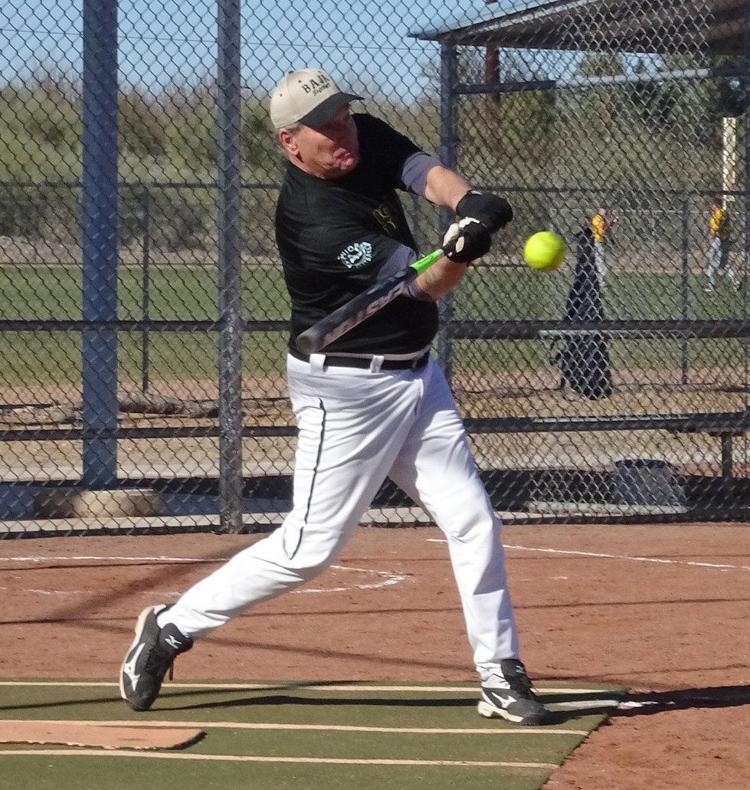 Afternoon: Despite homers by Two Girls Pizzeria sluggers Bob Dibble, Jerry Bost and Brian Kelley, the pizza makers lost both afternoon games to Hickey Automotive 20-14 and 22-21 in high-wind conditions. Suiting up only 9 players, the shorthanded auto crew's hitters were firing on all cylinders with Gary Anderson, Kelly Brown, Lu Smith, Craig Witt, Joe Horvath and Wes Anderson each hitting over .750 on the day plus round-trippers in game one from Gregg Hartman and Bill Seavecki plus a timely grand slam in game two by Jim Brewer.
Jan. 31: Shawn Smith REMAX flawlessly executed their offense and defense, winning both games and earning 6 points off 23 runs. Fast running plus key hits by Penny Durgan coupled with 5-for-5 hitting from Mark Haskoe gave their team a lead in game one they never relinquished. Several double plays by Haskoe to Joe Bieschke to Ray Durgan in game two helped preserve another win for Shawn Smith REMAX.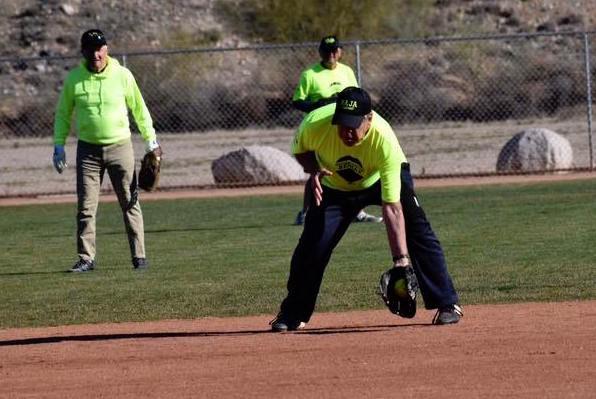 Premier Properties stepped up their game this week scoring 13 runs, earning them 3.5 points (2nd place tie in game one plus sole 2nd place in game 2). Great hitting from Dave Thomas, Tom Puzio and Brian Kimball (10-for-10 on the day playing injured) sparked Premier's offense. Thomas and Puzio were joined by Brad Beaver and George Hetherington in a display of stifling defense in the field together.
Animal Care Center of Green Valley faced two rock-solid defenses today, earning but 2.5 points off 7 runs on the day. New player Mike Mogavero had several key hits and played well at 2nd base and rover in his debut. Dave Fehringer and Ray Ellis made crucial defensive plays in the field, but the animals just couldn't drive runs across the plate today.
BAJA Senior softball is played every Monday, Wednesday, and Friday from 9:30 a.m. to 3:30 p.m. at the Canoa Preserve (County) Park – Chuck Catino Softball Complex in Green Valley. For more information on BAJA softball, go to www.bajasportingclub.com
| | | | |
| --- | --- | --- | --- |
| Team | Wins | Losses | GB |
| Two Girls Pizzeria | 12 | 6 | 0 |
| 3½ Happy Barbers | 9 | 9 | 3 |
| Hickey Auto | 9 | 9 | 3 |
| Insurance Center of GV | 6 | 12 | 6 |
| | | | |
| --- | --- | --- | --- |
| Team | Wins | Losses | GB |
| Quail Creek Country Club | 15 | 3 | - |
| Jeff LeFave's Edward Jones | 15 | 3 | - |
| Scott Chancellor Realty Execs | 8 | 10 | 7 |
| Health Insurance Solutions | 7 | 9 | 7 |
| Cornerstone Health MGT | 6 | 10 | 8 |
| Longhorn Grill & Saloon | 1 | 17 | 14 |
| | | | |
| --- | --- | --- | --- |
| Team | Runs | Points | PB |
| Shawn Smith REMAX | 97 | 23 | - |
| Animal Care Center of Green Valley | 40 | 14 | 9 |
| Premier Properties, Inc. | 36 | 11 | 12 |