We are always looking for new places to explore and new sites to visit; we scour newspapers, magazines, and books for possible new adventures. Even after 10 years of exploring our immediate area, we still find places to add to our list.
In a Tucson newspaper dated Nov. 29, 2020, we found an activity that caught our attention: a new sculpture garden was hosting its inaugural exhibit from Feb. 13 through July 4! An outdoor exhibit, with limited attendance, met our criteria as a safe and interesting adventure and was immediately placed on our list of local places to see.
The Sculpture Garden on East River Road in Tucson is on the grounds of the SculptureTucson headquarters within the boundaries of Brandi Fenton Memorial Park. It houses that well-known, non-profit organization that serves as a resource for diverse artists and partners with several Tucson businesses to place large-scale art in outdoor venues and along busy roads. We applaud the mission of this non-profit, so we were looking forward to supporting their new endeavor.
On Feb. 25, we packed our small water cooler, directions, lunch, camera, and excitement, and off we went to explore the newly opened, 2-acre, sculpture garden. We had no difficulty finding the site and could see the impressive sculptures from East River Road before entering the park.
Immediately upon entering the sculpture park, we noted a brown sign on the side of the building that read: "Since 1898 — Binghampton Rural Historic Landscape – National Register of Historic Places." In a follow-up discussion with the docent, we learned that the area was settled by Mormons in the late 1800s by members of the Mormon Battalion. They had later returned to settle the area with their wives and families.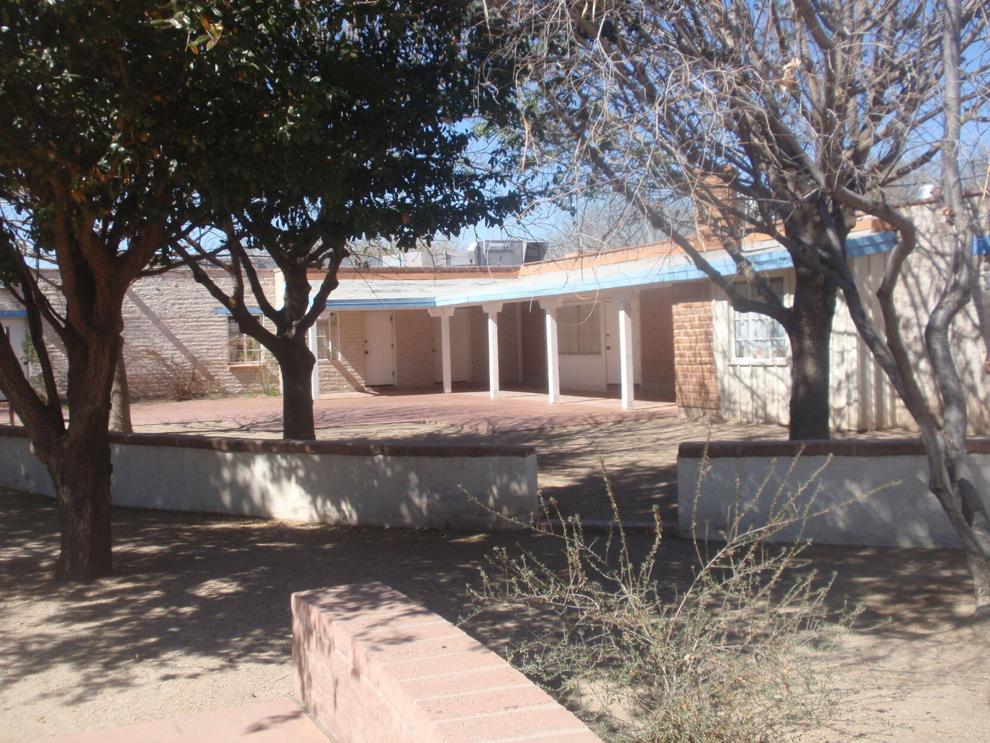 Private Erastas Bingham returned to this area in 1897 with his wife and sons. Through the years, other families came, and these pioneers settled this area, built homes, a school, church, cemetery, a reservoir and an irrigation system. They cleared the land, farmed, and established several horse ranches. Over time, this historic community was absorbed by the growth of Tucson. Today, some of the residential buildings, the cemetery, and other outlying buildings, such as a well house and horses barns, still remain.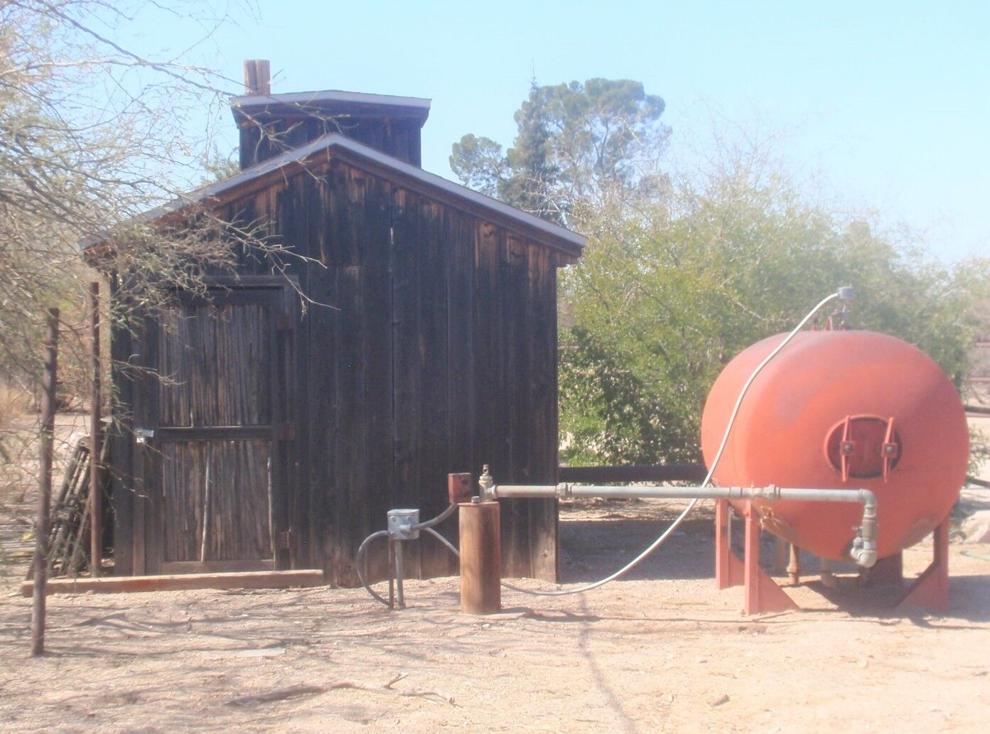 Art & history
After acquiring our garden tour guide, we headed to see the "Rough Terrain" exhibit that contained 25 varied and impressive sculptures of all sizes. We strolled around the area, reading the names of the art and the artists, taking pictures from a variety of angles, and trying to decide which piece of art was our favorite. Difficult to decide when surrounded with so many magnificent works of art.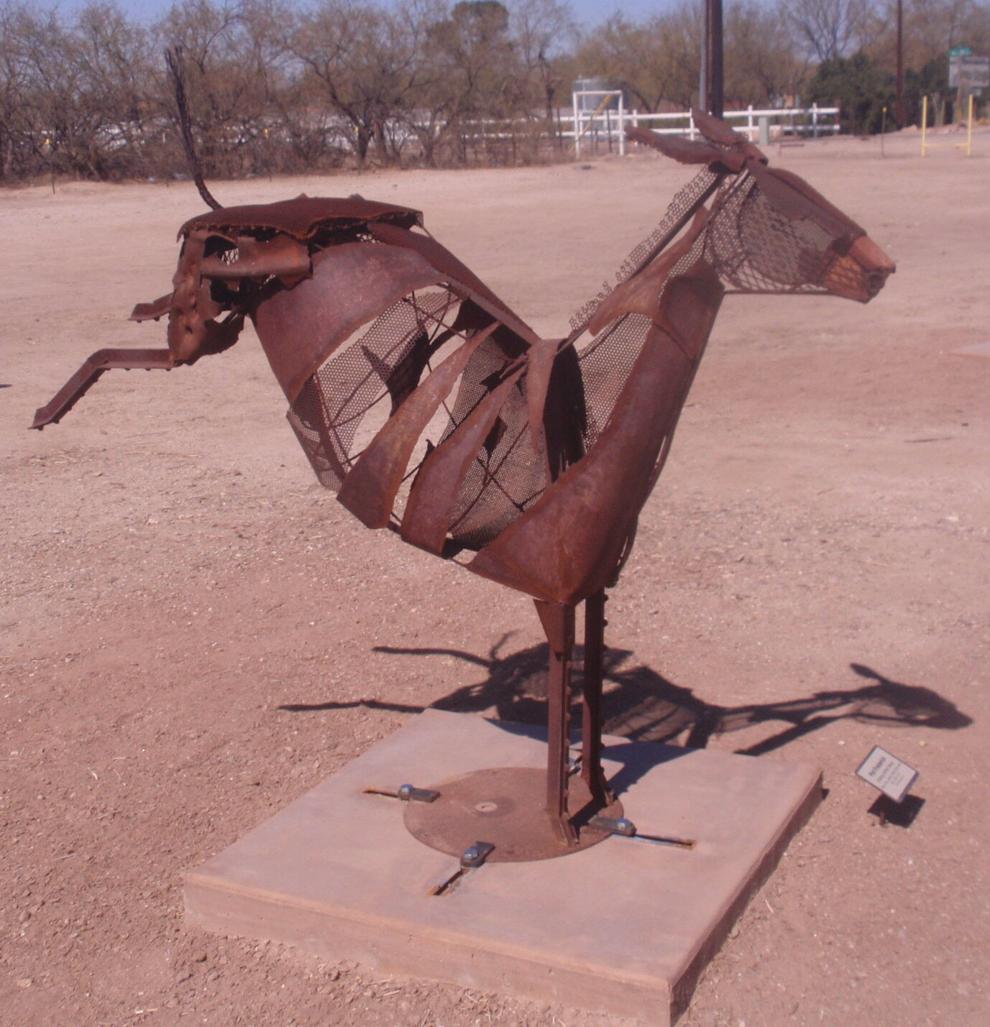 In between taking pictures of the various pieces of art, we photographed the historic ranch house, a semi-intact wooden structure, a historic wooden cross, and a building that likely had been used as a barn. Adjacent to the property, we also located two small adobe houses and a well house.
At one point, we were approached by an elderly man wearing a Vietnam Veteran hat. A wonderful, intriguing conversation quickly developed about art pieces. It turns out that our new friend lives on North Park Avenue in a residence surrounded by dinosaurs and a flying saucer. His property is listed as one of Tucson's oddities. We proudly announced that we had taken several pictures of his property! The next time we are in his neighborhood, we will knock on his gate and ask to see the remainder of his collection that we were unable to see from the road. An interesting point: his favorite sculpture was the same as ours.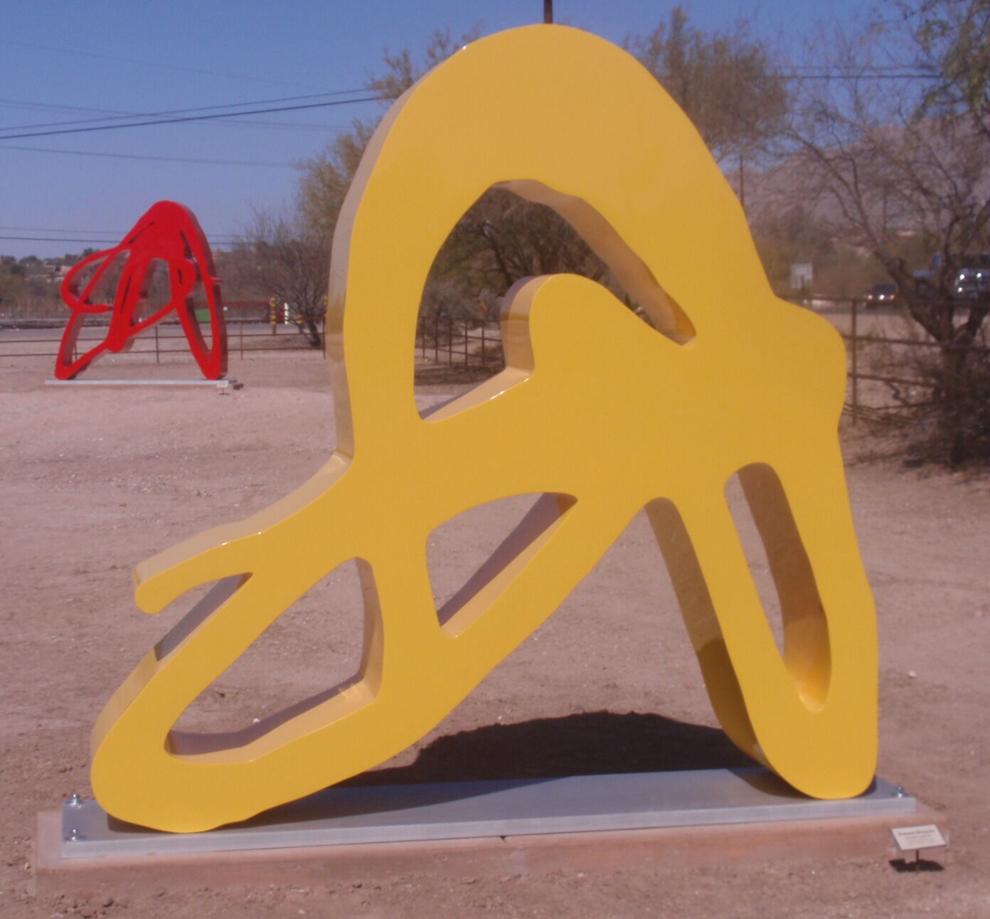 Finally we had seen, admired and photographed all of the sculptures and it was time to go explore the Brandi Fenton Park. On the way out of the garden, we were greeted by a professional photographer who asked us if she could take our picture in front of a particular sculpture. We immediately said "Sure" and posed in front of a large, yellow sculpture entitled "No Title – Yellow." The rest of the day we wondered where our picture would eventually appear. An art magazine, a documentary, a newspaper article?
Memorial park & garden
Our next goal: explore the Brandi Fenton Memorial Park! We were looking forward to checking out another Tucson park that offers residents a variety of recreational opportunities. This 56-acre park includes three soccer fields, two basketball courts, an equestrian arena, horseshoe pits, a splash park, playgrounds, a dog park, walking paths, ramadas and a memorial garden. With its wide open spaces, its mature trees, level and wide walking paths, and its many grassy areas, this park is visually pleasing, comfortable and inviting. There were many youngsters on bikes, families sitting in the shade, and dog walkers enjoying the area.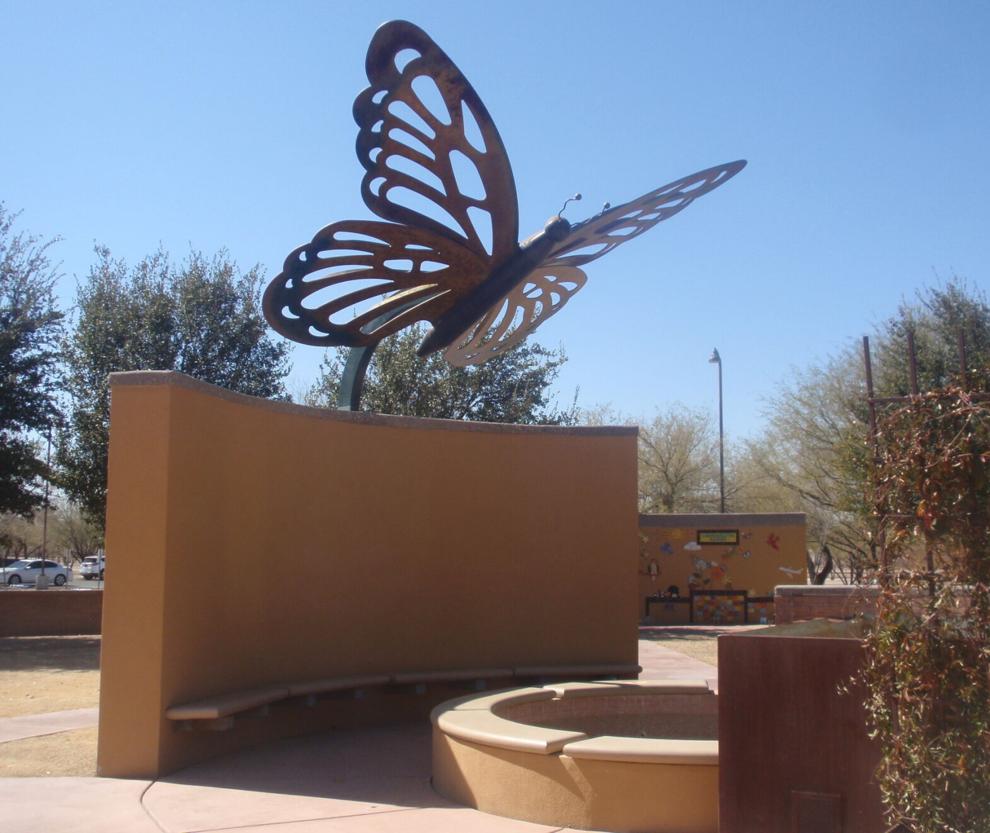 We also stopped to see the memorial garden, built in memory of Brandi Fenton who was killed in a car crash at a young age. The memorial near the visitor center — with its decorated curved wall, exquisite sculptures, fountain and a huge metal butterfly — is impressive, thoughtfully designed and a meaningful tribute. There also is a panel that provides information about Brandi.
Walking around the park, we found a variety of recreational options, but we were astonished at the amount of historical structures — more remains of the Binghampton Historic District. We located an informational panel about the Mormon settlement and some of the individuals who settled this area. Due to the pandemic, we were unable to enter the Visitor Center, however, we were successful in finding a variety of adobe structures including residential structures and a horse barn. In total, we took pictures of 12 historic structures both in the park and the adjacent property.
Upon further research, we discovered that the historic Binghampton cemetery on North Alvernon Way has been used as a burial grounds of Mormon settlers for many years. Today, it contains approximately 13 hundred burials and is a private cemetery for Latter-day Saints members and their families. We have not visited the cemetery, the historical stone marker and the school/historic church, but they have been placed on our List of Places to Visit.
What an exciting, educational and interesting day! Our journey to a Sculpture Garden turned into an entire day of exploration. We learned a long time ago that exploring, for us, is more meaningful and memorable when we allow things to develop as they will. On this day, we saw beautiful pieces of art, discovered a new historic district, met an artist that owns a space capsule, and will have our photograph appear somewhere! How cool a day was that!
Travels with Two Sisters is a series of adventures in Arizona with Green Valley residents Marie "Midge" Lemay and Suzanne "Sue" Poirier. For more discoveries, check out their first three books: "One Mile at a Time," "A Gypsy in Our Souls," and "Connecting Dots."