During the coronavirus pandemic, many people are finding ways to make use of their time at home. The latest trend during COVID-19: home renovation, gardening and landscaping, and more.
In an effort to pass the time and put homegrown food on the menu, some people have discovered their green thumbs.
First-time gardener Kim Roseman celebrated her birthday at the beginning of the quarantine by planting a garden behind her Madera Reserve home.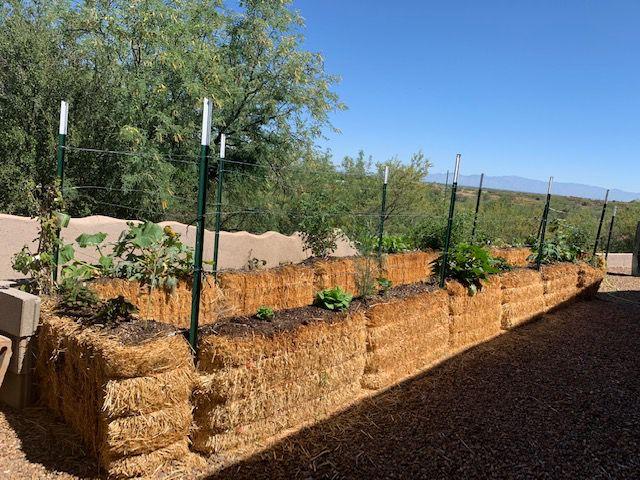 "My birthday present was all of the supplies to create a straw bale garden," says Roseman, owner of K Newby Gallery & Sculpture Garden in Tubac. "I've never done one before and I've got to say it was a really fun project. I bought 15 bales of straw from Amado and followed the directions and recommendations from a book about straw bale gardening."
Rancher's hay is the principle growing medium. Conditioned with a small amount of potting soil, compost and fertilizer, the straw itself breaks down gradually, providing nutrients over the course of the growing season.
Roseman was able to raise strawberries, raspberries, zucchini, squash, cucumbers, tomatoes, pumpkins, cantaloupe, watermelon, pole beans, sugar snap peas and all kinds of herbs.
"I've also been throwing in seeds and parts of everything to see if it'll grow," Roseman adds. "So now I have lettuce and mango trees and carrots, too."
Dee Sullivan is a master gardener with decades of experience to her credit. Her lush Green Valley garden is like stepping into a rich oasis of greenery. A volunteer docent at the Arizona-Sonora Desert Museum (which recently reopened with a limited number of visitors), Dee has been staying at home and tending to her garden.
She and her husband, Tony, live on five acres of Green Valley property, and Dee has managed to grow a small but impressive orchard of fruit trees. Her raised garden beds have boasted a bounty of tomatoes, peppers, eggplant, garlic, onions, artichokes, strawberries, radishes, zucchini and bush beans, plus lemon grass, mint and parsley.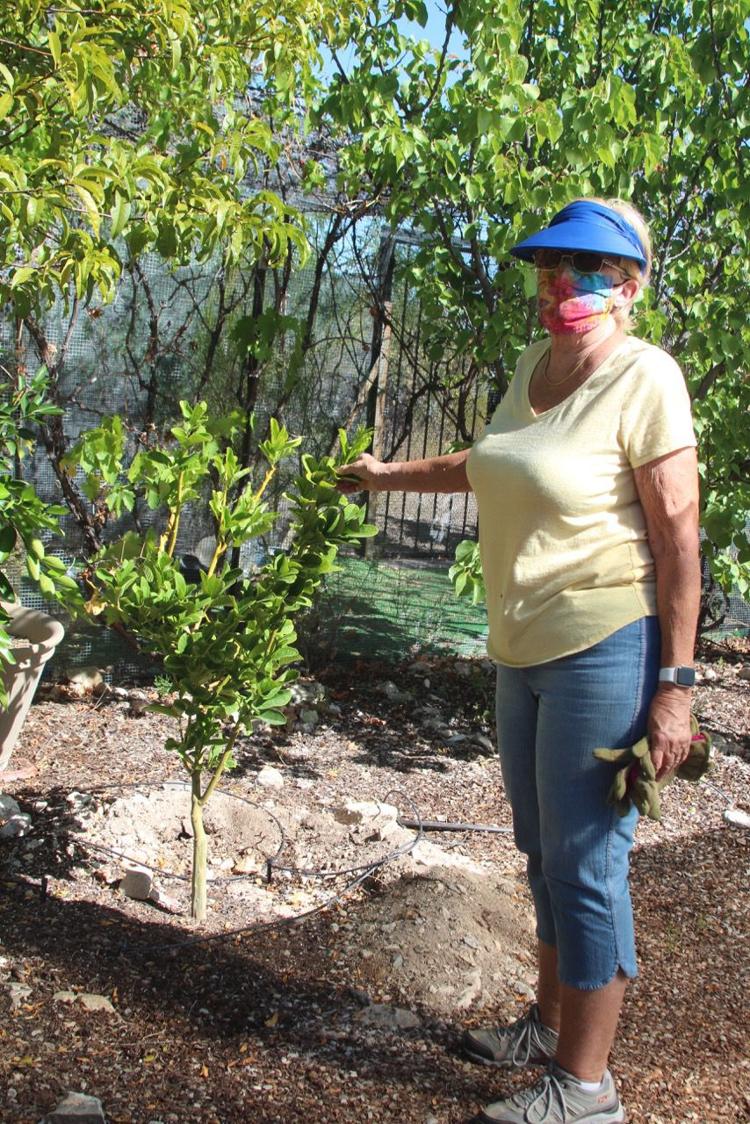 "I plant lavender at the end of the garden beds to attract pollinators," Dee notes. "We eat a very healthy diet with what we've grown, too."
A translucent plastic carport serves as a greenhouse, and many of the plants in the garden beds, like the strawberries, are protected with netting to keep the critters out.
"I let the birds have the tomatoes at the tops of the plants and I am able to still get a good crop from the bottom," she says.
The couple's fruit trees are both dwarf and full sized: apple, heritage fig, peach, pear, quince, apricot, plum, hand of Buddha lemon, heritage white pomegranate, Cara Cara naval orange, and nectarine.
"I have the trees pruned so I never have to use a ladder to pick the fruit," Dee says. "All the extra fruit and vegetables we share with the food bank."
Bob Noel has been visiting the local garden centers several times a week during the pandemic.
"I have been careful because of the virus, but I really enjoy gardening so I've been spending a lot of time adding plants to the yard," he says.
A member of the Green Valley Gardeners, Noel likes a variety of cactus, ornamental trees, and flowers and says he enjoys "mixing them up."
He planted a Texas olive tree recently, a job he says took five days.
"Digging the hole was challenging," he says. "It was worth it. The white trumpet-shaped flowers are just beautiful."
Noel added a variety of flowers and cacti to his garden by planting them in colorful, whimsical pottery containers. A running water feature on one side of his garden can be seen from the backyard covered patio.
He and his wife, Mary Ellen, are fans of the Tucson Cactus & Succulent Society and recently purchased two Saguaros in the organization's rescue cactus sale.
"We were two of the first 10 people in line at 6 a.m. to pick out our new Saguaros," Noel says. "It took four guys to plant them because they are not only heavy, but they need to be planted in a certain way."
He also built an outdoor home for Rio, the couple's young desert tortoise.
"It's 2-feet-by-8-feet and made of plywood with screening to protect him. He has a little water pool inside, but we bring him in at night to sleep in his indoor home just in case."
Since Mary Ellen loves flowers, Noel has planted four different types of sunflowers, wild flowers, Gerber daisies, and a crape myrtle tree with deep red flowers.
"For about 30 years back in Maryland, I grew peas, lettuce, tomatoes and gourds," he says. "Arizona has its own beauty, so I am still growing herbs and a peach tree, plus a lot of desert plants. I find it so relaxing."
Mary Chapman is a stained glass artist in Green Valley who picked up the craft again. During the pandemic, she completed a floral panel for her bathroom window.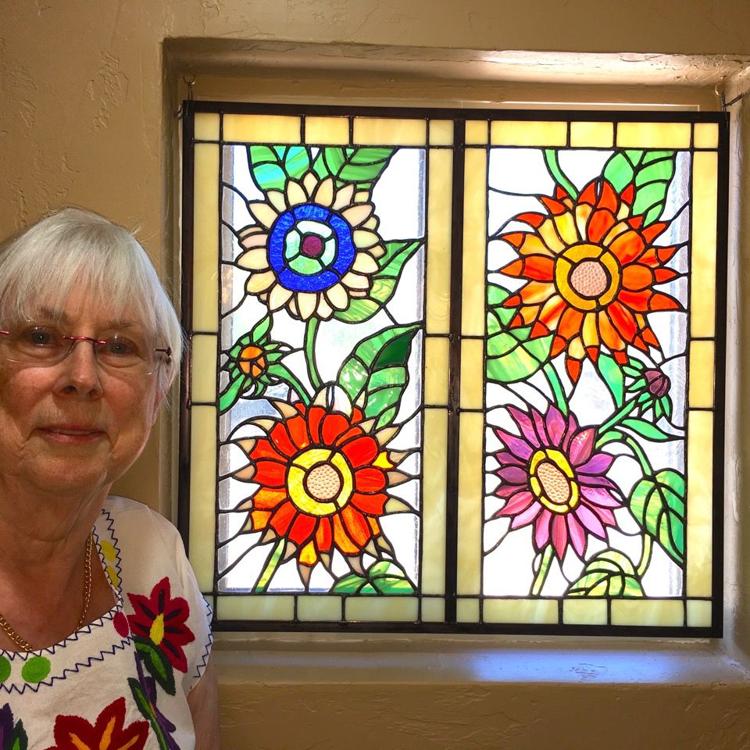 "I started making stained glass in the mid-1990s when I was still living in New York and brought all my supplies with me when I moved to Green Valley," Chapman says.
Soon after arriving in the community, she became involved with Good Shepherd United Church of Christ in Sahuarita, assisting with estate sales, and now serves as the newsletter editor. She eventually became interested in stained glass making again in her spare time.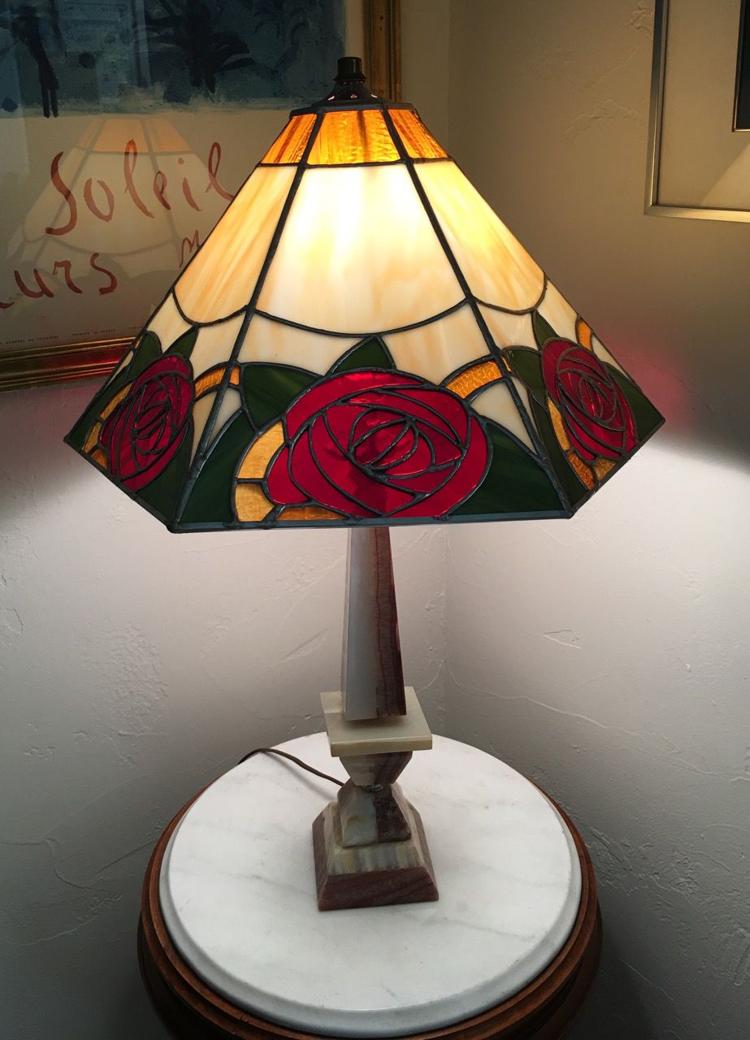 "I enrolled in classes at Tucson Stained Glass because I felt motivated to refresh my skills," Chapman says. "My sister who lives in upper New York State also does stained glass, so it's in the family."
Chapman researched her "pandemic" art project online and downloaded and adapted a floral pattern for her stained glass panel. The goal was to hang the 22-by-23-inch panel in her bathroom window so sunlight streams through it.
"Lead is heavy, so for hanging the panel over my bathroom window, I needed to work in a lighter material like copper foil," Chapman says. "The pandemic has hit the glass manufacturers hard too, so consequently glass has become very expensive."
Chapman says she was commissioned to make a lamp shade with roses, and also made a "prairie-style" lead and glass southwest panel made up of straight lines and geometric shapes.
"That piece gave me carpal tunnel," she jokes. "Still, working with stained glass keeps me busy while staying at home."