No doubt that the image of a lone painter toiling in her or his studio, shut off from the world outside, has made a comeback of sorts this year!
It's surely been a long haul with stay-at-home orders and business closures due to the COVID-19 pandemic having shuttered many venues — including theaters, restaurants, museums and more. Among the many craftsmen and women experiencing lights out at their galleries and, for some, their livelihood, it's been a challenge as well as a catharsis.
"I'm not used to not being able to do my job," says Tucsonan Charlie Watkins, whose artistic creations of pueblo structures depict a historic architectural point of view of the Four Corners region.
Creating these one-of-a-kind works of distinctive Southwest abodes, Watkins' primary outlet for more than 25 years has been outdoor art shows and events. Because of the pandemic, all of these shows were canceled, and he lost out on the opportunities and income.
He figured that with the shutdown and stay-at-home life, it would be best to stay in his studio and create. "It has given me the opportunity and time to get creative and 'think-out-of-the-box' with many new designs, improved website, and advertising," he says.
Sales continue to be difficult, but Watkins had time — like many of us — to make home improvements as well.
"I am looking forward to having the opportunity to once again do outdoor shows," including a Gift Show on Nov. 20-21 at the Continental Shopping Mall and in December at the Sahuarita Artisan Market in December, Watkins says. Things may be looking up, he hopes.
Plein air painter Jan Holland loves going on location and painting from life. She has a studio space at home, but likes to paint every day, preferably outdoors.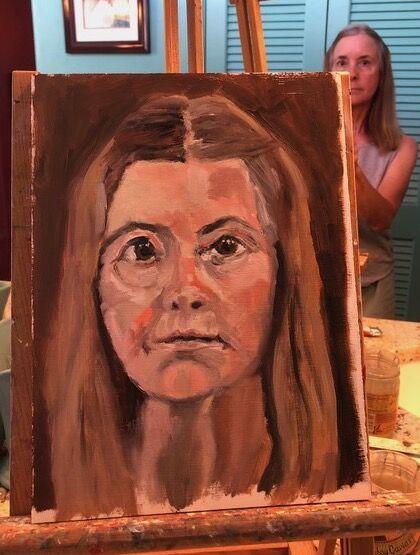 "In the early days of the pandemic, painting trips that I had been looking forward to were canceled, venues where my paintings were on display, such as several GVR rec centers and the Tubac Center of the Arts, were suddenly closed, and my artwork was effectively quarantined," Holland says.
"As I began to adjust to the new normal, I did a few sketches that were COVID-related, but quickly decided that I did not wish to dwell on that as subject matter. After all, who would ever want a painting of toilet paper rolls?"
Like many folks, she lost some of her creative drive, turning to such activities as going through old paperwork and shredding things, organizing drawers and closets, and just taking time to read.
"I also tried setting simple goals for myself, such as spending 10 minutes a day creating a sketch or quick painting or collage," she points out, and was able to get back her artistic groove.
"A wonderful and unexpected benefit of the shutdown has been that many art organizations and individual artists have offered free or low-cost art instruction on videos and even Zoom meetings. Some of the material I watched motivated me to try new techniques, or to revisit some of the basics as a good refresher."
As a plein air painter, Holland now finds locations where she can social distance safely, and feels lucky to have a painting partner who is just as careful.
"In the old days, we used to carpool to various painting locations, and often treated ourselves to a nice bite to eat afterwards. These days, we meet at a Green Valley location a couple of times a week, and often bring our own iced tea or iced coffee as a post-painting refresher, sitting outdoors at least six feet apart," she points out.
Holland likes that Green Valley Recreation is reopening carefully, and that the Santa Rita Art League of GVR is exploring ways for members to participate, both when the studio opens as well as potential online possibilities.
"I plan to continue on my artistic journey much as I have in the past. Two of the painting trips I had planned for this year have been rescheduled for 2021, and I hope they both come to pass. In the meantime, I'll just keep painting."
Like many folks, artist and art instructor Rick Wheeler hunkered down earlier this year, staying home as much as possible, but getting out occasionally to hike trails where there's plenty of space between other hikers.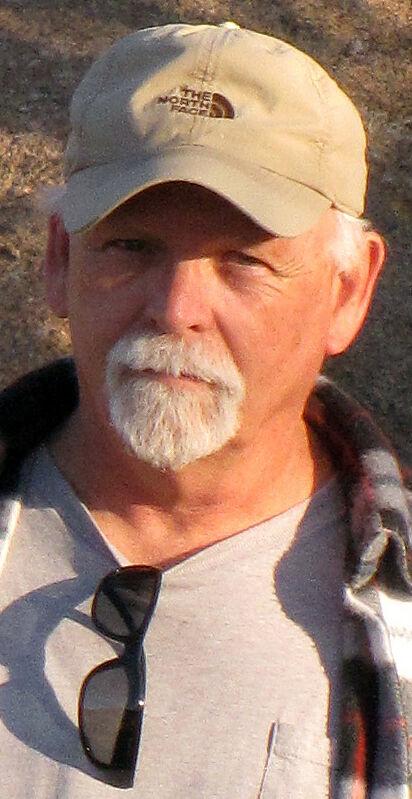 "The good news is I generally work at home, so I'm not as inconvenienced as many others might be. I've been able to complete new artwork, as well as having additional time to finish several unfinished works," he points out.
However, this art instructor at Green Valley's Community Performance & Art Center, as well as at the Art Institute of the Arizona-Sonora Desert Museum, saw his art teaching income literally collapse overnight.
"I'm pleased to see classes and students returning at this time. Everyone follows the CDC guidelines as recommended," he notes.
Green Valley artist Michaelin Otis knows the difficult impact the Coronavirus has had on artists. She has been represented by the Rogoway Turquoise Tortoise gallery in Tubac, and usually sold her works exclusively through the gallery.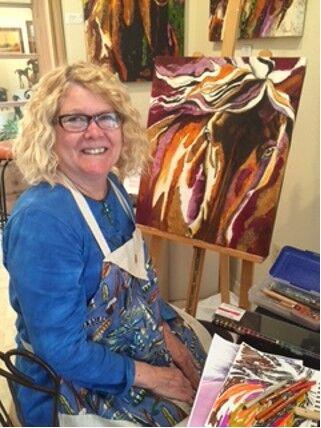 "However, since they have been closed for several months, I have turned to the internet during these hard times. I can only sell what has just been created, as the art work in the gallery is under contract. I do not currently sell from my website, but if this continues, I will be forced to set up e-commerce," she notes.
Yet a wonderful part of staying at home was the time she had to explore new ideas and build up a collection of new works with no distractions. Painting every day enabled Otis to try methods she had been wanting to pursue.
"Looking ahead, I am optimistic that galleries will reopen, and will look into more galleries to represent me. I also enter many national art shows, which have all been virtual this last six months. My mediums are collage and watercolor, and I've have had time to do both, which I love."
For the past 12 years, Hugh Beykirch participated in the Tubac Center of the Arts' Open Studio Tours, a premier event of the year. As it turned out, the Ides of March 2020 literally brought down the curtain on the arts nationwide.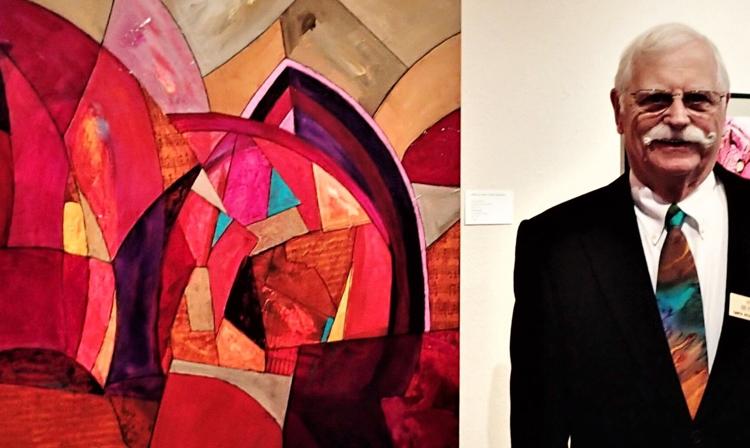 "The loss of contact with fellow artists was perhaps the hardest thing for me to swallow," Beykirch says. Meeting regularly with a Critique Group at the Santa Rita Art League Studio had always been his incentive to produce and share at least one new work of art. Without that, plus the loss of exhibit venues, his productivity dwindled.
A boost in the right direction came for Beykirch when local artists Rich Metcalf and Deanna Brooks started the Southwest Artist monthly challenges.
"I participated in all but the first one. I've been painting more regularly … and have submitted to upcoming exhibits" in Green Valley and Tubac, he points out.
"I look forward to the day when I can be part of and attend exhibits and performances in all of the arts," he notes, as well as enjoying dark chocolate and a glass of red wine with his artist friends, the latter helping greatly in the earnest but frank judging of each other's works.
Local artist Pat Doughty knows conditions have made it difficult for many folks, and she her heart goes out to those in distress.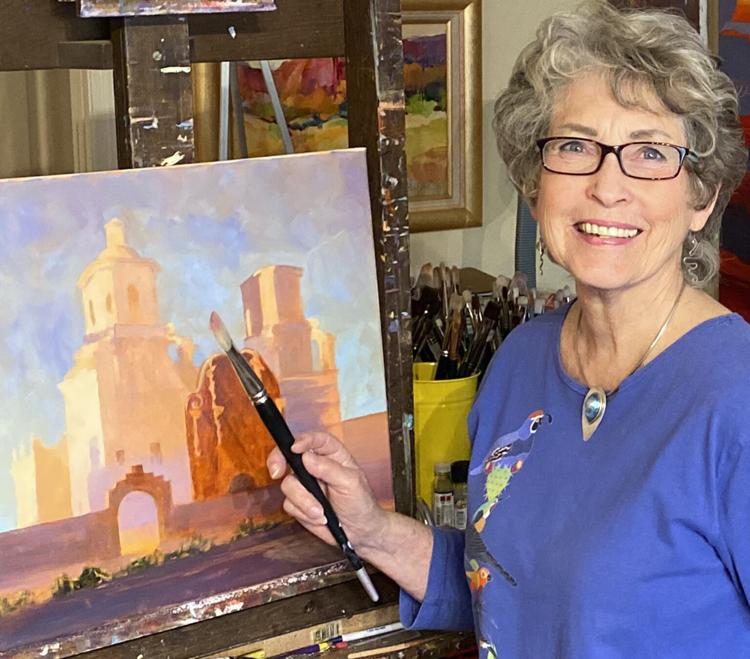 When her art show at the GVR East Center was locked up for three months this year, she missed group activities. But, Doughty says, "overall there have been many positive effects for me personally."
It became her time to focus more on her art, do a lot of painting, and take art courses online that were not available before Zoom.
"I have been able to study with established artists across the country, in Maryland, Virginia, California, and even Australia without the travel and expense of an in-person workshop," she points out.
It's her way of homing in on the positive!
Artist Layne Cook and her husband definitely miss their "old life" with its social occasions and travel since the pandemic struck but, all things considered, they dealt well with it at their summer home in Seattle and now in Green Valley.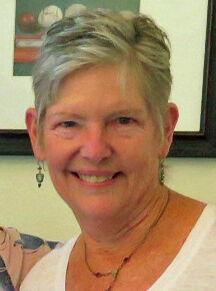 "I removed my work from a gallery that wasn't well positioned to deal with the pandemic and went with one that was making changes to maximize exposure and sales while still following guidelines in the gallery space. Preparing for that show consumed much of my time over the summer. That was a good thing!" she says.
Over the summer she decided to rework paintings that had possibilities or paint over ones that simply weren't working. Cook also decided to give a bunch of paintings and clay pieces to a friend who was raising money for a local program to help the homeless, a nice option during the pandemic.
"In our current turbulent times, I gravitated toward retro and nostalgia in my subject matter, especially from my 'growing up' years in the '50s. In any case, the paintings in the show have received lots of positive attention from viewers — even young people — who enjoy thinking about "simpler times," she says.
Cook misses the interaction with other creative people, and hopes the GVR clay studio and Santa Rita Art League space will open soon.
"In the meantime, I will continue to paint and send paintings off to the galleries. I think I have become a better painter during the COVID, and I hope to continue to hone my skills."