I worked with my first wife, Deanna, at the Arkota Ballroom in Sioux Falls, S.D., during the late 1960s. We worked behind the bar. The smell of fresh popcorn filled the huge wood-floored ballroom, and it was a constant job to keep the cooker filled and popping out popcorn. We worked 8 p.m. to midnight.
The managers were a husband and wife team and they liked to "party hardy," so we staff people ran the place.
Wednesday nights were polka nights. Circle two step, polkas, Flying Dutchman and the schottische were popular dances. Sometimes we'd have a slack period and we could go out and dance too. We learned the tango.
The old-time dances were fun and, when a circle of men on the outside would go around an inner circle of women, the music would suddenly stop and you had to dance with the person in front of you. Many of the older ladies did not understand that the man was supposed to lead! But in a few more refrains, you'd get a new dance partner.
Four hours of non-stop "oom pah-pah" music could get to you so that when you got home and tried to go to sleep after a full day of work and four hours at the dance hall, you'd still be hearing "In Heaven There Is No Beer, That's Why We Drink It Here!"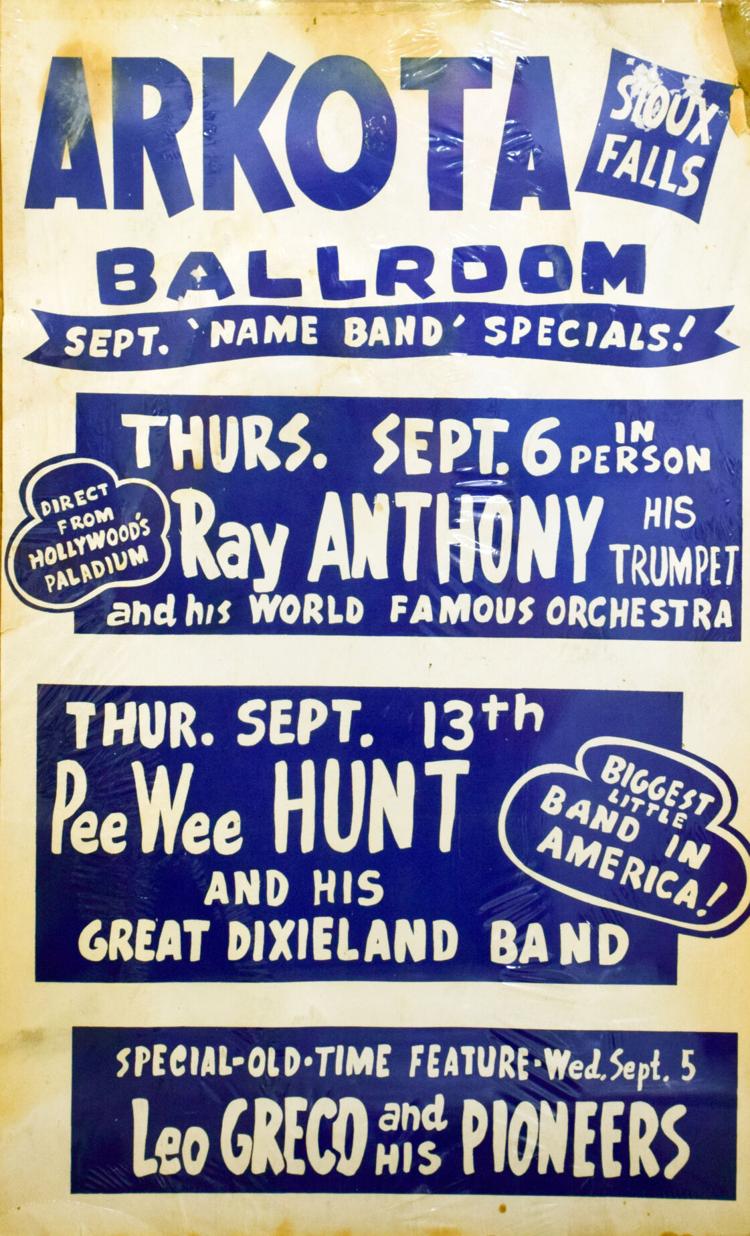 Fridays featured local rock 'n' roll bands. Saturday were Big Bands. We got to see and listen to Wayne King, Eddie Howard, Russ Morgan and Lebert Lombardo (Guy Lombardo's brother) swing the '30s and '40s big hits. We tape recorded, using a reel-to-reel tape, the performances for our own personal enjoyment.
I talked with Wayne King and Lebert Lombardo. I gave Lebert a 1936-era audio cassette of their band playing on a radio remote from some famous ballrooms such as The Glenn Island Casino, Trianon, Steel Pier, Avalon, Palmer House or Hotel Pennsylvania. He was thrilled to be able to step back into the past and hear the singers and performers that he had thought about for so long a time.
Big bands plus polkas
We had the three original handmade Big Band posters framed in Brooking, S.D. Passersby would stop and look into the shop and recall their younger days when they danced to these and other big band stars.
There was a LOT of smoking going on in those days, and we'd look out across the ballroom from behind the bar and see a blue/gray cloud of smoke. Unbeknownst to us, we were taking in hours and hours of second-hand smoke. The next morning we'd pick up the clothes that we had worn the night before and they'd reek of smoke!
The ladies' dresses made a "swishing'" sound and you could distinctly hear that "swish" all across the dance floor. We also had dance classes some evenings before the main performance.
One polka memory was of Father Capon. He was a very handsome Catholic priest and his polka band was a favorite. I suppose they performed to raise funds for various church activities.
The polka festivals ran 12 hours! When you get a ballroom full of dancers, it was hard for the A/C to even attempt to keep the dance area or seating area even half-way comfortable.
We dressed in regular slacks and shirts behind the bar. Most people were kind and easy to work with and for. The managers did sometime get a bit surly after having so many customers offer them countless free drinks.
Posters & more
I got the posters one day when I found the manager trying to cover one or two of them with a black plastic garbage bag in order to use it as a top for the old red ice chests that were under the bar. I recognized them as being rare and pieces of a living musical past, and convinced him to do something else to cover the ice. I got the posters and have had them since about 1972.
When the ballroom closed and was sold to the El Riad Shrine, I got a call from the manager. He had me come down, and I got a box crammed full of original Big Band 8-by-10-inch glossies that we sent or brought to the ballroom for advertising upcoming bands and performers. One was autographed by Vaughn Monroe.
All the photos show the then-current hairstyles, tuxedos and ballroom dresses of any and every musical Big Band star or artists, except for Glenn Miller. Louie Armstrong looks like a kid in one of the photos! He preferred to be called Louis.
Jan Garber, Russ Morgan and music in the Morgan Manner. Guy Lombardo and His Royal Canadians. Wayne King — The Waltz King. Ina Ray Hutton and Her All Girl Orchestra. Kay Kyser and His Kollege of Musical Knowledge. Shep Fields and His Rippling Rhythm. Glenn Gray and His Casa Loma Orchestra. Les Brown and His Band of Renown. Spike Jones and His City Slickers. Bob Crosby and His Bobcats. Rudy Vallée and The Connecticut Yankees.
We moved to Green Valley in 1987. I had a display of the posters and old-time radio memorabilia on display at our Green Valley library. The seniors would stop and fondly recall when they had listened to and danced to the famous, and not-so-famous, big bands of the 1930s and 1940s.
Many of these musicians had classical musical training and backgrounds. But the "hot" or "jump" music of that era gave them more opportunities to play and earn a living.
Jerry Marrion resides in Green Valley. "Our Stories" is an occasional feature about the adventures of area residents. Email your stories to letters@gvnews.com