Anyone that has undergone an operation learns right quick that Hippocrates and his tenet, "First, do no harm," is bogus. Surgeons create pain, period.
Awakening in a hospital room after surgery, it hurts. The guy or gal with the knife and scrubs had no malice; it is the price of recovery. Meet Ralph Scafuri M.D., orthopaedic surgeon.
Ralph knew his career path at an early age. He quizzed an attending doctor (appendicitis) about his lifestyle. The answers he received were the genesis that provided a pursuit of medicine.
Born on the south side of Chicago, there were some obstacles to overcome. Using some dubious documentation, he started unloading trucks at
14. With those funds, he enrolled in a prep school; a positive step towards medical school. The goal was reached when he was accepted at the University of Illinois.
The need for funds continued. Ralph worked his way up in a company that did major road work. "I was a pusher," Ralph recounted. "The boss used me to oversee the men."
When he was in medical school at the U of Illinois, he was offered an opportunity of being involved with a start -up company, but the practice of surgery was the goal.
In 1976, Ralph entered residency at St Luke's Hospital. His specialty was surgical procedures on hips, knees and spine. Medicine, Ralph explained, is a three-tiered business. The surgeon's route to success is "see one, do one, teach one."
Ralph put his time on the streets of Chicago to good use. A noted professor locked his keys inside his car. Ralph offered to retrieve the keys, but the professor was disdainful. Ralph reshaped a coat hanger and unlocked the vehicle. Having proved the point, Ralph was left simmering over the lack of acknowledgement shown.
One of his early cases was a performer who had fallen on stage.
"There was nothing wrong with the guy," Ralph said. "He was a bit over dramatic." Patient? Rod Stewart.
Setting off fireworks
Accompanying his profession, there are always memorable experiences. Ralph was "on call" while attending a New Year's bash. When you were on call, it was tantamount that one abstained from alcohol. The call came and Ralph rushed to the hospital. The patient looked up and stammered, "Did I die, or are you really wearing a tuxedo?"
Ralph also got a call while enjoying companions after a round of golf. It was a spine injury. He had just had a sip of beer when he was summoned. "I power drank coffee!", Ralph said.
Then there was the explosion man. A bomb had gone off in the van, spraying his back with shrapnel. The man apparently was of great interest to the police. Ralph and a colleague were attending. The police were ardent in questioning Ralph.
"Maybe they were factoring in that the patient was Italian, and so was I, and my colleague," Ralph said with a chuckle.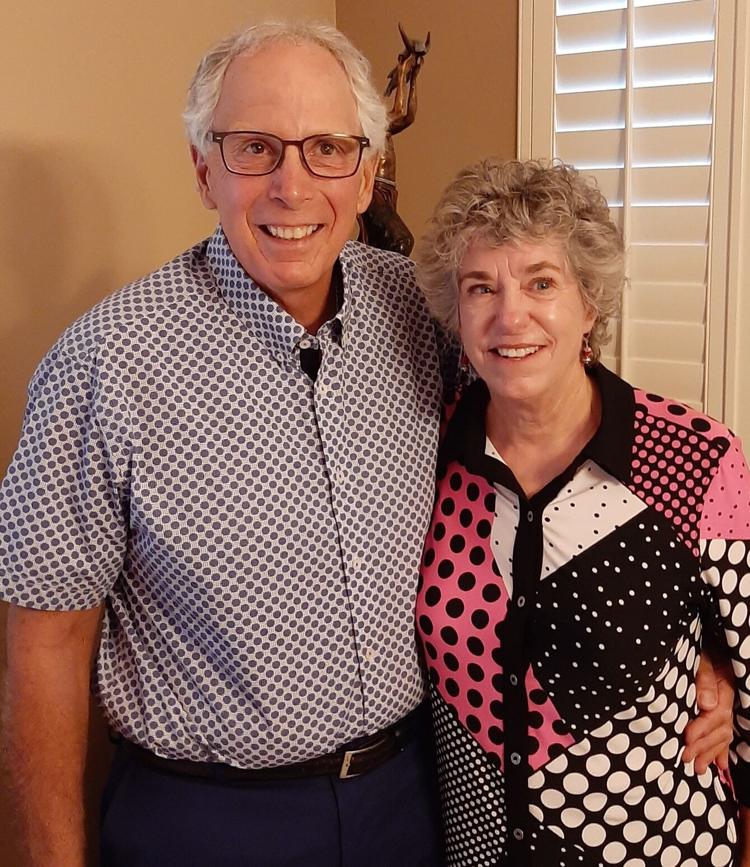 In 1988, Ralph married Paula. She told that story.
"I was a nurse in OR. Ralph thought that room was his kingdom. We did not hit it off. There were staff members that jammed the windows, knowing me and Ralph, and expecting the worst."
Imagine Paula's surprise when he asked her out to dinner.
"I was eking by and a free dinner was a treat. Also, he had a Porsche.
So can you believe it, he shows up in a Jeep … and doesn't open my door!!"
The OR sparks turned into a blaze and they married shortly.
Ralph, cautioned by a fellow physician ("You are headed for an event!"), retired in 2004. "It was the stress," Ralph said.
He and Paula moved to Steamboat Springs, Colorado. He continued to perform teaching duties in Indiana and St. Louis. "I was offering free medical in Colorado, but the liability was financially dangerous."
The couple moved to Quail Creek in 2008, where golf is embraced by both.
I asked my standard question: Anything you'd like to do over?
"Mostly, no. But maybe I should have locked those professor's keys back up."
Scott Dyke is a Wyatt Earp historian, Western lecturer and researcher. He is a member of Western Writers of America. He can be reached at: scottdyke65@gmail.com