It's probably fair to say the weather is one of the biggest things that keeps winter visitors coming back to Green Valley. For Donna Watt, it was the weather and Mia Lee Cooper.
The Iowa resident was diagnosed with Parkinson's Disease in 2011. Her doctors say she's in the honeymoon phase because her symptoms aren't too bad so far — she has problems with her gait and balance — but she's convinced she has a secret weapon to stave off the disease, for awhile at least.
That secret weapon is Cooper.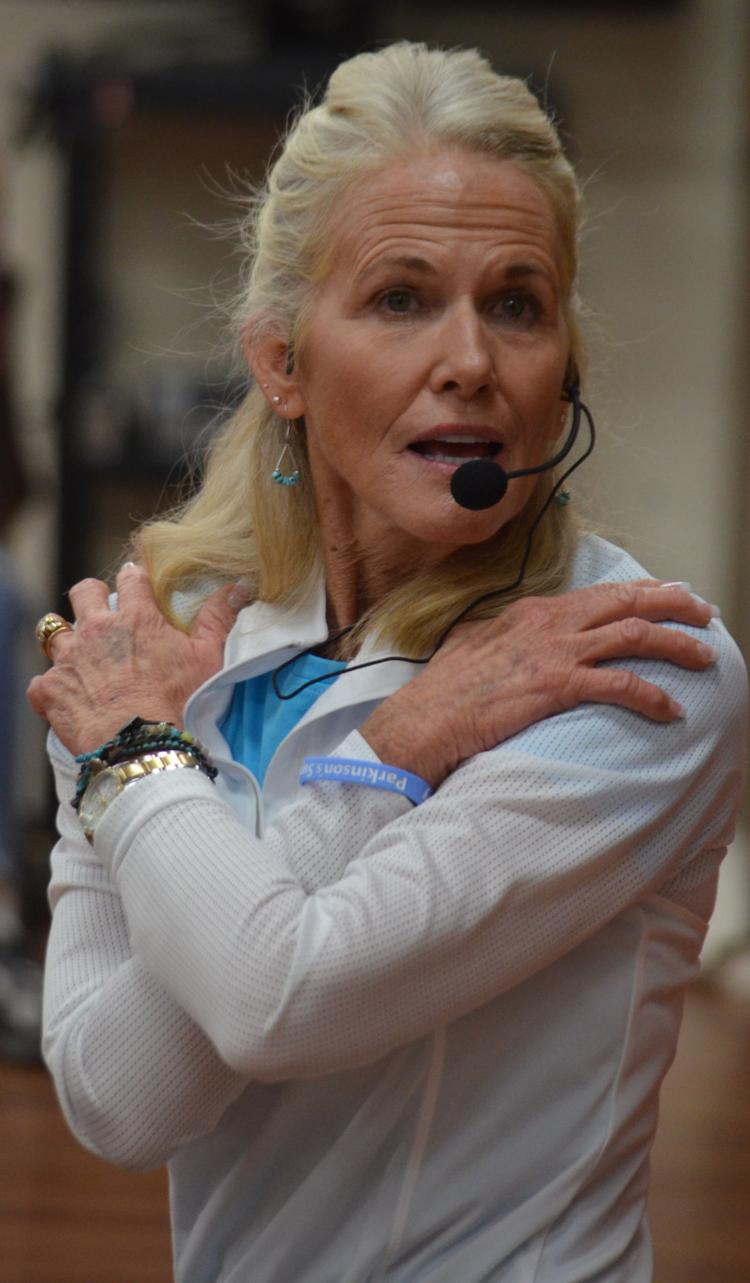 For the past 13 years, Cooper has been teaching chair exercise courses to people who suffer from the disease and those who don't. She teaches at Our Lady of the Valley Church and Valley Presbyterian Church, but she also has a handful of private clients.
Before moving to Green Valley permanently in 2012, Watt would eagerly look forward to the winter months so she could participate in Cooper's class at Valley Presbyterian. Nowadays, she attends class three times a week year-round.
"There's nothing like this in Iowa," Watt said.
It's not just the physical aspects of the class that keep her coming back, it's Cooper herself, Watt said.
"I just couldn't get along without her," Watt said. "She always tries to look on the bright side of life. She's just a wonderful person. She cares about everybody and she doesn't make a secret of it."
Most loving place
Jerilyn Lupu, another Green Valley resident, couldn't agree more.
In addition to having issues due to a traumatic brain injury she suffered in a fall, Lupu was diagnosed with Parkinson's three years ago. Cooper's class helps her deal with the stiffness, rigidity, palsy, cramps and sleeplessness brought on by the disease.
"She keeps me going. Exercise is my life along with physical therapy and I highly recommend it," Lupu said. "Mia's class is the most loving place to be. There's compassion and love all around."
Cooper says it's she that is the privileged one.
"I often say if they get half as much as I get from them, we both come out winners," Cooper said. "I don't say 'I'm an instructor'. I say 'I get to work out with my friends' and I don't know of too many other people that can say that about what they do for a living."
She never expected to be where she is now.
"If you had told me 35 years ago that I'd be doing this, I would have asked you what kind of drugs are you taking," Cooper said with a laugh.
Cooper, 62, grew up in the Santa Barbara, California area and she spent most of her adult life modeling, mostly for the car industry. Eventually, she retired from that field and ended up in the Bay area managing large health clubs with her husband, Kelly, a certified personal trainer and motivational speaker.
In 2004, the pair decided to move to Green Valley where Cooper's parents had been living for awhile.
Just meant to be
Before too long, Cooper found herself bored with nothing to do but garden. A friend, knowing her background at fitness centers, asked for help with classes at Our Lady of the Valley, so she started doing that and she also joined the Desert Star Line Dancers.
She was standing in the back watching some of her Desert Star friends dance when a friend urged her to take the place of a retiring fitness instructor who taught the Parkinson's chair exercise class at Valley Presbyterian.
She's convinced it was fate.
"Things don't happen by accident and had I not come or had I been a little bit later or had I stood somewhere else it wouldn't have happened," Cooper said.
Nowadays she teaches eight classes a week between the two churches and has eight private clients that she sees as much as three times a week. On her one day off, she volunteers at The Animal League of Green Valley.
"Tightly strung is how a lot of people describe me, and yes, coffee is my beverage of choice," Cooper said.
There is zero cost to Parkinson's patients who take her class thanks to a White Elephant grant and other donations, Cooper said. She charges $20 or $25 per month for her other class, depending upon whether they take it twice or three times a week.
In the beginning, Cooper had about 12 students. Nowadays you can find 50 to 60 people in her Valley Presbyterian classes. Among them is her mom.
She can only recall missing her classes twice. Once when she had a flat tire, and again when her husband had triple bypass surgery.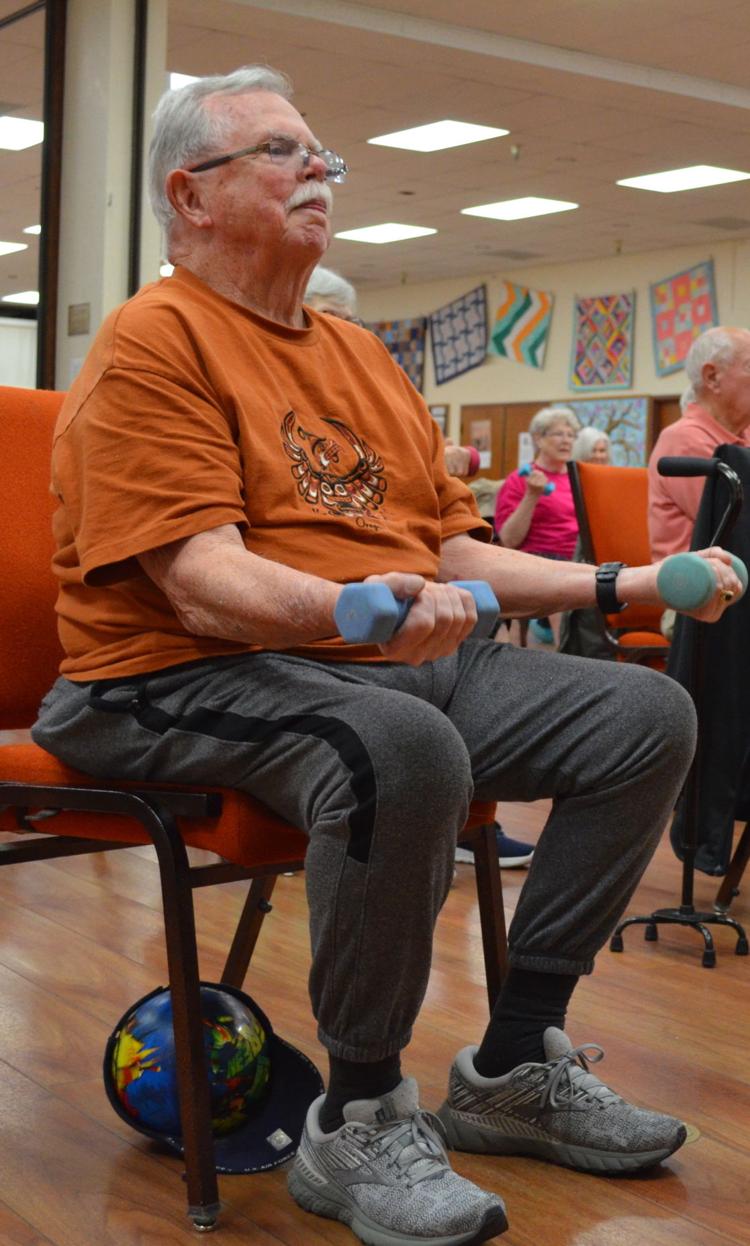 Studies have shown it's crucial for Parkinson's patients and older adults to remain physically and mentally stimulated and socially connected, she said.
Cooper, whose grandfather died of Parkinson's, focuses on stretching, strengthening and balancing exercises in her classes, whether her "friends" suffer from the disease or not.
A Parkinson's family
Marilyn Lineberry was diagnosed with Parkinson's about 10 years ago and has been taking Cooper's class for six years.
"Mia, to me, is just absolutely one of the best teachers we could have," Lineberry said. "She's a good instructor and she makes it fun. She's also always so supportive. She even keeps in contact with us by phone and email, which I think is special. She's one of my favorite people."
A while ago, Lineberry said she had to have foot surgery. During her recovery, all of her doctors and nurses were amazed at how quickly she recovered.
"They were quite impressed I was able to get out of the chair just using my hands as support and it was because of Mia's class," she said.
During a recent class, Cooper routinely called out encouragement to specific people and even walked over to help them with their form. She also groaned good-naturedly with them during the tougher exercises.
That isn't at all unusual for her, Lineberry said.
"She knows everybody's name," she said. "I'd say we're all friends. I call them my Parkinson's family. I really hate to miss her class."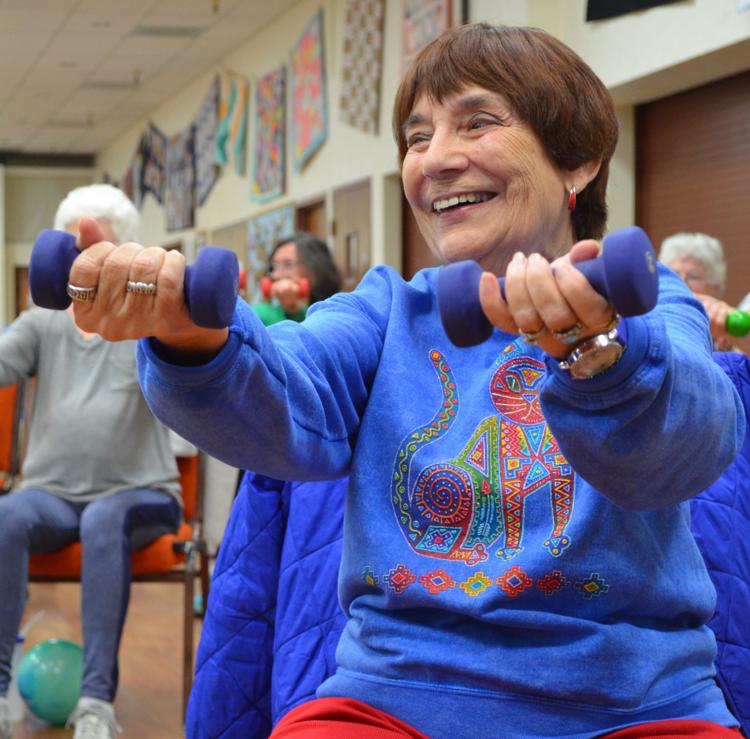 Annie Harris, who doesn't have Parkinson's, has been taking Cooper's class for about 18 months. She suffers from osteoporosis and is positive she hasn't suffered any more falls because of the class.
"I really like Mia because she's a nice person. I don't like to exercise, but she keeps me coming back because she's so funny," Harris said. "She jokes around a lot and keeps us smiling.