Beauty everywhere … The sun will shine … Have Hope … Treat Yourself
Such simple, heartfelt sentiments are an uplifting and integral part of Joan Carroll's newfound hobby — collecting and painting rocks of various sizes and shapes.
Then she gives them away.
This Green Valley senior citizen leaves small caches of her inspirational painted rocks along trails and walkways where she enjoys stretching her legs, including her Canyon View neighborhood off Camino Casa Verde. One of her "Take One" painted rocks, or perhaps a small paper sign, make it clear they're free to those passing by.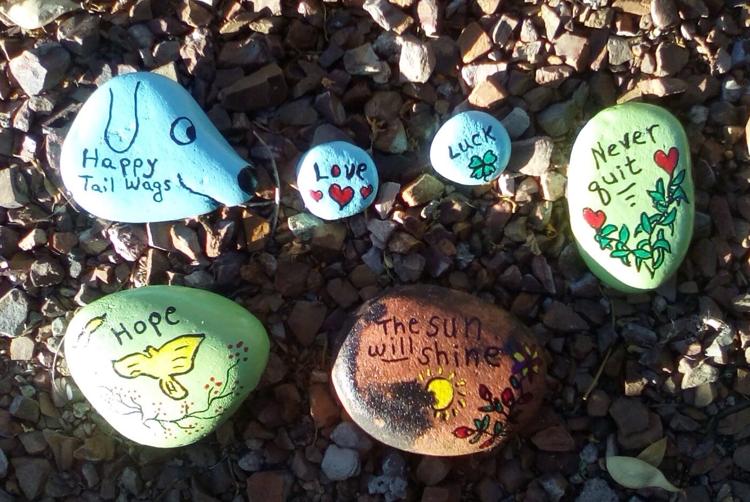 Carroll, who goes walking every other day, became hooked on rock painting in April when she was on a trail in her neighborhood and spotted a painted blue rock sporting the message "Be Kind."
"It made me happy," she recalls, and inspired her to begin collecting smooth rocks of various shapes and sizes — round, oval, occasionally heart-shaped, and even one resembling a doggie face.
Plus, she notes, it's become a great hobby for her "while we can't go any place" during the Coronavirus pandemic.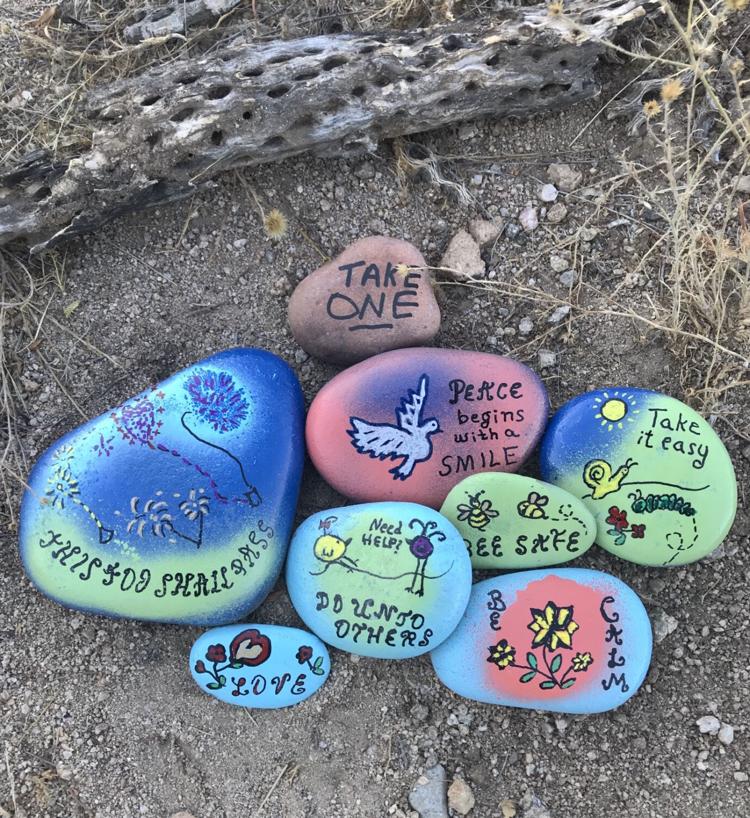 Among her favorite routes is vacant desert land west of Green Valley's West Desert Trails, where Carroll regularly leaves a cache of her colorful creations.
"I personally love them and have visited with many other walkers who also very much enjoy seeing them, taking an occasional one to someone who may need cheering up or just a nice smile," says Fran Walter, one of Carroll's walking buddies.
"Joan can be spotted walking this area in the mornings looking for rock shapes that inspire her, she then takes them to her home where she preps and paints each one," Walter points out.
His personal favorites include such sayings as "Take it easy," "Bee Kind," "Love," and one particular blue rock with a cross and roses saying "A Prayer for Sandy," a neighbor whose daughter is dying from cancer.
"Joan delivered it to their front door, sat it inside the screen door, rang the doorbell and ran. All family members were deeply moved by her act of pure, unselfish loving kindness," Walter explains.
Carroll says that when she took up "Zen doodling" with permanent markers a couple years ago, she found she had "not an ounce of artistic blood" in her. Now, however, she sees patterns everywhere, and that led her to the rocks. These days, her supplier is Green Valley Decorative Rocks, she notes.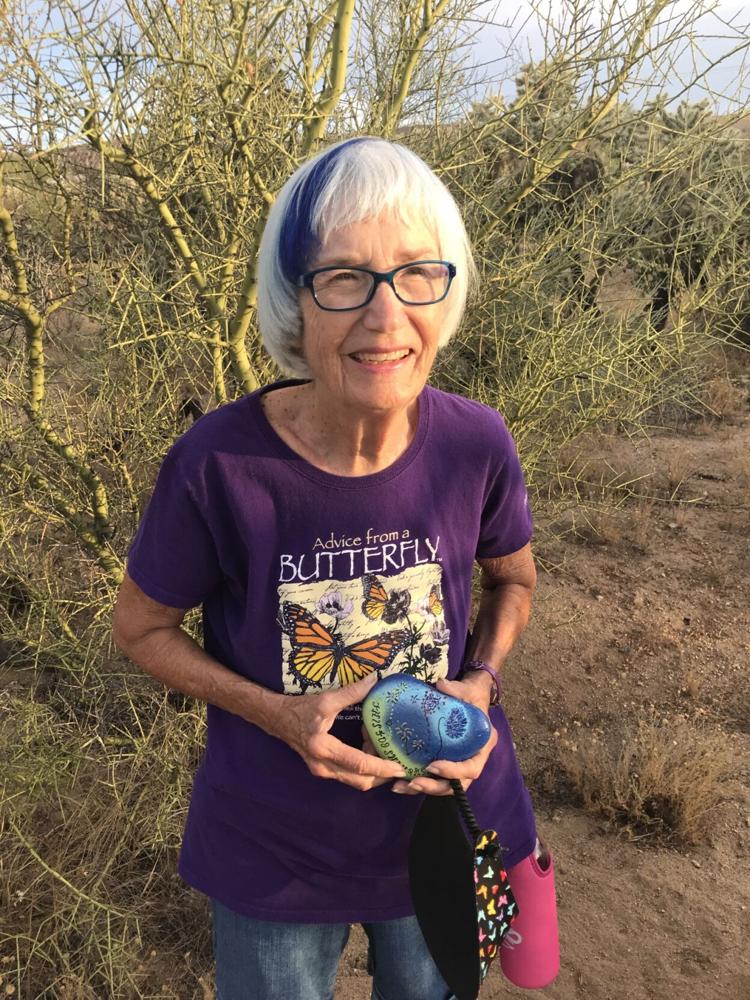 Her creative process currently starts by washing the rocks, then laying a dozen of them on wax paper and spraying each one with a dark-colored base coat. Once dry, she moves them indoors to add designs using acrylic paint. Back outside, the final touch is a coating of spray-on glaze, then she can leave small caches of them in her neighborhood and other favorite spots.
As needed, they're replenished.
"People just love it and enjoy walking by the mailbox" where she leaves a selection of her painted rocks. "Some are funny, like long-legged birds running from a lion," she noted.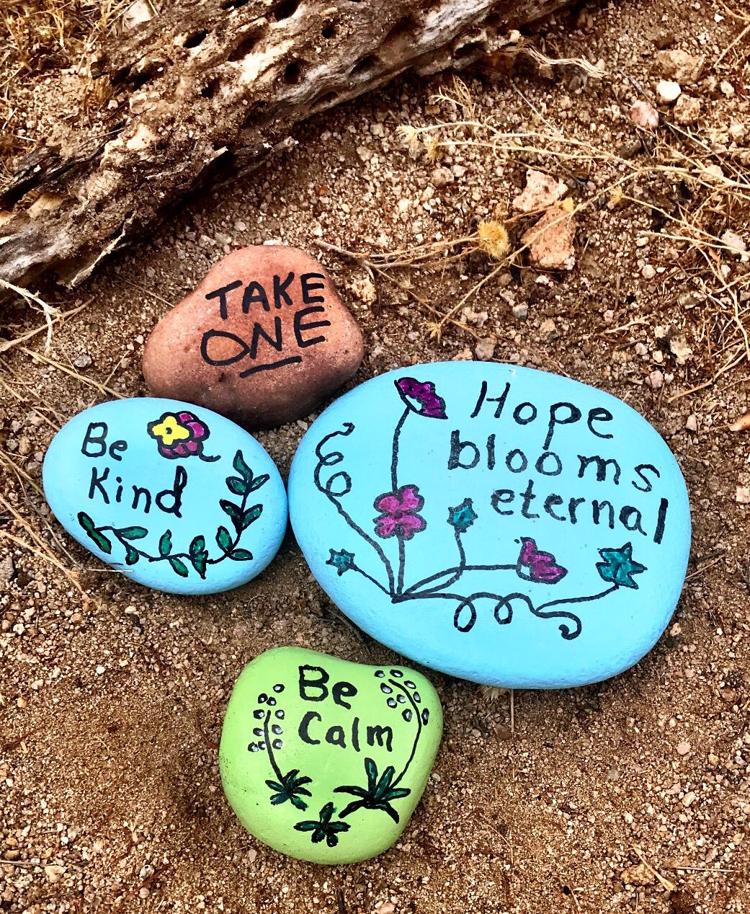 "It makes me happy, and I look forward to every day."
How's that for a senior lady who likes to "Have Fun," "Do Onto Others," and "Keep Cool."