Learning about ceramics and art in a comfortable, hands-on way is the focus of Color Me Mine, a paint-it-yourself ceramics and art studio/shop owned by mother and daughter Dottie and Gina Poczulp in Green Valley Village.
Dottie, who has a bachelor of arts in business management degree, saw Gina's ceramic skills at age 12. Gina is a technique specialist with years of ceramic and art experience in the business world.
In 2005 she was looking for a happy, life-fulling activity and found Color Me Mine in Tucson.
"I learned that with ceramics I could start without experience. And I loved it. I loved it a lot! I learned different techniques, and that inspired me. I tried many projects in Tucson so I know they're successful," Gina said, her smile growing wider as she recalled her early days of learning.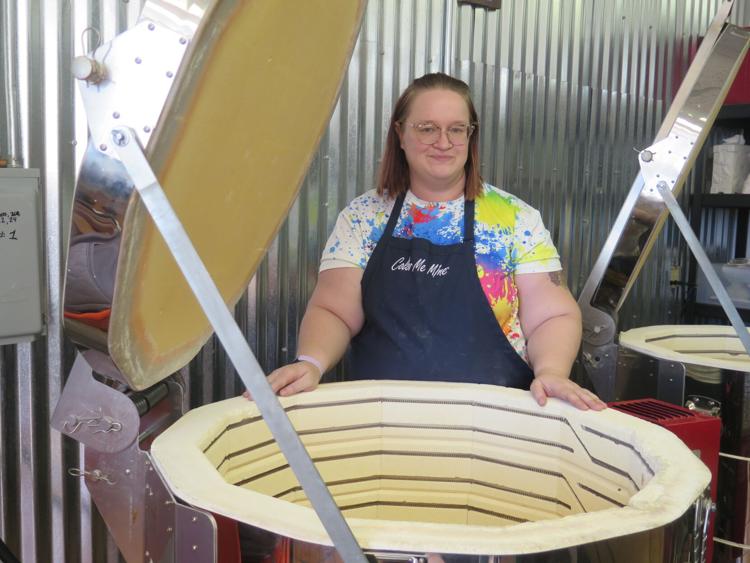 She just completed a yarn bowl using the lace technique that can add a special effect on various ceramic pieces. A yarn bowl is an accent piece for knitters. Once a ball of yarn is placed in the decorated and fired bowl, it's looped through a couple of curly openings to keep the yarn moving just right for the knitter.
Recently, three women from Quail Creek came to Color Me Mine, each making a special-occasion ceramic plate that required learning new techniques.
Dottie enjoyed watching the women as they painted their shaped ceramic pieces and learned new techniques with guidance and instruction from Gina.
"Exploring your own creativity is very therapeutic. Working with your hands and mind brings about some amazing results," Dottie commented.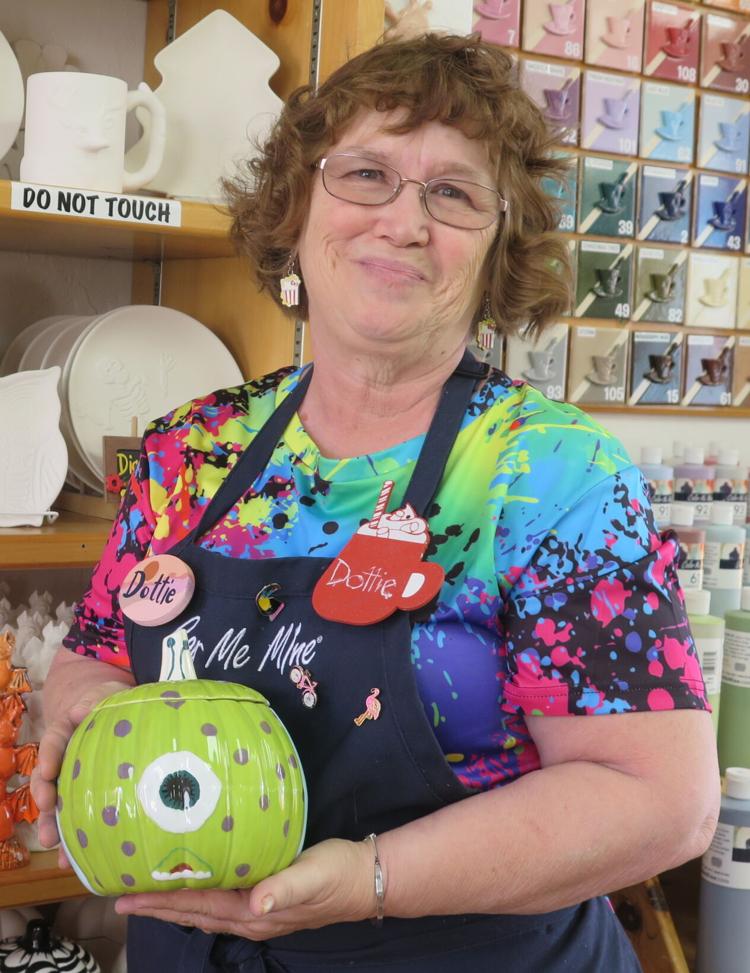 A wide variety of ready-to-paint and fire ceramic pieces includes pumpkins, plates, cups, mugs, vases, animals, critters and Christmas trees. Finished samples are on display to show final results.
In addition to learning a variety of techniques, participants get to keep the kiln-fired piece or colorful canvas they create.
Once painted and fired, all pieces are non-toxic, lead-free and food safe.
How artistic should a child, teen or adult be to make a showoff piece of art?
"Not very artistic at all. Over time you get better and better. We make sure from beginning to end you'll make a beautiful piece. We're here for ages 2 to 82 and beyond," Dottie explained.
Art teacher Vanessa Bustrum painted the large pumpkins and fall-colored art on the large windows that invite passersby to come in and explore.
Recently she led a group of adults and a 7-year-old to paint a scene of cactus on canvas.
Demonstrating how to create soft outlines, painting the background first, and then adding various greens and details to the emerging cacti, created a variety of finished works that pleased each artist, and Bustrum too.
For children in grades K through 8 with an interest in color and crafts, Color Me Mine offers an after-school art program on Tuesdays and Thursdays from 3 to 5 p.m. They'll make a fall mobile, a cactus handprint, a BOO dinner plant, geometric bat and other artistic mementoes.
Color Me Mine is in Building 3, Suite 16, on the south side of the Green Valley Village. Hours are Monday through Saturday from 11 a.m. to 7 p.m. Phone 520-888-0227. Parking is plentiful by the studio.